If you need a scheduling solution for your business, finding reliable software that meets your needs and makes your processes easier makes sense.
This article compares two of the most popular options: Calendly and Setmore. You can schedule appointments, manage online payments, and save time with both.
This Calendly vs. Setmore comparison will help you choose the best alternative for your company.
Calendly vs. Setmore: Overview
Calendly: Overview
This option is perfect for improving communication. You can kiss back-and-forth emails goodbye. Your availability will be visible so that customers can choose the most suitable time for them, making booking appointments a straightforward process. Then Calendly will send automated calendar reminders, so your clients don't miss their sessions.
With the free plan, you can schedule unlimited events. But you can only have one calendar per account.
This scheduling software integrates seamlessly with Zoom, Microsoft Teams, and GoToMeeting. Thus, you'll be able to arrange video meetings hassle-free.
Calendly does come with customer support, but only for paid plans.
Setmore: Overview
Setmore is ideal for small business owners because it allows them to manage their appointments from a single unified calendar. That saves you time and money and improves performance.
With the free plan, you have access to many features. For example, you can manage as many appointments as you want and have a personalized URL for your bookings. And its automated email reminders make Setmore a powerful scheduling tool.
The free version also allows you to accept Square online payments and integrate meetings with Teleport. On the other hand, if you want to work with Zoom, you'll need a paid plan. Paid plans also enjoy 2-way synchronization with Google Calendar.
Setmore fits perfectly with B2C businesses, thanks to its integration options.
The basic difference
Calendly's primary goal is to keep your schedule organized. In this sense, it's similar to Google Calendar. Typical customers can access the staff's availability to book their appointments.
In comparing Calendly to Setmore, we see a different approach for each one. Setmore is a scheduling software for businesses geared for booking service projects, and meeting schedules are more a subset than the primary goal.
Calendly is designed for clients to book hassle-free appointments, whereas Setmore meets business scheduling needs.Both are helpful to customers and service providers alike.
Setmore works best with small businesses or individual entrepreneurs. But it's not the best option for large enterprises.
Who Benefits from Calendly and Setmore?
Who can take the most advantage of Calendly?
This scheduling software is useful for anyone that needs to automate their schedule. Yet, it targets specific niches, such as recruiting, consultancy, sales teams, and interviewers.
Since software updates target these professionals, you'll benefit more if you are among that group.
Who may find limitations with Calendly?
Calendly was not designed for the service industry. So if you have a beauty salon, for example, you may find it limiting.
Customers can't book multiple procedures as the software doesn't provide that option. They are focused on their targeted audience's needs, and it looks like it'll stay this way for some time.
Who can take the most advantage of Setmore?
Setmore is a scheduling solution for larger teams. It's not only makes booking easier for customers, but it's also a tool for businesses to manage staff schedules.
So you can organize tasks across teams and make sure your staff availability is at full capacity. Setmore is an excellent choice for salons, IT companies, and other service-related businesses because you can handle your employees' schedules hassle-free.
Who may find limitations with Setmore?
Setmore developers have prioritized variety over depth. That means it offers a wide range of possibilities, but it has limitations.
Since Setmore doesn't focus on a specific target audience, it lacks specialized features. For example, it doesn't have a pooled calendar view of appointments that sales teams usually need.
While this scheduling software lets you work with different service classes, it doesn't allow multiple schedules in one go. Dental clinics that offer various procedures requiring multiple sessions may find it too limiting.
Calendly vs. Setmore: Features
This section describes each option's features to understand better what Calendly and Setmore offer.
Calendly features
This highly-flexible and user-friendly scheduling software is helpful for many purposes. Its integration options allow it to adapt to different environments. Your clients can access Calendly from any device, offering them a unique experience.
Booking appointments is easy with this option. You simply share your Calendly link with your customers, and they can book an appointment in an available time slot directly from their device.
Straightforward booking provides a powerful scheduling tool, saving time for your customers, staff, and you.
Calendly list of features
Web support
Automated calendar synchronization
CRM
Automated scheduling
Customer support 24/7
Link sharing
Coordination of events
Notifications
Access from multiple devices
Compatible with Windows, iOS, and Android
Automated emails
Collaboration platforms to manage teams
API integration
Online payments through Stripe and PayPal (Only available within the Professional plan)
Activity tracker and dashboard
Online accessibility
Not all these features are available for free, though. But business owners can access more capabilities with the Professional plan.
Setmore features
Setmore also offers a self-booking option, and you can share your calendar online. Thus, clients and collaborators can schedule their appointments using the available times.
Setmore list of features
Web management
Automated calendar synchronization
Customer support 24/7
Automated scheduling
Coordination of events
Link sharing
Access through multiple devices
Compatible with Windows, macOS, Android, and iOS
Notifications
Reminders and confirmations
Team platforms for mutual collaboration
Automated emails
Online payment options like Stripe and PayPal (available only for the Premium plan)
Online accessibility
Client database
Calendly vs. Setmore – Pros and Cons
Calendly Pros
Excellent scheduling
Calendly is perfect for organizing schedules outside the company without back-and-forth emails, and you can forget about manual tracking. This scheduling software will make your life much easier.
Automated processes
You can skip confirmation and cancellation emails with Calendly. You don't need to send manual reminders for meetings or rescheduling because this software will take care of it for you.
Reminders
Life can be hectic and work processes complicated, and even the best of us can forget a meeting or due date among so many tasks. Scheduling software like Calendly helps you avoid that by automatically sending notifications of upcoming events, tasks, or activities.
Easy rescheduling
Both clients and providers can cancel or reschedule appointments quickly. So there's no need to send emails because Calendly automates this process.
Calendly Cons
While Calendly lets you organize collaborative events, they're only for those within your organization. If your partner uses Calendly but under a different company, you can't arrange a shared event.
Be careful while creating calendar openings because people may be able to book an appointment during your lunch or errand time.
If you are serious about boosting your brand, you'll find this software somewhat limiting. It doesn't allow branding on the client's side, so you can't customize the booking page or customer notification emails.
Calendly's pricing might be expensive for teams with more than five people.
Setmore Pros
This salon management solution offers built-in scheduling and integrates call center characteristics with an effective CRM platform.
Here are some of its advantages:
Attractive design
Good price
Effective time management
Every user gets a personal appointment link
Easy setup
Flexibility regarding the services you can offer
Payment integrations
User-friendly platform
Setmore Cons
When comparing Calendly vs. Setmore, we find some differences. For example, Setmore has fewer payment options, andsome operational issues should be resolved soon.
Here are some of its setbacks:
Appointment setup can be challenging
Syncs with Google Calendar through the website, not directly
Not scalable
Lacks a booking tutorial
Pricing
Both options have free plans. But if you are willing to invest more, you can unlock other features with their premium plans.  Calendly starts at $6.99 per month, and you can get Setmore at $9 per month.
Calendly pricing
Basic plan – Free
Premium plan – $8/user per month
Professional plan – $12/user per month
Teams plan – $16/user per month
Calendly's free plan has some limitations. It allows one user, one calendar, and one type of event. But it gets interesting with the Professional plan. For $12 a month, you access six calendars with unlimited event types.And you enjoy more integrations and metrics reporting tools.
Setmore pricing
You can have up to four users with Setmore's free plan. While it offers limitless appointments, the paid options provide more advanced tools.
Free plan – Up to four users
Premium plan – $9/month per user (1-2 users)
Pro plan – $5/month per user (3 or more users)
The free plan includes unlimited appointments, automated reminders, and online payments through Square. You can choose a paid option if you want advanced tools, including two-way calendar synchronization and SMS notifications.
Calendly vs. Setmore – Which one to choose?
Calendly is the best option for B2B projects because it efficiently organizes business meetings. One user will find the software easy to use. But as you add staff, it can get complicated. The free version's limitations make it less than ideal for larger projects.
On the other hand, Setmore is an excellent B2C solution. Though it's not suitable for organizing meetings, it offers many features at no charge. The free version includes unlimited appointments and allows up to four users. That makes it a great choice for low-budget projects. The advanced plans give you more options if you can afford to spend more. For example, you can outsource the call center (only to Canada and the US).
The Calendly vs. Setmore comparison shows us two excellent options. Calendly works better for simple projects and makes booking easy for customers. But if you need to manage schedules across a large team, then Setmore might be the best fit.
Get an even better app to use
Staying organized has never been easier.
You can now manage your business and grow your brand with a single, powerful software that keeps all of your appointments in line, your clients organized and your business booming.
Trafft is perfect for business owners who need to streamline their booking experience both for their staff and their clients.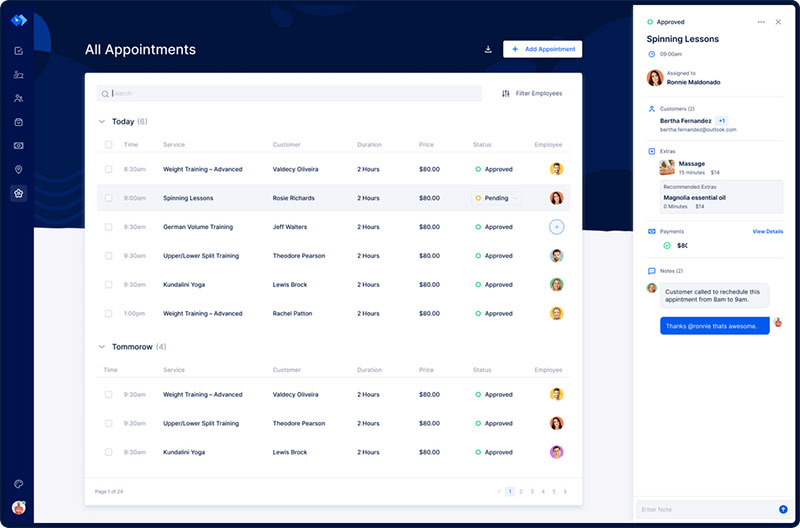 Trafft handles everything for you, even sending automated email or SMS reminders to your clients. No-shows? Not anymore!
The Trafft booking software adapts to different industries for a blissful online booking experience and employee management.
Want to know more? Check out Trafft's awesome features to see what you are missing.
If you enjoyed reading this article about Calendly vs. Setmore, you should read this one with Doodle alternatives.
We also wrote about a few related subjects like Booksy vs Vagaro, Setmore vs Acuity, vcita alternatives, Setmore reviews, Simplybook.me reviews, Calendly reviews, and Chili Piper reviews.