If you want to develop your business, client management is key. By offering tailor-made services you can maintain clients on a long-term basis.
The more you grow, the more your client base increases. Thus, there will come a time when manual client management will be impossible.
Luckily, there are some solutions that will help you overcome this. One example is Thryv software.
This is a customer relationship management solution (CRM) that helps you automate processes. Thus, you can achieve better results in less time.
Thryv opens a whole new world of possibilities for medium and small businesses. From marketing to online booking, Thryv helps simplify all processes.
You can boost your brand through marketing automation, support your online presence, manage contacts, process payments, and handle appointments.
This article features Thryv reviews that will help you make a decision. Find out if this option is the right one for your business.
What is Thryv software?
Thryv is an all-in-one solution to manage your customers. From an online marketing campaign to the billing point, this software supports you all the way.
The developers know what businesses need. So, they created a platform that you can manage from a single dashboard.
It includes unlimited customer support 24/7 with experts in the field. They are trained to understand the needs and goals of small business owners.
This option helps you adopt a client-focused approach. It is easy for potential customers to find you through your social media profiles.
Communication is also straightforward. You don't have to worry about losing business over misunderstandings.
Did you miss a message because you're too busy? With Thryv you can set up automated reminders when a client leaves a message.
Another time-consuming task is appointment scheduling.
With this CRM software, customers can simply book themselves an appointment online. Then, you can communicate with them through automated messages.
Its many features include smooth payment processes, online self-booking, online marketing optimization, and brand awareness options.
It's also compatible with third-party software such as Mailchimp, Slack, QuickBooks, and Gmail. Thryv works with almost all smartphones as it runs on Android and iOS.
Thryv reviews: features
If you have a small business to develop, Thryv offers many useful features.
Customer relationship manager
With Thryv you can save your customers' data in safety. Keep the information organized by adding it to the lead and customer list.
In addition, this platform makes it easy for clients to communicate with you. They can send attachments, schedule appointments, and make payments.
A marketing campaign is not only about creating ads and sending emails. Tracking and analytics constitute about 60% of the strategy.
With Thryv you can keep track of your lead sources. This allows you to estimate the expense/profit ratio more accurately.
Reputation management
The 21st century has brought new models of communication, information, and marketing.
In the past, there were fewer advertisement spaces and exposure was lower. Now, exposure to ads is almost continuous.
This means that marketers need to find creative ways to reach people.
It's possible to increase conversions thanks to customer reviews. This is why it's important to address these with care.
With Thryv you can manage your reputation by monitoring and managing reviews. Every time you get a new review, you'll receive a notification.
Also, it offers an advanced feature that helps you to respond in one business day. Proper social media management is also vital for your reputation.
Tailored marketing
Marketing is not hard science. To outline a campaign you must consider the characteristics of your business.
The Thryv software comes packed with marketing templates for easy setup. You can also track your campaigns by analyzing results and conversions.
Manage online listings
With Thryv you can reach a wider audience with one click.
By uploading your company's information, you'll be sharing it across 60 different directories. These include Facebook, Google, and Yelp.
Appointment and scheduling
Scheduling can be demanding for a small business owner. Thryv makes booking easier thanks to its automated synchronization. 
You can sync it with your calendar for better time management and also to control payments.
Social media management
A solid social media presence is a must-have. Depending on the business, you should cover at least Facebook, Instagram, and Twitter.
Among its unparalleled business solutions, Thryv includes social media management tools.
Synchronize all your profiles and schedule posts from a single dashboard. This enables you to save valuable time.
ThryvPay
Every small business needs a reliable payment platform. It must include three main aspects: reliability, management, and ease of use.
Your clients need a platform where they can pay easily and safely. They must be able to enter the data quickly and be sure that it will remain protected.
Small business owners, on the other hand, need an effective management solution.
ThryvPay is a payment platform designed for small businesses. It speeds up payments, simplifies processes, and helps to generate recurring revenue.
Customers can save their credit card data for easy checkout. They can also schedule recurring payments.
The software further offers automated invoicing.
Thryv reviews: Pros
Thryv reviews show that the software has many benefits for small and developing companies. Its robust system is an all-in-one solution that can make your life easier.
This is exactly what business owners need to attract more customers and make their business profitable.
Sort out the information and stay organized
Unprofessional customer services and poor customer support can make your business fail. As a business owner, you need to stay organized to achieve higher performance.
Thryv keeps client information organized and ready to retrieve when needed.
The software provides filters and a tag system. Thus, it is easy to find a client profile when needed.
Encourage engagement
CRM software is a great reputation management tool. A business can develop its audience with prompt responses and great customer service.
A database of faithful clients is a major asset these days.
The Thryv dashboard is customizable. You can set up the view to fit the screen and use filters and tags to find contacts more easily.
You will never miss a conversation thanks to Thryv's automated reminders.
Manage your leads effectively and make sure you offer your clients the best care. You can do this by organizing the leads and analyzing where they come from.
Knowing that a person has come from a particular page or article enables you to get straight to the point.
Build and maintain a reputation
Reviews are one of the most powerful conversion tools.
It doesn't matter how beautiful your site is or how well it works. A bad review can have more weight than months of SEO work.
Thryv offers an excellent tool to manage reviews. You can see them as soon as they are posted.
You can see live reviews on Facebook, Yelp, and Google and answer them from any device. Whether you are at the office or out of town, keep tracking your performance.
Feedback is the best way to improve a business.
Advanced customer relationship management
Thryv is more than a platform to manage email databases. It's a solution for relationship management.
Clients don't like to be treated like a number.
If they feel special, they are likely to return. If their experience is satisfactory they will become loyal customers.
This computer software provides a deep insight into your leads.
Attracting customers is not enough. Almost anyone can do that.
The real challenge is to nurture the relationship, turning new clients into recurring ones. Thanks to its data organization features and automated messages, Thryv is ideal for website management.
Call-to-action features
A good call-to-action button can make a vast improvement to conversion numbers. Make sure your landing page conveys a clear message.
Visitors should understand what you are offering as soon as possible. Keep it short and to the point.
Thryv has outstanding online marketing tools.
You can optimize email campaigns with call-to-action buttons. These have two main advantages:
Message conveyance
Action encouragement
It helps to offer time-limited sales and time-sensitive events. A call-to-action can drive a person to buy, visit a site, subscribe, download, etc.
Smooth payment process
The payment is the key stage of a conversion process. Thryv makes payments easier.
You can accept credit cards and issue custom invoices. It is compatible with major online payment platforms like Stripe, PayPal, and Square.
A reliable and secure payment platform can help attract new clients and maintain current ones.
Appointment scheduling for staff, clients, and owners
Both small business owners and clients can benefit from this feature. Users can display upcoming classes, sessions, and other events.
These will be visible to customers so they can schedule appointments. You are free to add all kinds of details.
The calendar is available for your staff too. They can manage bookings using their own accounts.
Engage your audience with social media posts
Posting on Facebook, Twitter, and other social media sites is important, but it's not enough. Even if you post great content, it will be worthless without proper engagement.
Since this is likely where many clients find you, you may want to give this further consideration.
Thryv supports you in this process and helps you to achieve a healthy social media presence.
Simplify the posting process by logging in through Thryv. This means that you can post across Facebook, Instagram, Twitter, and LinkedIn all at once.
Thus, you gain time to answer messages, like someone back, and check out people's reactions. In other words, you can further engage with your audience.
Thryv reviews: Cons
Thryv reviews also highlight some of the negative aspects of this software. Read on to find out what they are.
Prices
Thryv's prices are not available online. They prepare client-based quotations after assessing a business's needs.
You can contact them directly to get an estimated monthly or yearly fee.
Generally, this CRM is more affordable than other options. But for an exact price, you need to contact them.
After providing your company's characteristics, they will prepare a demo for you. Although the demo is cost-free, this process is necessary to obtain your price.
The software offers a 5% discount for six-month subscriptions. After this period, the subscription renews automatically.
Set up
Thryv comes packed with a robust system but this takes some time to set up. If you want a quick-start platform, look somewhere else.
Usually, users need time to make sure all elements are in place.
The software offers pre-scheduling of social media posts and marketing automation. Yet, business owners will have to dedicate quite some time to marketing tasks.
Thryv won't save you the effort of developing your online presence.
Thryv customer support
The platform doesn't offer online live support. Instead, they have formed an online community.
The team works with this community to answer questions and take requests.
Users can access a feedback form from their Thryv accounts. There, you can submit requests or report issues.
Limitations
Thryv doesn't allow payroll management or accounts payable options.
Final thoughts on Thryv reviews
To sum up, Thryv is a decent solution for small business management. It will be a great help for those who want to manage their company from a single place.
The opportunities for customer engagement are huge.
You can keep a detailed profile of your customers and organize it with tags and categories. Your clients can find you online and it's easy for you to interact with them.
These Thryv reviews reveal the software's pros and cons.
On one side, you can schedule social media posts, manage bookings, and handle invoices. Yet, there are many aspects to improve.
Users have to ask for a demo to get a quotation. Also, the company asks for a minimum 6 month subscription period.
Still, small businesses will benefit from the simplified processes and engagement opportunities.
What other people are saying
Whenever there's a review page, you always see positive opinions about that app. But, what about the negative opinions?
Let's see what others are saying:
Get an even better app to use
Staying organized has never been easier.
You can now manage your business and grow your brand with a single, powerful software that keeps all of your appointments in line, your clients organized and your business booming.
Trafft is perfect for business owners who need to streamline their booking experience both for their staff and their clients.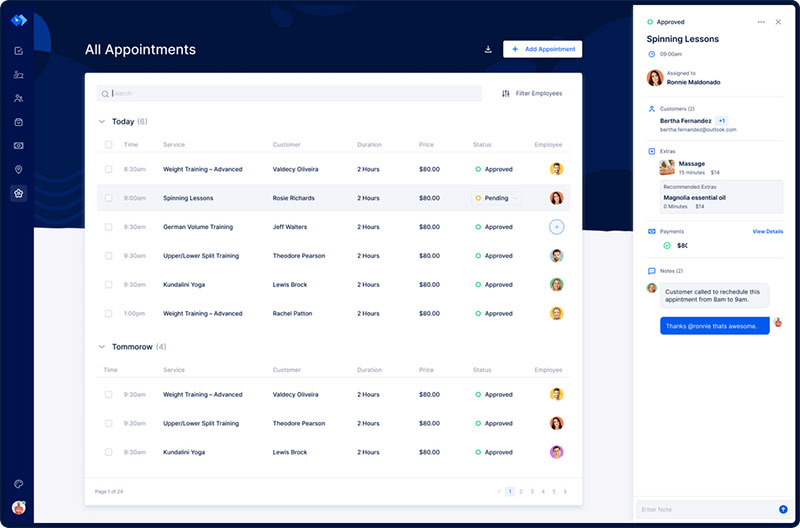 Trafft handles everything for you, even sending automated email or SMS reminders to your clients. No-shows? Not anymore!
The Trafft booking software adapts to different industries for a blissful online booking experience and employee management.
Want to know more? Check out Trafft's awesome features to see what you are missing.
If you enjoyed reading this article with Thryv reviews, you should read this one on Calendly alternatives.
We also wrote about a few related subjects like Calendly vs Chili Piper, Appointy vs Acuity, alternatives to Doodle, Doodle reviews, Honeybook reviews, Acuity Scheduling reviews, and Housecall Pro reviews.