Zoho Bookings vs. Calendly: Which appointment scheduling software is the best fit for your business? Selecting scheduling software requires great care.
Time is an essential resource that you must use effectively to benefit your business. Zoho Bookings and Calendly can automate your business's basic scheduling needs, freeing you up to focus on more important work.
These scheduling tools integrate well with your existing calendars. Your employees and customers can use them to set up appointments and optimize the business's schedule.
As an employer, you are empowered to set meeting preferences and ensure your employees effectively utilize their time.
This article will help you compare Zoho Bookings with Calendly so that you can make the choice that best suits your needs.
An Overview of Each Appointment Scheduling Software
An Introduction to Zoho Bookings
Zoho Bookings is a cloud-based platform that facilitates online bookings. It is part of the Zoho family of apps,including financial and other customizable programs for businesses.
The Zoho Bookings' tagline outlines the software's primary goal, "More appointments. Fewer disappointments".
This appointment scheduling software has a calendar sync feature that benefits company heads.Customers can book and pay for appointments independently.
Zoho Bookings also acts as an online platform for large or small businesses to display the services they offer. Customers can select a service, an available time slot, and book an appointment without leaving home.
This appointment scheduling tool strives to help all parties have more free time for more critical tasks. 
An Introduction to Calendly
This online meeting and appointment scheduling software is ideal for companies and their customers. Calendly replaces old booking methods of in-person scheduling. Your customers can now schedule online meetings and appointments on your website.
With Calendly, you don't need to worry about phone calls, demos, interviews, emails, and phone tag. Even without a phone or email, your employees can easily keep track of potential customers after they've logged in.
Calendly's customizable booking page enables guests to plan more efficiently. This feature is especially useful for guided tours, workshops, and webinars.
This scheduling system allows you to embed links in your marketing campaigns and on your website. It also gives you the freedom to:
Choose different meeting types
Set meeting preferences
Send automated SMS and email reminders
Collaborate with your team
Calendly offers a paid plan that improves team functionality and integrates with apps like:
Who Uses Zoho Bookings and Calendly? 
Zoho Bookings
Zoho Bookings is especially helpful for service providers like plumbers and electricians. This appointment system features many scheduling options for companies that require in-person visits.
Zoho Bookings is also useful for scheduling virtual visits with clients. Professionals who have both virtual and physical customers will enjoy this flexibility.
For example, if you are a wellness coach, you can use this platform to let your customers choose the type of visit they want. 
Calendly
Calendly works for anyone who wants a meeting scheduling process easy for prospective clients and employees to use. It syncs with various popular apps, so it integrates well with the tools you already use.
This online meeting scheduler is especially valuable if you want to free up more time through automation. For instance:
Your site visitors can schedule their consultations without back-and-forth communication.
You can find the perfect meeting time for your entire team without excessive back-and-forth emails.
Each Appointment Scheduling Service's Features
Zoho Bookings' Features
Zoho Bookings helps create a hassle-free appointment scheduling experience. Some of its features include:
Multi-Location Scheduling
Businesses with many locations can control all their branches with a single scheduling platform.
Customizability
You can adjust your platform to suit your needs. The notifications have custom fields that allow each business owner to add their brand and edit these whenever necessary.
Time-Off Management and Special Hours Tracking
This feature enables accurate employee scheduling. It also helps employers keep track of their employees. Here are some additional features of Zoho Bookings:
Zoho Bookings APIs
Portal for VIP customers
Reports
Team schedule management
Integration
Calendar synchronization
Custom booking page
Extend Zoho Bookings through the use of workflows
Personalized appointment reminders
Offers appointments for group meetings 
Calendly's Features
Calendly is ideal for sending automated confirmation messages when customers book meetings. This system also sends automated:
Email reminders
Requests for follow-up meetings
Thank-you emails
Feedback surveys, and more.
Calendly is fully optimized for phones, desktops, and tablets. This detail prevents compatibility issues when your guests attempt to run the software on their devices.
This application acts as a one-stop-shop for everything you need to schedule, manage, and track appointments. It also helps:
Set intervals between meetings
Prevent nighttime meetings
Configure secret events to have increased privacy and control
Here are a few additional features:
Team scheduling
Open API
Invitee calendar integration
Calendar integration
Simple, elegant, and modern interface
Automatic and custom notifications
Fully optimized for all devices
Metrics and reporting
APIs and Webhooks
Group events
Embedsin websites
Enhanced privacy and controls
Zoho Bookings Vs. Calendly in Integration Capabilities
Zoho Bookings
It is similar to other products under the Zoho One umbrella, and Zoho Bookings integrates with various third-party apps.
Zoho Bookings also integrates with the Zoho One suite's applications. Two of the foremost Zoho One products that complement the software are Zoho CRM and Zoho Meeting.
You can sync Zoho Bookings and Zoho Meeting so that clients can schedule appointments via the meeting link. Syncing these applications also allows you to offer your services through live meetings.
When synced, Zoho Bookings and Zoho CRM allow you to update existing client data and add new ones for lead generation and email contacts. 
Calendly
Calendly syncs with calendars in the system to avoid double-booking and scheduling conflicts. It also automatically adds new events to synced calendars. Calendly syncs with:
Google Calendar
Office 365
Outlook
This software is straightforward to use. It features a modern interface that provides a smooth user experience. You can also send custom reminders, confirmations, and automated invites to third parties.
Zoho Booking Vs. Calendly: Pricing 
Zoho Bookings' Payment Plans
Three different subscription plan options are built with various sized service providers in mind.
The Free Plan
Zoho Bookings' free plan is excellent for sole proprietors with no employees. This plan comes with Zoho Bookings' basic features, like:
Automated reminder emails
Customizable booking pages
One-on-one service bookings
The only drawback to this plan is that it's limited to a single department and staff member.
The Basic Plan
Unlike the free plan, this plan includes up to four staff members. It costs €6  per staff per month. The basic plan also comes with many more features than the free plan.
The Premium Plan
The Zoho Bookings' premium plan unlocks the benefits of Zoho Bookings'entire suite for businesses and their clients.
This plan covers up to three departments and ten staff members, and it costs€9  per staff member per month. This plan is ideal for large businesses looking to manage staff across multiple departments.
You can also choose annual billing and get Zoho Bookings' 25% discount. This plan includes features like:
Revenue reports
Access to online payment functions
Customizable text notifications and much more
Calendly's Payment Plans
You can choose a free (basic) plan or one of its two paid options (Premium and Pro).
The Free Plan
This plan gives you basic scheduling capabilities. It does not include access to team functionality and integrations.
You can enjoy Calendly's free trial for 14days. But don't worry about being charged when the trial ends. You will be automatically switched to the free plan when the trial ends unless you choose to upgrade.
Premium and Pro
Upgrading to the Premium or Pro plan gives you access to some of Calendly's most powerful features. The Premium plan costs$8 per user each month, while the Pro plan is $12 monthly.
You have the freedom to choose annual or monthly billing when selecting your plan. 
Benefits of Using Zoho Bookings or Calendly 
Zoho Bookings Benefits
Here are some of the benefits of choosing Zoho Bookings for your business.
Calendar Syncing
You can sync Zoho Bookings with your existing calendars. Itintegrates with Microsoft, Google Calendar, and other Zoho products like Zoho Flow.
Time Zones
When an appointment is scheduled, Zoho Bookings calculates the time zone differences.
Personalization
Business owners can customize their booking page templates with photos and company logos.
Calendly Benefits
Elegant and Simple User Interface
You can embed Calendly into your website so your customers won't need to go elsewhere to schedule events.
Optimization
Calendly is fully optimized as a mobile app and for tablets and desktops. This feature allows your customers to use the software on any device without compatibility problems.
Multiple Invitees
This program allows many invitees to schedule slots and add a schedule to their calendar without registering. It is excellent for organizing:
Tours
Workshops
Webinars with large audiences
Classes
Premium plan subscribers get quick email support for issue resolution.
Last-Minute Meeting Management
With Calendly, you can better manage last-minute meetings and control events by setting a buffer time between each one. Calendly also conveniently lets you see if your team is available for a scheduled event.
Ending thoughts on comparing Zoho Bookings with Calendly
Choosing an appointment scheduling software is an important part of any business.
Regardless of how you want your booking page to look, take the time to examine the pros and cons of each appointment system.
Look at their features, pricing structure, and principal uses. Then choose the system that is best for you.
Get an even better app to use
Staying organized has never been easier.
You can now manage your business and grow your brand with a single, powerful software that keeps all of your appointments in line, your clients organized and your business booming.
Trafft is perfect for business owners who need to streamline their booking experience both for their staff and their clients.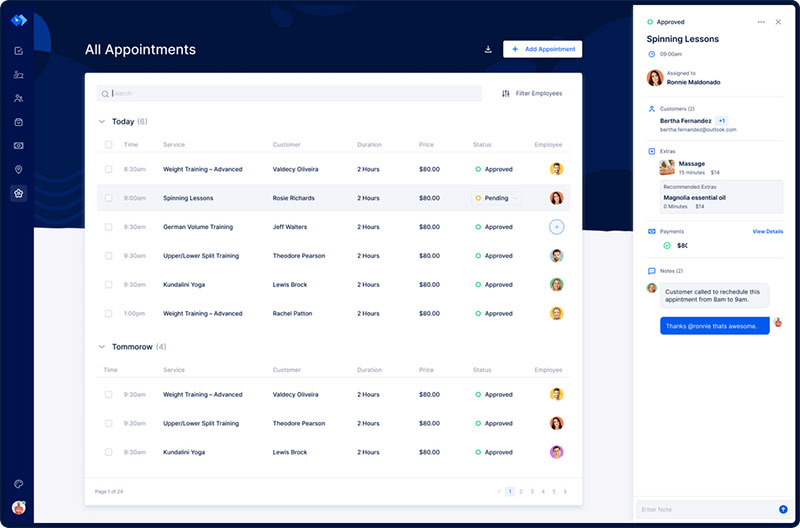 Trafft handles everything for you, even sending automated email or SMS reminders to your clients. No-shows? Not anymore!
The Trafft booking software adapts to different industries for a blissful online booking experience and employee management.
Want to know more? Check out Trafft's awesome features to see what you are missing.
If you enjoyed reading this article with Zoho Bookings vs Calendly, you should read about these Calendly alternative apps.
We also wrote about a few related subjects like vcita vs Acuity, Vagaro vs Acuity, Schedulicity reviews, Schedulicity vs Acuity, Scheduleonce reviews, and Honeybook alternative apps.