Phone calls and paper calendars are nearing extinction.
Gone are the days when you needed a dedicated receptionist to pen every appointment. At times they might double book your schedule, leaving you gasping for air in search of relief.
Now, developers have created software that increases productivity and efficiency for your business. These come in the form of scheduling and appointment applications.
Two of the top competitors in the market are Schedulicity and Acuity Scheduling. Both tools aim to streamline your appointment and booking process.
This article places both these giants in the review ring to see how they match up. This review will help you make an informed decision on which product to buy.
Inside Look – Schedulicity vs Acuity Scheduling
Schedulicity: more than a scheduling App
Schedulicity is one of the top booking and scheduling applications on the market. Created in 2009, it focuses on helping businesses in the health and beauty industries.
It helps them to fill their schedules and is a way to link customers with local service providers. However, the software does much more than booking and scheduling.
Schedulicity also offers email marketing, payment processing, and a Marketplace. This alone puts you in front of over 25 million customers.
Customers can search for you in the web application, schedule an appointment, and pay in only a few clicks.
The class management system is also easy to use and efficient. It allows for quick adjustments to prevent overbooking, changes in the schedule, and class planning.
It also offers live customer service through chat, email, or phone.
Acuity Scheduling: A Squarespace Acquisition
Squarespace acquired Acuity in 2019. At its inception, its sole intended use was for booking salon appointments.
Now it has transformed and crosses a large variety of businesses. These range from law to insurance, and even dentistry.
In line with Squarespace policy, Acuity allows a massive amount of customization. This is a big part of why over 50,000 companies worldwide use the software.
Service providers love the ease of use for scheduling on both the client end and the business side. It allows you to control availability and self-booking.
The platform itself is highly adaptable.
It is most beneficial for those offering classes, subscriptions, and coaching. It is also a perfect option for other service-based providers.
Who is it for?
When comparing Schedulicity vs Acuity, it's important to discuss the target market. So, who is the target market for each of these solutions?
Schedulicity
Schedulicity has grown beyond the health and beauty industries. But it is hard to ignore the impact these businesses have had on its growth.
Its features are standouts for these industries and are most powerful in their hands. Even the interface uses colors that scream wellness.
However, it is a powerful tool that any small to mid-sized business could benefit from. It does have options available to larger corporations as well.
The emphasis on SME is apparent with tools like Marketplace, email marketing, and even email and text reminders.
Some may not have a specific need to market themselves. Even so, with its booking tool and payment services, Schedulicity is still a viable option.
Acuity Scheduling
From inception to innovation, Acuity was built for small business owners. Its tools are very useful for sole proprietors and small to medium-sized businesses.
One major plus to Acuity is its affordable pricing. It also has a host of features that go beyond simple appointment booking.
The ability to brand the appointment page makes it more flexible than other tools.
It is an excellent option for SMEs and some of its features make it a potential option for large businesses as well. Acuity is also HIPPA compliant, making it a great option for healthcare professionals.
Feature ComparisonFor an accurate Schedulicity vs Acuity comparison, the next step is to look at key features.
What Schedulicity brings to the table
With all of the scheduling applications out there, Schedulicity stands out in a major way.
Its biggest draw is its marketplace, an online space available to millions. This makes it a powerful business listing tool that complements its software.
Considering the cost of other marketplace tools and the challenges of marketing methods like SEO, Schedulicity's marketplace is a major bump up for small businesses.
The platform itself also allows some basic customization. However, it is not a fully branded solution.
The Schedulicity brand is still presented throughout. This may limit its usefulness when a business is scaling.
It does allow you to add pictures and a logo to your page. You can also link to your website right on the app.
Some of the major features beyond its booking capabilities  include:
Sending email/text reminders
The ability to create email campaigns
Manage your clients right on your page
Schedule classes
Analytics
Payment processing at an affordable rate
The marketplace
Ability to add buttons to book straight from your social media
Schedulicity has a host of other features but these are the most notable.
Acuity Scheduling's Offerings
Acuity may not offer marketing as Schedulicity does. But it does offer a very clean and easy-to-use interface for booking.
All the needed tools for booking are available through the app.
Acuity Schedulings primary features:
Group Scheduling and event scheduling
Client self-scheduling
Unlimited services and appointments
Accept payments through Stripe, Square, or Paypal
HIPPA compliance
Virtual meeting integrations
The basic plan includes all these features.
The more advanced plan allows for further growth. It offers things such as subscriptions and membership signup on your website.
User Interface
User interface is a crucial part of any solution. Check out the information below to note the differences between Schedulicity vs Acuity.
Schedulicity
Signing up is a simple process.
Enter your business name and address. Then add your services and additional providers.
Schedulicity gives you the option to import clients from a separate database. You can even get bookings right away by adding buttons to your social media accounts.
After completing the sign-in process, Schedulicity provides an easy-to-use interface. The left-aligned vertical menu hosts all of its features.
For any issues or questions, access live customer support through the chat bubble located on the bottom right of the screen.
Acuity's interface
The simplicity of Acuity's sign-up is impressive. When signing up for a free trial it does not require a credit card.
A simple one-click with your Google login and the setup begins. First, it asks for your business name and industry.
Then it asks a series of simple questions to set up your first appointments and classes. Users will likely understand the interface immediately without much thought.
Having set the business hours, send a link to the schedule to your clients.
The initial calendar is very plain, a simple black and white with shades of gray. Higher plans allow you to input your styling with CSS.
But you can customize buttons, add a logo, and change what you see in the calendar on all plans.
The main dashboard itself is also very clean. It has only the calendar and a narrow sidebar for quick access to the tools.
Instead of icons, Acuity displays the tools in writing. This can create some confusion as there is little to differentiate between the words.
Booking and Scheduling
How do the booking and scheduling tools compare against each other? Read on to find out the answer in this Schedulicity vs Acuity debate.
Schedulicity
Schedulicity's booking and scheduling are very easy to use for clients. It consists of simple open slot booking, bringing a refreshing familiarity.
Once they book an appointment, they can view it under the appointments tab in their profile.
On the business side, you can set up events, classes, or one-to-one services. Each one gets their own calendar.
Users can list all the details, from pricing to description. It's also possible to make changes with only a few clicks.
One odd downside is that Schedulicity does not allow you to see your monthly schedule. You can only view a weekly or daily schedule, an odd misstep in their interface.
Acuity Scheduling
Acuity may not have the bells and whistles that Schedulicity has, but what it does, it does well. The amount of customization available to you on the calendar page is immense.
When you click on an appointment, you are met with a side menu. This gives information about the appointment, such as pricing, client history, and notes.
Acuity's app is another big draw.
There is no need to go back to your computer to make and edit changes. You can make needed changes on any available device, handheld or desktop.
The large amount of integrations also allows for a better client-side experience. It means they can see their appointment on their preferred schedule.
Pricing Comparison
The last, vital step in the Schedulicity vs Acuity test, is pricing.
Schedulicity
Schedulicity offers affordable pricing beginning at only $34.99. It also offers a free tier that is sufficient for most solo entrepreneurs.
If you need to add more providers, the price goes up by $10 for each additional person. After 7 providers they offer a flat rate of $94.99 a month.
Acuity Scheduling
Acuity does not offer a free plan. However, Acuity does offer a free trial, without the need for a credit card.
It also has very affordable pricing, starting at $15 a month. For subscriptions, text reminders, and up to 6 employees the price goes up to $23 a month.
For the more advanced features, including HIPPA compliance, you pay $45 a month.
Final thoughts on Schedulicity vs Acuity Scheduling
Schedulicity and Acuity are both great scheduling solutions for entrepreneurs and SMEs. For the complete package, including marketing, Schedulicity may suit your needs best.
The marketplace offers a hard-to-beat level of exposure. Also, it is a simple way to introduce yourself to clients.
However, if you have the marketing side covered, Acuity's ease of use and simple interface may be the best option. With its lower pricing, Acuity is a great alternative for booking and appointments.
Get an even better app to use
Staying organized has never been easier.
You can now manage your business and grow your brand with a single, powerful software that keeps all of your appointments in line, your clients organized and your business booming.
Trafft is perfect for business owners who need to streamline their booking experience both for their staff and their clients.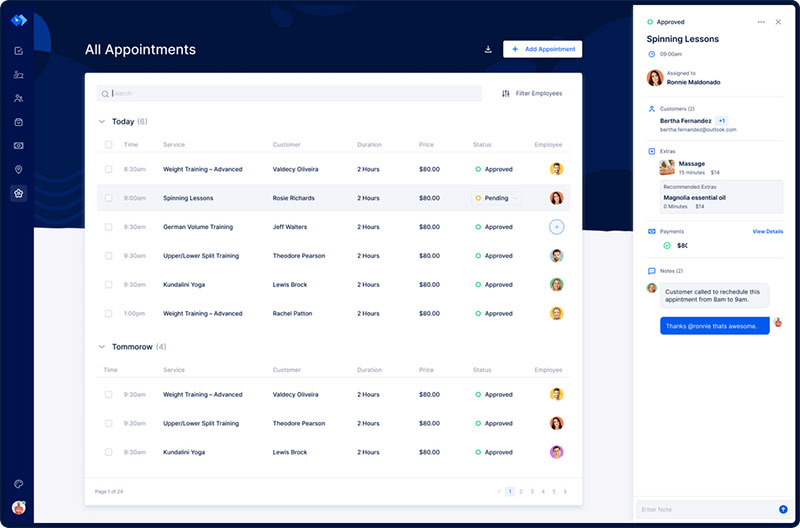 Trafft handles everything for you, even sending automated email or SMS reminders to your clients. No-shows? Not anymore!
The Trafft booking software adapts to different industries for a blissful online booking experience and employee management.
Want to know more? Check out Trafft's awesome features to see what you are missing.
If you enjoyed reading this article with Schedulicity vs Acuity, you should read about these Calendly alternative apps.
We also wrote about a few related subjects like vcita vs Acuity, Vagaro vs Acuity, Schedulicity reviews, Scheduleonce reviews, Zoho Bookings vs Calendly, and Honeybook alternative apps.