Everyone with a business knows that making and keeping appointments is crucial to keep the business going. Many software solutions are available on the Internet for booking appointments. All can help business owners to manage their engagements.
One of them is very special and stands out from the rest: OnceHub. OnceHub is part of the OnceHub, Inc. Suite. What makes it different is that it doesn't use the typical calendar feature. Many schedulers only do that, especially the free ones.
OnceHub engages the power of other popular tools, such as Office 365 and Google Calendar. The most significant benefit of this approach is that it brings together all the different appointment scheduling components.
What is OnceHub?
OnceHub is a robust meeting and appointment scheduler. It is easy to use and integrates quickly with other calendar apps. That helps business owners be on top of their engagements, save time, and have better client relationships.
The automatic calendar-booking feature allows team managers to schedule meetings.  Users can set up booking methods, reassign tasks, and select the meeting type. These appointments are then transferred straight to the employees' calendars.
The combination of meeting and appointment scheduling is unique. OnceHub provides excellent integration with Google and has advanced time zone support functionality.
Anyone that is already using Google for scheduling and booking will appreciate OnceHub. And it is very practical for people that do business in different time zones.
Like any software, OnceHub has its limitations. After all, it depends on integrating with other applications to function. Yet, the benefits it offers make it a cost-effective timesaver for any business.
It provides integrations with the following:
GoToMeeting
Infusionsoft
PayPal
Salesforce
WebEx
Zapier and associated apps
APIs for website integration
Who Benefits Most From OnceHub?
OnceHub is a complete solution for both B2B and B2C companies. The website integration option allows users to put an appointment widget on their websites. The payment integration facilitates client payments.
Businesses in all industries and all sizes enjoy the solutions that OnceHub provides. Organizations in B2B SaaS, consulting, education, health, and lifestyle are successfully using it. But small companies that offer product support and services also have found it beneficial.
OnceHub can automatically assign client appointments or meetings to the correct calendar. Consultants and other service-oriented businesses can receive online payments through PayPal.
The $10 monthly fee per user makes it rather pricey for mid-sized organizations. For larger businesses, the issue is not with the cost but platform integration. OnceHub's robustness allows large businesses to do what they want. It is simply a matter of fitting it into their overall software strategy.
OnceHub can help if a large business has different service providers. It allows more flexibility for the employees. Seamless integration with Outlook, Google Calendar, and Mail makes its use straightforward.
At any rate, OnceHub is an economical option for the average user, including organizers and educators. A free Solo version allows customers to test it before purchasing.
Pricing
OnceHub has different plans based on the number of users. It offers a wide array of advanced features and support options.
A 14-day trial free plan allows users to explore the advanced features for free before purchasing a paid plan. The Solo plan starts at $10 per month.
That pricing plan makes OnceHub attractive for smaller businesses. They know what they get for a fixed price, and they can control their budget. Of course, private individuals can also purchase a license to schedule meetings and receive support.
Different options are available for larger organizations. These are not explicitly stated on the website, but you can request a quote.
Features
Scheduling automation
Online scheduling for a booking page
Calendar syncing
Confirmation and reminders
24/7 email support
Advanced reporting
Enterprise-grade security
Group scheduling
Multi-location support
Online PayPal payments
Recurring appointments
Round-robin assignments
Supports various third-party applications (Outlook, Office 365, G Suite, and iCloud)
OnceHub Reviews
Pros
Accurate Time Zone Support. This feature makes scheduling across time zones easy. It reduces the risk of missed meetings to zero. It automatically adjusts for daylight saving time changes. This gives the peace of mind that everyone will receive the correct time for any place and time of the year.
Reliable and fast support. It can be very frustrating to be stuck with a task because of software issues. Users will be happy that OnceHub responds quickly to any question. They provide email support 24/7.
Easy to use for clients. Many users give positive feedback. They've noticed that their clients are quick to respond to email links. One business owner noted that the timetables are clear and easy to use. This, in turn, invites clients and employees to make good use of the application. Some even said that the interface is "dead simple" to use.
Robust backend system. A Mozilla Firefox user who makes OnceHub reviews wrote a positive experience. In his opinion, "OnceHub is the most powerful, friendly, and functional add-on." He explicitly thanked the makers for their excellent work. Another expert praised the technical capabilities of OnceHub. He noted that it was his reason for sticking with the product.
Cons
OnceHub does an excellent job in assigning clients to the different team members after setup. But it also has some limitations.
Billing issues. Complaints to the Better Business Bureau about OnceHub revolved around one problem. Clients canceled their subscriptions but were billed anyway. It is good to double-check if account details were correctly updated after changing the service.
No Home Page calendar. The software only shows a list of appointments and meetings on the home page and not a calendar.
Some of the features are difficult to use. This is true for some of the advanced features. They are not very intuitive and require using the manual.
Syncing issues. Some users have reported problems with syncing calendars between devices. This resulted in coworkers and customers not being able to see certain appointments. This issue was more prevalent in the past.
Benefits of OnceHub
OnceHub absorbs a lot of work and gives you peace of mind. Of course, it can do much more. These are some of its significant benefits.
Website Integration
Clients do not even have to leave your website when they schedule meetings. A website embed option includes an online scheduling option and a direct call to action. OnceHub integrates into any website and shows OnceHub logos.
An integrated appointment scheduler and call to action are very beneficial because they increase the chances of visitors turning into customers. Everything a prospective client needs is right there.
While B2C companies benefit most from this feature, B2B's will also enjoy it. No business opportunities will be lost.
Workforce Optimization
Multiple team members can use OnceHub at the same time. One manager can add different coworkers to a calendar, optimizing all calendars and the workload. The automatic calendar invitations include the correct time, no matter where the person is and the time of the year.
Business Promotion
OnceHub allows the user to include links in the invitations. These can be secure video links and links that promote the team or redirect traffic in any other helpful way. The possibilities are endless.
Strict Privacy Policies
The strict and transparent privacy policies of OnceHub set it apart from its competition. Not all countries fall under the strictest GDPR guidelines, but users can be sure that this scheduler is compliant.
Conclusions on OnceHub reviews
OnceHub is a great scheduling option with many different integrations. Even the free trial and Solo plans offer several advanced features and options.
Clients and users can schedule meetings and appointments using the web widget.  And the PayPal integration allows the clients to pay for their services online.
The options it offers work very well for a small company, and prices are clearly stated. Prices for enterprises vary but are given on request.
Both options to book appointments and schedule meetings have their specific features. It isn't easy to compare it directly with applications that offer only one of the features because OnceHub has both.
At any rate, OnceHub is a reliable appointment and meeting scheduler. The company behind it is reliable and offers excellent customer support service. You can find many positive OnceHub reviews online. Unfortunately, there are also reviews like these:
Get an even better app to use
Staying organized has never been easier.
You can now manage your business and grow your brand with a single, powerful software that keeps all of your appointments in line, your clients organized and your business booming.
Trafft is perfect for business owners who need to streamline their booking experience both for their staff and their clients.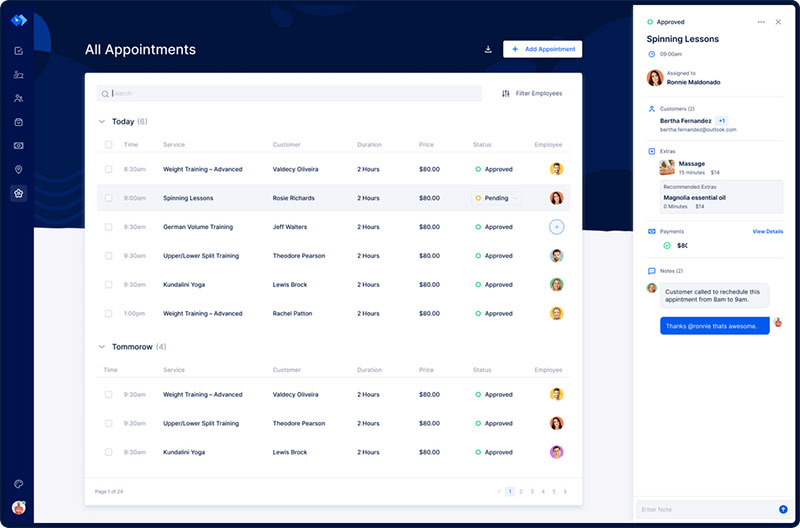 Trafft handles everything for you, even sending automated email or SMS reminders to your clients. No-shows? Not anymore!
The Trafft booking software adapts to different industries for a blissful online booking experience and employee management.
Want to know more? Check out Trafft's awesome features to see what you are missing.
If you enjoyed reading this article with OnceHub reviews, you should read about these Calendly alternative apps.
We also wrote about a few related subjects like vcita vs Acuity, Vagaro vs Acuity, Schedulicity reviews, Schedulicity vs Acuity, Zoho Bookings vs Calendly, and Honeybook alternative apps.