It is no secret that business owners need to be organized. Business management requires a lot of administrative tasks to keep everything working smoothly.
There are numerous business processes that a company has to take care of. From managing clients to suppliers, a lot of work has to be done.
Wouldn't it be nice to have an all-in-one platform that could automate these tasks? Fortunately, there are several such products on the market.
HoneyBook is a suitable option. It is a popular tool that helps businesses handle responsibilities and get more work done.
But HoneyBook might not be the solution for you. Luckily, several alternatives simplify workflow and save you money.
This article will discuss fourteen HoneyBook alternative options. And one of them could be the best solution for your business.
Trafft: the best HoneyBook alternative
Staying organized has never been easier.
You can now manage your business and grow your brand with a single, powerful software that keeps all of your appointments in line, your clients organized and your business booming.
Trafft is perfect for business owners who need to streamline their booking experience both for their staff and their clients.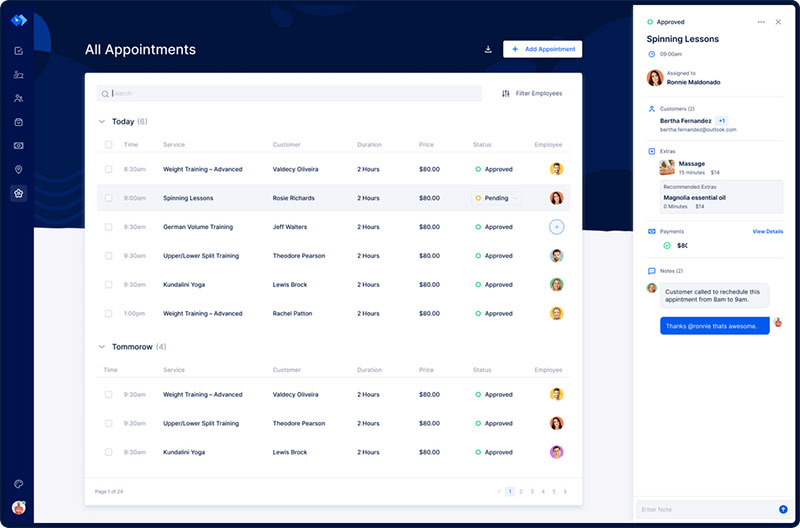 Trafft handles everything for you, even sending automated email or SMS reminders to your clients. No-shows? Not anymore!
The Trafft booking software adapts to different industries for a blissful online booking experience and employee management.
Want to know more? Check out Trafft's awesome features to see what you are missing.
Keap
The first HoneyBook alternative on our list is Keap. Keap is an all-in-one solution to help businesses get more sales and grow faster.
It combines CRM, sales automation, marketing automation, and online payments into one platform. All of these tools have three different editions: Lite, Pro, and Max.
The Lite edition is best for solopreneurs and new businesses.
The Pro edition is perfect for growing businesses with custom needs.
The Max edition serves established businesses and project teams that need a robust CRM solution.
Keap helps businesses get organized, automate follow-up contact, track deals, and close on leads. It is a great solution to ensure that no lead falls through the cracks.
Keap offers a fourteen-day free trial period. So users can test if it helps them run their business more efficiently before committing to it.
Plutio
Plutio is loaded with features that streamline running a business. This rounded solution is handy for those managing their own business. Now they can find everything they need in one place.
This tool helps with project management, time tracking, invoice creation, and more. You can create proposals and contracts with a drag-and-drop tool.
Also, it's easy to track when invoices and contracts are opened and signed. And it offers multiple payment gateways with easy online payment integration.
Users can quickly manage clients with this powerful and robust CRM. Being able to customize your dashboard and client portal is one of its best features.
Bitrix24
Bitrix24 combines a CRM with collaboration tools. It is perfect for solopreneurs and offers great project management tools. This platform provides several features for communication, task management, website creation, and more.
For communication, it offers chat, video, calendars, document sharing, email, and groups. With all these features, teams can stay in touch in real-time. They can share calendars and documents and stay up-to-date. You can create an unlimited number of workgroups.
Bitrix24 has four plans. The first plan is 100% free. Users can upgrade to the other premium plans if they want advanced features.
SuiteDash
Another on our list of HoneyBook alternatives is SuiteDash. Like the other platforms, SuitDash provides many features to streamline business tasks.
It helps:
generate leads
boost sales
process payments
communicate with teams and clients
The CRM included with this platform allows users to track client communication. They can track where each lead and client is in the sales funnel. Then they can schedule follow-up emails or phone calls with clients with the click of a button.
Users can view project workloads with the project management module. They can also view and manage tasks and team members. An integrated calendar enables users to edit tasks and create new ones.
Process Bliss
Process Bliss offers a place to build and store processes, procedures, and policies. On top of that, it manages workflow and tasks.
Teams can even create repeatable templates. Repeatable templates allow companies to use best practices across all departments.
Templates can be created for onboarding, payment schedules, and much more. Then teams can quickly execute and track the templates.
Notifications, reporting, and assignments are automated to save hours of your time. Dashboards provide excellent visual presentations of status and statistics.
Collaborating with team members is easy with the @mention feature. A helpful feature saves a record of all discussions for better communication and issue resolution.
Insightly
Insightly is a customer relationship management tool. It offers workflow automation, lead routing, and tools to build strong client relationships.
This platform can manage marketing campaigns, sales projects, and customer service. It is a great tool for a service-based freelance business.
You can use it to manage a sales force, distribute leads, and track emails. A wide range of functionality ensures that you have what you need to grow. Integrations allow users to connect to the apps that they already use.
Monday
Everybody hates Mondays and, usually, not a lot of work gets done on that day. But with monday.com, that can all change.
Monday.com is a processes management tool and CRM rolled into one. Although the platform was not built to operate like a CRM, its workflows and automated tasks help customer management.
This platform provides many templates to help with day-to-day tasks and long-term projects. The library of templates is especially useful for new, small, and growing businesses. The templates help employees perform well even when they have to take on unfamiliar responsibilities.
Elorus
Elorus is a cloud-based platform. It is an all-inclusive business tool that offers excellent accounting software that helps with time tracking, invoicing, payment processing, expenses, and more.
Elorus has pre-built invoice templates in its invoicing software. All users have to do is style them to reflect their brand and business.
The built-in currency converter facilitates global business deals. It allows users to set up recurring invoices. And this platform makes invoicing easy no matter the currency, country, or language.
Elorus provides a team and client portal to maintain good communication with coworkers and to manage contacts.
Fyle
Fyle is an AI-based expense management software. With an intuitive interface and a robust policy engine, Fyle eliminates the need for any manual work for expense tracking and reporting, processing reimbursements, and managing corporate credit cards. 
Fyle offers incredible control and customizability for admins so they can automate their financial processes exactly as they need. Once admins have fed policies to Fyle, it checks every receipt and expense for compliance and brings any risks to the admin's notice even before expenses are submitted for verification. 
It has tight-knit integrations with major accounting software, travel management software, and HRMS to make expense management a fully automated process. Further, Fyle gets direct feeds from any corporate card providers you may have; it will never force you to abandon your preferences to use their cards. 
Fyle is an excellent choice for SMBs to manage expenses, cards, budgets, and save more with advanced spend analytics.
17hats
The next on the list of HoneyBook alternatives wears a lot of hats. 17hats is an all-in-one business tool to get projects and tasks done.
It is an especially helpful platform for solopreneurs and entrepreneurs. It features a dashboard that provides data, statistics, highlights, and visuals, so you know how your business is doing with just one glance.
A contact section keeps track of clients and projects, so you'll know what has been done, what needs to get done, and what is coming up with this tool.
Studio Ninja
Studio Ninja streamlines lead capture workflows. It also offers client management and contract management tools.
Start by creating workflows to follow up on leads. Then customize each email or message to maximize conversions. The client portal allows customers to accept quotes, sign contracts, and pay invoices.
Easily manage client activities with all the tools arranged in one place. Studio Ninja has a unique to-do list view so that users can track tasks by scrolling through the list.
Salesmate
Salesmate provides all the tools sales representatives need. Sales reps can get in touch with leads, prospects, and existing clients directly through Salesmate.
This platform also offers flexibility for personalization when contacting leads and clients. Sales teams can automate tasks like customer outreach. Automation allows them to spend more time on their clients.
Use this platform to create a repeatable sales process and win more sales than ever before. And integrate with Outlook or Google apps to keep client information in one place.
Bonsai
Bonsai is a perfect HoneyBook alternative because it offers a full product suite to perform tasks involved in running a business. It is a great solution for freelancers and small businesses.
Prepare proposals, create contracts, and let clients sign electronically. Manage projects step by step, send invoices, and take care of time tracking, all with this handy platform.
Bonsai provides support for accounting and advanced tax reporting. Users can also send automated reminders to clients.
This platform is with a business every step of the way, from proposals to taxes. It streamlines business tasks to help users flow flawlessly through their workdays.
Dubsado
Dubsado is another all-inclusive and feature-rich business management solution.
It helps:
track finances
handle client relationships
create and send invoices
create contracts
create automated workflows
This platform's dashboard shows sales, incomes, profits, and expenses. So users can quickly understand the state of their business and take action to improve their bottom line.
Dubsado also offers client management tools. Create an automated workflow to save time and energy. Design contracts and forms that conform to your brand. Dubsado offers several customization options to provide an excellent client experience.
Bloom
Bloom's features and tools will help your business blossom in no time. It streamlines the customer management process. And it provides a detailed project management overview.
The workflow based on categories allows users to get a highly detailed view of tasks and projects. Tasks are listed at the top of the page, and projects are listed to the left.
This platform integrates with multiple payment options. And it supports more than 100 currencies.
Use Bloom's billing software to create invoices and process credit card payments. Take advantage of its scheduling software to give clients the appointments they want. With it, clients receive a link to the calendar where they can book available slots.
Ending thoughts on the best HoneyBook alternative
HoneyBook is a great business management solution, but it might not work for your needs. Other options may suit your business better.
Each of the above provides excellent tools and features. Most of them offer a free trial period. So try them out and see which HoneyBook alternative matches your business best.
If you enjoyed reading this article with HoneyBook alternative, you should read about these Calendly alternative apps.
We also wrote about a few related subjects like vcita vs Acuity, Vagaro vs Acuity, Schedulicity reviews, Schedulicity vs Acuity, Zoho Bookings vs Calendly, and Scheduleonce reviews.