You pull out your phone, open the app, and see you are booked for the next week. Plus,  invoicing and receiving payments have been taken care of with no fuss. And the email marketing campaign to get out to your next batch of clients? You check on that too, and VIOLA! There it is, no hassle, simple and easy: scheduling, marketing, and payments all in one place.
That's the power of what Schedulicity brings to the table. An all-in-one solution for online appointment booking, scheduling, marketing, and payment processing.
Schedulicity's History
This app was created for the Health and Beauty industries. It was founded in 2010 by owner Jerry Nettuno. Schedulicity is now available to businesses in over 50 industries. Those industries include government offices, cleaners, counselors, and more. They have 82 employees and continue to grow as a leader in the appointment and scheduling industry.
What can you do with Schedulicity? 
Schedulicity offers a wide range of features unique to this app. Let's take a look at some of them. Keep in mind that Schedulicity provides an a la carte approach to its app. So while it offers a range of possibilities, you will have to pay for the extra features your business needs.
Core Features
Schedulicity allows you to:
Book appointments
Market your business
Receive payments
List and manage classes
Let's look at each of these in-depth.
Booking Appointments
The app's scheduling feature is the most refined and efficient part of the software. It lets you customize the calendar; then, it organizes the calendar with icons to identify a range of messages and requests. If you run into unexpected delays, it's easy to inform your customers of changes.
Plus, it allows you to schedule recurring appointments. You can also set policies and waivers, making it an excellent tool for the health and fitness industry.
Marketing Tools
In addition to the scheduling and appointment capabilities, Schedulicity offers some great in-app marketing tools. For example, you can schedule email marketing campaigns. But it doesn't stop there.
One of its most impressive marketing tools is Schedulicities Marketplace. Think of it as a hyper-specific Yelp. It allows customers to search for small businesses in the area and book an appointment right in the app. Potential customers can also read about your services, see your special offers, and bookmark your business to find it later quickly. The best part is that this is not a small community. Over 25 million people use the Schedulicity Marketplace.
Aside from the Marketplace, Schedulicity provides buttons for your social media posts, pages, and website.
Receiving Payments
Schedulicity also comes with a built-in payment system. They offer some incredibly low rates on payment acceptance, just 15¢ plus 2.5%, you'll be hard-pressed to find something cheaper. However, they have a separate software they created called Norm for contactless payments.
One of the best features of their payment system is the complimentary next-day funding, a big win over many competitor payment systems. They also accept all major credit cards.
Listing and Managing Classes
Schedulicity's class management system is pretty extensive. It offers waitlists, roster checks, check-in attendees, and even group bookings. You can create classes up to three months in advance, which is especially helpful when prepping for popular courses.
An essential app feature is product data. And Schedulicity does a great job on this one. It tells you which classes are most popular, promotion performance, and even estimated revenue from a class.
An excellent feature for clients is seeing a bird's-eye view of their classes and making changes relatively quickly and easily.
Schedulicity Pricing
Schedulicity has a pretty good free starter plan. The free plan includes:
Up to 10 bookings per month
Provider notifications (email and text)
Email reminders for clients
Free business and client apps (iOS and Android)
Simple marketing tools, including a booking widget for websites
Email support
The unlimited plan adds in more features and starts at $34.99 a month. With the unlimited plan, you get built-in payment tools, waitlists, waivers, no-show protection, auto-billing, personalized email marketing, and more. In comparison to other scheduling services, the pricing is pretty affordable.
For higher-demand businesses that need more providers, Schedulicity also offers more extensive plans. They range from $44.99 to $94.99 a month. You can have more than seven providers with the most comprehensive plan. However, the limit on providers is not specified.
Client Experience
I decided to test the customer side of Schedulicity to see what your customers will see when using the app and get user feedback. Here are some things I noted.
Signing up for Schedulicity is extremely easy for a customer. I was thrilled with the ability to sign in without giving too much information. I also appreciated the easy-to-use search function when looking for businesses. With the business type and location, it is a hassle-free experience.
One thing that stood out was that the Marketplace lists the number of "likes" the business has received, which is similar to reviews. The more times a business has been liked, the more likely customers will choose it instead of its competitors.
The website also offers a single space that includes all your bookings. This is a great way to keep track of your scheduled appointments. It also allows you to change any appointments directly on the website.
I noted two negatives when using the software from the client's perspective. First, the feature choices are minimal. For example, a spa listed a plethora of services on their website but had only ten or so on the Schedulicity software. This may have been by design because they also linked their website.
The second negative was the small number of choices for certain services. It could be the area I searched in, or it could have been that particular business lacked services. Still, it looked limited. I can see them improving this as they continue to grow.
Customer Service
The customer service has received mixed reviews on different review sites.
One customer praised them, saying:
"The customer service's willingness to have conversations about features that are not currently offered and work towards current solutions to find what can and will work has been outstanding."
While another customer stated:
"We talk to Schedulicity support, and they are overall not expressly friendly; seems like we bother them with our questions. Not the best quality from a support department." 
However, they indicated that they were happy with the software.
Final Weigh-in 
Pros 
Schedulicity is easy to use, has a great user interface, good customer service, and affordable pricing options. It is perfect for service providers, small businesses, massage therapists, and more. It offers loads of tools for both clients and customers. Another huge plus is that its low payment charge supports Schedulicity's boast of being an all-in-one tool.
Overall the greatest benefit to Schedulicity is in its simplicity. Customers love the interface that allows for quick scheduling and payment. Working as an app is necessary given the shift to a mobile-centric world.
Cons 
On the other hand, Schedulicity does have some flaws, especially when it comes to integrations. We counted only six integrations. This is a considerable disadvantage to those wanting to use Schedulicity to scale. It is also missing some functions expected from a CRM of this caliber, such as not being able to add every service. Service providers are limited to which services they may offer (i.e., can't include couples booking massages together).
Schedulicity also lacks an actual invoicing tool, which is surprising for it being such a robust system. 
Conclusion: Should you use it?
Schedulicity provides more than enough for most small businesses and service providers to be a clear winner. The Marketplace's goal of creating sell-out services for your business is a definite plus. The simple user interface is another major feather in their hat and a big draw for customers.
However, if you are looking for more customization, invoicing, and integration, you may need to look for a more robust solution, especially when Schedulicity gets reviews like these online:
Get an even better app to use
Staying organized has never been easier.
You can now manage your business and grow your brand with a single, powerful software that keeps all of your appointments in line, your clients organized and your business booming.
Trafft is perfect for business owners who need to streamline their booking experience both for their staff and their clients.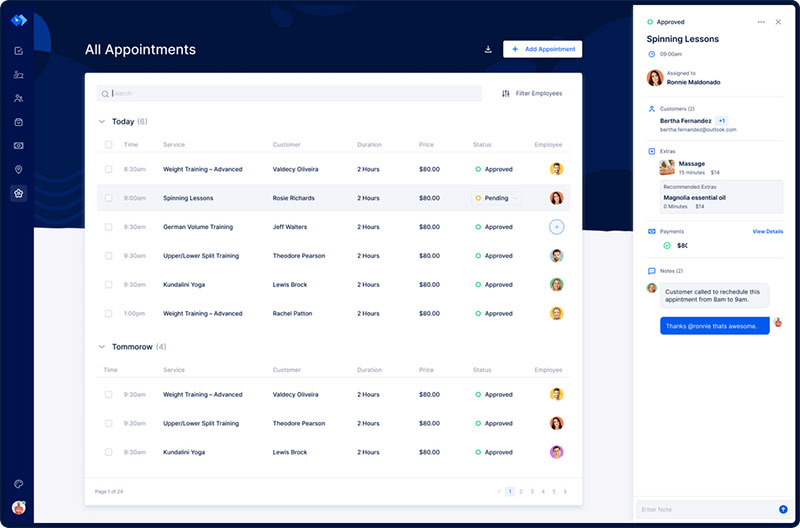 Trafft handles everything for you, even sending automated email or SMS reminders to your clients. No-shows? Not anymore!
The Trafft booking software adapts to different industries for a blissful online booking experience and employee management.
Want to know more? Check out Trafft's awesome features to see what you are missing.
If you enjoyed reading this article with Schedulicity reviews, you should read about these Calendly alternative apps.
We also wrote about a few related subjects like vcita vs Acuity, Vagaro vs Acuity, Scheduleonce reviews, Schedulicity vs Acuity, Zoho Bookings vs Calendly, and Honeybook alternative apps.