SimplyBook.me is a booking system that stands out from the rest. Its features aim to satisfy the needs of the customer.
As a result, the whole meeting scheduling process is much faster and simpler.
Every business in the service industry needs a good appointment scheduling system. SimplyBook.me is the tool that many are looking for.
This affordable booking software solution gives you the flexibility that the industry requires. It also integrates into many of the applications that you are already using.
You will find that it can even help you draw more revenue from your appointments.
There are many SimplyBook.me reviews on the internet. This article provides the most thorough review of the features and options that SimplyBook.me offers.
About SimplyBook.me
SimplyBook.me reviews note that it follows the latest trends in cloud-based scheduling. Its features make it suitable for service companies from all kinds of industries.
It generates booking sites where potential customers can quickly book appointments online. At the same time, it collects customer feedback and optimizes efficiency and revenues.
The booking system reminds the service provider and the client of their appointments. It does this through email, text message, or both.
Users can create and design their booking websites in an easy and simple way. SimplyBook.me offers a range of templates that you can modify to match your brand.
There are also more than 60 customer features for improving the user experience and managing appointments. Furthermore, the app can send promotions, recurring events, and set up service providers.
Users have a variety of personalization options. They can customize the booking page and add third-party booking systems, like iFrame.
There are booking buttons that users can add to their websites or social media pages. SimplyBook.me allows multiple simultaneous logins and reservation cancellations.
SimplyBook.me is ideal for new companies. Its flexibility allows for expanding customer bases and contains various scalable features.
Who is SimplyBook.me for?
SimplyBook.me's services and features particularly cater to the needs of smaller businesses in the service industry. However, that does not mean that it only provides the most basic booking system features.
The small businesses that will benefit from SimplyBook.me include:
Beauty parlors
Daycare centers
Dentists
Financial advisors
Gyms
Hair salons
Massage salons
Medical clinics
Restaurant
Spas
It's also great for businesses that rely on appointments and direct client interaction.
SimplyBook.me can do more than schedule meetings and appointments. It offers a range of management solutions for medium and large-sized businesses.
There are integrations with various social media outlets and website widgets.
The complete toolset makes the online booking system flexible and adjustable to businesses of any size. Users can tailor it to exactly meet their needs.
Features
Any kind of booking software will give you appointment booking capabilities right away. Of course, SimplyBook.me does too.
But as many SimplyBook.me reviews show there is much more. It gives back-end organization management options, tools for customer retention, and more.
This booking tool comes with different pricing plans, each with its specific features. Some tools help to improve workflows, information content, and customer lifetime.
Collect client info at booking
SimplyBook.me collects customer information during the booking process. You will never lose a piece of important information or forget to ask the client for it.
Cut down on no-shows and double bookings
Every year customer no-shows cost a lot of money. Double bookings are even worse; they can lead to the loss of customers.
SimplyBook.me has an automated service for sending out appointment reminders.
Client and sales attractors
There are new, effective ways to attract prospective clients. Social media integration will help you to do that.
You can add the 'Book Now' button to each of your outlets. The plans include your business listing on the Booking.page marketplace.
You can also add 'Book Soon' reminders so that recurring clients can easily book a new appointment. Offer promotions and additional services during the booking process.
24/7 booking
Nowadays, clients will book appointments whenever they can, not only within office hours.
With Simplybook.me, the online booking system is available 24 hours a day, 7 days a week. This means that you never have to lose appointments due to unavailability.
The booking system includes features for selling tickets, subscriptions, and more, online. SimplyBook.me goes far beyond the standard appointment booking.
Payment Options
The feature for accepting online payments is a recent addition. It's easy to accept and process payments by credit card and cash with the POS functionality.
Promotions
SimplyBook.me helps you to improve the marketing of your business. Some notable features are the gift cards and coupon codes that you can offer your customers.
Mobile Apps
Manage your appointments with practical iOS or Android applications.
Integrations
A major advantage of SimplyBook.me is the wide range of integrations with other apps that it offers. Additional plugins are available for collecting customer information and other advanced features.
The third-party connection options fall into five categories. These are: bookings, email marketing, CRM, payment processing, and others.
Website Bookings

Joomla
Social Media Bookings
Facebook
Google My Business
Instagram
Line in Asia
Video Conferencing

Gruevo
Microsoft Teams
Zoom

Website Widgets
WordPress
Your Own Website

Email Marketing
Active Campaign
Analytics and Conversions
Constant Contact
Facebook Pixel
Google Adwords and Analytics
MailChimp

Payment Processors
Alipay
PayPal
Square
Stripe
Many More

CRM
Google Contacts
InfusionSoft
Salesforce
Many More

Other Integrations
Client Login via Social Media Profiles
Facebook Photo Sharing
Google Translate
Instagram Photo Sharing
Microsoft Azure Single Sign-On
Benefits of SimplyBook.me
The biggest benefits are the stability, flexibility, and support for mobile devices. This heading discusses them in more detail.
As mentioned, SimplyBook.me is more than an online booking system. Its purpose is to increase revenues and customer bases.
The promotion system takes much of the marketing-related costs off your hands. This system automates the rewarding of existing customers.
What's more, it integrates with a wide range of other useful applications. Added features allow you to collect customer information.
Many other advanced features are accessible through plugins.
SimplyBook.me has a Class and Membership function for organizing events and courses. Attendees can get additional benefits as a member.
For instance, they can make payments with a credit card, receive notifications, and enjoy a flexible duration period.
The scheduling feature has been updated and redesigned for easier management. You can add as many time slots per day and per week as you want.
Cloud-based technology makes it adaptable to larger organizations and different industries.
The user and the client will both enjoy working with SimplyBook.me. This is due to the fact that it has a very intuitive customer experience.
Receive feedback from customers through the feedback-collecting features. By activating the review feature, you can automatically send review invitations to clients.
SimplyBook.me is also practical for your clients.
It allows them to book an appointment from anywhere using their mobile devices. Making an appointment takes only a few clicks.
Down Sides of SimplyBook.me
According to SimplyBook.me reviews, some would like it to integrate with more online meeting tools. It could be that these integrations were not added yet because most clients do not need them.
Another area for improvement is the product user interface design. The designs of the mobile app and booking websites show that things are going in the right direction.
Below is a summary of some complaints found in other SimplyBook.me reviews:
A common complaint is the cost of add-ons and plugins. The basic plans are very affordable, but there's a sharp increase in costs when you want to expand the functionality.
The user interface appears cluttered, and it takes a while to get used to the overload of information. Although, that does not mean that SimplyBook.me is difficult to use.
The front-end features receive much praise, as does the customer support.
But the app misses accounting and reporting tools. It is a lot of work to create income reports and doing everything in Excel is much easier.
In addition, the back-end design is not very professional.
Another drawback is the lack of integrations with online conferencing tools. Adding them would make meeting with clients much easier.
The complicated design and navigation of the admin panel is unnecessary. This is strange because the interface of the landing page works well.
Nor does it have a built-in meeting app. The integration only allows the partial use of some third-party conferencing apps.
Customer Support
The documentation that comes with SimplyBook.me is adequate. The only observation from SimplyBook.me reviews is that it lacks a search function.
There are practical video tutorials that show how to set up the platform. Additional blogs further highlight different aspects of the software.
You can get more personal help through email and online chat options. With the live chat, you can get an answer to your question within minutes, which is unusual in the industry.
There is also inline help in the application. To keep their interface clean, most similar apps do not offer this function.
The in-app help function is very practical. It explains how to use the different features and contains brief descriptions.
It even has embedded help videos that show you how to perform certain operations. Thus, finding your way through all the options is very simple.
Pricing
SimplyBook.me offers pricing based on usage rather than per user. All plans are based on the number of bookings.
With each plan come a number of custom features. You can choose which ones you want to add.
There are four different pricing levels, each with a set number of bookings and custom features. There is a free plan as well that offers the smallest number of bookings.
Here is a summary of the SimplyBook.me plans:
$0 per month: 50 bookings + one custom feature
$8.25 per month: 100 bookings + three custom features
$24.99 per month: 500 bookings + eight custom features
$49.99 per month: 2000 bookings + unlimited custom features
Besides the features mentioned above, all plans include an unlimited number of clients.
There is a Facebook widget and an admin app that also allows you to schedule staff. It sends reminder emails and accounts for different time zones.
Anyone can try out SimplyBook.me with the 14-day free trial version. The trial does not require credit card details, only a sign-up.
The free trial includes 50 bookings and gives access to most of the features. That way you can see for yourself if SimplyBook.me works for your business.
Final thoughts on SimplyBook.me reviews
In summary, SimplyBook.me reviews reveal the best features of this scheduling app. These include its integrations, customizations, and add-ons.
These important elements make SimplyBook.me an outstanding booking system.
The entire app and booking page are easy to use. Visitors to your booking site will find that scheduling an appointment is very fast and easy.
Adding a button on your business Facebook page will bring in many more new clients.
You can limit no-shows thanks to the many reminders and notification options. The clients will receive notifications and reminders by email or text message.
You will receive booking confirmations and cancellation notifications. The excellent customer support is a big plus as well.
Any business looking for a flexible scheduling software solution will like SimplyBook.me. Smaller businesses and startups will find that it helps their business to grow.
If you're unsure, the free version will help you to decide if it's suitable for your business.
What other people are saying
Whenever there's a review page, you always see positive opinions about that app. But, what about the negative opinions?
Let's see what others are saying:
Get an even better app to use
Staying organized has never been easier.
You can now manage your business and grow your brand with a single, powerful software that keeps all of your appointments in line, your clients organized and your business booming.
Trafft is perfect for business owners who need to streamline their booking experience both for their staff and their clients.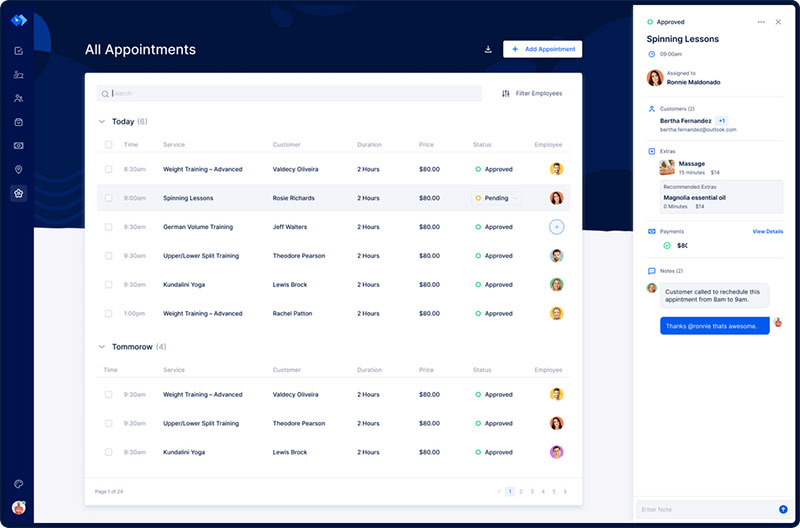 Trafft handles everything for you, even sending automated email or SMS reminders to your clients. No-shows? Not anymore!
The Trafft booking software adapts to different industries for a blissful online booking experience and employee management.
Want to know more? Check out Trafft's awesome features to see what you are missing.
If you enjoyed reading this article about Simplybook.me reviews, you should read this one on Doodle alternatives.
We also wrote about a few related subjects like Booksy vs Vagaro, Calendly vs Setmore, Setmore vs Acuity, vcita alternatives, Setmore reviews, Calendly reviews, and Chili Piper reviews.