If Doodle doesn't quite fit the needs of your business, it doesn't mean you should give up on scheduling tools altogether. Doodle is only one of several online scheduling software, and many consider it the best. Yet, Doodle is not the right solution for everyone. Luckily, there are plenty of alternatives to Doodle.
We've compared 25 Doodle alternatives in 2023 to help you find THE booking software that actually suits your business needs.
Organizing a meeting is a lot of work. Confirming when invitees are available usually means many back-and-forth emails. Confirmations and last-minute cancellations result in stress. It not only takes a lot out of the one that is organizing, but it also lowers the company's productivity.
Online scheduling apps such as Doodle relieve much of the organizing hassle. You can schedule meetings and other events with confidence with this tool. It makes the entire process simpler and eliminates the need for extensive email conversations. That means more time for other productive tasks. Are you ready to boost your productivity?
Let's explore alternatives to Doodle!
What is Doodle?
Doodle is an online meeting and event scheduling app. This simple yet powerful app is popular among busy professionals. It streamlines the process of organizing meetings. Organizers can specify their availability and take into consideration the invitees' preferences.
Doodle's simplicity makes it very popular. Still, it also has some weaknesses. For example, you cannot save group contacts in the app. And you have to enter email addresses by hand every time you want to share a meeting poll. Another common complaint is that the Doodle polls are somewhat impersonal.
Other users have found that the process of suggesting dates and times is tedious and lengthy. Too many slots to choose from create an interface that's lacking intuitiveness.
The time zone feature is another reason some are dissatisfied. Doodle's developers designed it to support multiple time zones. However, activating this feature is complex and often overlooked.
Have you also experienced these Doodle downsides? Read on and find your perfect Doodle alternative and maybe even with advanced features it doesn't have! 
25 Best Doodle Alternatives in 2023
To give you a headstart, we've compiled a list of the most powerful Doodle alternatives in 2023. For each of these alternatives to Doodle, we've collected crucial information and described them in detail. 
Let's dive deeper to find you the perfect alternative to Doodle!
Trafft: The Best Doodle Alternative
We've taken into consideration ratings on popular platforms, customer testimonials, and cost-feature ratio and determined that Trafft is the best Doodle alternative in 2023. 
You can manage your business and grow your brand with a single, powerful software that keeps all of your appointments in line, your clients organized and your business booming.
Trafft is perfect for business owners who need to streamline their booking experience both for their staff and their clients.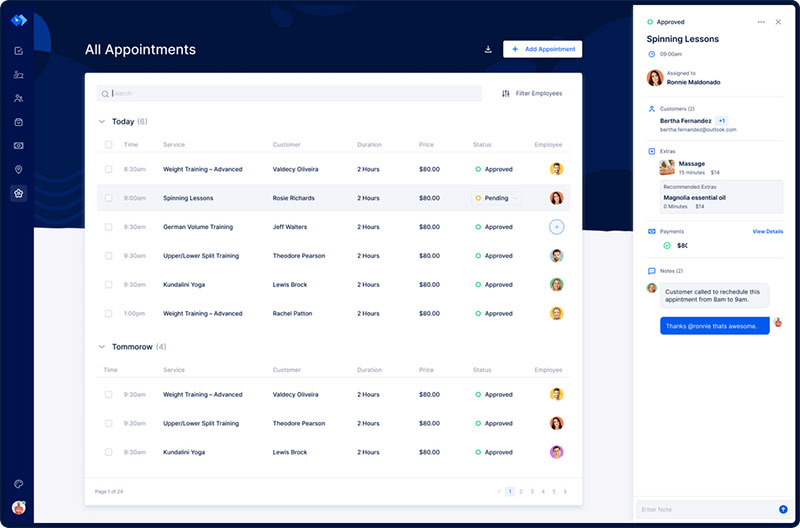 Trafft handles everything for you, even sending automated email or SMS reminders to your clients. No-shows? Not anymore!
The Trafft booking software adapts to different industries for a blissful online booking experience and employee management.
Want to know more? Check out Trafft's awesome features to see what you are missing.
Pricing: Free for up to 5 members; paid plans start from $29 per month. 
Ratings: 
5/5 on Capterra
4.7/5 on G2
Excellent on TrustPilot
5/5 on GetApp
Amelia – The Best Doodle Alternative for WordPress Booking
If you want to schedule meetings directly from your WordPress website, Amelia makes it all possible. With cutting-edge features, Amelia completely simplifies scheduling and other vital business tasks. You'll enhance the efficiency of your business and offer exceptional customer experience with features like appointment reminders, real-time availability, and smooth calendar integration. 
Also, Amelia supports group bookings, enabling users to schedule multiple participants for the same appointment or event. This is particularly useful for businesses offering classes or workshops.
Pricing: Starting from $79 annually and $199 for lifetime access. 
Ratings:
4.9 on Capterra 
4.7 on Trustpilot
4.9/5 on GetApp
If you want to discover how Trafft and Amelia stack up against each other, delve into our in-depth Trafft vs. Amelia comparison.
HubSpot Meeting Scheduler
The first on the list of alternatives to Doodle is the HubSpot Meeting Scheduler. It's a free meeting and appointment scheduling software for marketing and salespeople. It is unique in that it links with your inbox, calendar, and CRM software, making scheduling appointments with customers easy.
HubSpot gives you the option of adding a personalized booking link in your invitation emails. Clients can follow the link to see up-to-date availability and book their meeting at a time convenient for them. This feature will reduce no-shows.
Pricing: HubSpot's meeting scheduler is part of Sales Hub, and you can get started with it for free.
Calendar
Calendar is another Doodle alternative to check out because it has even more to offer. It is a complete calendar app available in mobile and desktop versions. The interface is easy to work with because it mimics Google Calendar.
It also provides an excellent meeting scheduler. You can create and customize time slots and send shareable booking links.
The free version allows you to schedule two customizable timeslots. And the Calendar app can connect with other existing calendar services, such as Google Calendar.
Extensive statistics features make Calendar stand out from the competition. It keeps a record of all meetings and picks up on trends that emerge. For example, it tracks how long meetings last and how often they're scheduled.
Pricing: They offer a free plan and paid plans start from $25 per month.
Ratings:
SimplyBook.me
The SimplyBook.me app is a Doodle alternative that's accessible from any device, from any location, and at any time.
It has integrations with Google My Business, Facebook, and Instagram. These connections allow you to book through different channels. The app sends booking notifications and allows you to reschedule or cancel.
The Class & Membership feature gives businesses complete control over their bookings. Many also enjoy the POS feature that accepts credit card and cash payments.
Some other remarkable features of SimplyBook.me are:
Coupons and gift cards

Customizable emails

Templates

Waiting list
Pricing: They offer a free plan with 50 included bookings, and pricing starts from $9.9 per month for 100 bookings. 
Ratings:
4.6 on Capterra
4.6 on GetApp
4.7 on FinancesOnline
4.4 on G2 CROWD
3.6 on AppStore
To find out more about SimplyBook.me, read our in-depth review.
Acuity Scheduling
The Acuity online booking system is similar to ScheduleOnce. It combines the scheduler with CRM, email marketing, accounting, and analytic tools.
One drawback is having to add available time slots by hand, making Acuity Scheduling time-consuming.
On the plus side, integrating with Google Calendar, Exchange, iCloud, and Office 365 makes syncing calendars a simple task.
You can try it out with a 7-day free trial. 
Pricing: Acuity doesn't offer a free version, and pricing is on the higher end and starts from $20 per month. 
Ratings:
4.8 on Capterra
4.7 on G2
For more Acuity reviews and comparisons, check out the following articles: Acuity Scheduling Reviews, Trafft vs. Acuity, Acuity vs. Calendly, Setmore vs. Acuity, Appointy vs. Acuity, Vagaro vs. Acuity, Schedulicity vs. Acuity.
Bookafy
As a Doodle alternative, Bookafy works for any business. Staff members can sync their calendars with yours, enabling them to see your real-time availability.
Bookafy sends automatic confirmation emails and reminder text messages. And it integrates with Microsoft Teams and Webex. It also syncs with Exchange, Google Calendar, iCloud, and Outlook. That makes Bookafy an all-purpose tool for meeting scheduling.
It offers one-on-one bookings with customers, staff, and group events. The booking options are beneficial for HR teams that need to book various types of meetings.
Pricing: Bokafy offers a free plan, and pricing starts from $9 per month if you want access to certain features. 
Ratings: 
4.7 on Capterra
4.5 on Sofware Advice
4.4 on G2
Arrangr
This Doodle alternative takes care of the entire scheduling process. You can tentatively schedule meetings, and Arrangr frees up unused slots.
It easily integrates with different calendars and customer relationship managers. You can even schedule different types of events. One of Arrangr's unique features suggests ideal meeting locations. For example, you can enter your preference (coffee versus lunch), and the app will find the optimal location for all attendees.
Pricing: They offer a free basic plan, and pricing starts from $3.99 monthly. 
NeedToMeet
As a Doodle alternative, this meeting scheduling app is straightforward. It has a calendar interface that allows you to suggest meeting times. Invitees can then choose the time that suits them best.
NeedToMeet's mobile app can generate custom URLs. That way, you can send notifications and add comments. Clients will enjoy the app's simple polling form.
With NeedtoMeet scheduling, you can send out your calendar, and your team members can pick their slots. That feature saves a lot of time and emails.
The free plan is functional but limits the number of timeslots and invitees. The premium version removes all those limitations. The paid version also allows you to share and integrate your calendar.
Pricing: They offer a free standard plan, and pricing starts from $12 per user annually. 
Ratings: 
2.8 on AppStore
4 on Capterra
YouCanBook.me
Continuing down the list of best Doodle alternatives, you will find YouCanBook.me. YouCanBook.me can manage calendars for the entire team. It has customizable booking forms and third-party calendar integrations.
YouCanBook.me generates a custom URL so visitors can check available time slots in your calendar to book their appointments. You can even personalize the booking page with customizable layouts, colors, and logos.
The free version will display the YouCanBook.me company logo. However, with their paid plan, you can have complete control over your branding.
Pricing: They offer a basic free plan and pricing starts from $12 per month per calendar. 
Ratings:
4.7 on G2
4.6 on Capterra
4.7 on Crozdesk
Check out our YouCanBook.me review for a more detailed overview of this scheduling tool.
Calendly
This Doodle alternative offers valuable features. Direct integration with common applications like Google Calendars, iCloud, and Office 365 is one of them. Calendly also generates a customized URL that clients can use to enter their time slot preferences.
Calendly immediately adds the new appointment to your personal calendar with the date, time, and duration. The app also lets you define round-robin assignation, team availability, and group or one-on-one meetings.
Other essential features Calendly offers are:
Daily meeting limits

Efficient scheduling experience

Notifications

Appointment buffer time
Pricing: Calendly offers a basic free plan and paid plans start from $10 per seat monthly. 
Ratings:
4.7 on G2
4.7 on Capterra
4.9 on AppStore
To find out more about Calendly and decide whether it's the right tool for you, check out Calendly Reviews, Calendly Alternatives, Picktime vs. Calendly, Microsoft FindTime vs. Calendly, Appointlet vs. Calendly, Calendly vs. Microsoft Bookings, Calendly vs. Setmore, Calendly vs. Chili Piper, and Zoho Bookings vs. Calendly.
CalendarHero
Some may remember the Zoom.ai application. This app has been rebranded as CalendarHero, which resembles Calendly. You can suggest different meetings at different times and then share a link with invitees. Invitees can then indicate their preferred meeting time.
CalendarHero, like Calendly, integrates with and automatically updates your calendar. That way, your clients always have up-to-date availability.
You can use this appointment scheduling tool to customize events. All meeting attendees will benefit from the addition of location and conferencing details.
Microsoft or Google login users will enjoy a single login to access CalendarHero. This feature also provides fuss-free automatic video chat scheduling.
Pricing: CalendarHero offers a free plan and pricing starts from $8 per month.
Ratings:
4.6 on Capterra
4.6 on G2
Clara
A virtual assistant does more than schedule meetings. Clara is a machine-learning virtual assistant that suits the needs of individuals and teams. First, it streamlines the entire scheduling process. Then, it discovers patterns that work best for you.
Clara evaluates your availability when a meeting request comes in. It looks for the best time, day, and duration for that particular meeting. If you want, the app can also assign a location and preferred meeting attendees.
The way Clara works is remarkable. It understands human commands. And it even knows to reschedule when someone is out sick or other events occur that make it impossible to attend an appointment.
Pricing: They don't have a free version or trial, and pricing starts from $99 per month per user. 
Ratings:
Pick
Automation is Pick's keyword. It's a great alternative to Doodle and it only requires a Google calendar. Then, when a meeting is requested, it searches the personal calendar of each invitee that also uses Pick to see what time slots are open for all.
You can send invitations to all attendees straight from the app. It also generates personalized URLs so that anyone requesting a meeting can see your availability.
Pricing: $9 per month.
Karen
Karen is available 24/7. It is an online scheduling manager for meetings and appointments. Clients can book an appointment with you, and they can pay online from the comfort of their homes. The app sends text or email reminders to reduce no-show appointments.
You can brand automatic confirmations. From the moment clients book an appointment with you, they will see your logo in their inbox. Clients also have complete control over rescheduling their appointments and payment methods.
Karen helps you manage your time more efficiently, giving you time for more appointments. The app keeps track of the number of appointments, cancellations, new clients, and more.
Pricing: Karen offers a free plan and pricing starts from $8 per user monthly.
Ratings:
4.7 on Capterra
4.2 on G2
Demodesk
Demodesk is a cloud-based online booking system with a practical screen-sharing feature. You can use this feature to create your booking pages for potential clients to book their meetings.
The app offers customizing options to send personalized reminders at predetermined times. Reminding clients of their appointments helps to prevent no-shows.
Other platform integrations further streamline your work. Some of them are Microsoft and Google Suites, Hubspot, and Salesforce.
In summary, Demodesk offers customizable booking pages and calendar syncing. Additionally, it provides booking analytics, screen sharing, and advanced virtual display options.
Pricing: $29 per month per user. 
Ratings:
4.7 on Capterra
4.6 on G2
Google Calendar
This is one of the most accessible Doodle alternatives because most people already have a Google account.
Although it's sometimes overlooked, there is a button in the top left corner to create a new event. After creating the event, you can add guests and tap on "Find a Time." Google Calendar will start searching for the invitees' availability in their calendars. Then you can schedule the meeting at the best time for everyone.
Another practical feature is storing complete contact details in your Google account. Since many others also use Google Calendar, coordinating appointments is easy. And finally, Google offers integration with various apps. This feature makes using and exporting information straightforward.
Pricing: Free with a Google Account. The starter plan for Google Business is $6 per user monthly. 
Ratings:
4.5 on G2
4.8 on Capterra
OnceHub (formerly ScheduleOnce)
This meeting scheduling app doesn't limit you to one type of meeting – you to schedule various meeting types. App defaults offer standard lengths of 15, 30, and 60 minutes.
OnceHub generates links that you can share with clients so that they can schedule appointments with you quickly. All they have to do is choose a date and time that you are available.
It offers standard scheduling features. However, this appointment scheduling software provides more than its competitors in the free plan. The free version allows up to 3 users, and there is no limit to the number of meetings or meeting types. What's more, the free plan integrates with various video meeting services.
Pricing: They offer a free plan and pricing starts from $10 per user per month.
Ratings: 
4.3 on G2
4.6 on Capterra
Read a more detailed OnceHub review and see whether this booking tool suits your specific needs.
WhenAvailable
With this alternative to Doodle, you can start arranging events right away. WhenAvailable was specially designed to organize events. Just select the date and share it with friends, family, or colleagues. The invitees can inform you of their availability.
This feature allows you to schedule events on dates that work for everyone. Even better, invitees don't need an account to respond.
Pricing: They offer a free basic plan and pricing starts from $10/poll.
Appointlet
You'll find everything you expect of a good Doodle alternative in Appointlet. It automates your workflow and syncs your calendars. One feature sends emails with links to your booking page. You can also add the booking page link to the landing page or website.
Appointlet lets invitees see the availability of other meeting attendees. This feature allows them to adjust their schedules. It also gathers potential customer information so you can customize available time slots.
It integrates with video conferencing apps, such as Meet, Webex, and Zoom. That makes it practical to schedule online meetings. It also integrates with the payment portal Stripe so that you can receive online payments.
That said, Appointlet's paid plans tend to have fewer features than its competitors.
Pricing: Appointlet offers a free plan and pricing starts from $10 per member monthly. 
Ratings:
4.8 on Capterra
4.4 on G2
Take a look at this Appointlet vs. Calendly comparison to find out more about this tool.
Rally
The idea behind Rally is in its name; to rally fellow team members toward better communication. Rally is a collaborative appointment scheduling software for large teams. It is ideal for remote teams because it helps them agree faster on group meeting times.
You can generate and share a simple poll page to assist in scheduling the meeting. Invitees with the link can discuss and agree on the date and time that is best for everyone.
The ability for invitees to discuss the best meeting time is probably Rally's most valuable feature. One benefit is that most come to the meeting better prepared, boosting the meeting's productivity.
Pricing: They have a free plan and pricing starts from $5 per month.
Ratings:
MeetFox
MeetFox does more than most appointment scheduling tools. Besides scheduling capabilities, it has an in-app video call host and features for keeping track of payments. You can automatically invoice and process payments.
Several features are completely customizable. For example, you can customize the booking page with your brand, using different colors and logos. You can add your brand to email appointment reminders and even add a booking button.
Many freelancers and small startup businesses enjoy using MeetFox. It's an all-in-one scheduling solution that saves time and smooths out workflows.
Pricing: This Doodle alternative also has a free plan and pricing starts from $15 per user monthly. 
Ratings:
4.6 on Capterra
3.4 on G2
Chili Piper
Chili Piper's design and features are a good match for B2B sales and marketing teams. Team members and prospective clients can schedule a meeting with you with just one click.
Besides booking, it collects customer data and saves it to your CRM program. So your client list is always up to date.
A practical feature of Chili Piper optimizes your calendar and improves productivity. You can set appointment reminders, set buffers between meetings, and reserve time slots. Most importantly, it makes it easy to schedule appointments.
Pricing: They don't offer a free plan and pricing starts from $15 per user monthly. 
Ratings:
4.4 on Capterra
4.6 on G2
Discover more about Chili Piper in our designated Chili Piper Review. Also, check out how Chili Piper compares to Calendly.
Appointy
Appointy is an excellent Doodle alternative that simplifies scheduling with its user-friendly interface. It offers you powerful features to effortlessly organize appointments and events. You get customizable booking forms and branding options to add an extra professional touch to the whole booking process.
It's a versatile and reliable solution for businesses who want to schedule meetings hassle-free. 
Ratings:
4.6 on Capterra
4.7 on G2
For more details about Appointy, read through our Appointy Review article and an in-depth Appointy vs. Acuity comparison.
Schedulicity
Schedulicity closes this list of the best alternatives to Doodle in 2023. It empowers users with a comprehensive appointment management system and provides integrations with multiple calendar options. 
Schedulicity also offers automated reminders to enhance productivity and reduce scheduling conflicts. Their intuitive interface allows customers to easily schedule appointments without any confusion. 
Ratings:
4.4 on Capterra
4.4 on G2
If you're interested in finding out more about Schedulicity, we recommend you check out Schedulicity Reviews, Vagaro vs. Schedulicity vs. Trafft, and Schedulicity vs. Acuity.
Doodle Alternatives Wrap-Up
Most of Doodle's features are pretty straightforward. But others are time-consuming and drain resources. In fact, several of the options discussed above perform much better in these areas.
The answer to the question of which is the best Doodle alternative depends on your needs. All the appointment scheduling software solutions discussed here effectively schedule appointments. However, every person and company has different needs. You may need specific features, and those are what will determine which of these Doodle alternatives is the best for you.
Another factor to consider is the cost and the cost-to-feature ratio. Also, does it integrate with other apps you use? And is it easy to use?
So before making the final decision, it's best to investigate. How? Select your three top alternatives to Doodle in this list and request a free trial for each. That way, you can use them side by side and see how they work for you.
FAQ About Doodle Alternatives
What is the best alternative to Doodle?
The best alternative to Doodle is Trafft because it offers you up to 5 members for free, compared to Doodle which only offers 1 user. Trafft is also a great alternative because it offers more features in both free and paid plans.
Is there a free equivalent to Doodle?
If you want a comprehensive booking tool that's also easy to use and free, Trafft is your best bet. It's free for up to 5 members and you get a full suite of features to streamline booking and other business operations.