Appointment scheduling software is gaining popularity. Business owners can manage processes faster and more effectively from any device.
The ability to schedule appointments from your office, a hotel lounge, or your couch is priceless. That is why many small businesses turn to these solutions. They can improve profitability while saving time.
There are several online appointment scheduling options. In fact, there are so many options that it can be challenging to choose the right one for you. This article features two of the best-rated alternatives: Appointy and Acuity Scheduling.
By comparing Appointy vs. Acuity, you will be better equipped to decide which is the best software for your business.
Appointy vs. Acuity in a nutshell
With its social media solutions and management features, Appointy helps businesses grow. You can manage different locations and employees from just one platform.
The best way to develop a brand is by building a loyal client base. This approach can be challenging at first but brings long-term benefits. And with Appointy, you can implement customer loyalty programs to help you achieve this goal.
On the other hand, Acuity Scheduling is a Squarespace product. Thanks to its flexibility, it lets you creatively provide professional services. You can manage your schedule online because Acuity is cloud-based.
Of course, one of its most prominent features is appointment scheduling. And this job can be done easily and smoothly. You can create a template displaying real-time availability. Thus, your clients can self-book appointments at any time.
Build your client database with Acuity's forms that will help you gather client information. The software integrates with popular tools like Square, Stripe, Zapier, PayPal, and Google Analytics.
With Acuity Scheduling, you access awesome features:
Third-party calendar sync
Customizable forms
Embeddable calendars
Group scheduling
It also includes a free version but with some limitations. Free accounts don't sync with Google calendar and have only one available calendar.
Both Appointy and Acuity Scheduling offer excellent options. The next section features a detailed comparison by category.
Acuity Scheduling vs. Appointy – Who can use them?
Appointy is ideal for scheduling any activity, like meetings, sessions, appointments, classes, events, and workshops. It presents industry-oriented features that work well with spas, beauty salons, barbers, fitness professionals, medicine, education, and many other niches. If you compare Appointy to other options, you'll find it very flexible.
Small businesses and freelancers are the ones who typically use Acuity Scheduling. The players in this sector are usually too busy to handle management tasks but can't afford an assistant yet.
Thus, Acuity allows them to schedule appointments easily. Its messaging system makes communication with clients hassle-free. You can also streamline the workflow using standard schedules.
Acuity or Appointy – Which one is more affordable?
When comparing Appointy vs. Acuity Scheduling, it's critical to consider pricing. Both platforms offer cost-effective solutions for professionals.
While Acuity may seem like the cheapest option, it's not always so. The basic plan offers low prices but a limited amount of calendars. You'll have to pay an extra $10for additional calendars.
For mid-sized or large teams, it's not cost-effective. They probably will find Appointy more convenient. For a small business, though, Acuity Scheduling is the cheapest option.
Appointy – Fees
It offers four different plans, which include a 14-day free trial. The prices range from $0to $80per month.
Free plan (it includes the basic features)
Growth plan – $19.99/month (billed annually)
Professional plan – $49.99 (billed annually)
Enterprise plan – $79.99 (billed annually)
Acuity – Fees
Acuity offers client-oriented plans. The features vary with each option and depend on the business's needs. It also offers a free trial for seven days.
Emerging plan – $14/month – annual billing (1 calendar)
Growing plan – $23/month – annual billing (6 calendars)
Powerhouse plan – $45/month – annual billing (36 calendars)
Acuity Scheduling vs. Appointy – Pros and Cons
Appointy – Pros
One of Appointy's most significant advantages is its accessibility. It can run on Windows, Android, and iOS, making it available for most users.
This software is a powerful scheduling tool. You can manage appointments on Facebook, add widgets, and adjust your business hours. You can enjoy automated notifications, comprehensive analytics reports, and a mobile administration console.
There are comprehensive customization options and scheduling capabilities. Clients can schedule their chosen activities, and owners can organize meetings.
Appointy is the perfect scheduling software for large teams. Managers can set maximum meeting capacities and track attendance. You can also set up weekly or monthly limits and schedule recurring appointments.
Appointy – Cons
Appointy provides many more features than the average appointment scheduling software. For this reason, it can be complicated to use. It takes a learning curve to master all its possibilities. The user interface looks cluttered and is complex, especially for new users.
Some argue that Appointy's price is not the best. It's possible to get other options at much lower prices, e.g., Calendly.
Integration is not its strongest point either. This software doesn't integrate with many popular tools, which can be a limitation for some businesses.
Acuity – Pros
Acuity Scheduling stands out for its compatibility. You can combine it with the most popular software to enhance its functionalities.
The company ensures that the system runs smoothly. Users can find an extensive knowledgebase on Acuity's webpage. They can search for answers and troubleshoot issues. Acuity uses "parties" to provide training on how to use the software at different levels.
Unlike its counterpart, Acuity's user interface is quite friendly. You can customize your calendar's view and emails as you like.
Being able to select a tailored plan should not be overlooked. You can choose the features that best suit you and avoid spending money on tools you don't need.
Acuity – Cons
Despite being one of the best scheduling software available, Acuity lacks some essential features. Users might need chat or phone options for customer support.
The interface is relatively intuitive. Yet, some have reported drawbacks. For example, they've had to consult the website to figure out how to use certain features.
Although Acuity's usability doesn't enjoy the highest rating, its high speed and smooth running compensate.
Features
Appointy – Features
This solution stands out for its flexibility. It fits different industries and niches.
Self-booking
Your customers can book appointments outside working hours. They have access to updated calendars at all times. These features will save you valuable time as you don't have to deal with them directly.
Recurring appointments
Long-term clients are the foundation of any business, so recurring booking helps clients engage with your professional services. They can book multiple procedures and private sessions at once. If they need only one service, the recurring appointment tool will help them save time. This feature also helps small business owners optimize procedures.
Your customers can rest easy knowing that they can book their session in advance, and the space is available on the calendar.
Time slots
The software's flexible time slots allow you to book sessions in as little as 5-minute intervals.
Optimize your processes
Your small business can be more productive thanks to automated processes. Everyone knows that person-to-person communication is essential for business. That's why your customer support team must attend to those requiring it. Using this platform allows you and your staff to save time by not dealing with general requests. Since customers can self-book their appointments, your team can focus on other tasks.
Working hours
You can set your staff's working hours accurately. This feature allows owners to control who is in charge of what at any given moment. Also, when your customers submit a request, they will know when to expect a response.
Acuity Scheduling – Features
Acuity also offers self-booking options. Your clients will be able to book their appointments and cancel or postpone them. An extremely helpful feature is embedding your schedule. Thus, visitors won't have to leave the page to set up a session, bringing many benefits. For example, it helps optimize your search engine results. Also, employees can update their schedules in real-time.
Scheduling page
Acuity's scheduling page has many customization options. The real-time availability and self-booking options will help you optimize your workflow.
Online payments
Your customers will be able to pay online. They can access some of the most popular payment methods. Acuity integrates well with Square, Stripe, and PayPal.
Client information
This software includes intake forms. When visitors enter their data, it automatically goes to your database. Thus, you can store your clients' information for many purposes. You can even use it to optimize future processes. For example, after obtaining the person's address, phone, or payment method, you can also use that information for marketing purposes.
Smooth teamwork
Acuity coordinates all your team members. No matter in what part of the world they are in, they can keep in touch. The software promotes good communication through real-time meetings and video conferences.
Its synchronization options come in handy when you work with people in different locations. Whether your staff is in their"home office" or another country, this is a helpful feature.
The software allows you to sync calendars across jurisdictions and employees.
Security and compliance
Acuity keeps your information safe. Your company, employees, and customers enjoy the best level of confidentiality. The software is compliant with the HIPAA Security Rule.
Customization options
Appointy and Acuity Scheduling have one thing in common: their customization options are only available with paid plans. Unfortunately, you can't try them before making a payment.
Appointy is very flexible. It allows you to change almost every element that owners or customers may use. Although the possibilities are practically limitless, you can remove the Appointy logo only with the Enterprise plan.
Acuity, on the other hand, offers customization choices as you upgrade your plan. You can modify colors, headings, and add your logo. Also, you can provide a client-based service by customizing emails and notifications.
This software doesn't need third-party plugins. Yet, if you want to enhance your editing options, you are welcome to use custom API support.
Ending thoughts on Appointy vs. Acuity Scheduling
Although both are excellent appointment solutions, they have their differences. Large teams will find Acuity more cost-efficient. While its basic plan costs only $14 a month, it supports only one calendar. On the other hand, even Appointy's free plan is ideal for sole entrepreneurs.
When comparing Appointy vs. Aquity, you'll find both are suitable for freelancers, mid-sized companies, and developing projects. You can be sure that either of them will optimize your business performance significantly.
Get an even better app to use
Staying organized has never been easier.
You can now manage your business and grow your brand with a single, powerful software that keeps all of your appointments in line, your clients organized and your business booming.
Trafft is perfect for business owners who need to streamline their booking experience both for their staff and their clients.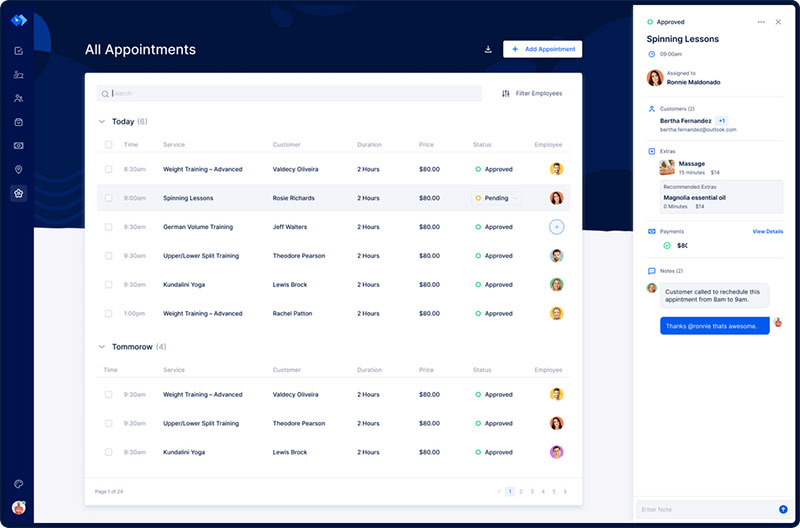 Trafft handles everything for you, even sending automated email or SMS reminders to your clients. No-shows? Not anymore!
The Trafft booking software adapts to different industries for a blissful online booking experience and employee management.
Want to know more? Check out Trafft's awesome features to see what you are missing.
If you enjoyed reading this article about Appointy vs. Acuity, you should read this one on Calendly alternatives.
We also wrote about a few related subjects like Calendly vs Chili Piper, alternatives to Doodle, Doodle reviews, Honeybook reviews, Thryv reviews, Acuity Scheduling reviews, and Housecall Pro reviews.