Doodle offers a simple scheduling concept that makes organizing meetings easier. More than 30 million users trust it every month. Why do they use it, and what do they have to say about it? This article will examine Doodle reviews, features, and prices. But first of all, what is Doodle?
What is Doodle?
Doodle, a cloud-based appointment scheduling software, provides a scheduling solution for both small and large businesses. This versatile tool works great for scheduling events, one-on-one meetings, and group meetings.
Doodle simplifies the process of scheduling meetings. And it avoids conflicting bookings by automatically syncing appointments to your preferred calendar solution.
This scheduling concept eliminates the need for back-and-forth emails and rummaging through responses to set a suitable meeting time. One reviewer says that, with Doodle, she no longer has to sort through several emails to figure out the best time for a meeting.
How does Doodle work? It sends meeting invites focusing on scheduling according to a person's availability.
Inviters create invitations by selecting the preferred meeting type. Then they enter the location, estimated duration, and a description. Next, they propose a few dates and times when they will be available.
The invitees then select which date and time that works best for them. Doodle then automatically adds the accepted date to each person's calendar.
It works with every calendar solution, such as iCloud and Google Calendar, so everyone can access its features. An edit button allows inviters and invitees to change the time or date of the meeting if need be.
Doodle Services
Many services that Doodle offers are free. These include:
Doodle account
Doodle Mobile
MeetMe
Connect Calendars
MeetMe is the primary contact center. From there, users can manage and coordinate meetings. The free version of MeetMe does have ads. However, Doodle Premium is an ad-free version.
Doodle Premium offers more advanced professional features. Of course, small and large businesses will benefit more from the premium version than the free version.
Doodle Mobile allows users to access information on their mobile devices. It interfaces well with Apple and Android. You can create and answer meeting invitations directly from your calendar using the mobile app. It also gives you an overview of Doodle polls.
Who Should Use Doodle?
Companies of all sizes find Doodle beneficial. Businesses that have many meetings, whether they are one-on-one or group meetings, will enjoy this software.
Doodle is most useful for businesses with a long list of clients, especially international clients. Companies that need to schedule meetings quickly and sync their appointments to their calendars also find it very helpful.
Many Doodle reviews say that it is an essential tool for scheduling meetings with three or more people. This fact is especially true when meetings extend across various time zones.
Other Doodle reviews show that it is an excellent user-friendly solution. Many others find this software indispensable because it gives clients scheduling choices.
Doodle Features
The whole purpose of Doodle is to efficiently find the best time a group of people can meet together.And it has a host of features to make that happen.
Some prime features include:
invite notifications
calendar management
calendar invites
custom invites
multiple user management
meeting reminders
additional information requests
customizable meeting requests
participants availability management
fix meetings
polling
The polling feature is a favorite, according to Doodle reviews. You can create polls instantly to pinpoint the best date and time for an event.
Users can invite people to participate in the poll or post a link to the poll so that invitees can access it. And poll participants do not need a Doodle account.
Participants simply enter their names and then vote on the options. They can also leave comments. As people participate, Doodle tallies up the results and reveals which option has the most votes.
Since polls do not require participants to have a Doodle account, this feature works for informal events, team events, and much more.
Doodle saves all polls, old and new, so you refer to them later. With a Doodle account, you can edit the poll, end it, change the link, etc.
Doodle Reviews: Pros
Doodle's most significant pro is being such a time saver. It simplifies the scheduling process and makes it easy to find a time that works for everybody.
Another benefit is the polling feature. You can customize each poll for better branding. Also, you can set up public or private polls. Private polls mean that only you, the poll administrator, can see the results. You can also create custom poll URLs and send automatic or manual emails to those who haven't responded to the poll yet.
Security is another major pro for this software. It uses end-to-end SSL encryption to protect sensitive internal data. That means that every piece of information is encrypted and securely transmitted through the internet.
Another pro includes the management features. These features allow you to organize users, actions, updates, and reminders into a neat format.
Doodle is available on both Android and iOS devices. You can use it on a computer or mobile device, making it easier to access. This app can also track every person that opens an invite link.
Little Features that Make the Difference
There are several little features that Doodle offers that may seem unimportant.But they can make a huge difference in your day-to-day scheduling activities. Here are a few:
When entering dates and times for a poll, you can switch to a calendar view
You can connect your personal calendar to the software
Personal appointments are blocked off if synced with the calendar. This feature makes it easier to schedule meetings around your personal life
Supports Google Calendar, iCloud, Microsoft Office 365, Outlook.com, Outlook, and an ICS feed
Military time format (18:00) or standard time format (6 PM) options
Default poll options are a simple "yes" and "no"for an uncomplicated experience. But you can add an "If need be" option
Doodle Reviews: Cons
This feature is not a huge con, but the client booking interface is very basic. Another minus is how challenging it can be to add extra details to a poll.
A more serious con is that Doodle doesn't offer a database to save customer records or meeting histories. That means that users can't retrieve frequently used email addresses, creating a hassle when sending out a bulk invitation.
Doodle Prices
Doodle offers a free version and several premium versions. A 14-day free trial allows you to experience the premium version features.
If you don't want the premium version after the free trial ends, your account will revert to the free plan, and you won't be charged.
Doodle has three premium pricing plans. They are:
Pro Plan:
Costs $6.95 per user per month
Includes the following features:
No ads
Doodle 1-1 meeting
Syncs meetings to calendars
Asks for email, phone, address
Deadlines and reminders
Booking Page
Custom logo and branding
Zapier integration
Zoom integration
Microsoft Teams integration
Outlook Add-in
Team Plan:
Costs $8.95 per user per month
Includes all the features from the Pro Plan plus an admin console
Enterprise Plan:
Quote-based price
Includes the following features:
Custom billing and legal terms
Dedicated onboarding and user training
Dedicated success manager
Priority support
Guaranteed response time
5% availability SLA
Single sign-on (SSO)
What other people are saying
Whenever there's a review page, you always see positive opinions about that app. But, what about the negative opinions?
Let's see what others are saying:
Get an even better app to use
Staying organized has never been easier.
You can now manage your business and grow your brand with a single, powerful software that keeps all of your appointments in line, your clients organized and your business booming.
Trafft is perfect for business owners who need to streamline their booking experience both for their staff and their clients.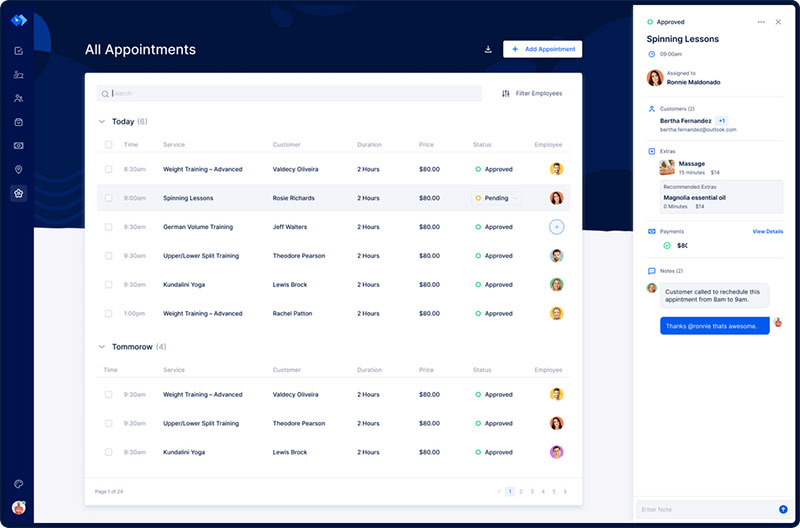 Trafft handles everything for you, even sending automated email or SMS reminders to your clients. No-shows? Not anymore!
The Trafft booking software adapts to different industries for a blissful online booking experience and employee management.
Want to know more? Check out Trafft's awesome features to see what you are missing.
If you enjoyed reading this article with Doodle reviews, you should read this one on Calendly alternatives.
We also wrote about a few related subjects like Calendly vs Chili Piper, Appointy vs Acuity, alternatives to Doodle,Honeybook reviews, Thryv reviews, Acuity Scheduling reviews, and Housecall Pro reviews.