Small businesses need a reliable customer relationship management system. With the right software, owners can find solutions to every aspect of their daily tasks. CRM software allows you to manage projects, distribute assignments, issue invoices, handle bookings, and sign contracts.
From all the available options, HoneyBook is the one that offers an all-in-one solution for small businesses. Its wide variety of tools allows you to automate processes, which is crucial for a smooth workflow.
Although specially designed for small service providers and freelancers, mid-sized companies can also use HoneyBook. If you are considering this option, this article features HoneyBook reviews to help you make up your mind.
Is HoneyBook a CRM system?
HoneyBook is a cloud-based CRM system. Small business owners can find a wide array of tools. Instead of using the client management software's free version for large corporations, give HoneyBook a try.
Creative entrepreneurs are always on the go, and they need a platform that helps them accomplish their daily tasks. With automated workflows, client communication becomes more manageable. You don't have to stay beside your laptop all day long to answer inquiries.
HoneyBook integrates valuable features to keep a business running smoothly. You can create and supervise client projects, manage online payments and invoices, and create proposals.
HoneyBook reviews: who can use it?
The key to a profitable business is time management. Small to mid-sized enterprises usually can't afford large client management platforms. So HoneyBook was built especially for them.
From individual creative entrepreneurs to teams with up to 50 people can benefit from this option. With automated workflows and shortcuts, you can save time and improve your business performance. It runs on software apps designed for both Android and iOS.
HoneyBook is similar to other CRM software like Vtiger and Onpipeline, but it's mainly oriented to individual entrepreneurs rather than teams. Also, it's a bit more expensive.
This solution has shown excellent results for graphic designers, web designers, business coaches, florists, consultants, caterers, photographers, videographers, and DJs.
HoneyBook features
If you are looking for an effective project management solution, this is an excellent option. You can create multiple projects and track performance. Manage your workflow accurately by supervising every stage of the process.
If you have a small business, you probably can't afford to hire managing staff. But with HoneyBook, you can seamlessly manage clients on your own. Its automation feature allows you to schedule messages and set reminders.
Organizing meetings can be a nightmare. You need the kind of help that HoneyBook can give you. Streamline meetings with clients and staff and set up schedules. You can also manage online payments easily. Allow your clients to choose their preferred payment method. HoneyBook supports credit card, debit card, or bank transfer payments.
Small business owners can combine HoneyBook with the most popular tools. These tools include Google, Zapier, and QuickBooks. Thanks to this, it iseasier to monitor your business processes.
HoneyBook is also excellent for capturing leads. You can embed lead capture forms into your website with HTML code. These leads are then channeled directly to your HoneyBook account.
HoneyBook reviews: features overview
Good invoicing system
Upload and manage projects in bulk
Interact with multiple vendors from a single platform
The HoneyBook Chrome extension works with G-Suite
Long forms, including a table of contents
Native payment processor
Its interactive features make HoneyBook the ideal option for nurturing B2B relationships. Thanks to its table of contents, clients will find what they are looking for faster. You can access all these tools from a drop-down menu on the top navigation bar.
It includes a client management software's main features:
Library
Templates
Calendar
Refer and Earn
Other features designed to increase productivity:
Time tracker
Task scheduling
COVID-19 toolkit
Handle multiple clients
Organize and keep track of your finances:
Payment
Expenses
Reports
Profit/loss analysis
Lead capture tools:
Contact form
Batch emails
Chrome extension
Benefits of using HoneyBook
Customize your account
Since it's designed with freelancers and small businesses in mind, HoneyBook offers full customization options. Personalize your platform according to your brand. You can add a profile picture or logo and describe your services.
Excellent task management options
With HoneyBook, you can follow up on all your projects. You can have several ongoing tasks that you can see from one dashboard. You can see notifications about new messages. You can also check out your scheduled meetings and completed work.
Streamline your workflow
You can make the most of your business with HoneyBook. Time optimization is vital for a small business. You can automate processes to keep the workflow going smoothly. These processes include emails, invoices, and automated payment reminders.
Small business owners need time to focus on creative work and brand development. This feature is excellent for such a purpose.
Stay in touch with clients
Client communication is straightforward with HoneyBook. All users can stay in touch with customers via chat, email, or messages. It saves conversation history so that you can follow up and stay up-to-date.
Contracts, invoices, and proposals
These tasks are very time-consuming. With HoneyBook, you can set up your invoices to be issued automatically. If you take the time to organize this correctly, it will save you lots of headaches in the future.
You can also send proposals and contracts. You'll receive automated messages when the client has received and approved the proposal. Also, this option allows for online contract signing.
This system is based on automatization, reminders, and notifications, making it much easier for creative entrepreneurs to run their businesses.
Manage multiple brands
You can manage multiple companies or brands with HoneyBook. Users can easily switch companies and enjoy the same features in all of them. There are no limits on how many brands you can manage from one dashboard.
Automated answers
Client management becomes easy thanks to HoneyBook's automated messages. If you are out of the office or taking care of other tasks, you don't have to miss your clients' messages. You can set automated responses like greetings, thank you messages, appointment requests, and updates.
HoneyBook mobile apps
A business owner cannot afford to sit in front of a computer all day. These times call for flexible software that allows easy management across devices. HoneyBook offers the best client management on both Android and iOS. Thus, never miss a message or notification while you're on the go.
HoneyBooks cons
Although having many features is a plus, this can be overwhelming. It might be challenging to set up projects at first
Limited integration
Higher cost than other CRM software
If you have an assistant or are highly organized, you may not need HoneyBooks
It usually doesn't suit large businesses or teams
Additional withdrawal and deposit fees
It doesn't track expenses automatically without software integration
Limited payment methods for clients
Clients' information can't be exported
The software presents glitches, although they are fixed quite quickly
Users can't integrate questionnaires with other forms
Team collaboration features are not the strongest
HoneyBook price
While other CRMs charge a fee based on the number of users, HoneyBook offers a flat fee. You can manage your budget effectively and choose a monthly or annual subscription. All plans include every feature. For those who still want to explore a new CRM system, HoneyBook offers a 7-day free trial. You'll also enjoy assistance in setting up your account.
Every subscription includes an unlimited number of clients and projects. Yet, the basic version allows only a $10k transaction flow. You can get it for only $9 a month.
The standard plan costs $35/month with the possibility to pay yearly. By making a one-time annual payment, users can save money.
This flexible approach gives starters a heads up. Professionals and small companies can enjoy all the features while progressively growing their client base.
Ease of use
New users have a full 24/7support team for easy setup. The software also includes weekly webinars. Once you create your account, you can import your data from other CRMs. You can also enter your business information manually.
While the first steps might be overwhelming, the rewards are high. It can take time to get used to this wide array of features, but this learning curve will pay off eventually.
From the dashboard, you'll be able to run and supervise your small business. The menu will display projects, invoices, and tasks. The calendar is always at hand, so you don't miss a meeting or appointment.
Community and support team
Users can solve problems in different ways. If you don't find an article in the community that helps, you can turn to the support team. They are available via chat for most of the day. The support staff is experienced and qualified to provide the best customer service.
Also, every user has access to weekly webinars and a setup assistant. They can also use templates to create invoices, contacts, proposals, and brochures.
You'll be able to use all HoneyBook's features with full support:
Unlimited template creation
Unlimited projects and team members
Unlimited contacts
The built-in payment platform is quite helpful. Yet, fees apply for credit card transactions (3%) and bank transfers (1.5%).
Final thoughts on HoneyBook reviews
HoneyBook is a decent CRM option specially designed for small businesses. It offers a reliable platform and a variety of tools. Thanks to its automated processes, users can optimize time and improve performance.
Although it's not the cheapest option, it offers a starter plan for only $9/month. Regular plans include all features and have no limitations on the number of clients, projects, or team members.
The system is a bit glitchy and hard to learn. Yet, it can be an effective solution to organize your workflow.
These HoneyBook reviews indicate solid software with extensive support. Try it out with its 7-day free trial, and find out whether it is the right fit for you.
What other people are saying
Whenever there's a review page, you always see positive opinions about that app. But, what about the negative opinions?
Let's see what others are saying:
Get an even better app to use
Staying organized has never been easier.
You can now manage your business and grow your brand with a single, powerful software that keeps all of your appointments in line, your clients organized and your business booming.
Trafft is perfect for business owners who need to streamline their booking experience both for their staff and their clients.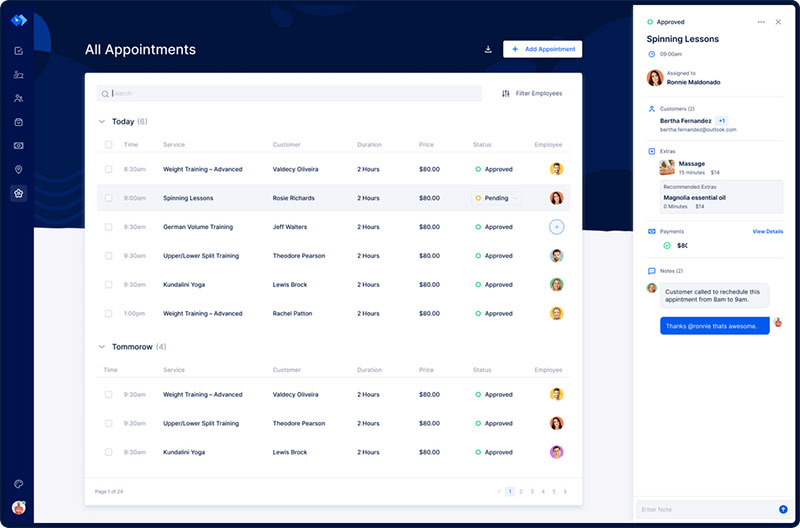 Trafft handles everything for you, even sending automated email or SMS reminders to your clients. No-shows? Not anymore!
The Trafft booking software adapts to different industries for a blissful online booking experience and employee management.
Want to know more? Check out Trafft's awesome features to see what you are missing.
If you enjoyed reading this article with HoneyBook reviews, you should read this one on Calendly alternatives.
We also wrote about a few related subjects like Calendly vs Chili Piper, Appointy vs Acuity, alternatives to Doodle, Doodle reviews, Thryv reviews, Acuity Scheduling reviews, and Housecall Pro reviews.