Acuity Scheduling assists businesses in managing their appointment bookings. Many Acuity Scheduling reviews praise the system for its simplicity. At the same time, others love Acuity Scheduling for its broad usability.
Most businesses rely on accurate scheduling and quick payments. These include appointment-based companies, such as:
Karate dojos
Health, wellness, and fitness studios
Beauty salons, and more
Like most entrepreneurs, keeping track of your company's schedule may feel like a demanding second job. It is especially challenging in this digital age where almost everyone is doing business online.
If you transfer the tedious process of booking appointments to cyberspace, you will find relief. There are a few downsides to doing so, but the benefits far outweigh the disadvantages.
Like most scheduling software, Acuity is designed to schedule appointments and manage bookings. It automates this process and removes the need for constant contact between you and your clients.
Unlike other Acuity Scheduling reviews, this article showcases the pros and cons of using Acuity Scheduling.
An Overview of Acuity Scheduling
This cloud-based platform lets clients and staff book appointments and meetings online. The Acuity Scheduling platform is quick and effective.
It lets businesses accept, book, and manage all sorts of appointments, including Zoom and phone appointments.
The principal selling point of Acuity Scheduling (or Squarespace) is its real-time view of available time slots. This characteristic simplifies making appointments.
The platform works as your personal assistant, always ready to handle your scheduling needs. Acuity Scheduling is affordable and ideal for businesses of all sizes.
Who Benefits from the Acuity Appointment Scheduling Software?
Acuity's features are perfect for all business types. It is especially useful for companies in the service industry and small businesses that rely on direct contact with clients. These include:
Cosmetics studios
Training centers
Fitness centers
Spas
Health and dental clinics
Salons, etc.
What makes this software ideal is partly due to its affordable pricing plans. Acuity's price structure is flexible. So, it will go the distances as you expand your micro-business into a multi-staff, multi-location establishment.
The software can manage up to 36 locations. But, what if your company has more than 36 locations? At a custom price, you can customize Acuity Scheduling to handle all your advanced appointment, compliance, and legal needs.
This Online Booking System's Features
The Acuity Scheduling app has a variety of features to make your schedule more manageable. Here are some of its most significant features.
Scheduling Appointments Made Easy
Acuity facilitates client self-scheduling. It allows your clients and users to view your availability online and schedule appointments directly on your website.
Users can see when the person with whom they're interested in scheduling an appointment is free. Once they schedule a booking, your clients get an automated notification of their scheduled appointment.
This process removes the need for back and forth text or phone calls, thus saving your and your clients' time.
Collaboration
For a system that promotes a more cohesive workflow,Acuity Scheduling is a great choice. It allows you to sync multiple calendars across teams, multiple groups, or your entire company.
Do you want a scheduling system that also has video conferencing capabilities? Acuity lets you host real-time meetings with your employees, customers, and business partners.
Regardless of location, your business partners can collaborate smoothly.
Online Payment Capabilities
Acuity Scheduling integrates well with online payment processors, such as:
This feature allows your clients to pay for your services directly in the scheduling module when they book appointments.
Your customers can pay for subscriptions upon booking or choose to vault their credit cards for later.
Automated Email And Text Messaging
Acuity Scheduling has its own messaging service. It uses automated texts and emails to reduce appointment no-shows and engage your customers.
These automated email notifications are sent for:
Cancellations
Confirmations
Follow-ups
Rescheduling
Reminders
Limiting Appointment Availability
This software lets you set limits for customers booking their own appointments. It also supports various appointment types.
It means you can create two or more appointment types and limit the number of hours you or your business is available for certain services.
Only the pre-defined hours of availability for each appointment type, service, or class will be displayed.
Automated Calendar Syncing
The Acuity platform is an excellent choice for global use. It syncs to different time zones and automatically syncs with Google Calendar and other online calendars.
Acuity also has customizable, self-serve intake forms. These forms enable users to see your available business hours and time slots to schedule their meetings or appointments.
Social Media Integration
Acuity Scheduling includes social media integrations to extend the reach of your business. For example, you can add a CTA button (call-to-action) on your Instagram page.
This capability enables your customers to schedule their own appointments directly from Instagram by clicking the "Book"button.
Intake Forms
Acuity Scheduling's intake form is another powerful feature that saves you tons of time. This feature lets you gather vital details about the client before the day of the appointment.
It results in a smoother meeting, class, or session. These intake forms allow you to gather unlimited client data by asking any number of questions in each form.
It also helps you gather in-depth client data that goes beyond names and email addresses.
Mobile Apps
Another great feature of Acuity Scheduling is its mobile app. The app is available for both Android and iOS devices.
The mobile app is not as robust as the web app for laptops and desktops. However, it is powerful enough to carry out many basic operations on the go. For example, it allows users to both manage and view their appointments.
Gap Minimization Scheduling Page
A great feature that will benefit your business is Acuity's "Minimize Gaps"function. The software changes the available appointment slots that clients see on their end of the app.
This detail prevents them from scheduling appointments that leave huge gaps within a day's schedule. It also helps to make your schedule manageable and organized.
For example, it prevents you from having just one session in the morning and back-to-back appointments in the afternoon. 
The Pros of Choosing Acuity Scheduling
What are the benefits of using Acuity Scheduling? This appointment booking system emphasizes client self-service.
It simplifies things for all parties. Your customers get to see available times and dates and book their appointments accordingly.
Clients can also adjust the times if necessary. Here are some additional positive points mentioned in other Acuity Scheduling reviews. 
Flexible Calendar Support
Acuity Scheduling works well with several calendars, such as:
Google Calendar
iCalendar
Outlook
Office 365
The Acuity Scheduling tool is the perfect system for a growing business that needs a scheduling and meeting solution.
User-Friendly
The creators of Acuity Scheduling have made it easy for you to update your calendar and send out different scheduling links or forms. The system easily integrates with your Gmail and Microsoft Outlook accounts.
They've also made it easy for your clients with simple, intuitive scheduling pages. This detail removes the need for a tedious in-store experience when clients want to book appointments.
And, what is more, you won't have to worry about back and forth calls to explain to your customers how to fill out the form. 
Customizable User Interface
One strong point of an excellent appointment scheduling app is its customizability, and Acuity Scheduling excels in this regard. You can customize your scheduling page to fit your brand.
You can also arrange your dashboard the way you want, add a logo, change your background color, or do whatever you wish to personalize your schedule.
Time Zone Management
As your business grows, you may acquire customers that live in various time zones. You need an appointment booking app that can handle these time zone differences.
If you use SaaS appointment scheduling platforms that can't handle time zone changes, you or your clients could be confused.
That is why Acuity Scheduling's forms come with a time zone dropdown menu. This feature allows your customer to include the current time of their location.
Support for Third-Party Integrations
Acuity Scheduling is a full-service app, but it knows how to play well with external services. Its robust support for third-party integrations is another one of Acuity's strong points.
It extends its functionality by allowing seamless syncing with apps you're probably using already. 
This Appointment Scheduling Software's Cons
Most Acuity Scheduling reviews praise the system for its simplicity and functionality. But, this doesn't mean that everyone has only commendations.
Some criticize the platform for technical and behind-the-scenes logistic hiccups. For others, it's just that they like other software better.
In a few different scenarios, reviewers dislike the app's inability to limit the available appointment slots on a weekly basis. And in rare instances, blocked periods don't sync with Outlook or other third-party calendars.
Another complaint in some Acuity Scheduling reviews is the system's lack of HIPAA support for lower-cost tiers. This issue is a challenge for smaller businesses that don't need all the features of the upper-tier version of the app. 
Acuity's Pricing Structure
Acuity Scheduling offers three pricing packages. Each package comes with additional features.
Tier One: Emerging Entrepreneur
The first package is called Emerging Entrepreneur. This version of the Acuity platform is $15 per month. It provides you with more than a basic service but doesn't include all that Acuity Scheduling offers.
Tier Two: Growing Business
Acuity Scheduling's Growing Business version is a step above Emerging Entrepreneur. It offers a broader range of services for you and your clients.
For $25 per month, the Growing Business package offers more ways to send automated reminders to your clients. These include text reminders in addition to Emerging Entrepreneur's email option.
Tier Three: Powerhouse Player
Acuity Scheduling's final package is called Powerhouse Player. This tier costs $50 per month and provides you with everything that the platform offers.
With this option, you can take advantage of a seven-day free trial before deciding whether or not to purchase the service.
Acuity's Customer Support
Overall, the platform has an exceptional customer support system in place. It includes:
A forum for users to exchange tips and tricks about the app
An email help desk support
A FAQ section
This database has information on everything. It also has a comprehensive help center with more than 230 articles and getting-started guides. It includes:
Basic account information
Blogs that give a deeper understanding of Acuity's core functionalities and much more
To increase your skills, Acuity Scheduling hosts weekly live webinars and training courses. They also offer about ten video tutorials, although some would argue that this is quite meager.
Ending thoughts on the pros & cons of Acuity Scheduling
It is a decent option for companies in the service industry and small businesses that want to convert customers immediately.
Onboarding an alternative appointment scheduling provider is a big step in the right direction. Is Acuity the best scheduling software for you? For many business owners, the answer is yes.
Acuity's features and benefits have made it a decent option for growing businesses.
What other people are saying
Whenever there's a review page, you always see positive opinions about that app. But, what about the negative opinions?
Let's see what others are saying:
Get an even better app to use
Staying organized has never been easier.
You can now manage your business and grow your brand with a single, powerful software that keeps all of your appointments in line, your clients organized and your business booming.
Trafft is perfect for business owners who need to streamline their booking experience both for their staff and their clients.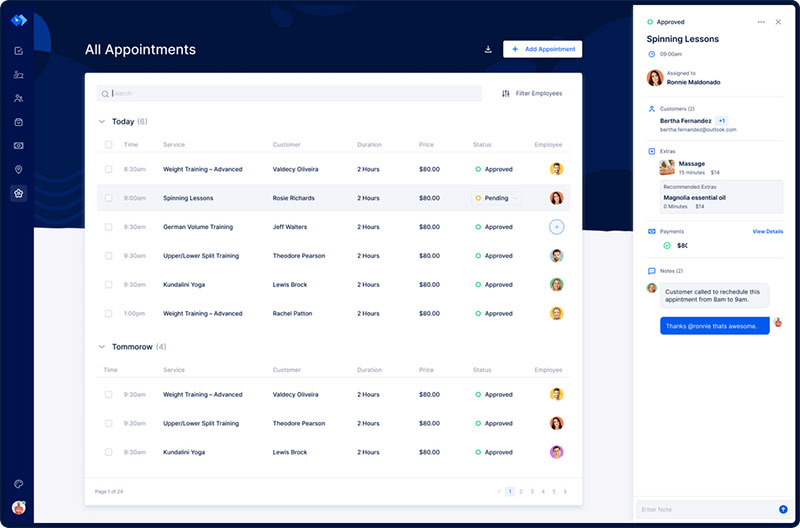 Trafft handles everything for you, even sending automated email or SMS reminders to your clients. No-shows? Not anymore!
The Trafft booking software adapts to different industries for a blissful online booking experience and employee management.
Want to know more? Check out Trafft's awesome features to see what you are missing.
If you enjoyed reading this article about Acuity Scheduling reviews, you should read this one on Calendly alternatives.
We also wrote about a few related subjects like Calendly vs Chili Piper, Appointy vs Acuity, alternatives to Doodle, Doodle reviews, Honeybook reviews, Thryv reviews, and Housecall Pro reviews.