Calendly and Chili Piper are business scheduling tools. Making a comparison of them is not as easy as it seems.
Both are outstanding schedulers with excellent features. They are very similar but there are slight differences.
Chili Piper's design is especially useful for sales teams.
Calendly is a multipurpose scheduler and is also useful for commercial businesses. Calendly's flexibility makes it attractive for a wider audience.
Below you will find a more detailed look into this comparison of Calendly vs Chili Piper.
Calendly vs Chili Piper – A Brief Overview
Calendly
The Calendly scheduling software is perfect for organizing and managing meetings and appointments.
The design works great for individuals and multi-person organizations. Users can display their availability and manage recurring tasks.
Calendly no longer uses email and phone tags to schedule appointments, interviews, calls. Instead, customers can log in right away.
The setup of Calendly is very straightforward. Make an account from your browser and link a third-party calendar.
This platform supports Google Calendar, iCloud, Office 365, and Outlook.
The free plan allows you to set up one event type. To set up multiple event types you will have to purchase a paid plan.
Calendly has an automatic reminder and confirmation function. Guests will receive these reminders to maximize retention.
There is a version for desktop computers, tablets, and smartphones.
Chili Piper
The second scheduling software, Chili Piper, aids users in making and managing appointments. It uses inbound lead conversations to extract incoming appointments.
You can schedule appointments from chats, emails, Microsoft Teams, web forms, and more.
This robust platform takes many scheduling tasks off your hands. It also works well in a variety of circumstances.
This shows that it is much more than a calendar or scheduler.
Chili Piper supports B2B companies and sales teams, helping them to improve customer satisfaction. This has a beneficial effect on conversion rates and team productivity.
It allows users to review their appointments and also to start phone calls right from the app. Based on predefined settings, it reviews and assigns leads to different team members.
It also has more common features, like calendar management, meeting room booking, and online booking.
User Base
User base is the first point of comparison in this Calendly vs Chili Piper review.
Calendly
Calendly has users from many different backgrounds. They range from students to local businesses and consultants.
The platform helps to organize individual calendars. It further enables small teams to work together.
Users can apply Calendly in a variety of industries:
Computer software
Education
Marketing and advertising
IT
Within those industries, it is useful for those in consultancy, customer service, and human resources.
It seems that a wider variety of people use Calendly than Chili Piper. They find that Calendly improves their workflow and makes it more efficient.
Chili Piper
Chili Piper, has a more focused user base, mainly in sales and revenue teams.
A notable feature is the scheduling of mass meetings with potential leads. It works fast and seamlessly.
The majority of the sales and revenue teams are in:
Internet technology
IT
Software
Chili Piper's features are most useful for those that schedule recurring meetings. It helps them to be ready for their meetings and avoid wasting time.
Chili Piper offers subscriptions at the business level. Calendly only has individual subscriptions.
Pricing
An important consideration when comparing Calendly vs Chili Piper is pricing.
Calendly offers a free plan and includes a free trial with its paid options. However, both platforms offer attractive pricing plans.
Calendly's pricing structure
Calendly's premium plans are a little cheaper than Chili Piper and other scheduling options. There are free plans available and the paid plans have attractive pricing.
Their main selling point is the low prices rather than the features.
Free plan. $0 per month per user
Premium. $8 per month per user when billed annually
Pro. $12 per month per user when billed annually
The Enterprise plan has a per-person rate. It includes advanced control, advanced security, and technical support.
Chili Piper's pricing structure
At this moment, Chili Piper has two plans. Billing is either monthly or annually, with the annual price being cheaper.
Chili Piper's plans each offer a monthly and annual price. Chili Piper's pricing is based on the platform fee and a base user fee.
Spicy plan: $15 monthly per user when billed annually
Hot plan: $25 monthly per user when billed annually
Features
For some, this section may be the most important part of the Calendly vs Chili Piper comparison.
Calendly
Calendly is a simple, straightforward scheduling tool with the most important features. Users value the quality of service and the free features it offers.
Pros
Most important features included in the free version
Full version for $12 per month
Sales and marketing solutions help to contact leads fast. That ensures that you are able to book meetings with them and convert them into customers
Meeting reminders for participants
Customizable branding. Users can add their company's logo and design to emails
Personal booking links for users
Integration with PayPal and Stripe. Users can receive payments through the app
Detailed reporting features
The many other integrations allow for full customization to fit your needs. There are more than 80 integrations with other applications
Rescheduling and reassignment by meeting participants
Set buffers between meetings to assign time for other tasks
Assignment of date ranges and time frames for meetings
Cons
Calendly doesn't have data reporting on meeting attendance and conversion rates. Most sales teams will find this a gap in the features it offers
The round-robin routing is too simple. It does not take ownership, cancellations, vacations, seniority, etcetera into account
Double forms. Before creating a form in Calendly many teams have to make a separate form. That results in loss of time and, potentially, leads
Chili Piper
Chili Piper's features focus on the needs of marketing and sales teams. This scheduling software has gained a lot of popularity in these fields.
It is a robust tool but it is still easy to use. It will find particular use in large teams and complex organizations.
Chili Piper asks for more technical skills when it comes to integrations.
The scheduling abilities of Chili Piper are very similar to Calendly's. Users can activate the automated scheduling feature.
Your clients will receive personal meeting links. Using these they can add the event to their personal calendars.
Pros
Sales protect tracking. Other lead management features are call reporting and routing
Full automation
Shown to accelerate revenues under varying circumstances
Automatic qualification of meetings and inbound leads. The user can set and customize qualification criteria
Customizable lead routing and booking. The configuration works in real-time
Prospects can schedule meetings with a single click. That starts a sequence of reminder emails right until the start of the meeting
Integration with Salesforces and many other applications
Fortune 100 corporations are among Chili Piper's satisfied customers
The price levels make it accessible for startups and other companies with a tight budget
Cons
No feature that prevents you from overbooking your calendar
Easy integration, but startup takes a long time
Calendar syncing is not always accurate. Users need to manually verify that all appointments are transferred correctly.
Security
Next in this comparison of Calendly vs Chili Piper is a closer look at the security of these platforms. Now that so much of our work takes place online, it is important to know whether our data is safe.
Both Chili Piper and Calendly have security measures that ensure that online interactions are private.
Calendly
Calendly has several features that ensure secure working.
Zero knowledge. It does not save any identifiable personal information from the associated calendars. It does not store contact details and it does not record meeting participants.
Secure authorization. It uses a secure OAuth connection for syncing calendars. One aspect of this security measure is that it never saves or reads password information.
Calendly encrypts connections with iCloud Calendar.
Zero email access. Calendly never accesses personal emails or address books. Only the designated recipients will read the emails sent and received through Calendly.
Encryption. Calendly encrypts all the data that it handles. That is true for information that it sends, receives, and stores.
It employs TLS SHA-256 with RSA encryption for data traffic between the browser and the platform server. Calendly uses HTTPS for all data transactions.
Chili Piper
Chili Piper, too, uses current data security measures to protect information. It uses a secure OAuth connection to interact with Google Calendar and others.
Like Calendly, all data that Chili Piper handles is encrypted. That is true for information that it sends, receives, and stores.
It employs TLS SHA-256 with RSA encryption for data traffic between the browser and the Chili Piper platform server. Chili Piper uses HTTPS for all data transactions.
This scheduling software hosts information in secure databases and offers additional privacy options.
The Chili Piper website has a special security section. This section shows in detail what Chili Piper's security measures are and how they work.
Final thoughts on Calendly vs Chili Piper
Chili Piper and Calendly are both robust and modern scheduling tools. Both save time, increase productivity, and improve other aspects of work culture.
The Calendly vs Chili Piper comparison has been challenging because of their similarities. Both Calendly and Chili Piper are highly recommended as calendar tools.
Calendly is most suited for individual users and Chili Piper is best for teams. Chili Piper focuses on sales teams that handle many meetings with potential leads.
Get an even better app to use
Staying organized has never been easier.
You can now manage your business and grow your brand with a single, powerful software that keeps all of your appointments in line, your clients organized and your business booming.
Trafft is perfect for business owners who need to streamline their booking experience both for their staff and their clients.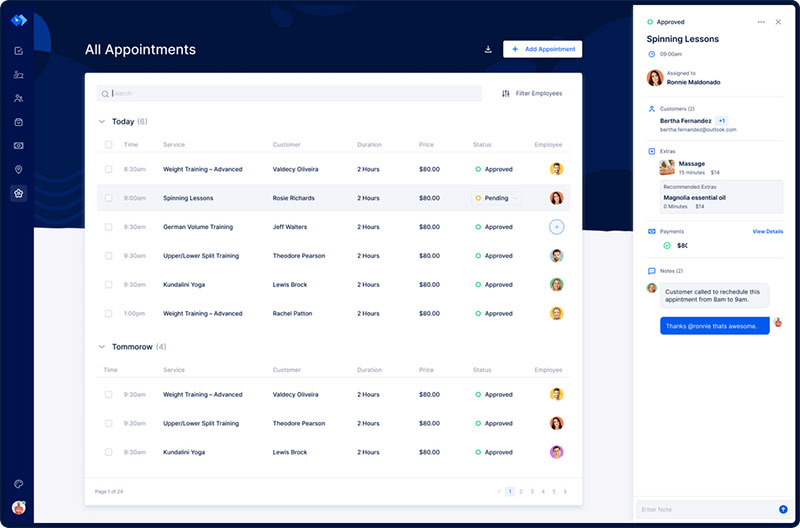 Trafft handles everything for you, even sending automated email or SMS reminders to your clients. No-shows? Not anymore!
The Trafft booking software adapts to different industries for a blissful online booking experience and employee management.
Want to know more? Check out Trafft's awesome features to see what you are missing.
If you enjoyed reading this article with Calendly vs Chili Piper, you should read this one on Calendly alternatives.
We also wrote about a few related subjects like Appointy vs Acuity, alternatives to Doodle, Doodle reviews, Honeybook reviews, Thryv reviews, Acuity Scheduling reviews, and Housecall Pro reviews.