If you want to run your home-service business effectively, you need reliable software. It must provide all the essential tools to help you save time.
Housecall Pro is an excellent option for home-service professionals. It's a cloud-based software that offers both a website and a mobile app.
Time is money, and you can't afford to waste it either. Hence, this option can be an excellent solution for your business development.
This article features Housecall Pro reviews that reveal its pros and cons.
What is Housecall Pro
This software offers a field management solution (FMS) to optimize business performance. Particularly designed to meet the needs of home-service suppliers, it provides many tools.
With Housecall Pro you will be able to automate processes and save time.
This app stands out from other task-management software. Its balance between user-friendliness and functionality has made it one-of-a-kind.
Housecall Pro is responsive and benefits from constant updates. With this software, technology will work for you and not the other way around.
Its mobile app is unique in look and feel. It presents an intuitive platform, minimizing the need for technical training.
It offers a free version for single owners that includes many of the pro features.
The advanced plans don't have that many different attributes. Instead, they allow you to work with a larger number of users.
There is also an enterprise version for larger businesses. Moreover, the Housecall Pro app works with both Android and iOS.
Housecall Pro is a strong management solution with a top-class app and user-friendly interface. With its features and plans, this is the ideal option for small to medium-sized businesses.
Nonetheless, Housecall Pro doesn't offer automated quote follow-up reminders. If this is a must-have for you, we recommend trying other options like ServiceM8.
What industries does Housecall Pro cover?
This management solution was built for the house-service industry. This is a wide market with plenty of business options:
Window cleaning
Air conditioning installation and services
Pest control
Carpet cleaning
Home cleaning
Electrical services
Plumbing
Each of these sectors has various sub-niches.
For example, home cleaning can relate to a variety of things. These can be housekeeping, junk removal, appliance installations, etc.
The same applies to pest control. This is an even wider sector including bug prevention, and extermination of cockroaches, rats, bats, termites, ants, scorpions, etc.
Housecall Pro is excellent for job scheduling and technician dispatch. If this is what your business entails, then this software won't disappoint you.
How can Housecall Pro help me manage my business?
This solution comes packed with useful features.
These will help you handle administrative tasks stress-free. You can schedule appointments and dispatch technicians across different areas with ease too.
Next, the article lists some of the advantages you will enjoy.
Easy job scheduling
With Housecall Pro software you can manage your schedule from any device. Assign jobs to technicians from your laptop, tablet, or smartphone.
Get your work team done easily thanks to the automated calendar synchronization.
When you edit the calendar, technicians will receive instant notifications. Pro plans allow both owners and technicians to follow up with the calendar.
Clients can keep track of their appointments thanks to the Google Calendar integration.
Online booking
Scheduling is easy thanks to Housecall Pro's online platform. You can handle more clients since they can book their own appointments.
Thus, your staff can focus on other tasks rather than handling bookings.
Also, the software includes a visible call-to-action button to encourage visitors. Clicking 'Book now' on your Facebook page or website redirects visitors to a booking form.
Customers can enter their data and choose their preferred time and date. Once they submit the form, you will receive a notification about the new appointment.
Real-time dispatching and On-My-Way notifications
With Housecall Pro you can create a stellar customer service model. You'll be able to offer punctuality, effectiveness, and time optimization.
When technicians are assigned a job, they only need to click one button to access all the details. They'll know the time, place, and characteristics of the job.
Your customers will feel safe knowing exactly where their technician is. Thanks to its GPS locator, Housecall Pro allows clients to track their specialists.
Professionals can also update customers on their location with automated messages.
Estimates/Invoices
Accounting should never be taken lightly.
Another one of Housecall Pro's perks is its automated file system. Instead of spending hours on paperwork, use your valuable time to develop your brand.
You can digitize your estimates and invoices for easier administration. Also, you can send customers quotations and invoices with one click.
Multiple payment processing methods
Flexibility is another important factor. By making things easier for your customers you'll increase conversions.
Housecall Pro allows customers to pay by different methods. Clients can pay by cash, cheque, or credit card. 
Clicking the 'Pay' button redirects them to the checkout page. Here they can choose their preferred payment option.
Things are quite easy for them too. For example, if they pay by credit card, they can simply scan their card and confirm the details.
Advanced analytics
Thanks to its analytics options, you'll have access to detailed reports. Knowing the performance of each campaign helps you to plan future marketing strategies.
If you promote a Facebook ad, the analytics will show how many jobs resulted from it. This is also a good way to analyze expenses and organize the budget.
Quote management
With Housecall Pro you can create detailed quotations. You can add messages to customers, list the materials and their costs, and attach files.
Besides creating and sending the quotes, it makes it easy to manage them.
Advanced technician dispatch options
With Housecall Pro, you can do more than tell technicians where to go. You can organize schedules, arrange recurring jobs, make appointments, and schedule arrival windows.
The best part is that changes are automatically synchronized. The software shares any updates across all devices and workers.
Smart client management
Clients prefer businesses that treat them like people rather than numbers.
Housecall Pro allows you to store the information of current and past clients. You can create a customer profile with their name, address, invoice history, and attachments.
Client loyalty is one of the biggest challenges for today's companies. With these tools, you can ensure that your clients receive excellent service.
Live GPS locator and map
This is a vital feature for the service industry. Delivery companies and house-service providers must have a proper GPS map.
Thus, the business owner can assign tasks to the closest available technician. This is an excellent time optimization tool that can make a difference for your business.
Follow-up Marketing
Sending follow-up messages is a good idea. You can set up automated 'thank you' emails.
Find out what a client's experience with your team was like. Make sure that they feel appreciated and that their opinion matters.
Wide integration options
Due to the constant market updates, integrations are very important. The industry is always evolving and your website needs to keep up.
Luckily, Housecall Pro integrates seamlessly with plenty of third-party software. These are some examples:
Zapier
Broadly
ResponsiBid
Google Calendar
QuickBooks
Gusto
Mailchimp
NiceJob
Podium
Housecall Pro – Pros
Easy to use platform
Housecall Pro reviews show that the software simplifies all processes.
It's user-friendly for owners, managers, and technicians working in the field. It simplifies all internal processes, from booking to dispatching and invoicing.
Its management options allow you to find an invoice number fast.
Also, you can find a client's profile in your customer-history database. This will help you save time and provide a client-oriented service.
Low rates
With Housecall Pro, payment processing fees are quite affordable. Most industries charge a fee ranging from 1.5% to 3.5%.
Online community: Facebook and events
The Housecall Pro community spans many regions in North America.
You can connect with other users through the Facebook group, online events, and in-person gatherings. Its Facebook group is one of the largest in the industry.
Provide value to your company
This field service management software will help you provide an excellent user experience. It creates a smooth interaction between the relevant parts.
It connects and updates managers, technicians, and customers on every stage of the process. If your company offers qualified services, you won't regret choosing Housecall Pro.
Prime customer experience
Build a solid reputation by sending messages to your customer database. Email campaigns help promote your services and notify customers about your special offers.
Set up automated 'thank you' messages and rescheduling reminders. By keeping clients engaged, you can create a loyal base of returning customers.
Offer all types of services
This field service management software is very flexible and adapts to all types of home-based services. This includes plumbing, house cleaning, pest control, or heating and air conditioning services.
If your business involves booking, assigning jobs, and allocating technicians, Housecall Pro will be a lifesaver.
Word-of-mouth
Of all Housecall Pro reviews, this might be the most important one.
Home services have one peculiarity – they are all based on trust. After all, people are letting strangers into their homes.
Housecall Pro acts as a link between qualified professionals and people. It's a win-win deal.
Customers get high-quality services from providers with a verified background. The business owner gets to manage the processes smoothly.
Finally, technicians can accommodate more work in less time. This creates a powerful combination that advertises itself through word-of-mouth.
Housecall Pro – Cons
Not suitable for long term work
This field service management software works well for home services.
Yet, according to Housecall Pro reviews, it's not ideal for large companies with long-term projects. This includes remodeling, decoration, painting, and construction.
Limited management functionality
The management functionality is not available for certain tasks. This includes reverse logistics, preventive maintenance, warranty, or claims.
No inventory management
Housecall Pro doesn't provide inventory management tools. Users can't track inventory nor plan future demand.
Limited performance tracking
Managers can't track technicians' capabilities or performance. They can't track productivity in the field either.
Limited automated messages
Housecall Pro doesn't send automated next-appointment reminders.
No recurring appointments
The mobile app doesn't support scheduling recurring appointments.
Limited invoicing features
Managers won't be able to set up different terms for estimates and invoices. They also can't label an estimate as a proposal or a contract.
Further, the software doesn't support custom billing terms and due dates.
Housecall Pro – Prices
Basic Plan
Users: 1
Includes: Field service management solutions
Price: $49/month
Essentials Plan
Users: 1 to 5
Includes: Advanced features to simplify internal processes
Price: $109/month
Max Plan
Users: 1 to 100+
Includes: Comprehensive package for consolidated businesses
Price: Personalized quotation
What other people are saying
Whenever there's a review page, you always see positive opinions about that app. But, what about the negative opinions?
Let's see what others are saying:
Final thoughts on Housecall Pro reviews
To sum up, Housecall Pro is a management solution for small-to-mid-sized businesses. While not suitable for long-term projects, it's perfect for one-time home services.
Its time tracking features and notifications create a work environment where processes run smoothly.
These Housecall Pro reviews highlight the software's many advantages. User-friendliness and flexibility are two of the main ones.
You can manage bookings and dispatch technicians from your desktop and smartphone. The system runs both on Android and iOS.
If you want to take your business to the next level, give Housecall Pro a try. It will help you improve customer service and put you at the forefront of the industry.
Get an even better app to use
Staying organized has never been easier.
You can now manage your business and grow your brand with a single, powerful software that keeps all of your appointments in line, your clients organized and your business booming.
Trafft is perfect for business owners who need to streamline their booking experience both for their staff and their clients.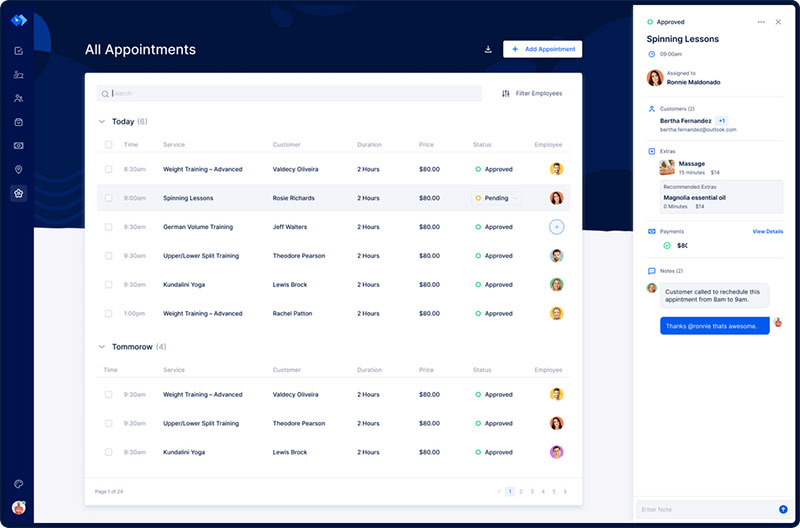 Trafft handles everything for you, even sending automated email or SMS reminders to your clients. No-shows? Not anymore!
The Trafft booking software adapts to different industries for a blissful online booking experience and employee management.
Want to know more? Check out Trafft's awesome features to see what you are missing.
If you enjoyed reading this article with Housecall Pro reviews, you should read this one on Calendly alternatives.
We also wrote about a few related subjects like Calendly vs Chili Piper, Appointy vs Acuity, alternatives to Doodle, Doodle reviews, Honeybook reviews, Thryv reviews, and Acuity Scheduling reviews.