Calendly is a popular scheduling app. It helps users around the world to set up meetings without the hassle of back-and-forth emails.
Meeting hosts open their schedules to days that work for them. Then they invite participants to choose a slot.
Once they all pick a time, Calendly arranges the event.
The automation of appointment planning brings many benefits. The app coordinates all the calendar events, sends reminders, and helps with rescheduling.
Besides Calendly, there are other apps that offer a wide range of functionalities.
These tools help to reduce the number of meeting cancellations. They also contribute to service improvement, sales growth, and efficient collaboration.
Before choosing the right assistant for you, assess your needs and expectations. Then review the options below and find the perfect Calendly alternative for your business.
Trafft: the best Calendly alternative
Staying organized has never been easier.
You can now manage your business and grow your brand with a single, powerful software that keeps all of your appointments in line, your clients organized and your business booming.
Trafft is perfect for business owners who need to streamline their booking experience both for their staff and their clients.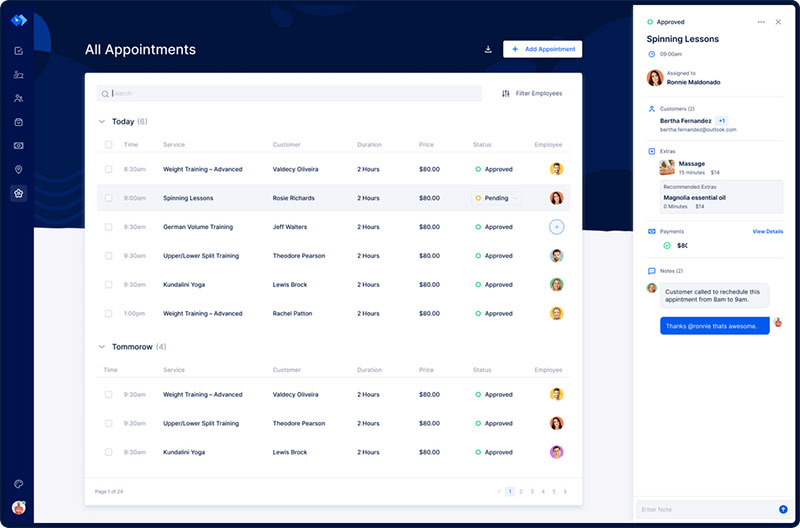 Trafft handles everything for you, even sending automated email or SMS reminders to your clients. No-shows? Not anymore!
The Trafft booking software adapts to different industries for a blissful online booking experience and employee management.
Want to know more? Check out Trafft's awesome features to see what you are missing.
HubSpot Meetings
HubSpot is a scheduling software based on the same concept as Calendly. Meeting organizers share a link with the invitees who choose the time that works for them.
Users can also integrate the meeting link with their landing page. The appointment shows in the host's Google Calendar or Office 365 calendar.
The software enables both direct meeting scheduling and group meeting availability. Scheduled events integrated with video conferencing software.
Reserved slots also sync with the HubSpot CRM. So when a customer books a meeting, the CRM system creates or updates the contact record. 
Acuity Scheduling
Acuity Scheduling allows users to display real-time availability. They can do so on their website, Facebook, or Instagram.
Customers can see the empty slots and book a meeting without emailing or calling.
It's a great tool for brands that offer classes and workshops. Moreover, it also works well for any other service-based companies.
The software allows clients to reschedule their appointments and sends them automatic reminders. They can view multiple locations and employees.
Integration with Stripe, Square, and PayPal makes online payments possible. Do note that these platforms charge a fee and you can calculate the same using a Stripe fee calculator or a PayPal fee calculator.
Business owners can offer gift certificates, packages, memberships, and more. They can also customize the look of the scheduling page to match their brand. 
Setmore
Setmore provides some extra features that Calendly doesn't offer.
Users can download it onto their desktop and use it offline. Thanks to this feature they have access to their schedule anytime.
The free plan comes with many features. This makes it a great option for businesses that need more than one user account.
It offers unlimited appointments, automated emails, and other important scheduling functionalities. Customers can make online payments via Square, Stripe, and Paypal.
The scheduler integrates with Facebook, Instagram, Teleport, and other tools. It syncs with Google Calendar.
Setmore is user-friendly, and using this app will save a lot of valuable time. 
Appointly
Appointly is another great choice when it comes to meeting organizing.
Event hosts create an appointment and share their available options with participants. Participants select their most convenient time and Appointly takes care of the rest.
The new event then appears in the host's calendar. Users can set up recurring events, preferred contact methods, and other personalized functions.
Chili Piper
Chili Piper offers advanced scheduling features that boost productivity.
Embed the scheduler into your website, emails, or social media campaigns. This will help you to convert more prospects into meetings and sales.
You can book a meeting with a customer with oneclick. It will automatically sync with the CRM.
If the prospects can't attend the scheduled meeting, they can select another time. Thus, it is easy to reschedule an event.
The software offers no-show management, meeting buffers, reminders, and other time-saving functions.
Chili Piper integrates with Salesforce, Piper drive, and other CRM tools. This makes it a great assistant in managing leads and meetings.
CalendarHero
CalendarHero is an AI-powered software that makes remote meeting scheduling effortless.
It enables users to set up calls and group meetings based on their availability. It also sends automatic reminders and syncs calendars.
View attendee information from ATS or CRM.This feature allows you to be better prepared for interviews and meetings.
CalendarHero integrates with popular video conferencing tools. These include Google Meet, Zoom.us, Microsoft Teams, Webex, and GoToMeeting.
TidyCal
TidyCal is ideal for any type of business. It makes it easy for customers to book appointments without having to send lots of emails.
Create an event and share it by a link, or embed it on your website. When customers book a meeting, it will automatically sync with your schedule.
TidyCal integrates with Google Calendar and Office 365. The scheduler also works with Zapier, Google Meet, and Zoom.
Zen Planner
Zen Planner is ideal for fitness businesses. Boutique gyms and studios, martial arts schools, and boxing and yoga studios will benefit from this management software.
It's a great tool for customer support and invoice generation. Clients can manage their schedules, training sessions, exercise programs, diets, and more.
The design of Zen Planner is responsive, so customers can access it from any device or screen size. It comes with online advertising campaigns that generate new bookings.
SEO optimization guarantees a high ranking with search engines. 
OnceHub
With OnceHub, users can send meeting invitations with secure video links. So it's ideal for businesses that rely on a lot of video conferencing.
It integrates with Zoom, Microsoft Teams, Cisco Webex, Google Meet, or GoToMeeting.
The first solution that OnceHub offers is ScheduleOnce. This allows customers to make appointments right in your online calendar.
Best of all, these are at times when you're available. Their booking appears in your Google Workspace, Microsoft Office 365, Exchange, Outlook, and iCloud.
ScheduleOnce is ideal for service-based businesses or a sales team. The online payments function makes it suitable also for consultants.
It offers many customization options. These include custom booking forms and notifications, and personalized theme styling.
InviteOnce is another option provided by OnceHub. It enables departments to organize meetings of the right people for specific needs.
Calendar.com
Calendar is another efficient AI scheduler that simplifies meeting organization.
Clients can choose and reserve a meeting time in your online Calendar. The software then sets up the meeting and sends out a personalized meeting link.
The Find a Time feature coordinates multiple schedules. Thus, you can create an event based on the availability of each member of the group.
The app integrates with Google Calendar and Microsoft Calendar.
The Calendar Analytics tool analyzes how users spend their time. Further, it highlights how they can become more productive.
Another interesting feature that Calendar offers is finding nearby restaurants. This is a time-saving help for those who often have lunch meetings.
Doodle
Doodle is a simplified Calendly alternative. It's ideal for solo users who need to schedule a group meeting from time to time.
It lacks some of Calendly's more advanced features. But it's more affordable and user-friendly.
Meeting hosts create an event and offer different time options. Then, participants can pick their preferred slot.
Following this, the polling function finds the best solution.
Doodle syncs with Google Calendar and Outlook Calendar. Other integrations include Microsoft Teams, Zoom, Doodle API, and Zapier.
The free version is great for users who don't need extra business management functionalities. It will do what it's designed to do: save time scheduling group meetings and reduce no-shows.
Monday.com
Monday.com is a complete solution for workflows. It takes care of task management, marketing, project management, sales,CRM, and more.
The tool is ideal for planning, tracking, and managing team projects. You can organize everything with one software.
As it's a more complex solution, it's better for internal scheduling. Multiple templates, dashboards, and workspaces make it ideal for bigger businesses.
Vocus.io
Vocus.io is another Calendly alternative. It enables users to schedule meetings, automate email follow-ups, and sync with CRM.
This scheduling app creates a personalized page where clients book meetings.
The page integrates with your calendars. You can set up availability rules and short-notice meeting cancellation parameters.
The scheduling widget can be part of a webpage. Vocus.io users can also create a link with the meeting invitation.
The advantage of this scheduling tool is its advanced email functionality. For example, you can send mass emails for campaigns and get reports on email opens and link clicks.
The software then takes care of the follow-ups and CRM management. It also enables users to share templates with team members.
Book Like A Boss
BLAB is an appointment scheduling tool for booking meetings, services, and locations.
It's ideal for small businesses. Using BLAB they can impress their clients and boost their conversions.
With this scheduling app, you can create booking pages to sell products or services. Users can schedule calls, group meetings, webinars, live events, classes, and more.
It syncs with your calendars. It also integrates with Stripe, PayPal, and Square for online payments.
Other great features that boost sales include social media links, FAQs, and testimonials. This Calendly alternative offers company plans and solopreneur plans.
Meetfox
MeetFox is another solution for businesses that need a meeting management tool.
This scheduling software offers multiple functions. These include scheduling meetings, hosting video calls, and collecting payments.
Users can create a customized booking page. Or add a scheduling button to emails or social media.
The software auto-sends invoices to the clients.
MeetFox is a great Calendly alternative for businesses based on consulting clients. It offers greater efficiency in growing ROI. 
VCita
VCita is more than an appointment scheduling app. It also takes care of marketing, online payments, and CRM.
Clients can schedule a meeting from a self-service portal.  Automated SMS reminders then help with managing no-shows.
This scheduling app provides billing and invoicing functions. It also offers email and SMS marketing and lead generation.
The CRM includes contact management and team schedules.
The advantage of this Calendly alternative is the Contact Us form option. This provides you with better web-based booking management.
Mixmax
Mixmax is a sales engagement platform for Gmail.It enables you to schedule appointments, share calendars, embed polls, track emails, and more.
It's ideal for a sales team, account executives, recruiters, entrepreneurs, and other businesses.
The one-click function allows meeting hosts to insert their calendar in an email. Prospects and clients can book a meeting by selecting the dates and times that suit them.
With one click you can also send meeting notifications and reminders. The Gmail and Google calendar integration helps with better time management.
Scheduling appointments on multiple calendars is another useful function. It allows teams to agree on meeting times without emailing back and forth.
EasyCalendar
EasyCalendar offers a website widget. It allows individuals and businesses to set up a simple booking interface.
The scheduling software divides appointments evenly according to the availability of team members. It coordinates multiple calendars across different time zones.
This makes the team more flexible and gives clients a greater choice.
The app sends SMS and email meeting reminders that are customizable. For instance, you can set parameters for buffer time, last-minute buffer time, date range, and more.
EasyCalendar integrates with Google Calendar and Microsoft Outlook. Other integrations include Salesforce, Zoom, GoToMeeting, Pipedrive, and more.
It's a great Calendly alternative. Even the free version for personal use comes with many functions. 
Simplybook.me
Simplybook.me is an online booking system for all service-based industries. But it is suitable for other brands too.
Advanced functionality makes this app a great Calendly alternative.
Choose from a variety of templates to create a responsive, customizable booking site. You can also integrate the scheduler with your existing page.
Besides this, customers can make reservations through Facebook, Instagram, or Google Maps. Other functionalities include notifications via SMS or email, online payments, and more.
It integrates with Zoom, Zapier, WordPress, Facebook, Instagram, and other popular tools.
Picktime
Picktime online scheduling software simplifies the process of making appointments. It's great for businesses that provide classes, rent rooms or equipment, or schedule meetings.
The scheduling functionality is enhanced by other functions. These include online payments, invoicing, reporting, and customer and team management.
The app syncs with Google, Outlook, Office 365, Exchange, and iCloud calendars. You can process payments via PayPal, Stripe, and Square.
Video meeting integration includes Google Meet, Microsoft Teams, Zoom, GoToMeeting, and Jitsi Meet. So businesses that give classes or use a lot of video conferencing can choose from many options.
The multiple location management allows businesses to follow what's happening at other branches.
Youcanbook.Me
With this planner, you create a booking page that integrates with your calendar. Share available time slots with your customers and they can select the time that suits them.
Clients can see the schedules of different employees from multiple locations.
The software sends personalized notifications, reminders, and follow-ups. The result is a significant reduction in no-shows and tedious admin work.
It integrates with video conferencing tools, such as Zoom or Google Meet.
This Calendly alternative provides high customization options. This is important for people like educators and institutions that offer classes.
Participants will better understand the kind of events they are booking.
Harmonizely
Harmonizely is another good option. Businesses can use this tool to organize meetings in an efficient way.
The software sends an invitation link to invitees who choose their preferred slot.
Unlike other popular schedulers, this works even with less common calendars. It integrates with Google, Outlook/Office 365, iCloud, Zimbra, Zoho, and other CalDAV solutions.
This makes it ideal for those who need seamless coordination of different calendars. Other integrations include Slack, MailChimp, Google Sheets, Pipedrive, WordPress, and more.
HoneyBook
HoneyBook takes care of many business management tasks. Its functions include scheduling appointments, project management, sending invoices, and payment processing.
The app allows for flexible design and customization. The booking page and logo can adapt to any brand look.
Users can choose multiple session types with different duration. Select your availability, then send a link to clients and they can pick their preferred time.
Customers receive personalized meeting confirmations and reminders. This function reduces no-shows.
This app is ideal for independent ventures and consultants.
Conclusion on the best Calendly alternatives
Scheduling apps are important tools that bring many benefits. Thanks to them, a team becomes more efficient.
They also improve conversions. Customers can see only the available slots and book a meeting at a time that suits them.
This further leads to fewer no-shows and a boost in sales.
Calendly is not the only scheduling option that suits every business. There are many powerful alternatives that offer various options
Choosing the perfect solution for your business may seem daunting. The best way to start is to analyze what functions your business needs.
Think about the type of appointments that you need to schedule. For example, are they individual calls or group sessions?
Check which video conferencing tools and business management software your team relies on.
Consider how many schedules and what type of calendars you need to sync. Think about how many locations and time zones to include.
Another important function you may need is online payments processing. Finally, don't forget the customization function.
A careful assessment will help you to find the best option for your unique business.
If you enjoyed reading this article with Calendly alternatives, you should read about Scheduleonce reviews.
We also wrote about a few related subjects like vcita vs Acuity, Vagaro vs Acuity, Schedulicity reviews, Schedulicity vs Acuity, Zoho Bookings vs Calendly, and Honeybook alternative apps.