Setmore vs Acuity Scheduling, which is better for your personal and business needs?
It's well-known that scheduling can be very stressful. Yet, it's a necessary process for both large and small business owners and their clients.
Automating this process may prove to be a profitable move for your company. During your research, you may have come across Setmore and Acuity Scheduling.
These booking tools are popular options for enabling clients to schedule appointments anytime. They are also useful for employee management across multiple locations.
But which is best for your business or your personal life? What are their differences? What are the pros and cons of using each?
Find the answers to these questions in this Setmore vs Acuity Scheduling guide.
Setmore Vs Acuity Scheduling: An Overview
Setmore
The Setmore scheduling tool is a cloud-based solution. It performs well for different industries and business sizes.
Its key features include:
Personalized email updates
An online customer support system for appointment booking
Staff scheduling
Setmore began in 2011 as an offshoot of the parent company Full Creative. It sought to provide a solution to Full Creative's customers' online scheduling needs.
Acuity Scheduling
Acuity lets you create a customized page to display your real-time availability. This allows your clients to book meetings with you at any time of the day.
It also features:
Automatic time zone conversion
Bespoke forms to collect client information
Team schedule management capabilities
Acuity Scheduling integrates well with platforms like:
Paypal
Stripe
Zapier
Square
Google Analytics
However, the free version does not sync to Google Calendar.
Founded in 20 06 by Gavin Zuchlinski, Acuity began as a scheduling solution for the health and wellness industry. The Acuity team supports their customers via email, using Acuity-certified experts.
Typical Customers Of Each Platform Acuity Scheduling's Target Audience
Acuity Scheduling caters to offline or online appointment-based small and medium businesses. With 2% of its clients being enterprises, Acuity places emphasis on its:
Paid appointment features
Resource allocation and availability (like the number of rooms, or cars)
It has eCommerce tools like coupons and upsells. This makes it a great option for Doctors, Yoga instructors, Therapists, etc.
Setmore's Target Audience
This appointment scheduling tool works best for small businesses. It's great for barbershops and other beauty and wellness businesses.
It looks very modern and has many social integrations. Further, it has an ideal pricing structure for teams.
Setmore's main business model is to accept calls for you.
Setmore Vs Acuity: Useability Acuity Scheduling
Acuity Scheduling is easy to use. On-screen reminders guide you through the setup process and the organized dashboard is easy to follow.
There's no need to click around when searching for a specific feature.
There are extra drop-down menus to help you find settings and functionalities. So, in a few clicks, you'll find what you're looking for.
Acuity booking is simple and easy for you and your clients to use.
Getting started with Acuity is fast and straightforward. In addition, it takes very little effort to keep the program running.
The Setmore Tool
This option lets you arrange and conduct meetings with your partners and clients. It offers an improved set of features, such as:
Email and text alerts
Class sessions
Calendar synchronization
The ability to make online payments, and more
Setmore also lets you create a self-service portal on your website or Facebook page. This feature enables client self-scheduling.
Its integration capabilities allow for a rapid switch over of all Setmore clients to your Constant Contact email list.
You can automatically move new customers to your onboard campaigns. This removes the need for manual data entry.
Features Of Both Appointment Packages
Features Of Acuity Scheduling
This platform looks great, both on the front and back ends. With Acuity, you can create customized intake questionnaires.
This benefits businesses that need detailed information from clients before confirming their appointments. For example, medical practices.
It's also designed to be HIPAA compliant.
Key Features Of Acuity Scheduling
Accounting Integration
Automatic Notifications
Automated Billing
CRM Integration
Client Management
Calendar Sync with Google
Availability Management
Automated Scheduling
Credit Card Processing
Availability Indicator
Custom Forms
Data Import/Export
Electronic Payments
Customer Database
Customizable Questions
Features Of Setmore
Setmore supports up to four users for free. Its features make it great for managing teams.
Clients can book their own appointments online. They can also see which employees are available at a particular time.
Use the dashboard to add, reschedule, or reassign appointments with just a few clicks.
Setmore allows you to maintain a customer database. It also enables you to accept online payments via Square.
It integrates well with business apps and sales, mailing, and CRM programs.
Key Features Of Setmore
Website Management
Event Scheduling
Reminders
Social Media Integration
Calendar Management
Ratings & Reviews
Electronic Payments
Customizable Branding
Approval Process Control
Automatic Notifications
Chat
Setmore vs Acuity Scheduling: Pricing
Acuity's Pricing Structure
As a top-shelf platform, Acuity Scheduling gives away very little. Referring to it as a free scheduling program is not accurate.
There is a free version, but this is only available on a 7-day trial basis.
Acuity's Pricing Tiers
Emerging: You can access this tier for $14 per month. Its features include:
Calendar sync
Follow-up emails
Tips
Video meetings
Credit card information saving
Acuity branding
Single user
Growing: This tier costs $23 per month and includes all of the above features plus:
Appointment packages
Text reminders
Subscription
Custom branding
Up to six users
Powerhouse: This tier is accessible for $45 per month. It includes all the features of the previous tiers, plus:
Custom CSS
Gift certificate management
Sign BAA for HIPAA-compliance
API support
Up to 36 users 
Setmore's Pricing Structure
Setmore includes a free version with basic features. Its paid plans are reasonably priced, especially if you have three or more employees.
Setmore's Pricing Tiers
Free: This version is available for up to four employees. It includes most features plus online payment capability via Square.
Premium: This version costs $9 per user, monthly. For a maximum of 2 users, it offers all the basic features plus:
Calendar sync
Custom notifications
Recurring appointments
SMS reminders
Zoom
Payment with Square or Stripe
Pro: This costs $5 per user, monthly. For 3 or more users all free features are available plus:
Custom notifications
SMS reminders
Recurring appointments
Payment with Square or Stripe
Zoom
Calendar sync
Setmore vs Acuity Scheduling: The Pros and Cons
Benefits Of Using Acuity Scheduling
Here are some of the benefits of Acuity Scheduling.
Revenue Tracking
Keep track of your revenues via detailed overviews of paid and unpaid appointments. You can record fulfillments, hours spent per appointment, and flag no-shows.
Customization Capabilities
Customize Acuity's features to match your needs. You can share the calendar via email or on your social media pages, e.g., Facebook and Twitter.
Secure & Intelligent Scheduling
This software lets you compartmentalize the management of multiple users. It also features automatic time zone conversion.
This means it auto-adjusts and updates calendar entries made under different time zones. This helps to eliminate mix-ups.
Transaction Security
The Acuity Scheduling software is HIPAA compliant. Customers can self-book appointments in full safety and security.
End-to-end protection is guaranteed for single or multiple bookings made by various clients. This security also extends to any mobile device with browsers.
Cons Of Acuity Scheduling
It doesn't offer online meetings, two-way calendar sync, and iPaaS integration in the Free plan.
However, the free plan isn't promoted as Acuity's preferred option. It lasts for a trial period of 7 days, after which you move to a paid plan.
Acuity Scheduling's slab-wise pricing structure may be discouraging for some.
For example, the 'Growing' tier allows for 6 staff and the 'Powerhouse' tier allows 36. If you have 7 staff, then you must upgrade from Growing to Powerhouse. 
Benefits Of Using Setmore
Here are some of the main benefits of Setmore.
Customer Service
This software's instant customer service is one of its strongest features.
Reliability
Setmore is a premium, reliable scheduling tool. It comes with convenient features such as mobile scheduling and text reminders.
Seamless Connectivity
Use Setmore to enable your customers to self-book appointments using social media platforms. It's simple to integrate the software with your Facebook page or website.
Online Payment Processing
Setmore's payment processing feature makes processing card payments online easier. Also, it lowers the likelihood of your clients experiencing payment problems.
This way they can complete their bookings faster.
Cons Of The Setmore Tool
The Free plan doesn't include two-way calendar sync. This may lead to double booking and confusion when scheduling appointments.
Without the two-way sync feature, you can't:
Automatically add new appointments to your Google/O365 calendar
Block out time in your appointment calendar for events in your Google/O365 calendar
Setmore offers one-way sync, from the appointment software to your O365/Google calendar. It also offers:
Unlimited services for bookings
Up to four staff
Two calendar connections
Unlimited event types
However, they limit the maximum bookings to 100 or less. Bookings made without reminders are usually no-shows.
Ending thoughts on Setmore vs Acuity Scheduling
This Setmore vs Acuity Scheduling comparison has looked at the features, pros, and cons of each tool.
Setmore is an appointment management solution that benefits business owners, employees, and clients. The service is free, with the option of upgrading to 'Premium' at an affordable cost.
It offers a wide range of tools to increase productivity and improve user experience. Give it a try!
Acuity Scheduling is a cloud-based appointment scheduling system. It handles your clients, calendars, and booking schedules with ease.
Its versatile framework, usefulness, and user-friendly features are worth trying out. Try it for yourself via Acuity's 7-day free plan.
Get an even better app to use
Staying organized has never been easier.
You can now manage your business and grow your brand with a single, powerful software that keeps all of your appointments in line, your clients organized and your business booming.
Trafft is perfect for business owners who need to streamline their booking experience both for their staff and their clients.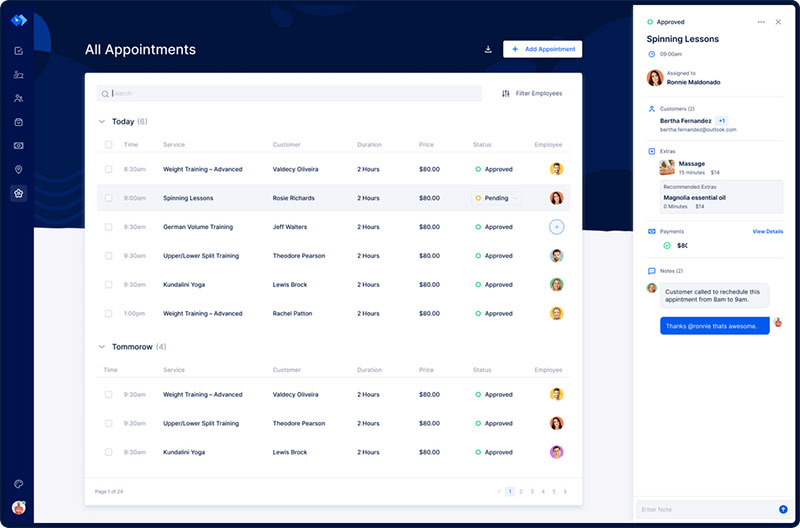 Trafft handles everything for you, even sending automated email or SMS reminders to your clients. No-shows? Not anymore!
The Trafft booking software adapts to different industries for a blissful online booking experience and employee management.
Want to know more? Check out Trafft's awesome features to see what you are missing.
If you enjoyed reading this article about Setmore vs. Acuity, you should read this one with Doodle alternatives.
We also wrote about a few related subjects like Booksy vs Vagaro, Calendly vs Setmore, vcita alternatives, Setmore reviews, Simplybook.me reviews, Calendly reviews, and Chili Piper reviews.