Gym and studio owners need to ensure that everything is in place. The membership method, schedule, payment, booking, and members management.
Glofox is an ideal app for this purpose.
This tool makes time management more manageable. It allows entrepreneurs to focus on marketing tactics and other vital activities.
The following Glofox reviews detail the essential features, functionalities, and pricing plans. They also outline the advantages of this software.
This article will help you decide whether Glofox is good for your business or not.
Glofox Software: What Is It and Why It Is Essential?
Glofox is a studio management software and app solution. It meets the needs of fitness studios and gyms offering yoga, pilates, and related activities.
With this tool, your business can save time and money. That's thanks to the many functionalities that Glofox provides to its users.
It is popular with customers in various countries around the world. These include Canada, Australia, the United Kingdom, and America.
Even well-known people from the fitness industry are using this software's services. That showcases how efficient this solution is.
What Does Glofox Do?
Helps with admin tasks like reporting, check-in, billing, member management, and class scheduling.
Studio and gym members can make bookings via the Member app, available for Android and iOS devices.
Helps you to maximize your time by making it easier to maintain and manage your business.
Manages gym attendance.
Glofox is available as a mobile app and a website portal. Using their preferred method. members can book services, subscribe for membership, courses, appointments, and classes.
You can connect the portal to your social media accounts. Thus, members can book classes straight from their social media account.
Users and customers can keep track of their payments, bookings, memberships, and schedules.
The reporting feature allows you to see the current key metrics. These include failed payments, attendance rates, and membership sales.
Is Glofox The Right Choice For You?
You might be considering using Glofox for your gym or fitness studio business. But before making your final decision, there are a few things you need to consider.
Are you an entrepreneur or a studio business owner who wants to reduce the time spent on admin? Glofox can help with a variety of admin tasks.
It will help to ensure the smooth running of the business and make things more organized.
Glofox has a modern design, with flexible and user-friendly features. This makes it very accessible, both for studio owners and members.
Managing businesses can be challenging. Admins have to keep track of members, bookings, payments, schedules, and memberships.
Thankfully, this tool can take on the tasks most admins find challenging. In addition, it can help save you time as it takes over important tasks.
What's more, customers can view and book classes direct from their Facebook account. You open up this possibility by integrating Glofox's web portal with your studio Facebook account.
This functionality alone helps to draw more potential customers to the main web page. If you are new to the fitness industry and have a tighter budget, then this software might be ideal for you.
Glofox also comes with a mobile application. This enables you to build brand loyalty and attracts more users in the long run.
Glofox Features
Examining a tool's features can give you an idea of what to expect. You can then better decide whether it will benefit your business or not.
One of the main features of Glofox is that it comes with a custom mobile app to make your business stand out.
Other software solutions also offer this feature. But with Glofox, there is no additional cost.
Core Features
Schedule Management
Schedules are essential in every business. This feature makes it very easy for users and members to keep track of their plans.
They can also set reminders of their upcoming activities.
Members can access their schedule and reminders through the mobile app. Or they can stay updated using the booking portal website or Facebook page.
It allows members to find and book their favorite classes at a convenient time. Glofox takes automatic deductions from the balance, ensuring timely payments on bookings.
Whether users want to cancel or book, they can always set reminders through this tool.
Manage Business Reports
When a business grows, it can be challenging to keep track of all the reports. The reporting feature allows you to view detailed member information and current financial metrics.
Boost Client Retention
Retaining clients is vital for every business. Hence, building customer loyalty needs to be a high priority.
Client retention is the salient feature of Glofox. As such, it comes with the ability to send automated messages, helping to keep clients in the long run.
This serves to boost the retention rate by as much as 25 percent.
It's true that obtaining new customers is crucial. However, a strong foundation of loyal customers is a very precious commodity.
Custom-Branded Mobile App
Glofox is a mobile-friendly software that focuses on mobile usage. You can base your mobile app on your niche, brand style, and standards.
Glofox makes this as easy as possible to set up. Simply prepare your image and logo designs for the design team, and they will do the rest of the work.
The customized mobile Glofox app allows members to carry out a variety of processes. These include subscribing to classes, courses, and memberships.
They can also purchase items from within the app in only a few clicks. Thus, there's no need to hire another staff member to manage personnel and clients.
Monitoring performance is also possible through this application.
Hassle-Free Payment
Most of the time, software platforms use third-party systems for payment processing. That's the difference with Glofox – it's an in-house process.
They offer not only the typical payment paths but also cash and electronic payments.
Student Management
Glofox software provides an efficient way to manage your booking system.
This is especially useful when students are checking in for classes. The semi-automated approach ensures organized class management.
Member Profile
The good thing about this software is that it has a member profile for each new user coming in. Members can keep track of their activities, history, and membership type.
When they sign up for a 10-class package, members can set up a form of auto-payment. This means that the app deducts the cost of the class from their balance.
Membership and Pricing Plans
With Glofox, you can create membership plans that suit different users and potential clients. They can change their plan according to what is available on your website.
Other Essential Features
Store Section
You can sell items and services to increase your revenue via the Member app.
Social Media Integration
Integration with Facebook and Instagram helps you reach people on these social media platforms. As your reach increases, the opportunity to find potential clients is also higher.
Automated Messages and Notifications
Send automated messages to users at the right time.
Targeting and segmentation
Create specific message groups and set up appropriate automation. This helps to increase your conversion rate.
Booking and Payment Portal
This branded feature offers a unified user experience to members.
Interaction History
Review details of all your client and lead interactions. This reveals how involved that person is with your business.
Lead Management
Encourage leads to become clients through excellent management of your sales pipeline.
Glofox Reviews: The Advantages
Developers created this software exclusively for the fitness business.
The design is user-friendly and simple. Customers don't need to go through numerous steps to book or purchase a membership.
It has an automated payment process.
Glofox enables customers to manage their gym bookings on the go through the admin app.
The software's analytics and metrics can help users to monitor operations.
It builds brand loyalty thanks to the custom branded app for members.
Glofox has excellent customer service, with unlimited free training.
It provides a detailed analysis of the member's day-to-day progress.
Its simple interface focuses on the main features of the gym business.
Glofox Reviews: The Downside
Loyalty programs or employee management capabilities are not yet available.
The only available payment processor for Glofox is Stripe, which is not available in all countries.
Customer support is not 100% responsive. Some customers say that the support team did not help with all their setup problems.
The features for coupon and discount code functionality are still under development.
Glofox Pricing Plans
Glofox costs differ from one plan to another and depend on the features you want to include.
The basic plan comes in at $107 monthly, if you purchase the annual subscription. To enjoy additional features, you'll need either the $219 per month or the $309 per month plan.
Add-ons included in the premium subscriptions are the branded application and SMS marketing. The only downside is that it doesn't come with a free trial.
What other people are saying
Whenever there's a review page, you always see positive opinions about that app. But, what about the negative opinions?
Let's see what others are saying:
Key takeaways from these Glofox reviews
Glofox reviews reveal that the benefits of this software outweigh the disadvantages.
Overall, its minimal design stands out.
Each of your gym or studio members can download a copy of the branded mobile app. They can use it for booking and keeping track of their courses or memberships.
If you are the admin, you can also keep track of the analysis and metrics to monitor your operation.
Glofox's interface is minimal and responsive. This makes it easy for you to find what you need and ensure that your business runs smoothly.
Its practical features enable you to manage everything, including notifications and other essential services.
Get an even better app to use
Staying organized has never been easier.
You can now manage your business and grow your brand with a single, powerful software that keeps all of your appointments in line, your clients organized and your business booming.
Trafft is perfect for business owners who need to streamline their booking experience both for their staff and their clients.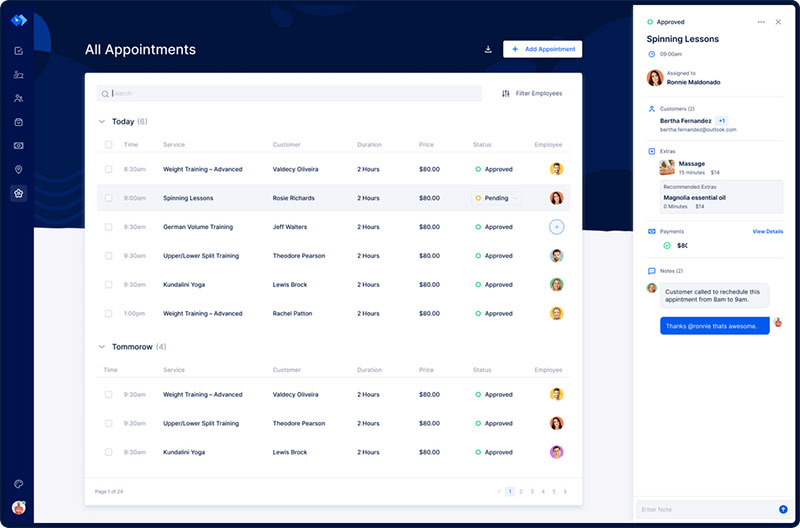 Trafft handles everything for you, even sending automated email or SMS reminders to your clients. No-shows? Not anymore!
The Trafft booking software adapts to different industries for a blissful online booking experience and employee management.
Want to know more? Check out Trafft's awesome features to see what you are missing.
If you enjoyed reading this article about Glofox reviews, you should read this one on Calendly vs Microsoft Bookings.
We also wrote about a few related subjects like Youcanbook.me reviews, Findtime vs Calendly, Acuity or Calendly, Picktime reviews, Picktime vs Clendly, and therapy scheduling software.