Running a company in the health and wellness industry is no easy task. If you're a small business owner, you're familiar with the constant demands on your time and energy: marketing, scheduling, staff management. What tools will make your life easier?
Currently, one of the most popular industry management tools is Mindbody. This comprehensive software program helps fitness studios, salons, spas, and other health and wellness companies handle daily business operations.
Most Mindbody reviews only cover a few aspects of their services, but this review will give a thorough look at the company and help you decide if it's right for you.
What is Mindbody?
In 2000, naval submarine officer Rick Stollmeyer saw a need to create online tools for business owners to improve their efficiency. So he founded Mindbody Software.
Mindbody provides client management systems for health and wellness businesses. It automates management tasks like scheduling, payment processing, email marketing, and employee payroll processing.
Their integrated marketing tools allow you to reach out to customers through promotions. You can create loyalty programs and customize gift cards, increasing customer engagement and spending.
The Mindbody mobile app helps clients find and connect with your business. They can view, book, and pay for sessions in a seamless process.
Mindbody features a partner marketplace to integrate additional programs that enhance customer experiences. These partners include ClassPass, Fitbit, Constant Contact, and Trainerize.
Who benefits from using Mindbody?
Who is their target market?
Mindbody is specifically designed to support businesses in the health and wellness industry. Yoga studios, beauty salons, and physical therapy offices benefit from their services. If you plan to enhance your online presence, reach new clients, or create marketing campaigns, their tools will help.
Mindbody software is no light investment. Small businesses should make sure they can take full advantage of the platform to get the best value before signing up.
Mindbody Features
Mindbody is a one-stop-shop, offering features that care for the client's entire experience with your company. Their packages also offer Employee Self Service tools.
Here are some of their cloud-based features:
Point of sale systems
Booking
Auto-billing
Referrals
Promotions
Profile building
Payroll
Barcode scanning
Waitlist management
Their Android and iOS Mindbody app provides a user-friendly way for clients to find your business and book an appointment or class.
Let's take a closer look at some of their features and what some customers think in their Mindbody reviews.
Online Booking
Booking services are their strongest offering. Clients can book an appointment using either the Mindbody app or an embedded widget from your website or Facebook. Your schedule will update automatically with new or returning clients.
The Mindbody software updates bookings and cancellations in real-time. You control class sizes and waitlist options. If you have a waitlist, it will automatically fill in appointments as they become available.
You can assign clients to staff members in the clean scheduling user interface. Editing is straightforward with the drag-and-drop method.
Even with the best scheduling system, you will limit your success without a good outreach strategy. This is where their marketing tools shine.
Marketing Suite
Regular communication with clients is the key to keeping them. Mindbody's client management system has all the features you need to stay in touch.
Your communication preferences are fully customizable. From email marketing to text message appointment reminders, their tools help nurture your relationship with clients. This will keep them engaged and coming back.
If you have clients that don't come regularly, you can create targeted campaigns. These campaigns include discounts that encourage clients to book a session with you.
Marketing backed by data is more successful than marketing without it. Mindbody's marketing reports give you a glance at which campaigns and strategies are most effective. You can determine which products are more popular, like class packages or workshops. With this information, you can streamline your offerings.
Point of Sale (POS)
Small business owners in the wellness industry have different needs from other businesses. They often blend services that include classes, retail transactions, and booking.
Gyms, beauty salons, and wellness companies require their own integrated software and hardware. And other software programs don't meet these needs.
Mindbody offers a full-service POS system, including hardware, like barcode scanners, credit card readers, thermal receipt printers, and cash drawers.
The hardware works hand-in-hand with the app and website. It allows businesses to process transactions both online and in person.
Mindbody's POS features can process credit card payments on mobile devices using a branded app and mobile POS reader.
The developers created specific mobile POS functions for large and small business owners. They're accessible anywhere, thanks to their business app. And this approach is perfect for companies that mix physical transactions with online bookings. These features make Mindbody POS one of the strongest system solutions for your health or fitness business.
Benefits
This platform provides a cohesive interface between the business and the customer. It creates a positive experience from start to finish.
Clients use the app on their mobile devices to find the services they need. They can quickly gather information and book an appointment. Once they have entered the Mindbody system, you can use the tools to engage with the new clients.
Users who have given positive Mindbody reviews appreciate these features:
Online booking: No need to have dedicated staff to create appointments. Clients can view your schedule and choose the open slot most convenient for them.
Point of sale: Clients can use the Mindbody app to find personal trainers, purchase class packages or memberships, pay for appointments, and purchase products. You can use mobile devices, terminals, or self-service kiosks to process transactions in person.
Staff management: Give your staff a login so they can see the schedule from any device. Quickly process payroll without hiccups.
Reporting: Run reports to check class attendance, revenue, customized client profiles, membership growth, or customer retention. Use these reports to make informed decisions for your business. The information generated by these reports gives a clear picture of your company's overall health.
Client tools: The client profiles give a comprehensive history of each customer. Employees can see notes, visit and purchase history, and payment status when they come in.
Marketing tools: Automate your promotional emails. Send out promo codes, create discount packages, and send them to specific clients. Use the software to track your success.
Training: Mindbody University provides employee onboarding and technical support to set up your services.
Drawbacks
Of the options for Wellness business software, Mindbody is more expensive than most.
They feature a tiered pricing system, placing some of the better features behind a higher price tag. The basic plans may lack essential features.
Other negatives reported in customer Mindbody reviews are:
Customer service reps are hard to reach outside of regular business hours
Tons of customizable features, but they are challenging to implement without a developer
Despite the onboarding tools, it still takes a considerable time investment to get the system up and running
Extremely difficult to cancel. Make sure it will work for your business before signing up.
It doesn't have website-building or hosting capabilities. Some competitors include both client management systems and website building, like Active Blueprint.
Customer Service & Support
Mindbody offers multiple options to contact customer support and answer questions.
Phone: Available 8 a.m. to 8 p.m. ET in the Western hemisphere; 7 a.m. to 7 p.m. GMT in Europe, Africa, and the Middle East; and 7 a.m. to 7 p.m. AEDT in Asia and the Pacific Islands.
Email: The contact page on Mindbody's website has an email form. This creates email tickets for customer support to reach out to you.
In-Software Help: The system contains a Help button that provides software support and connects you to other resources.
Videos: Mindbody's site has YouTube tutorial videos embedded for quick access.
Product User Guide: Product demos, tutorials, and other online resources are all collected together in one guide.
Training: Each pricing tier includes one-on-one training sessions.
Blog: Mindbod's blog posts talk about the best practices for managing, marketing, and growing your business.
Pricing Details
Pricing and features depend on your business' wellness industry section.
They limit salons or spas to 15 staff member profiles, while fitness businesses have no staff limitations. Integrative health and fitness businesses can't text notifications and reminders, but salons and spas can send up to 3,000 text reminders.
Fitness or integrative health companies have dynamic pricing, while spas and salons don't.
Review their site carefully for the prices directly associated with your business type.
Here are the basic price tiers:
Starter $139: Manages schedules, advertises, and sells your services
Accelerate $279: Add text message confirmations and email marketing campaigns
Ultimate $499: Advanced analytics, automation, and other marketing tools
Ultimate Plus $699: Access the full power of Mindbody and a custom mobile app
You can create a branded mobile app or other add-ons that compliment your services.
What other people are saying
Whenever there's a review page, you always see positive opinions about that app. But, what about the negative opinions?
Let's see what others are saying:
Bottom Line on Mindbody Reviews
Mindbody reviews reveal that it is popular and widely used. As long as your business falls in the health and wellness sector's target audience, this tool will meet your needs. Just remember that it's pricey. The more you need, the more it costs.
You can't take it for a test run, so make sure it suits your requirements and is a good fit. It will take time to learn but is more user-friendly than learning separate scheduling and POS systems.
If the software is a good match and you have the money, Mindbody is an excellent system. If not, there are less expensive options elsewhere.
Get an even better app to use
Staying organized has never been easier.
You can now manage your business and grow your brand with a single, powerful software that keeps all of your appointments in line, your clients organized and your business booming.
Trafft is perfect for business owners who need to streamline their booking experience both for their staff and their clients.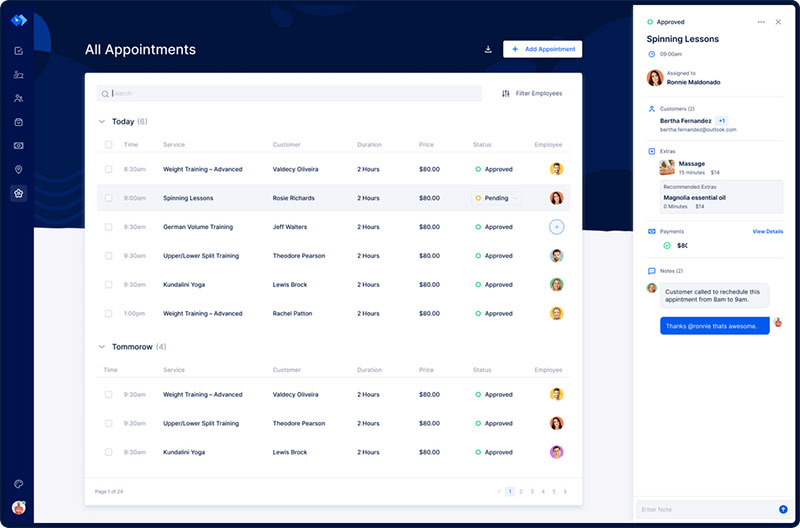 Trafft handles everything for you, even sending automated email or SMS reminders to your clients. No-shows? Not anymore!
The Trafft booking software adapts to different industries for a blissful online booking experience and employee management.
Want to know more? Check out Trafft's awesome features to see what you are missing.
If you enjoyed reading this article about Mindbody reviews, you should read this one on Calendly vs Microsoft Bookings.
We also wrote about a few related subjects like Youcanbook.me reviews, Findtime vs Calendly, Acuity or Calendly, Picktime reviews, Picktime vs Clendly, and therapy scheduling software.