Hold on, you don't have to pay hundreds of dollars and put up with "Get a quote" pricing. We've got you covered with Mindbody alternatives that do a great job while being totally transparent with their pricing. Managing your salon, gym or spa is already hard. You need a solution that's going to be your true partner in overcoming the challenges that come with running your business.
And we've got 15 alternatives to Mindbody that are going to change your view on software solutions that automate repetitive tasks and keep you, your staff, and your clients happy. 
What is Mindbody?
All businesses, including salons and gyms, need management software to streamline their operations.
A great example of such a business management solution is Mindbody. This platform aims at the specific needs of gyms, salons, spas, and other wellness businesses.
Mindbody was one of the first business management tools on the market with a special design for salons, fitness studio businesses, and gyms. As you're well aware, these businesses involve time-consuming administrative work too.
Mindbody has dominated this field of business management software for years. Today, many beauty and wellness centers continue to use it. Its popularity is remarkable, considering that it is not very easy to use. It does have many useful features, but they also come at a considerable cost.
You may not be aware of the plethora of Mindbody alternatives that have entered the market. Some of them have a user experience that is superior to that of Mindbody and are a lot cheaper.
Discovering them all for yourself will take a lot of time and may cause a lot of frustration. This list of the best alternatives to Mindbody will help you save time and will make your search easier.
How much does Mindbody cost per month?
Mindbody is one of the most expensive salon management software and pricing starts from $159.00 monthly. It goes up to $699 per month for advanced features. 
Ratings:
List of the Top 15 Mindbody Alternatives in 2023
Don't worry, we're doing an in-depth review of each Mindbody alternative mentioned here. But before we start, here is an overview and the list of the top 15 alternatives to Mindbody in 2023: 
Trafft – The Best Mindbody Alternative in 2023
Curious to find out how you can manage your business and grow your brand with a single, powerful Mindbody alternative that keeps all of your appointments in line, clients happy, and your business booming?
It even has powerful integrations with the most popular salon marketing tools to supercharge your growth.
Trafft is perfect for business owners who need to streamline their booking experience both for their staff and their clients.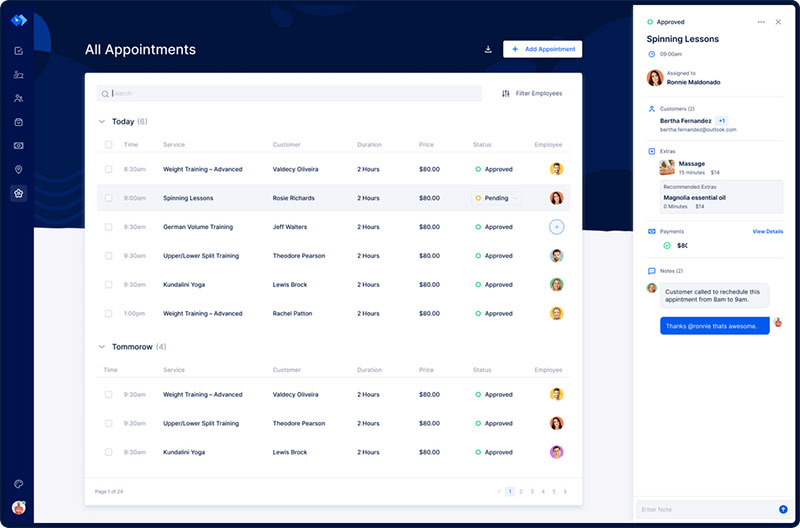 This alternative to Mindbody handles everything for you, even sending automated email or SMS reminders to your clients. No-shows? Forget about them!
You'll make your salon more profitable and reach new heights thanks to only one platform. 
The Trafft booking software adapts to different industries for a blissful online booking experience and employee management.
Want to know more? Check out Trafft's awesome features to see what you are missing.
Pricing: Free for up to 5 members; paid plans start from $29 per month. 
Ratings: 
5/5 on Capterra
4.7/5 on G2
Excellent on Trustpilot
5/5 on GetApp
Sign up for Trafft for free now and see why it's the best alternative to Mindbody to help you supercharge your business growth!
Amelia – The Best Mindbody Alternative for WordPress
Amelia is a perfect Mindbody alternative for businesses that run their websites on WordPress. It's a booking plugin that streamlines all of your appointments. It also allows clients to book recurring and group appointments. All of its advanced features allow you to completely manage your business from one platform.
Specifically designed to support appointment-based businesses like yoga, spas, salons, and fitness centers, Amelia should be your top choice if you're looking for a Mindbody alternative that does the job well. 
Pricing: Starting from $72 annually and $180 for lifetime access. 
Ratings:
4.9/5 on Capterra
4.9/5 on GetApp
4.7/5 on Trustpilot
If you want to discover how Trafft and Amelia stack up against each other, delve into our in-depth Trafft vs. Amelia comparison.
Rosy Salon Software
Rosy Salon Software is a great alternative to Mindbody because it has all the necessary scheduling tools like automatic reminders and role-dependent dashboards.
This cloud-based all-in-one solution makes managing your salon business easy.
Rosy Salon Software even includes a POS system and inventory management tools. What makes it unique is the automated email marketing feature. This helps you to get in touch and stay in touch with clients. When enabled, the platform sends out automated emails, appointments, and birthday greetings.
The software plans out your appointments and displays client history. If you want to stay on top of salon industry trends, you need a tool that follows the trends, too. And Rosy Salon Software does a great job of staying up-to-date with the latest trends. 
The automated SMS and email reminders help to prevent no-shows. There's also an option to customize them.
Pricing: You can get the basic plan for $29 per month. This includes a 30-day free trial.
Ratings:
4.7 on Capterra
4.6 on G2
Vagaro
The client marketplace helps people find fitness studios, salons, and spas near them. The associated salon booking app lets them book appointments and pay online.
This online booking system is most suited for larger salons and spas. Especially those who use Yelp to attract customers.
It allows users to book and manage their appointments with ease.
Also, you get a lot of flexibility. You can manage and arrange the appointments in the most efficient manner.
Thanks to the SOAP notes feature and automated reminders, Vagaro helps to boost a salon's productivity.
Pricing: Starting from £30 per month.
Ratings:
4.7 on Capterra
4.2 on G2
GloFox
GloFox is a business management system suitable for any fitness studio business. It reduces the time business owners spend on administration and trying to increase revenues.
You can even integrate a payment portal into your business website or Facebook page.
The features and options make it the perfect Mindbody alternative for smaller studios or gyms that want to save time and money. Instead, they can focus on branding their business and engaging with the community. The specialized features also come at an interesting price level.
The mobile app and website integrations help you improve communication with clients. That is a great example of client engagement.
Pricing: Pricing is on the higher end and starts from $110 monthly. 
Ratings:
4.5 on Capterra
4.5 on G2
Wild Apricot
If you love automating business management processes, then this is a good Mindbody alternative for you.
It handles client memberships and payment processing. For payments, it uses the most reliable payment portals like PayPal and Stripe.
Another of its key features is the ability to manage events. This saves you a lot of frustration. It also eliminates the need to purchase other business management software.
Wild Apricot has so many great features. As a result, it's also used by nonprofit organizations, fundraisers, and others. They use it for online registration, sharing calendars, sending reminders, and receiving payments.
Pricing: Starts from $60 per month. They offer a free trial. 
Ratings:
Schedulicity
Schedulicity provides you with an online booking system and payments, marketing tools, and more.
The booking feature benefits the clients and you as the business owner. It gives managers more time to focus on marketing and increasing revenue.
It's the perfect alternative to Mindbody for medium and small health clubs and salons. It also includes other features like employee management, marketing, and custom packages.
Pricing: Starting from $34.99 monthly. 
Ratings:
4.4 on Capterra
4.4 on G2
Acuity Scheduling
Acuity is one of the higher-end online scheduling software solutions on the market. That, of course, involves a bigger price tag. But compared to Mindbody, it's not as expensive. 
All Acuity Scheduling plans include unlimited bookings and appointment email reminders. It includes an online booking form and widget as well. You can add the widget to your website or social media. In addition, you get payment processing options for full and upfront payments, various software integrations, and more.
There is a feature for managing class schedules. This is useful for scheduling training sessions for stylists amongst other things.
You can generate coupons and use other similar promotional features as well.
Acuity Scheduling is not designed specifically for the beauty and wellness industry. If you're looking for such a tool, this Mindbody alternative might not be for you.
Pricing: Pricing is on the higher end and starts from $20 per month. They don't offer a free version.
Ratings:
4.8 on Capterra
4.7 on G2
Spaware
Next on this list of Mindbody alternatives is Spaware, a great salon software solution. It can efficiently manage bookings, staff schedules, and tasks.
It offers a simple and intuitive interface that makes it pleasant to work with. This booking solution also has several marketing tools and other features that make it unique such as:
Appointment Reminder

. Spaware sends automatic reminders right after a customer books an appointment.

Security

. There is support for biometric sensors.

Touch Screen

. This feature makes accessing information even easier.

Stock management

. You can track inventory to ensure that you do not under or overstock items.
Pricing: Starts from $30 per month.
Ratings:
Booksy
Booksy will improve the customer experience of your club or salon. And a great customer experience will help put you ahead of the competition.
You can efficiently schedule and manage your business with this alternative to Mindbody.
Booksy lets clients book their appointments online, even many months in advance. They can even add comments on what kind of treatment they want.
As a user, you have access to different kinds of information. The reporting features display bookings and revenues, staff details, and client information.
You can use that information to improve your business' performance. It also offers marketing features like templates for emails and social media pages.
Pricing: $29 per month. 
Ratings: 
VirtuaGym
VirtuaGym is the perfect solution for any fitness facility or gym. The intention was to make a management tool for fitness enthusiasts who want the best and most reliable solution.
This management software tracks individual attendance and helps the studio manager to see who is at the gym. Gym owners can see how they can fill to capacity without violating social distancing.
Some of VirtuaGym's key features include:
Attendance management

Automated scheduling

Billing and invoicing

Bookings

Calendar and automated reminder system

Tracking gym users' activity
Pricing: You have to request a quote. 
Ratings:
3.8 on Capterra
4.4 on G2
WellnessLiving
With an easy-to-use interface and a range of features, this is a robust, all-in-one solution and a great Mindbody alternative. Any fitness business will love this management platform.
WellnessLiving comes with various tools. You can integrate these into your website, custom app, social media, and more.
The developers of WellnessLiving even offer to migrate your MindBody account to their application.
Pricing: From $89 to $159 per month. They also offer enterprise plans with custom pricing. 
Ratings:
4.4 on Capterra
4.4 on G2
MyTime
This Mindbody alternative is more than a calendar management software solution. It also functions as a communication facilitator.
Yet, MyTime is only a tool. You, as the user, determine what it does and how it does it.
Here are some important features of MyTime:
MyTime

Communicator

. This feature allows you to manage clients and communicate with them.

Manage schedules

. You can manage your schedules anywhere thanks to the mobile and web applications.

Security and backup

. MyTime has several security features. For example, each staff member has a personal login and you control their privileges.
Pricing: From $129 to $249 per month. They only offer an annual subscription.
Ratings:
SimplyBook.me
SimplyBook.me is a Mindbody alternative worth taking a look at. Especially if you want a scheduler that integrates with other management software solutions.
This simple scheduling system is great for companies in the service industry. You can create a customized booking page that clients can view on a computer or mobile phone.
You can also make a special member portal.
SimplyBook.me lets you accept online bookings and payments via a special 'Book Now' button. You can add that button to your personal website, Facebook, Google, or Instagram.
Pricing: They offer a free plan with 50 bookings, and pricing starts from $9.9 per month for 100 bookings. 
Ratings:
4.6 on Capterra
4.6 on GetApp
4.7 on FinancesOnline
4.4 on G2 CROWD
3.6 on AppStore
Salonized
The last on the list of MindBody alternatives is Salonized. This is an application dedicated to salons.
You can manage your business anywhere you want, thanks to their mobile app. From here you can carry out tasks related to scheduling and managing appointments.
Clients will receive automatic reminders of their upcoming appointments. After their appointment, they also get a chance to submit feedback.
The software also sends automated emails to reinforce customer loyalty.
Pricing: Starting from $17,5 per month for basic appointment scheduling features. If you want advanced features like discount codes, you'll pay $44 per month. 
Ratings:
Which of these MindBody Alternatives is Best for You?
When choosing the best MindBody alternative for you, there are a few things to consider.
For instance, it's best to pick one that integrates into your website. This allows your customers to make bookings online.
Remember that the goal of choosing Mindbody alternative is to make your administration simpler and it should be able to grow along with you.
Before making a commitment, consider the price level and the customer support offered. It's also worth thinking about what other features are important to you and your business.
If you enjoyed reading this article about The Best Mindbody Alternatives for Salon Owners, you should read this one on Housecall Pro alternatives.
We also wrote about a few related subjects like Calendly reviews, Appointlet vs Calendly, Wix bookings reviews, vcita reviews, 10to8 reviews, Appointy reviews, and Calendly vs Microsoft bookings.