We've mentioned Working Hours, Days Off, Special Days, and Office Hours, and we know it is all starting to blend together so let's go over the most important segments of creating a working schedule in Trafft.
Let's start breaking this down.
Availability of Time Slots (Services)
The availability of services is determined by the Working Hours, Days Off, and Special Days of your employees. If the employees work from Mon – Fri, from 09:00 – 17:00, all services the employees are assigned to will be able to provide appointments during those times, dependent on the duration of each service.
You can, of course, configure different service availability based on employee's working hours by adding working periods so, for example, if an employee is supposed to cover Service 1 from 09:00 – 12:00, but Service 2 from 13:00 – 15:00, you need to create 2 working periods in the employee's profile (under Working Hours) and manually select the services you want to offer during the day.
Special Days overwrite regular working hours, so if your employee is working from 09:00 – 17:00, you can create a special date for a certain date or date range, and override those hours.
Days Off block entire days for the employee. They can be used for vacations or sick leaves, for example.
Working Hours are related to employees. Each employee can be edited, and each employee can have unique working hours, so (for example) John works from 09:00 – 17:00, while Mark works from 12:00 – 20:00.
They are applied to weekdays (Mon-Sun) and they will be repeated every week.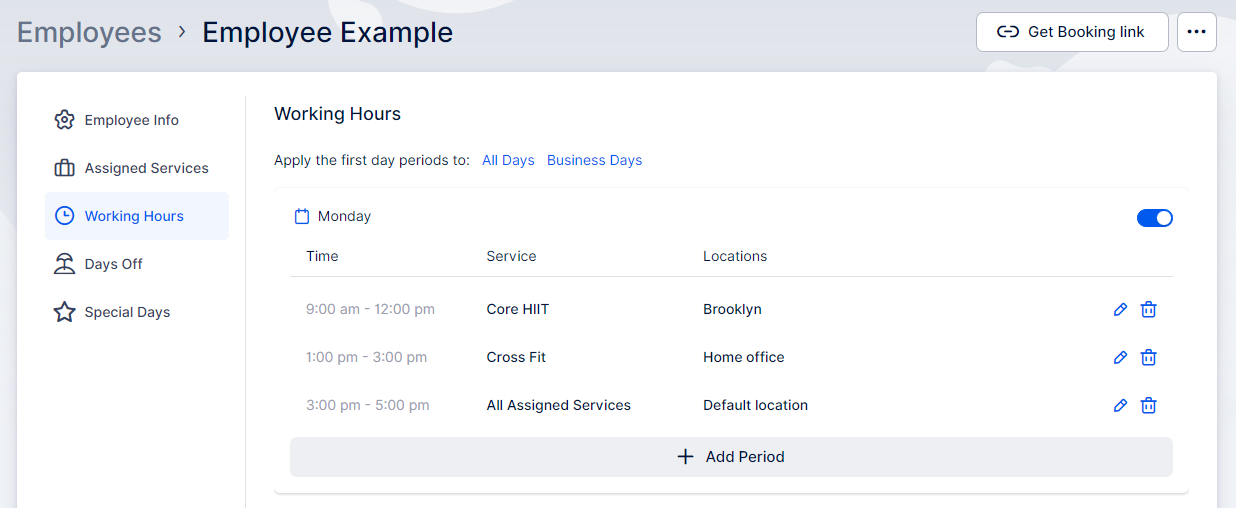 Have more questions?
If you face an issue, and cannot find an answer in the documentation, feel free to submit a support ticket!