In the following article, we will go through the process of your first Sign up to Trafft and creating your first business account.
To start the process click on the Sign up for free button on Trafft's home page and you will be redirected to the sign-up process, where you will enter your details and configure a password for your new account.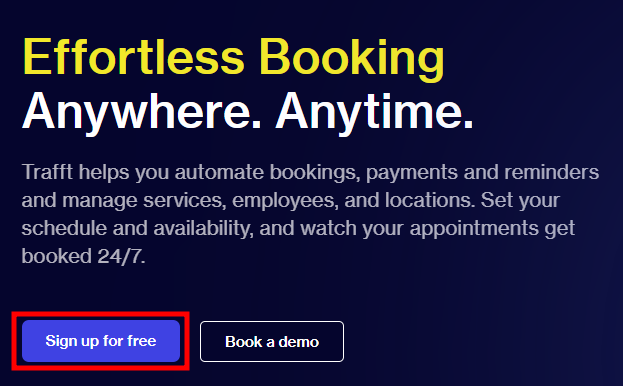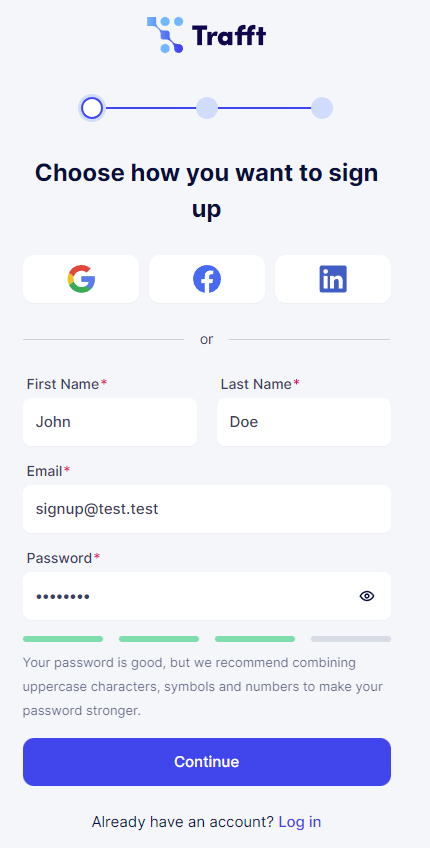 After adding your details, you'll be forwarded to a page where you'll need to select a few options for your business, and according to those options, Trafft will generate some dummy data on your account, so you can start using the app straight away.
First, you'll be offered to select your industry, add your company name and define your Booking Website's URL.
When selecting your industry, you'll be able to choose a category that best suits your business from salons, training, consulting, healthcare, etc. You can also choose a sub-category for each of these. In case you have a business with a different category than the one offered, you can also click on Other, and enter the name of your industry.
After you selected the industry, added the company name, and defined your Booking Website's URL, you will need to check the box and agree with our Terms of Use before continuing.
Once that's done, the next (and final step) is to select the theme you want for your booking website (this can be changed later).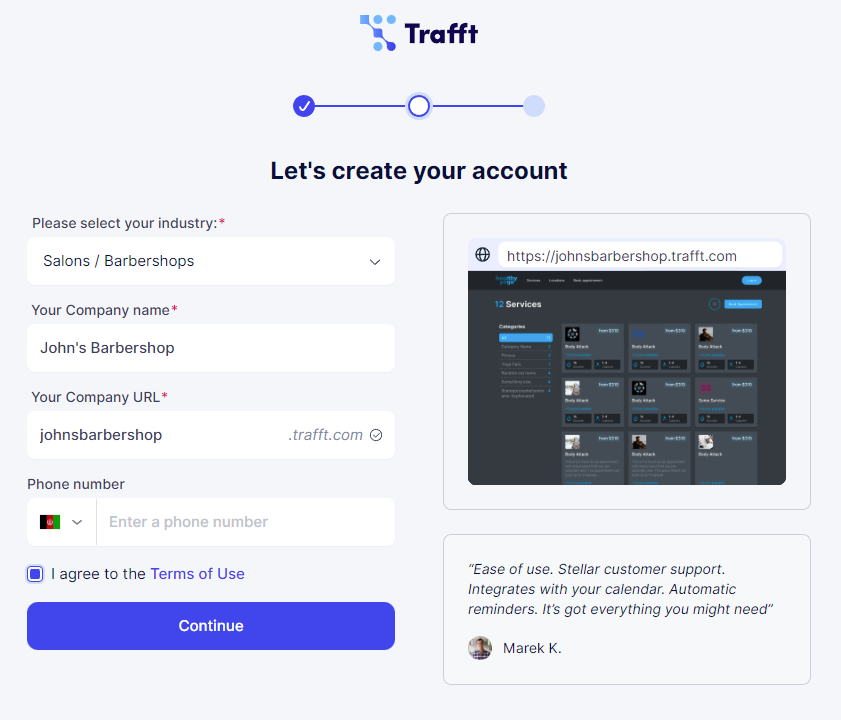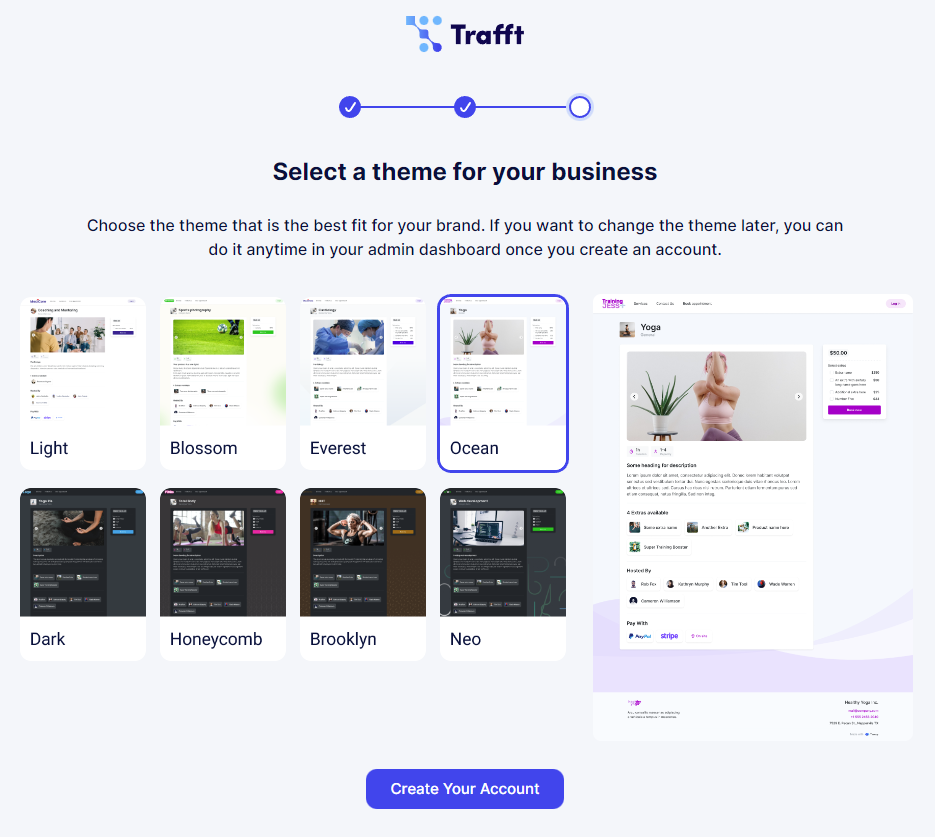 Once you're done, click on Create Your Account at the bottom, and you're ready to get started with Trafft!
Once you finish the signup process, you will see your admin dashboard and the back end of your booking website. Here you can see a button Start Tutorials, and when you click on it, a wizard guide will pop up which can help you with setting up your account.
To minimize the chance of getting lost or not being able to set up everything necessary for the booking function smoothly, we have created a quick and easy onboarding flow, which you can also follow directly through your Trafft account with the help of our guide wizard. Ready?
Once you gain access to your Trafft account, you'll be greeted with a short Welcome video which you can close and start the tutorials. Tutorials can be closed by clicking on the "I know my way around" button, but we advise you to go through them just in case.
We've created some dummy Employees, Services, and Appointments, so you can check out Trafft's Booking Website straight away by clicking on the Booking Website button in the top left.
Employees – This tutorial helps you configure your employees/tutors/coaches. As mentioned above, we've added a dummy employee so you can check out Trafft without having to configure everything, but you can delete or modify this employee in order to add real employees to your company. You'll also notice that the name and the email address you entered during the Sign-up process are also listed as an employee. This is good for solopreneurs who work on their own, and this employee cannot be deleted.
Services – In here, you'll see a few dummy services related to your industry which you can either modify or delete in order to create new services. Services are what your employees provide to customers, but we'll cover this in another article in more detail.
Features & Integrations – When you create a Free Trial account, all features and integrations are available, so you can turn everything on and see which ones suit you best. Most of the features are already enabled, but we encourage you to try out everything Trafft has to offer during the 14-day Trial Period.
Booking Website – This, just like the "Booking Website" button in the top left, takes you to your ready-to-use Booking website, where you can see the dummy services created during the sign-up process. This page allows you to see what your customers see, so you'll be able to configure this to provide the best user experience when you're ready to advertise your Booking Website.

Have more questions?
If you face an issue, and cannot find an answer in the documentation, feel free to submit a support ticket!