Studio management software developers are working hard to produce better solutions. The fierce competition among these developers is good news for their clients. They will receive a better product.
Some of the top platforms for fitness business management are Glofox and Mindbody. In this post, you will find a comparison of Glofox vs Mindbody. You will read about their key features, benefits, and prices.
Overview of Glofox vs Mindbody
Glofox
Glofox, established in 2013, is a SaaS company that makes business management software for the fitness branch. The developers behind Glofox are former athletes and owners of fitness studios.
They know firsthand which problems businesses in the wellness sector face. The product is a platform that helps fitness business owners to focus on what they are best at, instead of the administrative work.
Glofox is a complete software package for managing day-to-day administrative work. It turns out to be a tool for increasing revenue. It has tools like class and group scheduling and payment processing.
The website integration and branded app make communication with clients easy. It frees up time for business owners to work on meaningful personal relationships with clients. A solid client base leads to stability for the studio and increases money flow.
The mobile app is not only for communication purposes. Clients can also use it to buy products and services. There are options for self-check-in for classes. You can display the pricing of your products and services  as well.
The monthly cost of Glofox is a little hefty for some smaller studios that only need a basic management system. It is more suited for those who want to scale their business or who have established themselves already.
Mindbody
Mindbody is a management software solution for health clubs of different sorts. It makes managing and marketing such businesses more effective. The Mindbody software is a complete solution, which is best known for its online booking system. The booking system is the foundation of Mindbody but now includes things like a mobile app, marketing tools, and payment processing.
Thanks to the software, fitness center owners can automate repetitive tasks. They can better use the time by providing a better service to their customers. The marketing features aim at attracting new clients, increasing their visits and the amount of money they spend. It will also help to get former clients back, generate feedback, and stimulate word-of-mouth advertising. Mindbody has safe processing of payments and allows you to store clients' credit card details.
Mindbody has a feature for generating forms like contracts, waivers, and others that need a client's signature. That improves the customer experience and makes things easier for the staff.
Key Features of Glofox vs Mindbody
Glofox
Lead Management. You can convert leads into paying members if you are able to better manage your product marketing.
Interaction history. This will show you who you talked to, what action you took, and how enthusiastic they are about your business.
Targeting and segmentation. See where your priorities should be based on client interactions and increase revenues
Integration with Facebook and Instagram. You can organize marketing campaigns through these social media platforms. This is a great way to maximize your investment.
Automatic messages, emails and push notifications. You can program your messages to be sent out at the best time.
Schedule and Manage Subscriptions. This client management tool helps you to keep track of memberships and subscriptions
Global payment processing. You can accept payment from anywhere in the world. Glofox offers transparent and competitive fees. You can manage the entire payment process from within the applications.
Unique branded member app. The custom mobile app will improve the client's experience. They can use it to book classes, shop, and get involved with the gym or fitness center.
Website planning integration. Clients can also interact through your website. You can add a branded booking portal to your website.
Shop. Selling products and services will increase your revenue. Members can use their mobile app to buy merchandise.
Memberships and reports on clients' activities. You can generate all kinds of reports that will help you to take the right action at the right time.
Mindbody
App and Web. The app and website will increase your online visibility. Mindbody has a marketplace where you can list your business. People can search the marketplace for a gym or fitness center near them and book through Google or the Mindbody application.
App Partner Network. This Mindbody network also helps you to increase your online presence. It makes your brand more visible in search engines and social media, like Peerfit and Google.
Dynamic Pricing. Dynamic Pricing is a feature that helps you to determine the right price at the right time for your services. That means that you can attract more and better customers. You can fill your classes to full capacity. You determine what the maximum and minimum prices should be.
Automations and Campaigns. This marketing feature brings back lost clients. You can ensure that your current clients will stay involved with branded SMS messages and emails.
Online Booking and Scheduling. Clients can book their classes with coaches, trainers, and other health professionals. They can use the mobile application, your social media outlets, and other branded tools.
Point of Sale (POS) system. The Mindbody POS system includes many benefits. It smooths out the payment process, sets up recurring payments, and processes credit card payments.
Client Tools. Mindbody has a user-side and a client-side app. Clients can book and manage their appointments through the app from their personal devices.
Staff Resources App. This application is very convenient for staff members in the health and wellness industry. It helps to keep them involved in your marketing strategies.
Reports. The powerful reporting tool aids you in keeping track of what is happening in your business. You can see how much work you and your staff put into it.
Custom-Branded Mobile Apps
Glofox
Your clients can download your business' application. They can view class schedules, register and pay for classes, and buy from your online shop. You can enable a news feed, where people can read updates about the gym, motivational quotes, and watch workout videos. These keep your customers engaged with the mobile app.
You can use the app to stay in touch with your client base by sending push notifications and messages in your news feed. Push notifications are great for creating awareness for new classes, special offers, and packages.
Mindbody
Mindbody allows you to create your mobile app. You can completely brand it in the way you want.
Mindbody offers full support for your app. They do so at a reasonable price. An app needs constant updating to ensure that it continues to work. That involves a considerable cost.
The mobile app has some amazing features, like payments, online booking, and synced content. You can make sure that the information in the app is always up-to-date.
The Mindbody app sends push notifications. You can stay connected with your clients and keep them informed of the latest deals, events, and class updates. You can send 'We miss you' messages to those that have not visited the club recently.
Benefits of Glofox vs Mindbody
Glofox
Glofox is flexible and easy to use. This modern system has all the automation you need for membership management, bookings, and payments. In this way, you can save time on administrative work and focus on more important things.
The platform focuses on retaining customers. You want to get new customers but keeping loyal ones is even more important.
The automated payment processing reminds your customers of payments due for you. That allows you to focus on how you can make your business grow.
What is most important is the customization options and the mobile app. Your app will reflect your branding and close the gap between you and your clients. Glofox includes this feature as standard.
Mindbody
The software's focus is on marketing and keeping in touch with customers. The store and other tools are easy to use. You can create personalized gift cards and send out special offers and build a loyalty program.
The robust reporting features help you to keep track of different statistics. You can review trends like revenues, sales, payments, inventory, payroll processing, and more.
Clients can book their classes the way they want through their Apple or Android mobile phone. They can check their booking history and payment details after they generate their profile. You can link your schedule to your site or Facebook page and it updates in real-time.
With Mindbody's marketing tools, you can send messages at the right time to the right people. You can keep an eye on the results. There are other options for automatic reminders, notifications, and updates which reduce no-shows. Clients receive notifications when someone cancels and a spot opens up.
On the backend side, you have staff management features that help you to structure your organization. You can organize teams and make staff schedules all in one place. There are features for processing payroll quickly and problem-free.
Pricing of Glofox vs Mindbody
Glofox
Glofox's basic plan starts at $110 per month. You can expand your plan with different features, up to $190 per month. You can also get add-ons and the branded app at different prices.
Mindbody
Mindbody's pricing is transparent and upfront. Many software providers are happy to offer free trials, but hide the price of the full version.
Mindbody has a range of add-ons that you can choose to upgrade your plan. That is great if you need one specific feature, but do not want to upgrade to a higher plan.
Mindbody offers four plans:
Starter Plan – $139 per month. This includes scheduling, reporting, and point of sale (POS) systems.
Accelerate Plan – $279 per month. This includes email templates and bidirectional text notifications.
Ultimate Plan – $499 per month. This includes customer feedback, automated marketing campaigns, and referral programs.
Ultimate Plus Plan – $699 per month. This includes customer feedback, automated marketing campaigns, and referral programs.
Get an even better app to use
Staying organized has never been easier.
You can now manage your business and grow your brand with a single, powerful software that keeps all of your appointments in line, your clients organized and your business booming.
Trafft is perfect for business owners who need to streamline their booking experience both for their staff and their clients.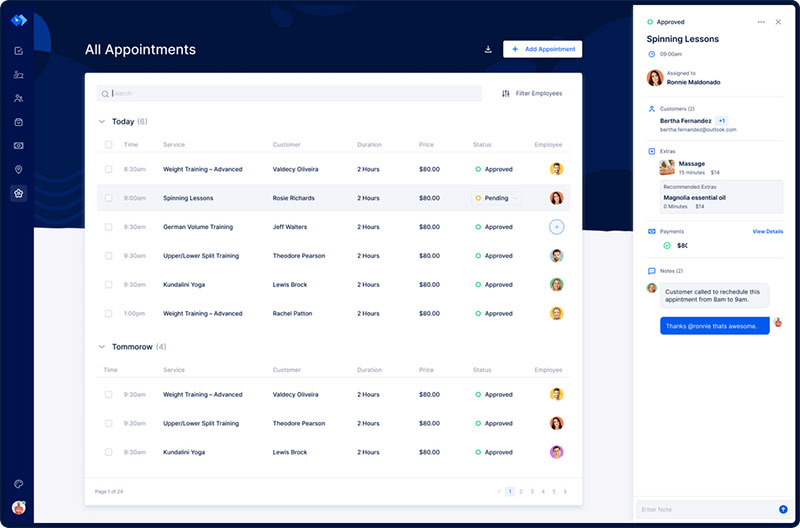 Trafft handles everything for you, even sending automated email or SMS reminders to your clients. No-shows? Not anymore!
The Trafft booking software adapts to different industries for a blissful online booking experience and employee management.
Want to know more? Check out Trafft's awesome features to see what you are missing.
If you enjoyed reading this article about Glofox Vs Mindbody, you should read this one on Mindbody reviews.
We also wrote about a few related subjects like Calendly vs Microsoft Bookings, Youcanbook.me reviews, Findtime vs Calendly, Acuity or Calendly, Picktime reviews, Picktime vs Clendly, and therapy scheduling software.