Are you a photographer looking to sell your photos online? Do you want to sell your photography prints in the digital marketplace? If so, selling photos on Etsy is for you.
The Etsy website helps photographers reach potential customers through their online Etsy shop. Some photographers use this as a full-time job. Others treat it as a way of making money on the side.
Opening an Etsy shop is easy, but selling photos on Etsy can be a challenging process. This article outlines a few tips to make that process easier.
How To Sell Photography Prints On Etsy
Etsy emerged in 2005 as a platform for self-employed artisans to sell their work. The platform featured quality, handcrafted goods from:
Craftspeople
Furniture artisans
Quilters
Jewelers, etc.
As Etsy grew in popularity, it featured products that demand a personal touch. That includes photography. If you want to know how to make money on Etsy, selling photos is essential for photographers to reach new clients.
Who are some likely buyers of pictures and art on Etsy? Graphic designers and website builders patronize Etsy shops. Other buyers include:
Marketers: Marketers buy photographs for advertising purposes. 
Bloggers: Bloggers buy pictures or art for their online content.
Use the following tips to start selling photographic work in an Etsy shop.
Create An Account On Etsy
Registering an email address is the first step in creating an Etsy account. After opening an Etsy account, go to "Sell On Etsy." Select the country, language, and currency, then let Etsy know what type of store you want to create.
State whether you want to sell on Etsy full-time or part-time. This information makes it easier for customers to navigate the site without affecting sales. The photos uploaded on Etsy should be at least 2,000 pixels per square inch.
Setting the orientation of the first image to landscape creates a welcoming feel. Choose a theme for the Etsy shop based on how you want your customers to feel when they visit your online store.
Creating a banner is an optional step to better present art or photography. Your banner can be an attractive photo collage that includes the business name. Or, you can use a single photo with your name on it.
Choose A Memorable Name For The Store
An Etsy shop needs a creative business name that makes potential buyers smile and want to check out your photography products. Choose a name that lines up with the store's theme, values, and creative niche.
When creating an Etsy photography business name, consider the targeted audience. Are you trying to sell computer wallpaper images? Are you selling beautiful pet photos to animal lovers?
Choose a name that relates to the audience. Think about the target demographic, put yourself in their shoes, and identify an appropriate name and theme that sells the brand.
Many photographers have found it helpful to include specific words at the end of their Etsy name. These include:
Photo
Studio
Art
Prints, etc.
This identifies the store as an Etsy photography shop. The business name is a personal decision but choose carefully because Etsy only allows a one-time instant name change. Any future changes will be subject to approval.
Customize Your Etsy Shop
Personalize the shop to distinguish the brand from other Etsy shops. Do this by using:
Etsy Shop Icons
These are small images located at the top left of the homepage. Select and position your shop's icon here.
Cover Photos
Cover photos are not the same as compulsory banners. These tend to be too large to load on smartphones. Cover photos are optional features that display at the top of the shop's homepage.
Be sure to choose cover photos that represent the brand well. Remember, authenticity sells. So, as you customize the Etsy store to attract potential customers, stay true to the brand. 
Decide How To Sell The Images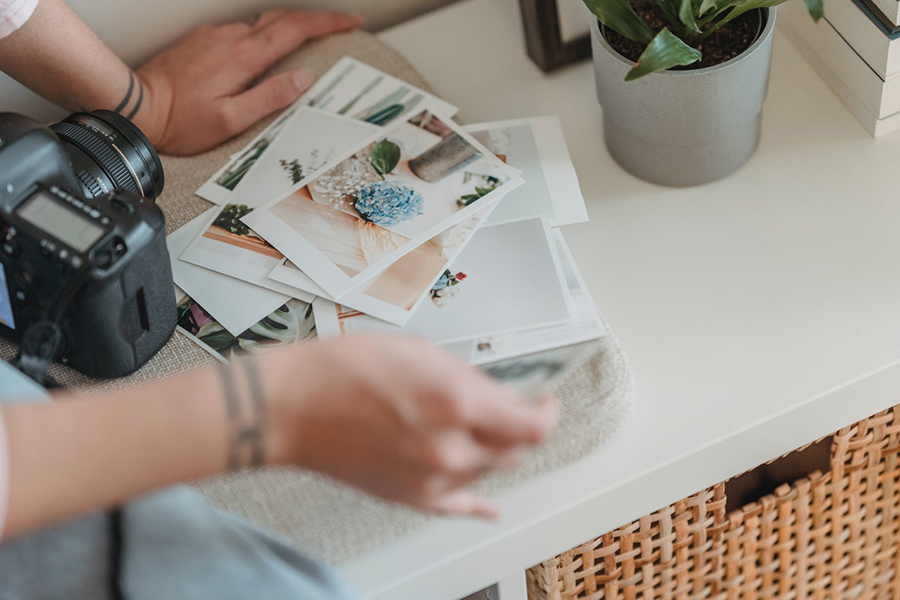 How do you plan to sell your photos on Etsy? Photographers selling physical prints of their photographs is popular on Etsy. Customers like to hang pictures in their offices and homes, so it's a guaranteed way of making money.
Selling photos on printed paper like a traditional photographer is workable. Yet, there are other profitable printing options, such as selling:
Tote bags with your image prints
Coffee mugs with unique photographs, etc.
You can also sell digital pictures based on what your clients want. Listings of photo prints on Etsy may remain active for up to four months before selling. Change out the photos if they don't sell after four months.
Upload Photography Listings
It's easy to upload photos on Etsy. Ensure that the images you upload have a unique, personal touch that attracts buyers. Your personal touch could be:
The specific locations where you shoot pictures
The unique photo editing style
Handmade frames included with the photographs, etc.
Remember, buyers who browse Etsy shops usually search for original art, unique images, and giftable prints. So, ensure your shop and your photography works don't look generic. Try to stand out from the crowd as much as possible. You can even use product retouching services.
Use Informative And Creative Photo Descriptions
There are many options to create more detailed product descriptions. It's not necessary to use everything. But, photographers who sell on Etsy tend to overlook the importance of good:
Thumbnails
Keywords
Descriptions
These are marketing tools that help a photographer with selling on Etsy. So, get creative, and take the time to create good descriptions. Be sure to use tags, thumbnails, and keywords that fit the seasons or holidays if appropriate.
Thumbnails
Your thumbnails should look as impressive as your photographs do. You can post your prints and thumbnails on quirky backdrops that will attract potential clients.
Descriptions
Use descriptions with relevant wording for a photograph that users may be searching. For example, if the image includes a lollipop and a Ferris wheel, the description should consist of these words.
Keywords
There is a guide section on Etsy that explains Search Engine Optimization (SEO). Once you get the hang of it, appropriate keywords will come to you with little effort.
For example, if the photo is a 5" x 5" black and white printed canvas of a dog in the park, tag as many related descriptive words as possible.
Promote Photographs On Social Media
After publishing prints on Etsy and paying the $0.20 listing fee, it's time to promote the photo prints.
Uploaded photography prints take 24 hours to display in Etsy's search engine. But, begin your promotion as soon as you've posted a listing.
Upload as many images as you like (3-5 recommended) to give people a clear idea of what you're selling in your Etsy shop.
Use social media platforms like Instagram and Facebook to market your shop listings. Ask your family and friends to do the same on their social media profiles.
Use the Etsy seller's handbook to aid with the marketing aspect of your shop. Do all you can to attract as many clients as possible to your Etsy shop.
Logistics And Distribution
Logistics and distribution are part of selling photos on Etsy. This includes determining how to print the photographs and how to ship them to the customer.
A low-cost solution for many photographers is to sell their images on Etsy and then forward a digital file to the customer for them to print.
A widespread distribution method involves a drop-ship service. The advantage is they receive the order and perform the work for you.
This saves production time for busy photographers. Be sure to check out both methods before making a final decision. Of course, you can always change your mind later.
More Tips To Help Build A Successful Etsy Shop
Customer Service
Customer service is a crucial element to an Etsy shop's success. The aim is to get a positive review from each transaction. So it's essential to maintain good communication with your clients.
Show professionalism, responsiveness, and resolve issues that arise in a humble, patient way. You want new customers to become repeat buyers, so try to keep them happy with your service.
Your Etsy shop is a business, so maintain a professional relationship with each customer.
Take Pride In Your Product
Avoid creases, smudges, and scratches when handling your physical prints. Presentation is important.
Packaging
You have the option of using packaging that matches your brand. However, be sure to wrap your products for shipping well.
Reviews
Positive reviews will attract more clients. Ask your family and friends to help you out by purchasing small items and leaving you great reviews. This will make your store stand out and encourage potential clients to trust you.
Ending thoughts on selling photos on Etsy
Building a website takes time. Selling photos on Etsy provides immediate access to paying customers. This makes it easier to sell photography prints and digital artwork online.
The tips in this article will help sell photography work on Etsy. You may prefer to start small and build your Etsy shop over time or go all-in from the start.
There is no quick recipe for succeeding on Etsy. Every shopkeeper is different, and it's up to each one to work in the way that suits their lifestyle. Remember to be creative and have fun running your Etsy shop.
Get more bookings with the right tool for the job
Staying organized has never been easier.
You can now manage your business and grow your brand with a single, powerful software that keeps all of your appointments in line, your clients organized and your business booming.
Trafft is the perfect service scheduling software for business owners who need to streamline their booking experience both for their staff and their clients.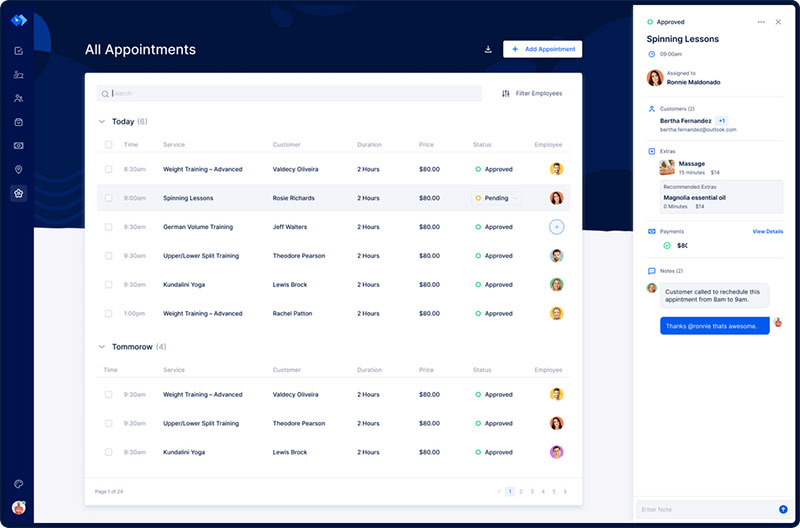 Trafft handles everything for you, even sending automated email or SMS reminders to your clients. No-shows? Not anymore!
The Trafft booking software adapts to different industries for a blissful online booking experience and employee management.
Want to know more? Check out Trafft's awesome features to see what you are missing.