Email marketing for photographers, if done right, attracts potential clients. It further helps to earn their loyalty.
It prevents clients from forgetting the photographer when the photo session is over.
It is fair to say that clients signing up to a newsletter have a great interest in the photographer. Perhaps more so than persons who discover the same photographer in a social media feed.
These subscribers tend to live near the photography business. This makes it easy to convert them into paying clients.
How can a photographer create an effective email marketing strategy that improves the booking and opening rates? This article is a guide to properly carrying out email marketing for photographers.
Tips For Marketing A Photography Business Using Email
A photographer may have a website that promotes their brand and their work. They may also run social media profiles to share their story and build relationships.
This allows potential clients to discover them via these avenues. But it is a fact that everyone uses email.
So, when it comes to digital marketing, learning how to set up an email list is an important skill. Here are some tips that improve email marketing for photographers.
Create An Incentive / Lead Magnet
Give people a reason to subscribe to the email list. This is often referred to as a carrot, freebie, incentive, value proposition, or lead magnet.
These are all fancy marketing terms. But it tells users what's in it for them if they take a certain action.
In essence, a lead magnet is a tool that offers a client something in exchange for their email address. Be sure to make it something attractive like a:
Free product
Discount code
Resource guide
Recognize The Value Of A Mailing List
Some photography business owners may see the need to create an email list but fail to use it. They fail to take the time to send an email because they do not understand the value of this tool.
A photographer should also be careful to not send emails only a few times per year. One should view a list of email subscribers as a powerful pool of potential clients.
Take the time to build a mailing list and to use it.
To distribute a photography newsletter, one must create an email database. So, collect email contacts from every client you interact with.
But, be careful to only send the photography newsletter to those who subscribe to it.
Sending a newsletter to every customer email you possess will do more harm than good. People may become upset and use another photographer for their next photo shoot.
Make sure it is easy for people to subscribe to the email newsletter for an incentive. Make it clear on the website where they should sign-up.
At a vendor event, try offering a giveaway to persons subscribing to the newsletter.
Build An Email List Using More Than A Website
There are other ways for a photographer to source email subscribers.
For instance, configure a Facebook page, Instagram or LinkedIn with a sales navigator account to capture email subscribers. Turning Facebook, Instagram and LinkedIn fans into subscribers is an excellent marketing strategy.
A great strategy for a wedding photographer is to set up a booth at a bridal show or other events. Use an iPad or tablet to collect the email contacts of attendees who check out the booth.
A simpler approach would be to have a sheet of paper on a clipboard. Then allow attendees to write their email addresses.
Finally, ask permission to add them to the newsletter mailing list.
There are many ways to add people to an email list. But adding someone without their permission will bring negative results.
So, when networking and collecting business cards, never view this as a license to add someone to an email list.
Get more bookings with the right tool for the job
Staying organized has never been easier.
You can now manage your business and grow your brand with a single, powerful software that keeps all of your appointments in line, your clients organized and your business booming.
Trafft is perfect for business owners who need to streamline their booking experience both for their staff and their clients.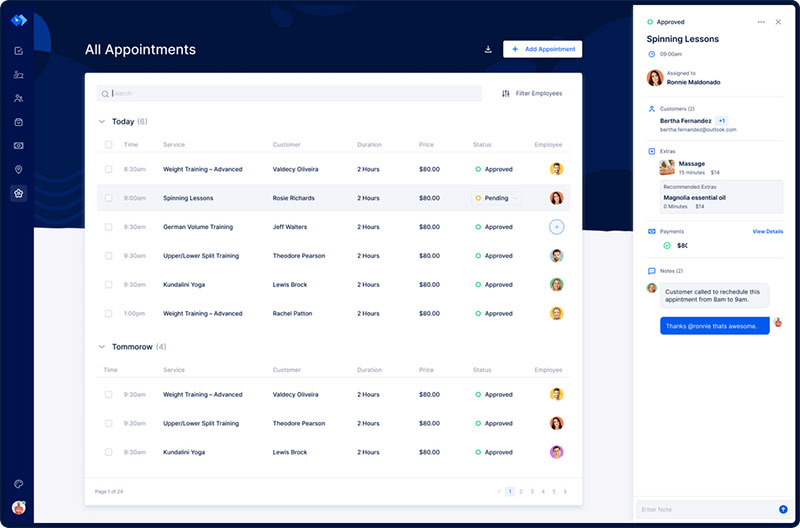 Trafft handles everything for you, even sending automated email or SMS reminders to your clients. No-shows? Not anymore!
The Trafft booking software adapts to different industries for a blissful online booking experience and employee management.
Want to know more? Check out Trafft's awesome features to see what you are missing.
Craft An Enticing Photography Email Subject Line
A photography newsletter is useless if its recipients do not open the email. The subject line will determine whether the recipient opens the email, ignores it, or marks it as spam.
A third of recipients read emails based on the subject heading, even if it's for a service they signed up for. Since this element determines the success of email marketing efforts, craft it convincingly.
Is someone likely to open an email with the subject line 'Summer newsletter'? The chances are slim.
So, use an enticing email subject line and make sure it is concise. Here are a few tips:
Use A Maximum Of 50 Characters
This makes the whole text of the subject line readable from the inbox.
Make It Attractive And Interesting
Find creative ways to make the subject line stand out even in the most crowded inbox.
Keep It Simple
Stick to information that the reader can expect to find within the email body.
Give A Preview
Use the subject line to get the reader excited with a sneak peek of the contents.
Create Interesting And Engaging Content
Ensure the email will hold the readers' interest. Offer followers something valuable, helpful, or beneficial, and do so often.
Many photographers hold back from email marketing. They think they need to be excellent blog writers before attempting any marketing.
However, there's no need to be good at blog writing to produce interesting newsletters.
If one is creating a blog then longer text content makes sense. But there are easier ways to create engaging photography newsletters.
For example, use a call to action to tell readers what you want them to do. The call to action should support the subject line.
Repeat it in different ways throughout the body of the email. Be sure to include this call to action in the conclusion of the email as well.
Other great ways to make the content interesting include giving subscribers:
Discounts
First access to new sessions
Useful tips or other relevant information
Segment The Email List
Segmenting an email list into groups based on their interests or activities enables you to send tailored emails. This is a more effective strategy than sending a generic email to the entire email list.
What type of segments is best for a photography email list? Here are some examples:
Previous Clients
These are clients who have already booked and fulfilled sessions with you.
Potential Customers
These can be further split into additional groups such as:
Clients that are interested in specific services
Services may include but are not limited to, wedding, portrait, and event photography.
Clients that signed up at specific promotions or events
These could include:
The brides who provided their email contact at a bridal show
Everyone who supplied their info at your photo booth at a fair
Avoid Hitting The Spam Box
A spam label can render email marketing efforts useless. After taking the time to write an email, no one wants their photography newsletter to hit the recipient's spam box. To avoid this, make sure to setup DMARC which will provide more security for your company and its prospects.
To avoid the spam box use the following tips:
At the sign-up stage tell subscribers what kind of email content to expect and how often it will arrive.
At the sign-up stage ask subscribers to add your email contact to their contact list.
Avoid misleading subject lines.
Do not WRITE THE EMAIL IN ALL CAPS
Do not use spam trigger text like "Click here," "100%," and "Free".
Use an 80:20 text to image ratio. 
Always enable your email domain's DMARC security protocol.
When To Send A Message
Depending on the niche, most photographers send out a monthly or bi-monthly newsletter email. Send an email message at least once per month to prevent subscribers from forgetting you.
On which day of the week should a photographer send out newsletters? Experiment with this to see which days of the week yield the highest engagement.
Current research says that 10 am and 1 pm are the ideal times for publishing email newsletters. These are the times when subscribers are most likely to open their mail.
At the start, schedule when to send emails based on research. Then experiment to see which times work best for you.
Each photographer can determine the time, day, and frequency for sending their emails. But remember, consistency is key.
Examine The Analytics To Determine Success
Examine the analytics after sending each email and make notes. This step will reveal how successful the email marketing efforts are.
It will show what is working and what needs improvement.
For example, emails sent from a personal address may receive more engagement than those sent from a business address. If this is the case, photographers can use this information to their advantage.
Use a tool like Google Analytics to gather data about subscribers. To leverage targeted content and know when to send emails, find out about their:
Age
Location
Gender, etc.
Determine the marketing goals. Do this by analyzing the nature of the products or the photography services offered.
To understand the marketing objectives answer questions like:
Do I want clients to book for in-person portrait sessions?
Am I offering information to brides-to-be so that they'll book me in the future?
Am I communicating with fine art collectors that I want to sell wall art to?
Do I want to offer updates to nonprofit event clients that I have photographed?
FAQs about email marketing for photographers
1. How can email marketing help me grow my photography business?
Photographers can use email marketing to advertise their work, develop relationships with potential customers, and boost sales.
Photographers may maintain brand awareness and highlight their skills and services by constantly engaging with subscribers via newsletters, promotional offers, and other email campaigns. Email marketing also enables photographers to monitor and evaluate the results of their campaigns, enabling focused improvements and higher ROI.
2. What should be included in my email newsletters to my subscribers?
Email newsletters for photographers ought to be interesting, educational, and eye-catching. Recent work or portfolio updates, photographic advice, behind-the-scenes tales, client endorsements, and special offers or discounts are a few content options.
Also, it's crucial to include a clear call-to-action (CTA) that motivates readers to take further action with the photographer's brand, such as scheduling a shoot or going to their website.
3. How often should I send emails to my subscribers?
The objectives and target market of each business determine how frequently photographers should send out email newsletters. Whether it's monthly, biweekly, or weekly, photographers should generally try to issue newsletters on a constant frequency.
It's crucial to avoid inundating subscribers with emails, as this may result in unsubscribes or low engagement. The ideal frequency for a particular audience can be determined by routinely monitoring email marketing metrics.
4. Should I segment my email list by demographic or interest?
Photographers may provide their subscribers with more pertinent and targeted material by segmenting their email lists. Age, gender, and location demographic segmentation can be used to better target information at particular demographics.
Personalizing content and marketing can be accomplished with the aid of interest-based segmentation, such as subscribers who have previously purchased a specific kind of photographic service. By sending readers more pertinent material, photographers can segment email lists to enhance engagement and conversions.
5. How can I measure the success of my email marketing campaigns?
Photographers may utilize a number of important criteria to assess the effectiveness of their email marketing efforts. The percentage of subscribers who opened the email is measured by the open rate, and the percentage of subscribers who clicked on a link within the email is measured by the click-through rate (CTR).
The conversion rate calculates the proportion of subscribers who carried out a targeted activity, like scheduling a session or making a purchase. Photographers can make data-driven decisions to increase the effectiveness of their campaigns by routinely examining and analyzing these metrics.
6. How do I avoid my emails ending up in my subscribers' spam folders?
Photographers should adhere to email marketing best practices to prevent their emails from going into spam folders.
Avoiding spam trigger words, using a recognizable "From" name and email address, including a clear opt-out option, and limiting the use of images and attachments are a few examples of how to do this. Email delivery success can also be increased by using a trusted email marketing service when sending emails.
7. Can I use purchased email lists for my email marketing campaigns?
For their email marketing campaigns, photographers should avoid using bought email lists. This method is not only usually thought to be unethical, but it can also have negative effects including low engagement and high unsubscribe rates.
Instead, photographers should concentrate on organically expanding their email list by providing good content and promotions to their current audience.
8. How can I personalize my emails to make them more effective?
By giving subscribers a more catered experience, personalizing emails can enhance engagement and conversions.
Using the subscriber's name in the email, mentioning prior interactions or purchases, and offering content based on their interests or preferences are all examples of personalization.
Additionally, based on user behavior or demographic data, dynamic content can be utilized to distribute different content to different email list groups.
9. What are some email marketing best practices for photographers?
The use of attention-grabbing subject lines, segmenting email lists for relevant content, optimizing email design for mobile devices, prioritizing quality over quantity, and incorporating clear calls-to-action are just a few of the email marketing best practices for photographers.
Also, in order to make data-driven decisions and continuously enhance the efficiency of their email marketing plan, photographers should routinely review the analytics of their email campaigns.
10. Should I use a professional email marketing service or can I manage it on my own?
While it is possible for photographers to handle their own email marketing, there are several advantages to employing a professional email marketing agency.
Email campaigns can be streamlined and optimized with the use of these services' features like automation, email templates, and thorough analytics. Using a professional provider can also guarantee that emails are successfully delivered and adhere to spam standards.
To choose the best choice for their specific requirements and financial situation, photographers should compare the features and costs of various email marketing providers.
Ending thoughts on how to properly carry out email marketing for photographers 
Social media platforms such as Facebook and Instagram are popular digital marketing tools.
But, running email campaigns is still a powerful tool. It is a way to get new and existing customers excited about your photography service.
With email marketing for photographers, it's important to give people reasons. A reason to subscribe to, a reason to read, and a reason to act on the emails.
Remember to leverage call-to-action links and attractive subject lines to achieve this.
Use the tips in this article and feel free to experiment. Continue to analyze and change strategy until you find what works for you.
If you enjoyed reading this article on email marketing for photographers,  you should also read this one about how to prepare for a photo shoot.
We also wrote articles about similar subjects like how to get more photography clients, becoming an event photographer, how to become a licensed photographer, social media marketing for photographers, real estate photography contract, appointment scheduling for real estate agents, how to get your photography noticed, real estate photography marketing and photography mood board.