The ideal internet platform for publishing photos is, without a doubt, Instagram. The question that remains is why a photographer must have a Facebook photography page as well?
The answer lies in the fact that Facebook and Instagram serve different purposes. Instagram is a gallery application that allows users to show off their best work. Facebook, on the other hand, is designed to create a community. Facebook and Instagram are, thus, complementary in promoting a photographer's work.
A person in the photography industry can use Facebook to contact clients and brand the business. A Facebook page is also an excellent platform for staying in touch and sharing work.
It is easy to create a Facebook photography page. The key is to know which option will help to get the most out of it.
What Is a Photography Facebook Business Page?
A Facebook Business account is free and is a special marketing tool. Its purpose is to allow business owners to connect with current clients and find new prospective clients. That is great, but there are more advantages.
A Facebook Business page helps visitors learn more about the business, including what kind of services it offers.
Clients can find business hours, phone numbers, and locations.
Facebook Business has a chat function. This makes communication between the business owner and clients very easy.
Facebook offers many other forms of interacting with people. And the more activity on the page, the larger its reach becomes. To extend reach you should schedule Facebook posts with a tool.
A Facebook business page usually has a call to action. This is often a button at the top that invites visitors to take the next step. Facebook offers a variety of them presented in a few different ways. For example, "Click for more information" and "Learn more." The purpose is to generate leads.
After creating a business account on Facebook, more possibilities open up. Facebook ads, for instance, increase visibility tremendously. People can click on them and receive all the information they need. For sure, that generates many leads.
Resize Your Photos for Facebook
Most social media sites have preferences regarding layout, including the sizes of images. By default, Facebook pages crop images to fit the assigned spaces. This is nice because it adds coherence to a page, which is eye-pleasing.
To present the images in the best way, it is a good idea to resize them. Resizing to scale is one option, but take a look at this small list of ideal photo sizes:
Cover pictures: 820 x 312 pixels
Profile pictures: 360 x 360 pixels
Square image: 476 x 476 pixels – Please note here that small pictures will stretch to fit, which means that they may appear blurry. Large images will be reduced.
Horizontal pictures: 476 pixels wide. Adjust height in proportion
Vertical pictures: 476 pixels high. Adjust height accordingly, with a maximum of 714 pixels. Facebook cuts off the bottom to make the image fit.
Multiple images: 300 x 300 pixels
Ideal proportions: 1200 x 628 pixels.
This is a very important step for a Facebook photography page. Do not skip it.
Choose a Profile Picture that Represents the Business
A profile picture says much about the account holder. It is therefore important to carefully consider it, but even more so for a business page.
A good profile picture attracts people and generates likes for the page. Use an image that best represents the products or services offered.
The optimal sizes for a profile picture are between 180 x 180 and 360 x 360 pixels. Make sure that the picture is square.
Some decide to use the company logo as the profile photo. That helps viewers recognize the business. On the other hand, using a personal picture is a great way of connecting emotionally with clients.
It is a great idea to use a color scheme on Facebook pages to create a theme, especially if these colors are in the profile picture.
About Page
Google can retrieve a Facebook page, which increases visibility and helps potential customers to find a business page. But Google will show it only if the page has relevance.
It is vital to use the correct type of information on the Facebook page. It needs to be interesting enough so Google can find it. The About section is the right place to do this. Use this section to explain what the business is and what it does.
On a business page, the About section appears right between the profile picture and the Like bar. It catches the eye of new visitors and can spark their interest.
The About section must contain at least the following information:
Explain what the Facebook page is about. Do not use more than 155 characters.
It is possible to include categories that the business falls under. It helps people to find the page.
Location. Give the physical address and directions to reach it.
Business hours. When people can get in touch.
Contact Information. Include a phone number, email address, and website.
Price range. Let viewers know what they can expect.
These details will appear in the section described above. This list is the minimum information for an effective business Facebook page. Feel free to include more information. Think, for example, of awards that the business has won and other social media accounts.
Also, don't forget to add a memorable name for your page. Try out such tools as name generators to give valuable ideas.
Use a Cover Photo to Advertise
The first thing that a visitor will see is a big photo. So, make sure that it catches the attention of the viewer.
The cover photo takes up a lot of space. Use it, therefore, to show off some of the photography studio's best work. It should show the viewer what the quality and style of the photos are.
For a photographer, the photo is, of course, the most important. But do not hesitate to put some advertising text over it. Because the viewer is already looking at it, use it to tell them about the latest offers and discounts.
Do not clutter the cover photo with too much information. It is usually best not to overlay the company logo on top of it. But feel free to experiment with different things. Play around with pictures, text, and colors.
Use Only the Best Photos
Many business owners, including photographers, tend to use their personal accounts for business. This can result in an odd mix of professional wedding pictures with personal pictures of the latest camping trip.
Unfortunately, a mix like that does not convey professionalism. A Facebook page also represents the business and its products or services. It establishes the owner as a professional in the industry and someone who knows what they are doing.
Hence, it is best to separate the personal from the business account. The business account then functions more like a portfolio site. Make sure to use only the very best photos. Often, visitors quickly browse through them. Still, by glancing at them, they should get a good impression of the style and quality.
It has been said that a portfolio is as strong as the weakest picture. Therefore, do not include photographs of poor quality just because they look interesting. In the end, they will detract attention from the good ones. Or worse, they may not like the entire page.
Take the best 30 pictures of each month and update the Facebook page with them. It may take only one photo to spark a person's interest.
Smart Posting and Regular Updates
Before taking the site online, fill it with interesting content. If visitors do not know what the site is about and there is nothing to see, it is unlikely that they will like it. Upload content beforehand and ask all friends and contacts to like your page.
Facebook is a platform that works well for any content. A portfolio section is helpful because it gives an impression of the photography work. But mixing in some other content is a smart thing to do. Think, for example, of a behind-the-scenes video or a blog.
Adding different types of content increases reach and thus the number of likes and comments. Still, there are some things to keep in mind.
Be selective in uploading content. Feeding too much content to the followers' timeline is counterproductive. A good question to ask before uploading something is: "Is this post something I would be happy to see on my feed?"
Post regularly but not too often. A rule of thumb is to post at least three to four times a week. But do not go overboard. More than twice a day is overkill.
The last tip is to be careful when posting something. Posting at certain hours of the day has more impact than at other times. One of the best times to post is during lunch hour and between 1 and 4 PM. That is only a suggestion. Trial and error will show what works best.
A photography page on Facebook should have the kind of content that best shows the photographer's specialization. A wedding photographer would post some recent wedding pictures and a blog that gives tips on posing for brides and grooms.
Here are some more suggestions on what to post:
Recent photo sessions or events
A view behind the scenes
New blog posts
Photography tips
Links to other relevant posts
Inspirational quotes
News from the photography industry. New products or events
Keeping the page fresh and up-to-date will help to gain a momentum of views and likes. Bring the best work to the attention of the audience. Give visitors something interesting to read, something they can use. Invite visitors to leave comments or questions on the Facebook page.
Add a Call to Action
Hopefully, people will start visiting the photography Facebook page and like the samples that they see. Then, the next step is to make the service contract as easy as possible.
A call-to-action button helps make that threshold as low as possible. It usually takes the form of a clearly visible button like "Book Now!" Facebook offers a variety of apps that help position and style the call-to-action button or section. Some put the button on top of the cover image, so visitors immediately land on the booking page when they click on it.
The booking page could be on the Facebook page itself or a different website. Instead of a booking page, some use a page where prospective customers can sign up for a newsletter with their email addresses. In return, they receive a video with more information and samples.
Get more bookings with the right tool for the job
Staying organized has never been easier.
You can now manage your business and grow your brand with a single, powerful software that keeps all of your appointments in line, your clients organized and your business booming.
Trafft is the perfect service scheduling software for business owners who need to streamline their booking experience both for their staff and their clients.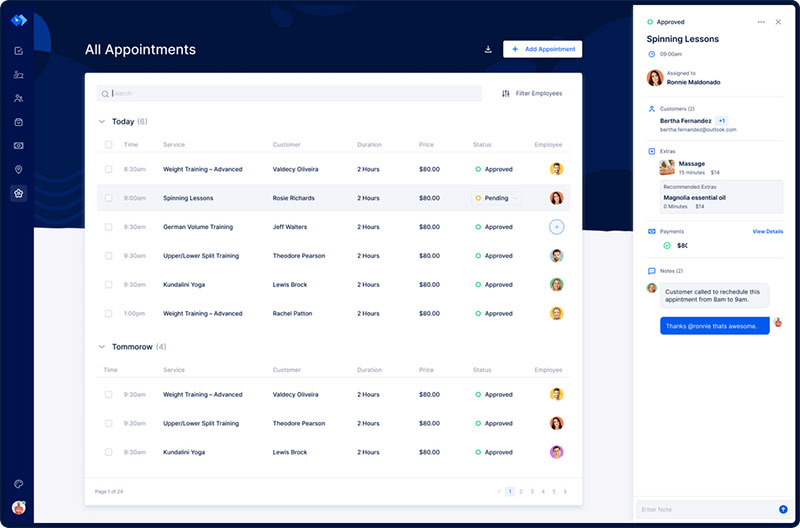 Trafft handles everything for you, even sending automated email or SMS reminders to your clients. No-shows? Not anymore!
The Trafft booking software adapts to different industries for a blissful online booking experience and employee management.
Want to know more? Check out Trafft's awesome features to see what you are missing.
Share Your Page to Increase Interaction
After completing the Facebook page, it is time to go to the Resource tab and figure out how to connect with potential customers.
A good start is to send an email to all acquaintances telling them of the launch of the new page. Another option is to start a formal advertisement campaign. A third step would be to connect the Facebook page to a Twitter account. Then, any new Facebook posts will appear on Twitter as well. That will increase the reach and interaction with people.
A more difficult step would be to use a social media plugin on an external business website. The plugin then creates a Like-box on the website, and while visitors browse the website, they can also like the Facebook page. There are different plugins available for this purpose, each with its own specifications. However, the official Facebook plugin is most recommended.
Get and Stay in Touch with Followers
The messaging function of Facebook is an ideal way to get and stay in touch with followers. Keep an eye on incoming messages to make a success of a photography Facebook page.
Once a viewer gets in touch, make sure to give that person as much relevant information about the business and its services as possible. It shows dedication and passion for the product and services. Indicate availability to meet. Send a link to a portfolio with more picture samples.
Promptly respond to new messages and ask questions. Do not make people feel that this photography Facebook site is dead.
Never criticize people and remove negative comments as soon as possible. Be kind and civilized in dealing with potential customers. It will speak well of the business.
Write captions for all Photographs
Never assume that the pictures in the portfolio section explain themselves. Adding the right caption is just as important as taking a great photograph. An interesting caption can spark a Facebook conversation.
Give some technical detail, like when and where it was taken and with what camera. Indicate if the picture underwent post-editing and with what software.
Finally, think of an interesting and stimulating title. Try not to describe the scene but use a few words to give a new dimension to the image.
Credit the ones involved in making the picture, like models, stylists, and the person for whom the picture was made. This picture will also appear on their Facebook feed, and maybe one of them is looking for a professional photographer.
Promote
Advertising and promoting a website costs money, but the results may far outweigh the cost. Because of the costs, think before investing in a campaign.
Most importantly, consider the images, colors, and text on which the advertisements will be based. Certain things give a first impression. And the first impression must be good.
An effective way of promoting a photography business is by joining forces with other photographers. As a business starts to gain popularity, requests for working together on a gig will come in. Working with others will increase the number of followers. But, don't work with others at any cost. Keep a recognizable style.
Spamming people is counterproductive. It is a big turn-off for nearly everyone. Also, posting too much and too often turn people away from a Facebook page. Have a clear theme and philosophy when choosing what to upload.
Be selective, too, in posting ads and promotions. People know when someone is only after their money, and they do not like it.
FAQs about a Facebook photography page
1. What are some tips for running a successful Facebook photography page?
Posting consistently high-quality material that is relevant to your audience's interests should be one of your main priorities. Building a strong community can also be aided by interaction with your followers through replying to comments, holding competitions, and working with other photographers.
2. How can I increase engagement on my Facebook photography page?
Asking your followers questions or encouraging them to post their own images are two ways to enhance interaction. Also, encouraging your fans to interact with your page can be accomplished by publishing behind-the-scenes content and providing special discounts or promotions.
3. What are the best practices for posting photos on my Facebook photography page?
It's crucial to make sure your Facebook photography page posts only high-quality, visually engaging photographs. To add context and make the piece more interesting, think about giving a little explanation or anecdote about the image.
4. Should I watermark my photos before posting them on my Facebook photography page?
While adding a watermark to your images might assist to safeguard your creation and prevent unauthorized use, it can also take away from the image's overall aesthetic appeal. In the end, you should decide whether to watermark your images based on your personal preferences and the particular requirements of your business.
5. How often should I post on my Facebook photography page?
The particular requirements and objectives of your company will determine how often you post. To keep your audience interested and active on your page, it is generally advised to publish at least once every day.
6. What types of photos are most likely to get shared on Facebook?
On Facebook, images that stir up strong feelings, tell a story or present an unusual viewpoint are frequently shared. Moreover, images that reflect current events or trends may have a higher chance of going viral.
7. How can I use Facebook ads to promote my photography page?
Facebook advertisements may be an effective marketing tool for your photography page and can help you reach more people. It's crucial to target the appropriate audience with your ads, provide aesthetically engaging ad content, and continuously assess and modify your ad performance if you want to use them effectively.
8. What are some ways to build a community around my Facebook photography page?
Building a vibrant community around your photography page may be accomplished by regularly communicating with your fans through posts, competitions, and teamwork. Also, to encourage interaction and foster loyalty, think about providing your followers with exclusive discounts or promotions.
9. How can I measure the success of my Facebook photography page?
Your Facebook photography page's performance may be evaluated using a number of measures, including engagement rate, reach, and follower growth. Also, keeping track of the leads or sales your page generates might give you important information about how effective it is overall.
10. Are there any legal considerations I should be aware of when posting photos on my Facebook photography page?
Make sure you have the legal authority to use and distribute the images before publishing them to your Facebook photography page. Moreover, keep an eye out for any possible copyright violations, and be sure to provide due attribution to any images that are not your own.
Ending thoughts on making a Facebook photography page
It takes time and effort to make an effective Facebook Page, but it is worth the investment. It gives a good feeling when people respond positively to the best work. Therefore make an effort to bring the page to people's attention and engage them in commenting and liking.
Establish a long-term relationship with followers by posting interesting information. Likely, the page will grow over time, so keep the information fresh and up to date.
The cover photo can do much to catch people's attention, so use an eye-catching image. Post a profile picture that is neat and preferably a personal one.
Use the About section to present the business in a concise description. Use the name, and do not forget to add "Photographer" or "Photographer" to it. Hopefully, the tips in this article help to increase the photography business' success.
If you enjoyed reading this article on making a Facebook photography page, you should also read this one about real estate photography marketing.
We also wrote articles about similar subjects like becoming an event photographer, how to become a licensed photographer, social media marketing for photographers, real estate photography contract, appointment scheduling for real estate agents, how to get your photography noticed, and photography mood board.