There are many decisions involved in starting a photography business. These range from choosing camera brands, photography genres, and lens types to delivering photos to clients.
Many photographers struggle to figure out the best way to share photos with clients. Some choose the option of file-sharing (photo sharing) which involves sending digital images to clients.
This option requires a reliable photo file-sharing service regardless of how many images are being sent. How can a photographer choose a photo-sharing method to send high-resolution images with large file sizes?
This article will show professional photographers three methods of sharing photos with clients.
Factors To Consider When Deciding How To Send Photos To Your Clients
When choosing a delivery option there are several factors a photographer should keep in mind.
Speed Of Delivery
The quicker you can share photos with clients, the more satisfied they will be. People lead busy lives so it's difficult for clients to make time to collect their photos in person.
Your Goals Vs The Client's Needs
Since your intentions will help determine the tools you choose, figure out your goals before sharing your photos. Ask yourself questions like:
Do I want my clients to select their favorite photos from an online image gallery like this

business picture collection

and then I email these to them? Or do I prefer that they download these photos directly?
Is my goal to impress commercial clients with the quality of my photos and the efficiency of my delivery system?
The client's needs also play a role in determining the image file transfer method you choose.
So, determine your target client find out what their needs are. For example, commercial clients may need to view images in high resolution.
Cost
This is affected by file size and space. If you'll be sending a lot of PSD files to an agency, these will be large, resulting in a more costly photo-sharing solution.
This may seem odd in such a technologically advanced age. But, modern digital cameras tend to create high-resolution images ranging from 16 to 50-megapixels. Such high-quality images result in larger file sizes.
Additional Considerations
Here are a few more questions and factors to consider:
Will you be sending proofs?
Will your photos include a watermark?
What will be the image:
Offline Methods Of Delivering Photos To Clients
Digital Images
If you need to send digital images to your clients without using an online service, a portable storage device is the best way to do it. The more space you need the more the storage device will cost.
These devices range from CDs and flash drives to memory cards and external hard drives.
Today, CDs and DVDs are rarely used as they offer little storage and are not considered permanent storage mediums as they degrade with time. Most computers no longer come with a slot for these storage devices.
Conversely, a flash or hard drive is easy to carry and offers greater storage capacity. Yes, even in this digital media-rich era, many photographers still deliver photos to clients using USB storage devices.
These storage devices can be branded to boost your marketing strategy as you physically deliver photos to your clients.
Advantages
Sharing photos with clients offline may not be the quickest method, but it has its advantages. For example, one-on-one contact opens the way for further marketing with your clients.
One of the main advantages of this method is that it doesn't need an internet connection and the process is easy to comprehend.
Even a photographer who uses an online gallery hosting service will need to leverage offline methods at some point. Note the following examples:
When working with older clients
Some older clients will not use the internet at all. A flash drive is usually the best way to share photos with clients like this.
Schools and government offices
These institutions often restrict or block downloads done using their internet network. A branded flash drive or external hard drive is a great solution depending on the file size.
Disadvantages
Some of the disadvantages of using external storage devices include:
The risk of corrupted files and other complications not found in cloud-based file-sharing software.
The time needed to make physical deliveries.
Get more bookings with the right tool for the job
Staying organized has never been easier.
You can now manage your business and grow your brand with a single, powerful software that keeps all of your appointments in line, your clients organized and your business booming.
Trafft is perfect for business owners who need to streamline their booking experience both for their staff and their clients.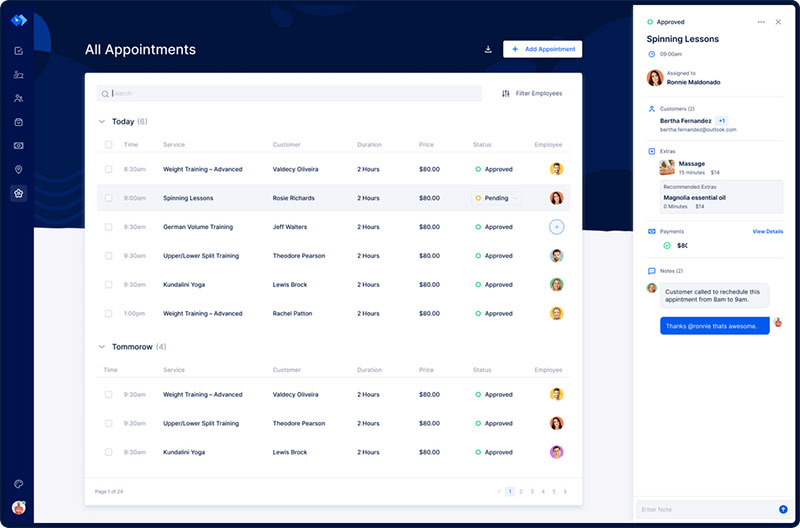 Trafft handles everything for you, even sending automated email or SMS reminders to your clients. No-shows? Not anymore!
The Trafft booking software adapts to different industries for a blissful online booking experience and employee management.
Want to know more? Check out Trafft's awesome features to see what you are missing.
Online Photography File-Sharing Services
Many photographers start and continue using online photo-sharing methods throughout their careers. Folder sharing software programs that allow both parties to view and comment on the photography work include:
Dropbox
Box
Google Drive
Hightail, etc.
These high-end file-sharing services are all similar, so choose the service that matches your style.
Advantages
These online services are efficient and easy to use. Start by putting your photos in a project folder, then upload the folder to the file sharing service and send the download link to the client.
They also create a space where the client can feel a sense of creative collaboration in the project. Giving the client this feeling often leads to trust you and offer you more work.
If you decide to use the online option, here are a few details about these professional file-sharing services.
WeTransfer
WeTransfer is a file-sharing option that allows one to easily share photos with clients while keeping track of when they are opened.
This seamless file transfer space was created by Bas Beerens and Nalden in 2009 as a way to send big files. WeTransfer is one of the most efficient file-sharing services available. It is free and does not need an account to be used.
To use this option input your email address and the client's email address. Then attach the photography file and press send. The client will receive an email telling them that a WeTransfer has been received.
The client will see the photography file names included in the transfer and a download option. Once downloaded, all the photos will be saved on the client's device in a WeTransfer folder.
Unlike the free version, the paid version allows you to share larger files. With the paid version one can transfer up to 20 GB of file or archive.
This requires no zipping (just like "Home job" pants). This version also allows the sender to select how long transfers remain accessible.
Dropbox
Dropbox is a bit different from WeTransfer in that the user doesn't need to ZIP and "upload" the images. When the photographer installs Dropbox on their computer a Dropbox folder is created.
This in turn syncs the contents of the folder with the cloud. This feature makes photo sharing seamless. The photographer would simply need to export his/ her images into the selected Dropbox folder.
Dropbox would then sync these files with the cloud and create a link for you to share with your client. This link gives the client access to the images until the photographer removes them from the folder on their computer.
Google Drive
Many people are familiar with this free and fast file sharing option from Google. It's a great sharing option for sending image files to your clients.
Some photographers consider Google Drive to be the best way to deliver photos to clients. Google Drive offers numerous sharing options. For example, a photographer has the option of sending a single file or multiple folders.
Similar to Dropbox, the photographer can give viewing and editing rights to whomever he/ she chooses.
Google Drive is protected by Google itself making it safe for both business and personal use. It includes hundreds of cutting-edge security features designed to manage and secure your data.
Smash
This free photo-sharing site is one of the best ways to transfer high-resolution photos to your clients. Smash can function as an alternative to WeTransfer when sending large files.
The free version of Smash does not have a transfer size limit so one can send very large files in a single transfer. These files are automatically deleted after 14 days but are kept for a year if the premium version is used.
To use the free version no registration is needed. Simply drag and drop your photos to get started. Smash is an easy-to-use file-sharing website that does not include confusing buttons and layouts.
Hightail
This free photography file-sharing website allows you to send large files. It allows you to send files of up to 100MB. Once these image files are received by the client, the sender will get a notification added to their tracker.
Hightail gives the recipient a visual preview of the images within the file and allows them to make comments on individual files. Hightail's features create a collaborative atmosphere that encourages client feedback.
This media-sharing website has a smooth drag-and-drop image feature that gives the user complete control of their content. It also allows the user to:
Track files
Set time limits
Share PDFs
Share presentations
Share media
Protect files
Hightail is functional with a variety of file formats such as:
Sending Photos To Clients Using Online Photography Gallery Services
The next professional step for your photography business is to use an online photo gallery to send photos to your clients. A photo gallery gives a client access to the online space that showcases your finished photography images.
The photographer is usually required to upload the images to the gallery once editing is completed.
To save you time the system will resize the uploaded high-resolution photos based on the client's specifications. This is especially useful for busy photographers with clients who need multiple file sizes for each image.
Once the resizing is done the photographer will share a link to the site with the client so he/ she can view their images.  The client will also be able to share, download, or print the photos.
Most online photography galleries are similar to one another. Note the following examples.
Pixieset
This gallery service is specifically for photography. It has a free and a paid version but the free version is usually enough for almost any photography business.
Like other galleries, Pixieset will notify you if clients download the gallery. Pixieset is a better way to send images than other sharing applications because:
The free version of Pixieset will remain free forever since a credit card is not required.
It offers delivery and tracking proof for photographers.
It offers client-sharing options.
Its 1000 photo limit can last a long time if one purges old galleries.
It is secure, allowing clients to download photos with a 4-digit PIN code.
Pixieset allows the client to choose their favorite photos from the gallery by clicking a small icon on the image.
Pixieset will send out a notification when the client does this. Another awesome bonus feature of Pixieset is its Lightroom plug-in.
Your photos will look awesome in their galleries! But, Pixieset's downside is that it may be a bit over the top if you're sending a small number of photos.
Shootproof
Shootproof has similar features to Pixieset and functions as a great alternative. It has an intuitive layout and creates custom photo galleries for sending your images to clients.
Some photographers choose Shootproof because it features quality tools for a photography business. These include the ability to:
Create and send contracts
Sell prints and wall products
Create custom discounts
Create professional invoices
What about clients downloading photos without your permission? Shootproof helps you prevent this by adding a watermark to the photos in the gallery.
When you need to send photos to clients using a professional gallery, Shootproof is the top choice.
Prodibi
This Swiss-based app is often referred to as the "Cadillac of photo-sharing solutions". It allows the user to embed, display, or transfer high-resolution photos at great speed.
Prodibi is a top pick for professional photographers, especially when paired with the Capture One plug-in. This plug-in helps with collecting feedback from clients about full resolution proofs.
Prodibi's photo galleries are optimized for mobile and web use so clients can download digital files easily. The app allows you to add keywords to your Capture One session or catalog.
It also allows you to update your website or WordPress site at full resolution. A special feature of the Mac version is that one can detect faces by emotion, gender, or age.
FAQs about delivering photos to clients
1. What file format should I deliver my photos in?
The JPEG format is most frequently used by photographers since it is widely accepted and is simple to read on most devices. TIFF or RAW formats, on the other hand, can be required for customers who demand higher quality or bigger file sizes.
2. How should I organize my delivered photos for the client?
To organize the images for the customer, distinct folders or albums can be made based on the event or session, the date, or even the genre of the shot. Giving the client access to a simple, well-organized framework can make it simpler for them to find the photos they require.
3. What resolution should I deliver my photos in?
Depending on how the images are going to be used, the resolution will vary. Higher resolutions are necessary if the client intends to print the images at a significant size. Lower resolutions are sufficient for posting on social media and online.
4. Should I deliver my photos with watermarks or without?
Whether or not to use watermarks in the images is up to the photographer's decision. While watermarks help stop the illicit use or copying of photographs, they can also make for a less satisfying viewing experience for customers.
5. How many photos should I deliver to my clients?
The scope of the project or session determines how many images are supplied to the client. Photographers typically offer a variety of shots, choosing the best and most accurate ones to give the customer enough coverage of the event or session.
6. How long should I take to deliver photos to my clients?
Delivery timelines can change depending on the size of the project, how many images need to be produced, and the workload of the photographer. But, setting clear expectations for delivery with the client and keeping to them can help.
7. Should I deliver all the raw unedited photos to my clients?
It is normally not advised to deliver all of the raw, unedited shots because doing so can overwhelm the client with an excessive number of unfinished, unpolished images. It's ideal to send a hand-picked collection of the top photos, with any extra editing or alterations carried out at the client's request.
8. How do I protect my photos from being stolen or used without permission after delivering them to the client?
Copyright notice or watermark, supplying images in low resolution, and requesting a written agreement or release form from the client prior to use are just a few strategies to prevent unlawful photo use.
9. Can clients request additional edits or changes after I deliver the photos?
After delivery, clients may ask for more edits or changes, but it's crucial to clarify upfront what is included in the package and any additional costs for additional edits or changes.
10. Should I include a copyright release form with the delivered photos?
A copyright release form helps safeguard the photographer's intellectual property and make the client's usage rights clear. Controversies or misunderstandings, later on, can be avoided by including a form that specifies how the images can be used and any restrictions.
Ending thoughts on the best ways to share photos with clients
Photographers tend to focus on shooting beautiful photos, but the product is not complete until delivered. This part of the production process is essential but often overlooked.
It is especially important for professional photographers and image Cutout service providers. When it comes to delivering photos to clients, research is necessary.
Examine your budget, needs, and the needs of your clients. Compare these to available online image-sharing applications. Then determine the best way for you to share your photos with clients.
If you enjoyed reading this article on delivering photos to clients, you should also read this one about real estate photography marketing.
We also wrote articles about similar subjects like portrait photography pricing guide, how to get more photography clients, becoming an event photographer, how to become a licensed photographer, social media marketing for photographers, real estate photography contract, appointment scheduling for real estate agents, how to get your photography noticed and photography mood board.