Nearly all private tutors agree that online tutoring is the dream. And what's more, the demand for online tutors has seen rapid growth in recent years and has already become popular in many professional sectors.
By taking advantage of teaching online, one can find many great benefits and create a lucrative business plan. The only problem is, finding students for an online tutoring business isn't easy. There are no job fairs and no marketing recruiters.
In reality, you are the employer, employee, and marketing manager. You will need to find new ways to advertise your tutoring services, both online and through word of mouth.
To help you learn how to find students for online tutoring, here are some of the best marketing strategies for professional online tutors. With these strategies under your belt, you will be ready to tutor online, without having to search for students.
Know Who You Are Speaking To
Just like all online marketing, you need to know who your target market is to be able to find them online. This includes finding potential students' difficult subjects and integrating them into your online tutoring services.
Here are some ideas to help find students' areas of struggle:
Focus on the student and how you can help them.
Write notes mid-session regarding how to help them later.
Get to know your students who already take your classes.
When looking for online tutoring platforms, don't limit yourself to just one. You compete with many other teachers for students when using a platform. Instead of fighting a losing battle, try switching between platforms and seeing which ones work best.
If one platform isn't working, try to improve with the next. The truth is, the more diversified you are, the more students you will be able to teach.
Create a Website
One of the most crucial factors of a legitimate business, the website, will often be the first thing that potential customers see.
Typically, the website is the final destination for most of your marketing campaign. No matter which online communities you market toward, the final goal should always be bringing them to your website and converting them into customers.
Also, the sooner you start your website, the sooner you can begin generating positive search engine optimization (SEO) activity.
As a new tutor, it's unlikely for your name to come up in searches for "tutor in New York" or "online tutor." You will need to work on your SEO scores to enter those search queues sooner.
This is also an area where being specific in your website can prove necessary. For example, if you write about your background and interests and someone's search matches exactly, you could rank exceptionally high for that specific search.
But your website doesn't automatically know this information, so you need to put together some pages and blog articles to help share this info with the world.
Add a booking scheduler on your website
Staying organized has never been easier.
You can now manage your business and grow your brand with a single, powerful software that keeps all of your appointments in line, your clients organized and your business booming.
Trafft is perfect for business owners who need to streamline their booking experience both for their staff and their clients.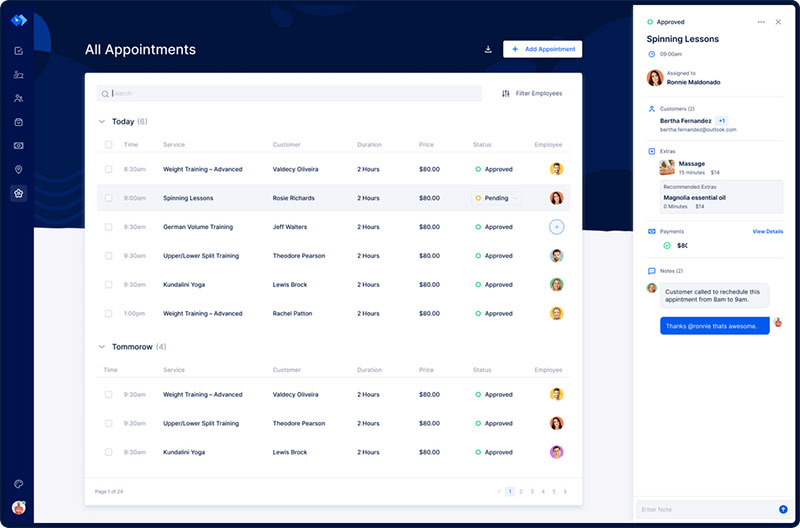 Trafft handles everything for you, even sending automated email or SMS reminders to your clients. No-shows? Not anymore!
The Trafft booking software adapts to different industries for a blissful online booking experience and employee management.
Want to know more? Check out Trafft's awesome features to see what you are missing.
Publish Free Classified Ads or Tutoring Directories
Ads are often the most used means to reach new students, but they are also the most difficult to get right.
This means you need to focus on using your space well. The best-classified ads are short, including just the necessary details.
Try to focus on placing all of your core information first, and then work on the details. You will have an easier time fitting details around your company's information instead of the other way around.
You could also choose to publish your company in tutoring directories.
There are many online directories available where tutors can list their services, and you can easily add your site and listings to them for free.
Social Media
Social Media has become a must for serious businesses today, for both huge corporations and home businesses. The only question is, how do you find online tutoring students there?
Of course, simply adding everyone you can see on Facebook and spamming your network won't do it. In reality, your social media marketing should include these two strategies: organic and paid solutions.
Organic
All "free" content you provide (for example, what you post on your social media) can be called organic.
This content can range from videos, pictures, or links to your blog. You could also use behind-the-scenes content, as it shows potential students what a typical lesson would look like.
Paid ads
Nowadays, social media ads have proven to have an excellent effect in certain markets, and they can deliver impressive returns on investment. Several platforms sponsor ads, such as:
Popular Review Sites
New online tutors looking for students should always leverage popular review sites to their advantage. Not only do they give you a way to provide potential students your profile, but they also can connect students with your website. Typically, a review site will let you explain your company and demonstrate reviews from previous customers.
Most, but not all, popular review sites are locally based. Here are some particularly successful examples.
Although these sites aren't necessarily centered only on tutoring, tutoring companies/individuals are a large demographic of their active users. Placing your profile on these sites is a great primary step toward learning how to find students for online tutoring.
Tutoring Directories
To learn how to find students for online tutoring businesses, you have to develop awareness.
Tutoring directories are a great place to start. These directories list available local tutors online, available for any students searching.
A downside is it isn't free; these directories charge fees for leads from their website. But the beneficial part of this is that you only pay for students who contact you, not for window shoppers.
Partnerships
If you tutor online, certain partnerships with high schools, sports clubs, local youth organizations, or admissions counselors can help connect you to new students. To start, you could focus on one-on-one standardized test prep tutoring; here is a useful partnership that can help you out in this respect.
As another option, you could go with Next College Student Athlete or NCSA. With these organizations, you can help students toward college athletic scholarships. You can find internal benefits as well as extra referrals using these partnerships.
You can also form powerful partnerships with other small tutoring businesses that center on other tests or subjects. If, for example, you are a social studies tutor, you may want to search for other businesses that focus on English or math tutoring. Then, both companies can refer students to each other. It's a win-win!
Do You Know How to Find Students for Online Tutoring Now?
The answer is yes! You now know how to find students for online tutoring. Once you have identified your target audience, you can use these methods to find the people who benefit most from your services.
But do remember, these methods are only suggestions for finding more students. In reality, you'll need to figure out what works best for you. It is crucial to try out different opportunities when connecting with new students, as this is the only way that you can grow as a tutor. So go out and find what works for you. Hopefully, you can enjoy online tutoring to the full!
 If you enjoyed reading this article about how to find students for online tutoring, you should read these as well: