If you're planning to start a tutoring business or want to expand your existing one, you'll need good advertising. It works exactly likeany other business.
You can expand your tutoring services through organic leads, but at some point, you'll find that this is not enough. Such a competitive line of business requires you to generate quality leads. You can get them through social media channels, search engines, or other sources.
Online advertising will be your best friend during this journey. Advertise tutoring services online as a way to complement your marketing strategy. Optimize your resources and reach your target audience. Thus, you'll be able to improve conversions and bring more value to your tutoring business.
If you're wondering how to advertise tutoring services, you'll find this guide useful. Probably, when you started you thought that tutoring skills were all you needed. Yet, advertising opens a whole new world for any private tutor that wants to reach prospective clients.
Establish Your Value Proposition or USP
Successful tutors must have clear goals in mind. In other words, they have to follow the same rules as any standard business. Also, they have to establish what they offer as plainly as possible.
When providing a tutoring service make sure you know your goals and value proposition. Instead of a hobby, tutoring must be your core occupation.
So, before you advertise your tutoring services, make sure that you know these three things:
Primary subject area:
After showing your chosen subject in your resume, make sure you articulate it with your primary subject. Through their value proposition, successful tutors can show why they're so good at what they do.
Qualifications in your chosen subject
Your value proposition is the best place to describe your qualifications. Make clear why you chose that particular field and why you want to share it with others.
Tutoring techniques and philosophy
Don't forget to write about your tutoring techniques and philosophy. This is a great way to get new clients. Usually, people choose a tutoring business when its philosophy resonates with their own ideas.
Traditional Marketing Materials
Printed ads
You can advertise your tutoring services with a simple business card. It must include your credentials, tutoring subject, education, and contact details. If you work for a brand or company, don't forget to include it as well. If you have a website, add the URL to the card.
Here are a few ideas on how to advertise tutoring services through printed ads:
Local schools. You can find potential clients at parent-teacher meetings. You'll have a great opportunity to hand out your card. Teacher conferences also do the trick: attend these meetings to make contacts and find new clients.
Find a local library with a bulletin board to advertise your tutoring services. Also, leave pamphlets and brochures. As a first step, make a list of libraries in your area. Then, make contact and find out how to go about your tutor advertising campaign.
Community Centers are a great place to find clients. Usually, whole families attend these types of places. Approach the reception desk and ask where you can put your advertising material. It's vital that you don't break any rules in the process.
Cafes and coffee shops. Although this is not where your target audience is, you can still meet potential clients. Such places receive lots of visitors every day, hence, they are great advertising spots. The manager will tell you where to put your brochures for the best visibility. Also, if you tutor college students, find a cafe that's popular among them.
Business cards
Old-fashioned business cards still can work wonders. They are the best way to share your details quickly.
Moreover, handing a card during a networking event will make you look professional. You can also use them to connect potential clients to your online advertising platforms.
Business cards must include:
Your logo
Your website
Social media
Phone
Email
Name and business name
Creating a powerful website
Website traffic is a great way to attract clients. It's your presentation to the world. Here, you can include all the information that doesn't fit into a brochure.
Include the link to your website or a QR code in all marketing materials so people can access it easily. You can use one of QR generators to get it done. In a way, this is the summary of all your marketing efforts.
Here are a few tips that will help you decide how to advertise tutoring services through a website:
Include your CV
Highlight your achievements
Include a short bio
List your tutor subjects
Include your availability
Include prices
Make it easy for visitors to book your services
Attract more people to your tutoring business through powerful calls to action. Make sure that visitors can book directly from the landing page. Finally, responsiveness is key: your site must look good on mobile devices.
Use a scheduling app on your website
Staying organized has never been easier.
You can now manage your business and grow your brand with a single, powerful software that keeps all of your appointments in line, your clients organized and your business booming.
Trafft is perfect for business owners who need to streamline their booking experience both for their staff and their clients.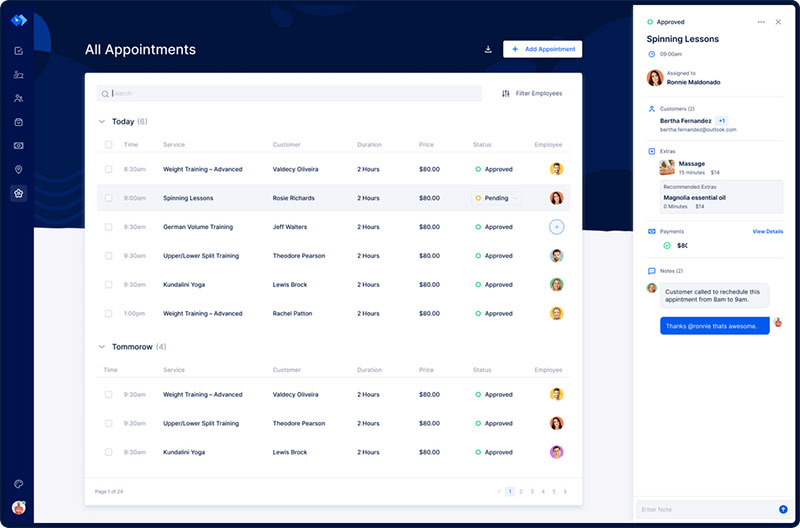 Trafft handles everything for you, even sending automated email or SMS reminders to your clients. No-shows? Not anymore!
The Trafft booking software adapts to different industries for a blissful online booking experience and employee management.
Want to know more? Check out Trafft's awesome features to see what you are missing.
Creating landing pages
A good landing page can increase your conversion rate considerably. The key is to provide the information that people need. Especially if you are implementing paid advertising, you want to optimize your efforts. In this regard, landing pages are your best friends.
Your landing page must be professional and informative. Include your education, qualifications, experience, prices, and testimonials. Offering a trial session is a great way to show what you can do. You can also add sign-up forms so that the ongoing process becomes easier.
CTAs are more effective if they lead to a demo or consultation. Thus, you'll effectively advertise your services and improve conversions.
Visitors must have easy access to all your channels: printed advertising materials, social media profiles, and websites. All in all, your landing page must turn visitors into paying customers.
Write a blog
Write a blog and show your value to the world. This is one of the best ways to advertise your tutoring business online. If done correctly, a blog can help you:
Appear at the top in search engines
Establish your authority in your subject
Network with colleagues
Provide resources
You can scrape Google to see what other online tutoring services are posting about.
Online paid advertising
Search engine advertising is the most common one for an online business. In this case, you pay for an ad to be published on platforms like Bing or Google. Thus, when people look for a specific keyword they will see your ad.
The best part of this approach is that you can manage your advertising budget. For example, you can choose to pay every time a person clicks and enters your website. However, there are other options besides Google ads. You can also promote your services through mobile apps or YouTube.
When running a tutor advertising campaign on Facebook or Instagram, you can choose exactly who will see it. Google, on the other hand, works differently. The people who see your ads are the ones that type the specific keyword.
Having control of your own budget is a plus. You can choose who sees the ad and which promotion they see. Set a spending limit and the campaign will stop automatically, which is a great way to control your expenses.
Yet, don't think that you can establish a PPC campaign and forget about it. You should constantly check if people are clicking on your ad to see if it's working. Although paid advertising takes time and money, it's worth the investment. If you don't feel comfortable enough to handle this on your own, you can always hire an expert.
Google Adwords
A great option for new sites that are still not on Google's first pages. With Google Adwords, you can make your brand stand out from others and improve your ranking.
This service is not free, but you can control your budget. Before starting, you should do some research so that you get the best out of your organic marketing efforts.
How to Advertise Tutoring Services Through Social Media
Social media is some people's main way of communication. Moreover, these platforms offer resources to connect with your target audience. Use hashtags, direct messages, and networking groups.
Instagram and Facebook
These are the advertising options for your tutoring business on Facebook and Instagram:
Posts. These appear in the viewer's feed as a single image. They will look like a regular organic post with one difference: it will read "sponsored" below the image.
Stories. By running an ad on a story you can reach lots of people. You can use one or more images, GIFs, videos, stickers, and graphs. Users will see these as they swap between the "stories" section.
Video. Posting videos is a good way to engage your followers. They allow you to build a connection. Also, you can share important information with your potential clients. Make sure your video is catchy so that people react to it.
LinkedIn
This is the best option if you provide tutoring for businesses. LinkedIn allows you to choose the audience that you reach. The demographic data includes job titles, professions, industry, location, and other parameters. Also, you can run different types of ads:
Photos
Text
Sponsored messages
Videos
Carousel
Thanks to LinkedIn tracking tools you can assess the performance of your tutor advertising campaign. You'll know exactly how many leads your ads bring so that you can make the best decisions.
FAQs about advertising tutoring services
1. What qualifications do you have as a tutor and how do they relate to advertising?
I have a history in advertising and a degree in marketing, so I have a thorough understanding of the business and all of its subfields. In addition, I've worked as a mentor in the industry and taught advertising classes, so I can effectively direct students toward their career goals.
2. What experience do you have in tutoring advertising courses or subjects?
For more than five years, I have been working with students of all ages and backgrounds as a tutor for advertising courses and subjects. I have experience tutoring students one-on-one and in a classroom setting, and I have aided students in achieving their academic objectives and advancing their careers.
3. What is your approach to teaching advertising and how do you customize lessons for individual students?
Providing a thorough understanding of the subject, encompassing both the theoretical and practical sides, is how I teach advertising. I design a specialized plan to assist each student in achieving their objectives by assessing their strengths and weaknesses and adapting my classes to meet their specific needs.
4. What are your fees for advertising tutoring services and how do you structure your rates?
Depending on the particular requirements of each student as well as the length and frequency of tutoring sessions, I charge different rates for marketing tutoring services. To fit a variety of schedules and budgets, I provide variable pricing and packages.
5. How do you handle scheduling and cancellations for tutoring sessions?
Students can simply arrange and reschedule their tutoring sessions with me online thanks to my straightforward and effective scheduling system. I have a cancellation policy in place that allows students to postpone or cancel their appointments without incurring a fee up to 24 hours in advance.
6. How do you measure progress and success in tutoring advertising students?
I constantly evaluate the development of my pupils using a range of techniques, including as quizzes, tests, and projects. In order to make sure that they are fully grasping the subject and reaching their objectives, I also promote open contact with my students, allowing them to offer feedback and ask questions.
7. What resources or materials do you provide for your advertising tutoring sessions?
For my advertising tutoring sessions, I offer a variety of tools and materials, such as textbooks, online sources, and practice problems. In order to better explain the practical applications of advertising theory to students, I also use case studies and examples from the actual world.
8. How do you stay up-to-date with changes and updates in the advertising industry and incorporate them into your tutoring?
I frequently go to conferences, seminars, and business gatherings to stay current on developments in the advertising sector. I use this material in my tutoring sessions to give my pupils access to the most recent and pertinent information.
9. Can you provide references or testimonials from past advertising students you have tutored?
Certainly, I would be glad to give references and endorsements from former advertising students I have tutored. These testimonials can attest to my teaching methods, efficacy, and capacity to support students in reaching their objectives.
10. How do you communicate with the parents or guardians of the students you are tutoring, and how do you keep them informed about their child's progress?
I keep in touch with the parents or guardians of my students by sending regular progress reports that describe their child's development and any areas that could need more attention. I'm also available to parents to address any queries or worries they may have regarding their child's tutoring sessions.
Final Thoughts on How to Advertise Tutoring Services
To manage a marketing campaign you must invest time and money. The work is not easy but brings excellent results when done right.
At first, you'll probably spend more time advertising than with students. However, with time you'll start getting more business.
If you're wondering how to advertise tutoring services, read these guidelines. First, make some trial and error testing. to know what works and what doesn't in your niche. Start with one channel and put all your efforts there. As you grow, you can try other options and even delegate some tasks.
If you enjoyed reading this article about how to advertise tutoring services, you should read these as well: