As almost 50% of all bookings today are made online, no wonder service-business owners are looking for solutions to take their business online and make the booking process more efficient. And that's exactly what a booking system does.
Online booking systems are here to help you with your everyday tasks. You'll be able to automate the process of booking management and simplify the entire process both for you and your customers.
So, how does a booking system work and what it can offer you?
Let's take a look!
What Is an Online Booking System?
An online booking system is a software solution designed to streamline the booking process and enable customers to schedule appointments online 24/7.
Most of your customers don't have time to book an appointment over the phone. In fact, the majority of them even expect you to have an online booking solution so that they can see the time slots and choose the most suitable one(s) in a matter of seconds.
That's why functionality and ease of use are the most important components of all online booking solutions. The whole point is to schedule meetings easily by displaying your availability and letting your customers schedule even outside of your working hours. That's exactly how booking systems eliminate the need for assistants, manual bookings, and spreadsheets.
So, once you choose the best online booking system for you and set it up, everything happens online with as little intervention as possible.
How Does a Booking System Work?
An online booking solution is pretty straightforward.
Potential clients come to your website and select a service they wish to book. Then, they fill out a booking form. After entering the customer data, they access the calendar and select the most convenient time slot. Next, they schedule an appointment and choose the preferred payment method. Booking software usually allows them to pay for the service (or leave a deposit) using a variety of secure payment systems.
Automatically, the booking system adds this appointment to your calendar. According to your settings, you will receive a notification by SMS or email.
To avoid no-shows, the online reservation system then sends notifications to the client directly. This significantly reduces misunderstandings and last-minute cancellations.
If you're still unsure of how exactly a booking system works, we have to dig a little deeper.
Booking Systems: What Do They Offer?
Online booking
The main point of a booking platform is to simplify things, instead of making them more complicated. Hence, you need a software solution that helps you create secure online reservations stress-free.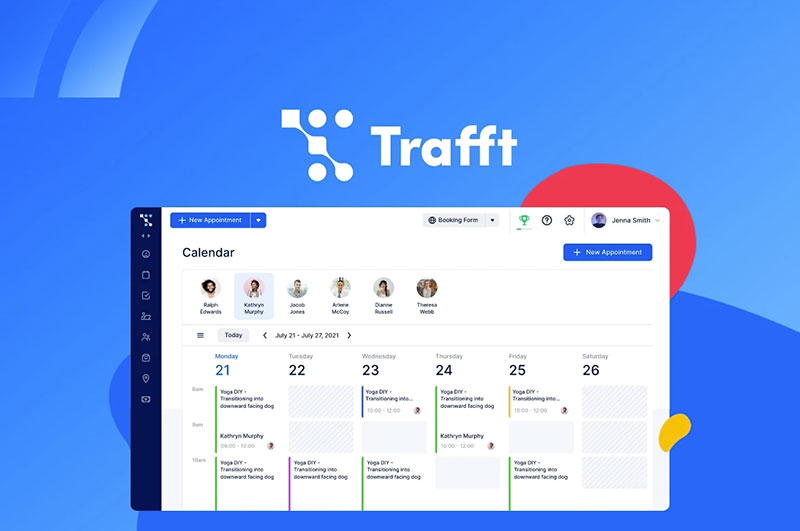 And one such solution is Trafft.
Trafft is a great option for any company hoping to streamline its booking procedure in the easiest way possible.
With Trafft, you don't need training or a complex set of instructions to follow. It's a hassle-free solution designed with the end user in mind.
The platform's clear and straightforward layout has been appreciated by both the users and their customers, who have no trouble setting up appointments. Also, it's fully customizable, which makes it possible to tailor the booking page to meet the specific needs of each business and fit into the existing brand design.
Trafft has made online booking available 24/7 through self-serve customer booking. This means that your clients will be able to book appointments with you even outside your working hours.
Business automation
Trafft automates your business through its set of powerful features and integrations. This booking software aims to help you automate different business processes and does that brilliantly through features like the smart calendar, employee management, customer management, payment processing, and self-serve customer booking.
The system's ability to scale to meet the needs of businesses of varying sizes and scopes is another thing worth mentioning.
The Trafft booking system is a must-have for every company that wants to simplify the booking procedure and give its consumers a positive experience. It's a lifesaver for a lot of business owners, allowing them to focus on their business strategy while Trafft handles the booking details for them.
Appointment notifications and reminders
What is the best solution for your booking system needs? The answer is simple: the one that keeps you updated about your clients' activity.
Trafft provides notifications when someone schedules an appointment when a session is about to start, and when you receive payment. Managers can set up these parameters, including the frequency of notifications and how they receive them. Also, this online booking software sends reminders to your clients via SMS or email, which helps reduce no-shows.
Reporting tools
This is a vital feature for any online booking system. By accessing accurate reports, you can track your business performance using statistics and KPIs.
The Trafft dashboard has a performance section where you can see how many bookings each employee handles. This makes it possible to estimate the profit each one of them generated over a set period of time.
In addition, you can see how well your services are performing and which are the most popular ones, which helps plan (and revise) your business strategy for the future.
Customization and branding
Customizing your booking form is more important than you think.
With Trafft, you can customize it using several themes. This means you can create beautifully designed forms that completely match your brand. Don't forget to customize your notifications and emails to match your booking form.
Being visually consistent and aesthetically pleasing helps you stay consistent when it comes to brand identity.
Third-party integrations
The best online booking systems are the ones that offer more options. Thus, the ability to work with third-party apps becomes vital.
Trafft integrates with popular apps like Google Meet and Zoom. All you have to do is choose a platform, schedule the meeting, and you're good to go.
With an online booking appointments system, your clients can pay for your services online or leave a deposit payment in just a couple of clicks. That's all possible through Trafft's payment processing options. PayPal, Stripe, Mollie, and Authorize.net are all available for fast and secure methods of transferring money.
This way, your clients will have a convenient, secure, and hassle-free way of paying for the service and you'll be able to collect payments as soon as they are made.
Trafft helps you improve your marketing strategy by integrating with WhatsApp, Mailchimp, SendFox, Webhooks, and Zapier. All these tools help you keep active communication with customers, analyze their behavior, retain existing customers, and increase their loyalty.
Website templates
If you don't have your own website yet, Trafft is a true lifesaver. With its website builder, you can create your booking website even if you don't have any coding knowledge at all.
That means you can take your business online and start accepting bookings instantly.
Allow your clients to book online, view your locations, and manage their appointments easily with your newly-created booking page.
Booking Systems: What Do They Do?
To get the answer to the question "how does a booking system work", we need to take a look at a specific booking solution.
Why?
In many cases, software providers offer online booking systems as part of a package. This package includes features like back-office automation and customer and employee management.
Smart technology for calendars and schedules
With a reliable booking platform, you can keep track of and manage your schedule with ease.
Trafft allows you to connect to Outlook Calendar and Google Calendar. Moreover, Trafft's appointments will be automatically synchronized with your personal calendars. This means your booked appointments will appear instantly in your personal calendar and vice versa.
Moreover, Trafft's settings allow you to work with clients globally, without having to think about their time zones. Trafft handles that for you. You just need to set your own time zone and clients can start booking.
Comprehensive scheduling automation
Trafft is much more than a simple reservation system.
With Trafft, you can schedule, manage, organize, track, cancel, and reschedule your appointments.
Edit your bookings, leave notes and comments, or search through your calendar by typing a particular service or employee. You can also sort out the information by client names and export your lists to a CSV file.
What's more, you can easily share your booking form with your clients. Use different social media, like Twitter, Facebook, or LinkedIn, or send them a direct link.
Group bookings and recurring appointments
If you run a business that relies on recurring appointments, you want to avoid having your customers manually schedule repeating appointments. Not only is that time-consuming and inconvenient, but it can discourage them from making future appointments and cause customer attrition.
So, you want to make the process of scheduling recurring appointments as easy as possible for your customers, which is what an efficient booking system does. Trafft allows your clients to choose the recurring option when making their first appointment and book a session that will take place on a regular basis.
In addition, Trafft enables group bookings for those businesses offering their services to more than one client at once. Classes, seminars, sports activities, concerts, and other events all benefit from a group booking option. Set the capacity and enable clients to book only for themselves or several people.
Track your activities
A good booking system enables you to manage all the people involved in your business (i.e. employees and customers) effortlessly.
Track and manage your employees, or let them self-manage their own schedules to increase their efficiency and save time. Keep a record of the performance of each service and each employee so you can assess their potential. Moreover, access detailed customer data and discover who your returning customers are.
Trafft shows you all the important information in one place, so you can easily analyze the current situation and decide on what needs to be improved.
Customer management and retention
Effective customer management is a vital part of your business. The prosperity of your business depends on how well you know your audience and how successful you are in keeping them satisfied.
Trafft has plenty of options available to incentivize your clients, such as offering them loyalty coupons, discounts, and birthday greetings – all fully automated. Also, it lets you stay in touch with them through confirmation and reminder notifications, as well as emails and newsletters.
Trafft's statistics will show how many appointments each customer booked. You'll also receive insightful information about their favorite employees and services. Use these statistics to offer personalized coupons that your clients will love.
Team management
Set up your business hours and schedule for each employee. Assign them services, locations, special days, and days off.  Or, even better – let them manage their schedules and set their own capacity, services, and pricing.
Additionally, Trafft is connected with the most-used calendars for easier team and schedule management. Your staff can synchronize their Trafft calendars with Outlook and Google and avoid booking mistakes and double bookings.
Avoid no-shows
Sending confirmation and reminder emails and text messages is important if you want to keep your clients up to date and minimize the chances of them not showing up.
And having an online booking system that automates this process is even better.
This is the fastest way to notify clients and employees about possible changes, cancellations, or reschedules and reduce last-minute cancellations and no-shows.
How Does a Booking System Work: Takeaway
So, how does a booking system work? Our answer is – it depends.
Although each booking system is designed to meet the specific needs of a particular business or niche, they all share some common characteristics.
Their goal is to provide a stellar booking experience for both you and your clients and enable you to be available for bookings around the clock.
With Trafft, you get more than an online booking system: you have a management solution.
Automate repetitive tasks and focus on what should be your highest priority – growing your business.