Nowadays, entrepreneurs spend a significant amount of time in an effort to find the most reliable scheduling software for their small businesses. The reason lies in resource efficiency.
They are trying to maximize the efficiency of their staff, automate their business operations, and, ultimately, save time and increase profits.
The greatest challenge they face is finding the right solution. It's a crowded market out there and it can be difficult to find just the right appointment scheduling software for your business. Especially if you are unsure about where to look.
This guide is here to help. By assessing key features, such as customizability, user-friendliness, and software integration options, this list will provide you with the best scheduling software for small business owners. Whether you're a solopreneur or manager of a corporation, you're bound to find the perfect solution for you.
The Best Scheduling Software for Small Businesses
Here's our guide to the very best appointment scheduling software for small business owners:
Trafft
If you're looking for reliable business automation software that handles scheduling processes with ease, Trafft's got you covered.
Manage your bookings, customers, and employees, grow your brand, boost customer acquisition and retention, and organize all operational processes with this all-in-one business management software.
Trafft is a perfect tool for business owners who are looking to streamline their booking experience both for their staff and their clients. Instead of menial tasks, focus on what truly matters – expanding your business.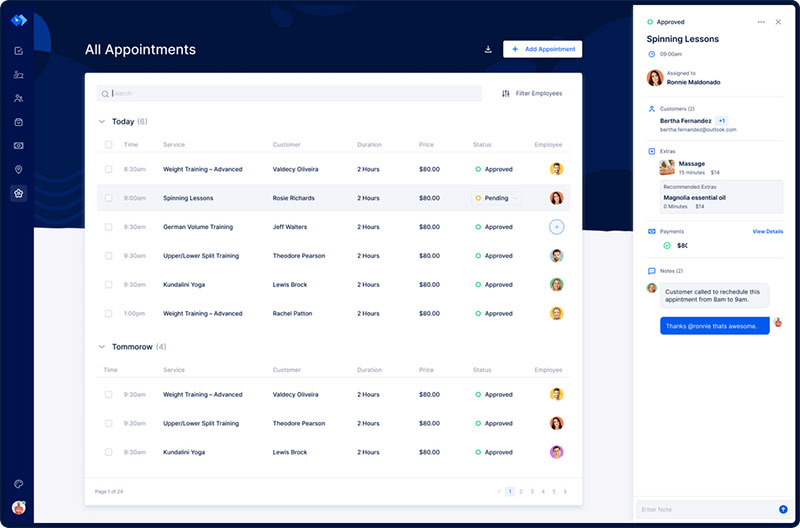 Trafft is particularly well suited for businesses that deal with in-person customer interactions, such as clinics, gyms, salons, sports venues, and other businesses belonging to the service industry. What's more, Trafft can also be a great option for booking freelance photographers, housekeepers, and musicians.
With Trafft, you can easily juggle unlimited bookings and multiple locations from one central platform. This impressive software handles everything for you – even sending automated email or SMS reminders to your clients. No-shows? Not anymore!
You can centralize your business even further by integrating tools like Zoom, PayPal, Outlook, Stripe, Zapier, and Mailchimp.
Want to know more? Check out Trafft's awesome features to see what you are missing.
Acuity Scheduling
The next on this list of scheduling software for small businesses is Acuity. Acuity Scheduling is a cloud-based booking software that helps business owners manage appointments online. It caters well to the needs of small- to mid-sized businesses, but also has plenty to offer to individual professionals. It is well-suited to the needs of service-based businesses, which is a definite bonus.
Acuity Scheduling has a flexible calendar, an intuitive user interface, and many different customization options. It also has multiple pricing plans available, with each plan letting you choose the features you consider particularly important for your business.
Appointedd
Appointedd is an easy-to-use booking software that's focused on providing the best booking experience to your customers. It offers many features that help make your events and appointments easy to manage and organize.
First of all, Appointedd offers automatic appointment bookings and reminders that both save time and reduce customer no-shows. Moreover, it features online payments, which further reduces customer cancellation rates.
Appointedd has unlimited bookings for your events and an elaborate system that enables you to keep track of every appointment. This software comes with calendar synchronization features that make managing bookings simple and easy.
Google Workspace
Google has recently started offering online appointment scheduling on certain versions of Google Workspace. This powerful tool doesn't require customers to have Google accounts to book appointments. Instead, all scheduling takes place on a booking page.
The tool is a great option for businesses that prefer working in Google, as it can expand their Google Calendar functionality. The appointment scheduler specifies how far in advance appointments can be booked, as well as delivers advanced scheduling features, such as time buffers between meetings. Google also uses email reminders to help communicate with those who schedule appointments with you.
Microsoft Bookings
Microsoft Bookings is an add-on for Microsoft 365 that focuses on online appointment scheduling. It organizes, manages, and schedules your appointments while giving clients a list of available times to prevent double bookings.
Microsoft Bookings makes scheduling meetings simple. Before a client books an appointment, they will see a description of your different appointment types, your business hours, and your available staff members. Your clients will have access to this information through an entry-level booking page.
Microsoft Bookings is a tool that works particularly well for a small business that already relies on Microsoft's brand of applications. This is because Microsoft Bookings includes integration options with the Office suite, Outlook calendar, Microsoft Teams, and other tools.
Sadly, it is limited when it comes to other third-party tools, so if you need more than Microsoft, you better look elsewhere.
Calendly
Calendly is another scheduling software for small businesses known for its great reputation. It supports group, round-robin, collective, and one-on-one meetings with its powerful scheduling algorithms. Calendly also boasts great features such as an intuitive interface, high customer satisfaction, and strong security safeguards.
Additionally, Calendly works with multiple popular web browsers and features a stand-alone mobile app. It can connect with PayPal and Stripe for online payments, so you don't need to worry about not having access to the necessary third-party integrations.
Calendly also has a team dedicated to ensuring privacy within your appointment schedules. This is done by encrypting appointment processes and corresponding data, both in transit and stationary.
HoneyBook
HoneyBook is a great small business booking software that has a particularly strong hold on management and administration processes. Whether you're sorting client bookings or planning your third-quarter sales meeting, HoneyBook can help.
One way that HoneyBook specifically excels is through its booking pages. Its client interface is simple and effective, and it can even be branded to match your company's site. It also syncs with your calendars to guarantee efficient and accurate scheduling.
After that, HoneyBook continues to keep all client information, appointment history, and all communication in one easy-to-access location. You can create confirmation email reminders or automatic reminders depending on specific situations, which can save you extra time.
Doodle
Doodle is scheduling software for small business owners who wish to streamline planning and coordinating meetings with clients, teams, and colleagues. It can also prove helpful when managing conflicting schedules.
Doodle is more than just booking software – it also solves the core problem of sifting through disorganized and hectic piles of emails and calendars. By using Doodle, you can keep your appointments organized, track changes, and communicate with clients on one single platform (and across multiple time zones). It even uses security measures to keep your appointments confidential for you and your attendees.
OnceHub
OnceHub is another highly-rated scheduling software built for small businesses that would like to focus more on streamlining the lead nurturing process. It does this by using its many integrated calendar platforms to connect prospects with the right person for each meeting.
OnceHub also helps small business owners make the most of their time with its powerful suite of features, which include:
Panel Meetings. Potential clients can schedule meetings with a panel of team members. These panels can either be created in advance or spontaneously depending on the available team members.
Priority Assignments. Potential clients can be automatically routed to specific team members depending on their experience level.
Meeting Templates. Potential clients can book a meeting from a menu comprising various meeting types, depending on their wishes.
Thryv
Thryv is booking software for small businesses that is built to exceed your expectations. It helps small businesses with customer communication, Customer Relationship Management, payment processing, reputation management, document sharing, marketing, and storage solutions.
Besides booking meetings and appointments, Thryv synchronizes with your business's calendar software to help prevent double bookings.
In addition, Thryv supports many different calendar options, such as Google Calendar, Outlook, Apple iCloud Calendar, and Microsoft 365.
Appointlet
If you're looking for a cloud-based scheduling software for your small business, Appointlet may be the one for you. It integrates a number of applications to create a smooth and seamless customer booking experience and improve many business processes.
Appointlet can benefit everyone, from business owners to human resources professionals. By using Appointlet, you can automate workflows by joining existing systems, customize booking questions when gathering necessary information, and improve attendance via automatic reminders.
Appointlet is also built to sync with third-party tools like Google, Salesforce, and Office 365. This makes it intuitive to use, as many of the tools within the software are already well-understood by most businesses.
Obby
Obby is a jack-of-all-trades booking solution, but that isn't to say it doesn't have its strengths. It is designed to cater to small businesses that host courses, classes, and workshops. This solution lets you handle bookings for personal, online, and hybrid classes with ease.
One way that Obby helps class-oriented businesses particularly well is with its virtual classroom. A virtual classroom enables you to create and manage online or hybrid classes in the most intuitive way for your students.
vcita
vcita is both a business management tool and a booking system with a wide range of tools. These tools can help you manage your business schedule without breaking a sweat.
It integrates with Zoom easily, which makes it easier for you to run your online appointments, classes, or events. You can also start comprehensive SMS and email marketing campaigns to help keep your community of clients engaged with your business.
YouCanBookMe
YouCanBookMe is appointment scheduling software for small businesses that comes with many interesting features. Its greatest advantage are its personalized booking pages that integrate with Google Calendar and Outlook.
You can create data fields within your booking forms, while the software automatically adds these customer notes to your calendar's event. YouCanBookMe also supports group events that allow multiple bookings for a single time slot, so you can make more effective use of your time.
In addition, the application can send customized notifications, reminders, and follow-ups to your customers. This can help your clients stay up-to-date on appointments, and reduce the risk of no-shows.
YouCanBookMe also has many powerful team scheduling features that enable your clients to select staff members when making an appointment.
Setmore
Setmore is a free online booking system that lets you connect with your customers and manage all of your appointments from one easy-to-use calendar system. With Setmore, you get a fully customizable booking page that lets you display your services, pricing, and availability online.
Setmore is an ideal choice for non-techies due to its intuitive user interface. In reality, customers don't even need to visit your webpage to book an appointment. Instead, they have the option to book appointments directly from third-party sites like Instagram or Facebook.
Setmore offers multiple pricing tiers, including the previously mentioned free plan that's available for up to four users. After that, you have the option to upgrade if you want more advanced scheduling features. These include calendar syncing, custom branded messages, and reporting tools for tracking booking performance.
DaySmart
DaySmart is a streamlined and intuitive option for appointment booking and helping general business operations. The developers have an innate understanding of the struggles of business owners, both with scheduling and maximizing efficiency.
It integrates pretty easily and can be customized through various integrations available.
DaySmart also utilizes automated reminders and detailed reports to further maximize business efficiency and returns. Although these features may seem minuscule, they can go a long way toward the revenue of your business.
Scheduling Software for Small Businesses: Selection Criteria
There are many factors to consider when looking for small business booking software, especially one suited to the individual needs of your business. Your software should be able to do more than the basic requirements of online bookings.
Of course, finding an appointment scheduling software that's suited to your business will depend on many factors. How big is your business? What's your budget? What features are you looking for in a booking system?
For instance, if you were to manage a chain of gyms, you would most likely require different features than if you were to run a small independent business. To begin narrowing down your options, you should start by considering which features are essential to your business.
If your business requires online payments, then you should search for software that allows you to accept payments online. On the other hand, if you prefer to be able to track guest and booking information, you should aim for software with good customer management tools.
Small Business Scheduling Software FAQ
What is scheduling software and how does it work?
Scheduling software is specifically designed to allow companies to manage and process customer reservations and appointments.
This software enables customers to schedule services or activities online in a matter of minutes. At the same time, it helps businesses to handle bookings, client information, and payment processing. Booking software can also send automated reminders and confirmations to customers and interact with other business tools to improve efficiency.
What are the benefits of using the scheduling software for my small business?
Appointment scheduling software brings numerous advantages, including increased efficiency, a better client experience, and more revenue possibilities.
Businesses can reduce the time and effort required for manual booking management by automating the booking and scheduling process itself. Additionally, by using such software businesses provide clients with a straightforward way to make appointments. Booking solutions can also assist organizations in optimizing availability, decreasing no-shows, and increasing income through upselling and cross-selling.
How do I choose the right small business appointment software?
While selecting scheduling software, keep your company's demands, budget, and technological requirements in mind.
The software's features and functionality, ease of use and customization possibilities, integration capabilities, and customer support are all important to consider. Moreover, study reviews and compare price plans to ensure that the software is both inexpensive and satisfies your requirements.
Can I customize my software to fit my business needs?
Most booking solutions offer some level of flexibility, allowing companies to adjust them to their individual needs.
Customizing the booking form, adding custom fields, creating booking rules and restrictions, and branding the system with your logo and colors are all examples of this. However, depending on the software provider and payment plan, the level of customization may vary.
How do I integrate the software with my website and other business tools?
The majority of scheduling solutions integrate with popular website builders and CMS platforms. They also integrate with other business tools like payment processors and email marketing software.
Integration methods might vary based on the system but often entail adding a widget or plugin to your website. The second option is connecting your booking system account with other software through an API or webhook.
How do I manage and track bookings?
Most booking tools include a unified dashboard or calendar view that enables organizations to view and manage all of their bookings in one location.
Businesses can easily examine customer information, booking history, and payment information from the dashboard.
Additionally, the software often includes reporting and analytics capabilities for monitoring booking trends and customer behavior.
What security measures are in place to protect my customer data?
To protect consumer data, scheduling software often employs industry-standard security methods such as SSL encryption and secure data storage.
However, it is critical to ensure that the software provider has suitable security measures in place and that your company follows best practices for data processing and preservation.
How can I automate appointment reminders and follow-up communications with customers?
To prevent no-shows and increase customer communication, most scheduling systems provide automated email or SMS reminders. They may additionally include marketing automation tools such as follow-up emails or surveys to collect consumer feedback.
Can I access and analyze booking data to make informed business decisions?
There are scheduling software options that include reporting and analytics tools to assist companies in tracking and analyzing booking data.
Metrics such as booking volume, revenue, and client demographics can all be used to make informed business decisions and optimize business operations.
What is the cost of using scheduling software and are there any hidden fees?
The cost of using scheduling software varies greatly based on the provider and pricing plan. Some provide a free or low-cost basic plan with restricted functionality, whilst others charge a monthly or annual subscription fee.
To ensure that there are no hidden expenses, thoroughly study pricing plans and any additional fees such as transaction fees, setup fees, or cancellation fees.
It is also critical to examine the booking system's return on investment. Take into consideration prospective benefits such as greater revenue, enhanced efficiency, and improved customer experience.
Parting Words
In today's world, change is inevitable. This makes it all the more important for small businesses to provide their customers with convenient, reliable, and easy-to-use online scheduling options. This is why the best scheduling software for small businesses will prioritize the customer's experience above all else.
Well-designed software will let customers see a business's availability, pay online, and book appointments independently online or through email. No in-person interactions are required. Customers are encouraged to reserve, cancel, and change appointments entirely at their leisure in the comfort of their own homes.
All the solutions on this list have strong features that can make your life easier, and each one has its own individual strengths and weaknesses to match. Regardless, if you are looking for truly versatile scheduling software for small businesses, Trafft is the one for you. Out of all the options on this list, it's by far the easiest one to use, the most user-friendly, and offers the best value for money.
No matter what you choose, make the most out of your bookings. Scheduling software is just a tool, and the efficiency of tools depends on the accuracy of its wielder. So, try to make the best experience for your clients, stay organized, and most importantly, enjoy it. Use the time you saved wisely.