So you want to be a mentor. You've put in the effort and you've found a mentee, but you don't know where to start. What's involved in teaching? It is much more than babbling, and mentors often need to learn the steps first, before taking on their first mentee.
This article will help you with this. Keep reading to learn the mentoring guidelines and tasks that you will need to complete before you begin meetings.
This article will also include some tips and tricks to help you become the best mentor you can be.
What's Involved In Mentoring?
Fundamentally, a mentoring relationship involves trustworthy advice. It means making yourself available for advice and support when your mentees need it.
Not only that but also delivering that support in a way that's easy to understand, as advice is useless if it falls on deaf ears.
Keep in mind that you are trying to help your mentee, not feed your ego. This often includes putting in the extra effort to get the message through, even if they don't understand it at first. Mentoring is not easy, but it can be very rewarding.
What Does a Mentor Do?
Mentoring relationships work on more than one level. You should support mentees both by teaching essential job duties and planning for the future.
This process includes many roles, and you can choose to fulfill some or every role. It all depends on what type of mentor you want to be.
Being a mentor includes:
Supporting – Good mentors listen to their mentees sympathetically and acknowledge their defeats and successes.
Protecting – Good mentors protect their mentees from the "dead-end" job assignments and adverse forces that they have learned to avoid.
Coaching – Good mentors teach useful skills and practice them with their mentees.
Advocating – Good mentors try to put exposure and visibility on their mentees, and from time to time, offer sponsorships.
Advising – Good mentors share their knowledge, and then critique the performance of their mentees by sharing suggestions.
Acting as a role model – Good mentors share their experience within their industry and how they "made it".
Acquiring resources – Good mentors offer useful readings and opportunities, or share experiences with their mentees
These roles can have many acronyms, such as "CASA APA", "APASACA", or my personal favorite, "SCP? AAAAh!".
What Mentors Should Have Ready Before Every Meeting
It can sometimes be difficult to think about the future, especially during the daily demands of work. It's important to set out goals early in the mentoring program, as well as goals for each session. When using goals, both you and the mentee can agree on the purpose of the sessions, and then use time more effectively.
Decide on the theme of discussion with your mentee.
Deciding on the theme of discussion beforehand helps both the mentor and mentee prepare for the upcoming meeting.
It will also be especially helpful to you, the mentor, as it will give you time to gather resources that pertain to that topic.
Include interesting and relevant articles and videos.
Usually, mentors and mentees agree on which method of learning is best for them. In addition, interesting articles and videos are usually a safe bet.
It can be a great way to create a more relaxed atmosphere that encourages the exchange of information.
Are there any additional thoughts or ideas you have on the topic?
Although last-minute changes are often looked down upon, they are great for mentoring relationships. If you have any last-minute ideas, try to convey them to your mentees before the meeting.
This could either be slight changes or asking your mentee's opinion on the subject. Either way, it lets your mentees know that, although you're busy, you are still thinking about them and taking mentoring seriously.
Mentoring Guidelines
1.Choose Mentees Carefully.
Mentoring takes time. Mentors can easily spend hours trying to help someone else's career instead of their own. This makes choosing the right mentee an important decision. The right mentee can make the process fun, the wrong mentee can be distressing. Here are some things to look out for.
Beware of the prospective mentees who want to do things their way, or those who expect only the mentor to continue the relationship. The best mentees are organized, efficient, curious, engaged, and responsible. Sometimes these traits don't come at face value, so you will need to search for them.
A good way to do so is by testing them. If you are in a business setting, you might ask a prospective mentee to give a presentation within their area of expertise. If instead you are in a sales setting, ask them to join you on a sale call and to write their observations. Doing so will help you start the mentoring relationship on the right foot.
Get to Know Your Mentee Well.
Learn more about your mentee. Ask many questions; try to find what makes them tick. Ask them about the challenges and their goals (business or otherwise). Try to find out how to support them. The tendency to want to fix their problems immediately will arise, but try to fight that urge. There will be time for that later, but for now, you just want to set a foundation for the future.
It is easy to give poor advice when you don't know someone, and the same goes for mentoring. To be able to be the best mentor, you need to know your mentee on a personal level.
This also means that you won't be able to help right away, but that's ok. The best thing you can do for your mentees is to simply listen. Try asking open questions to dig deeper, and never interrupt unnecessarily. Doing so will both help you learn more, and let your mentee know that they are heard.
Have Realistic Expectations
It can be easy for mentors to feel discouraged when their mentees aren't making huge "life-changing" improvements. The best way to fight this feeling is by acknowledging the smaller gains because your mentee will most likely never be completely transformed by the mentorship.
Gains will seem small, that much is a fact. Rarely do gains seem large. What you need to do is adjust your expectations to see the progress within those gains. Understanding this will help prevent frustration and mentor burnout.
Understand What You Want Out of The Relationship
Mentorship is a two-way street, which means that you will get things out of it as well. Just like the mentee needs to find what they want out of the mentorship, you also need to figure out what you want as well.
Try asking yourself these questions to start:
How does mentoring strengthen your leadership skills in your personal and professional life?
Do you want to learn as much from your mentee as they learn from you?
What area of expertise would you like to improve?
Do they have any gaps in knowledge that match up with yours?
Having the answer to these questions can help you plan your mentorship, as well as clear your intentions.
Prepare Well for the First Session
The first session is often the most important, as it will lay the foundation for the rest of the meetings. Here are some general mentoring guidelines to follow.
First, talk with your mentee online to decide the basics, such as:
How do you want to communicate? SMS, Email, WhatsApp?
How often would you meet? Bi-Weekly has proven effective for many, but you can choose otherwise.
And what sort of topics are they interested in?
After you have prepared the first meeting, it may be handy to create a shared calendar to prevent miscommunication. Time Zones can be confusing, so it's best to plan around them.
During the first session, you will want to complete many of the previously defined tasks. Remember, you will want to address the goals for your mentees, areas of concern, as well as challenges they are currently facing. Doing so will act as a jumping-off point for the rest of the mentorship.
Establish a Mentorship Team
It has been common for most (if not all) mentoring relationships to be one-on-one, and this was ideal for many reasons. It can prove especially useful when everyone is working towards a single mission, or in one institution. Sadly, this is often no longer the case.
Today, many professionals are constantly moving in between projects or institutions, often daily. What's more, most are pressured by growing concerns about time and efficiency. This has led to the sudden growth of the "Mentorship Team".
There are, of course, both pros and cons to this method of teaching which this article will not go into. Safe to say that if you are busy, constantly moving, and have multiple other available mentors, a mentorship team will prove useful.
Using a mentorship team, multiple mentors can share the mentoring load, as well as give a fallback position for failed mentoring relationships. In practice, a single primary mentor acts as the go-to person for most moral, institutional, and career advice, while others will help with more general tasks that do not require one person.
Mentorship teams can prove crucial to many industries but are often not as personal as the one-on-one classes. You can choose what works best for you.
Choosing and Discussing Mentoring Topics
Although sometimes you may not be able to discuss specific mentoring topics during the first meeting, you should always be prepared. If time allows, you may choose to discuss a single general topic to set the groundwork for future meetings.
Regarding mentees, the topics that they discuss will connect directly to their goals. This makes choosing the right topics important to them, and will also keep them alert to topics that don't relate to them.
For you, the mentor, it is often easier to start choosing topics after you meet your mentee. However, it may come in handy to have some topics already in mind, even if it's just for conversation.
Here are some examples:
Situational advice to help the mentee address immediate, specific problems at work.
Constructive feedback aimed at improving job performance and career advancement.
Career stories, lessons learned, and insights gleaned from your mentor's career journey.
And skill areas that the mentee wants to develop that the mentor already has.
Establish Clear Rules and Expectations
Meeting new people can be stressful, especially when that new person is your future mentor. Try to make this process smooth by explaining what  your role is, and what you expect of them.
This often is where you show what's important to you. Is punctuality important to you? Let them know. Do you want them to be prepared before each lesson? Let them know. This is an opportunity to clear up future confusion and make the mentorship relationship open in the future.
This is also an opportunity to amplify the purpose of the mentorship. A light at the end of the tunnel will help them follow the rules and expectations you set for them, so explain it to them. You know that mentorship is important, convey that to your mentees and they will agree.
Seek Out Resources to Help Your Mentee Grow
The best mentors create the best situations for their mentees. This can take many forms. You could try connecting your mentees with people who have experience in their dream job. You could also recommend a conference that they would be interested in.
This is not a simple process, it requires knowing your mentees and understanding where there is a need for growth. Try to observe where your mentee would like to improve, and constantly look out for opportunities for them to grow.
Shift Between Coaching and Mentoring
A good mentor will often switch between using coaching and mentoring skills. Both are useful, but both are for different reasons. Mentoring usually includes using your knowledge, experience, and skills to help your mentees. Coaching, however, is focused on open-ended questions and helping mentees find the answers themselves.
Switching between these teaching methods will help provide a higher quality mentoring experience. Your mentees will notice the difference.
Don't Commit Mentorship Malpractice
Mentors are in a dominant position, which means it can be easy for them to use their power inappropriately. "Mentorship Malpractice" is, sadly, very common. You could be doing it unintentionally! Try asking yourself if you've done any of these things, and if so, stop.
Allowing mentees to repeat common self-destructive mistakes without helping.
Discouraging your mentees from seeking other mentors which may feed your ego but isolate them from broader learning and recognition.
Handcuffing your mentee to your timeline, slowing their progress when you are slow to get back to them.
Insisting that your mentees advance your projects rather than allowing them to develop their work.
And taking credit for your mentees' ideas or usurping the lead position on their projects.
Your mentorship success story starts with a scheduling app to streamline your calendar
Staying organized has never been easier.
You can now manage your business and grow your brand with a single, powerful software that keeps all of your appointments in line, your clients organized and your business booming.
Trafft is perfect for business owners who need to streamline their booking experience both for their staff and their clients.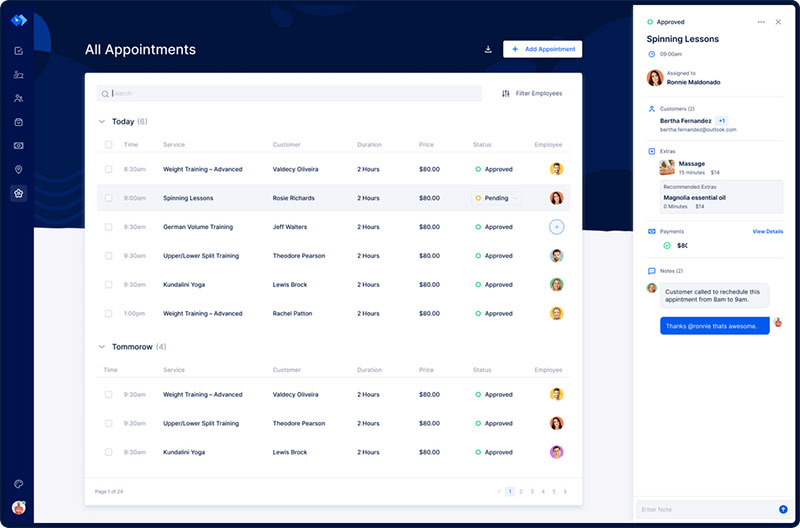 Trafft handles everything for you, even sending automated email or SMS reminders to your clients. No-shows? Not anymore!
The Trafft booking software adapts to different industries for a blissful online booking experience and employee management.
Want to know more? Check out Trafft's awesome features to see what you are missing.
What Mentors Do During Their Sessions
You have started your mentorship.
Congratulations!
Now you understand what teaching your mentee and helping them grow entails. Here are some final tips for what you can do during the lessons:
Build your mentee's confidence through supportive feedback.
Help your mentee see alternative interpretations and approaches.
Resist the temptation to control the relationship and steer its outcomes.
When requested, share your own experiences, lessons learned, and advice.
Emphasize questions over advice-giving. Use probes that help your mentee think more broadly and deeply.
Reflect on your mentoring practice. Request feedback
Be spontaneous now and then.
Help your mentee reflect on successful strategies he or she has used in the past that could apply to new challenges.
Encourage, inspire, and challenge your mentee to achieve his or her goals.
And enjoy the privilege of mentoring. Know that your efforts will likely have a significant impact on your mentee's development as well as your own.
What Mentors Should Do After Their Session
Lastly, mentors need to follow up on their sessions with important information. Here are some examples of what you could do:
Confirm the next session's time. Mentoring sessions don't have to follow a particular time pattern. It can vary depending on the availability of both parties. Check with your mentee and confirm the time of the next session to be sure you agree.
Follow up with any thoughts you've had as you've had more time to ponder your discussion. Following up shows you care and are thinking about what is best for them. It also encourages your mentee to put more effort into the program.
Share resources for the next meeting. To keep the momentum, the mentor should share resources related to the subject of the next session. This will keep the mentee on his toes and ready for the next meeting.
How Will You Use These Mentoring Guidelines
A mentor's job is to share their expertise and wisdom with the next generation, but that's not all. The best mentors make this process simple, enjoyable, and successful. Although this process is often difficult, you now have the tools to fulfill your mentorship successfully.
Now all you have left to do is start using a structured approach to mentoring, with the right mentoring guidelines to match. You are ready for your first mentoring meeting. Have fun!
If you enjoyed reading this article about mentoring guidelines, you should read these as well: