There is so much more to mentoring than a casual chat when catching up with your mentee—you want to build a reliable relationship with potential to thrive. Creating a reputable mentoring relationship is key to your mentee's success.
In the beginning, it may be difficult to find topics to talk about or ways to use the scheduled time. Obviously, you'll review the mentee's goals and there will be some small talk. But you should also use that time constructively and have in-depth conversations related to skills development.
If you're looking for effective guidelines and ideas related to mentoring activities, this article features some practical suggestions. The following examples can help you build a successful mentoring relationship.
Go Over Your Mentoring Program with a Cup of Coffee (or Tea)
Talking with your mentee over a hot cup of coffee is an excellent way to initiate your mentoring program. A relaxed environment can help your mentee to unwind. If you are a mentor in a senior position, it is likely that your mentee will be feeling nervous at the beginning, so this sort of activity can help calm them down.
Simple Yet Impactful Questions
Both mentor and mentee should prepare ten simple questions before meeting. These questions can be about any topic —from "Who is your favorite band/singer?" to "What are your hobbies?" Take turns asking questions and make it your aim to listen attentively.
Set Up a Goal Planning Session

Get mentees to describe their career vision and potential goals to help realize that vision. Keep your tone and body language objective and optimistic. Refrain from discouraging comments, instead, consider questions to help your mentee create strategies to fulfill their goals and get results.
Why not propose some goals yourself? Create a schedule together for those goals but be reasonable. Make sure to establish goals that can be accomplished within the timetable determined through your mentoring relationship.
Plan "Ask Me Anything" Sessions


Similar to the model followed on Reddit forums, AMA sessions allow the mentee to ask the mentor career-focused questions. These questions can range from how the mentor got started in their career to the various obstacles encountered in their job.
It's not just about chit-chat either. Mentors and mentees can check out new places, enroll in various activities and discuss new ideas. You want to ensure the time spent together is engaging and allows both mentor and mentee to develop in their career. This will also forge a solid professional relationship.
Take a Walk or Visit a Coffee Shop

What makes for fantastic mentoring relationships? A knack for building trust and a stable foundation. Sitting in a tranquil coffee shop or going for a picturesque walk can help a mentor to do just that—except if meeting your mentee for the first time.
When involved in such mentoring activities, mentors and mentees learn more about each other, lay the groundwork for the relationship and combine skills and knowledge to set goals. You can reduce anxiety by getting together in such informal settings.
Participate in Live Events
Maybe you and your mentee share a love for hockey. Or you're both fond of Broadway musicals? Are you both looking forward to the next art exhibition at your local gallery?
Sharing transport and costs to and from the vent, as well as rooting for your favorite teams, is a beneficial way to spend time cementing your mentor-mentee relationship.
Collaborative Job Shadowing
Job shadowing presents the mentee with a valuable learning experience. Afterwards, the mentee can meditate on key activities and ask their mentor some practical questions. Mentoring activities like this help mentees update their skills and learn key job responsibilities from an experienced mentor.
You can combine this activity with target mentoring formats (including succession planning, onboarding programs, and high-potential employee programs).
Another valuable activity is a reverse-mentoring program which gives senior-level employees the opportunity to experience the work environment from a junior-level employee's perspective.
Discuss Relevant News & Events
Many would consider it unproductive to use scheduled mentoring time to discuss current news events. But focusing on stories related to your mentee's career and objectives can be beneficial.
Invite them to select some news articles they would like to share during the session that could be applied to helping them grow and thrive in their industry.
One suggestion could involve having the mentor ask their mentee to share one article at each session that offers advice related to their specific goals.
Roleplay
These types of mentoring activities give your mentee valuable insight into how they can further develop their skills via a mentoring relationship.
The pedagogical practice of roleplaying is well-established and relies on extensive research to help learners to push beyond what they know. Instructors are also better able to gauge the learner's progress and determine where there's room for improvement.
It can be a challenge to get someone to perform out of their comfort zone, but then again, this is what roleplaying is all about. This is why it is a fantastic tool for the development of interpersonal skills.
Read a Book Together
There is an array of career and business development books out there. Getting your mentee to review the book with you is a great way to let those ideas sink in.
Pick a book for each month and make an appointment to meet up and talk about it.
Depending on where you are in the book, consider highlighting specific topics or chapters you think will support your mentee's training, along with any supplementary material.
Tune Into a Podcast
Podcasts focus on a variety of interests and feature a plethora of information and advice from peers. Why not search out a podcast that could help you further develop your mentee's career and professional ambitions? Listening to a self-development podcast can help them to achieve all their career goals.
Both mentor and mentee could consider one episode ahead of each session and then consider any highlights with each other. It will engage them both as they acquire further practical knowledge and resources they can use at work.
Attend Conferences Together
Mentees can work on developing their abilities by engaging with experts in their field. A mentor with good connections in the industry is essential in mentoring programs. Such conferences give mentors and mentees the opportunity to deliberate over certain topics while offering their opinions.
Problem-Solving Sessions
Often, when an employee encounters problems at work they reach out to their mentor. Assemble a group of peers and brainstorm how to solve various obstacles encountered at work. The benefits of such an arrangement are all-encompassing for the organization hosting such mentoring activities.
Oversee a Resume Revision Session
As the mentoring collaboration approaches its end, your mentee should have developed certifiable skills, experience and knowledge to add to their resume. Set up a resume revision session to determine what can be included and what needs to be updated. The resume should highlight their progress during the program.
Such a resume is indispensable for new professionals looking to apply for positions within their company.
Your mentorship success story starts with a scheduling app to streamline your calendar
Staying organized has never been easier.
You can now manage your business and grow your brand with a single, powerful software that keeps all of your appointments in line, your clients organized and your business booming.
Trafft is perfect for business owners who need to streamline their booking experience both for their staff and their clients.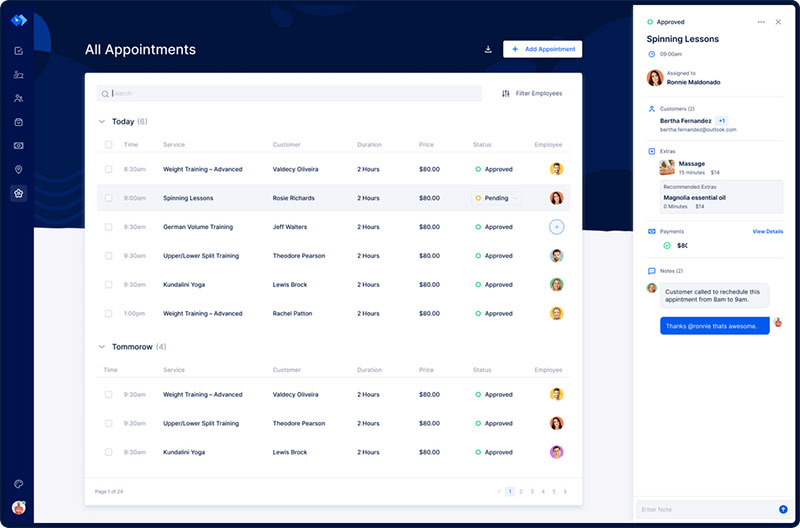 Trafft handles everything for you, even sending automated email or SMS reminders to your clients. No-shows? Not anymore!
The Trafft booking software adapts to different industries for a blissful online booking experience and employee management.
Want to know more? Check out Trafft's awesome features to see what you are missing.
Networking Meetings
There are a number of professional advantages when a mentee is introduced to other professionals who can help them in their careers. This arrangement benefits not only the mentee, but the mentor and the other person in future.
Solid networking is an example of mentoring activities that contribute to the mentee's professional life. They can engage with and learn from top industry players and such events create opportunities for further collaboration within the business community.
Communicate and Commend with Notes


A mentee's self-esteem can get a much-needed boost with a note that simply says, "Thinking of you!" or one that sets out to encourage them on their professional journey.
It can be something big they set out to achieve—such as a promotion—to something as small as good performance on a particular project.
Why not send your mentee a supportive "You can do it!" note if they need to have a difficult conversation with their boss? There is a variety of mentoring software out there to help you manage and keep track of such activity.
On the other hand, a mentee can look for opportunities to thank their mentor with an authentic note that shows how much they value and appreciate all that has been done for them during the mentorship.
A straightforward "Thank you for all you've done" can help a mentor feel they've exceeded your expectations with their services.
Volunteering Together
By means of a conference, a fundraiser or other events, a company can provide a mentor and mentee with the opportunity to volunteer. Through such a cooperative task, both parties can further develop their mentoring relationship and get to know each other better.
Volunteering activities need not be related to their particular industry. There are numerous social causes and groups, charities, and other community events which would profit from the interest of mentors and mentees.
FAQs about mentoring activities
1. What is mentoring, and how does it differ from coaching or counseling?
In the process of mentoring, a more skilled and experienced person, usually from the same sector or industry, offers advice and assistance to a less experienced person. Mentoring often focuses on career or personal growth as opposed to coaching, which emphasizes skills development, or counseling, which is primarily concerned with addressing emotional or psychological concerns.
2. How do I find a mentor, and what qualities should I look for in a mentor?
A mentor can be found through networking, approaching experts in your industry, or looking for mentorship programs. It's crucial to look for a mentor who has the appropriate expertise, strong communication skills, and the ability to impart knowledge and offer feedback while searching for one.
3. What are some common objectives or goals for a mentoring relationship?
Career advancement, skill improvement, networking with other professionals, and personal development are all typical goals for a mentoring relationship. The needs and interests of the mentee will determine the precise goals for the mentoring relationship.
4. How often should I meet with my mentor, and how long should these meetings be?
The demands of the mentee and the mentor's availability will determine the frequency and length of sessions. Meetings typically last an hour or two and take place once a month or bimonthly.
5. What is the typical duration of a mentoring relationship?
Depending on the needs of the mentee and the mentor's availability, the length of a mentoring relationship might vary greatly. While some mentoring relationships are long-term and last for several years, others may just last a few months.
6. How do I ensure that my mentoring relationship is productive and beneficial for both parties?
It's critical to create clear goals and expectations at the outset of a mentoring relationship, communicate clearly and honestly throughout, and frequently assess progress and results to ensure that the connection is fruitful and advantageous for both parties.
7. How can I measure the success of my mentoring relationship?
A mentoring relationship can be seen as successful if certain objectives are met, new skills or knowledge are acquired, a professional network is formed, and personal growth or development occurs.
8. How do I handle difficult situations or conflicts that may arise during a mentoring relationship?
Throughout a mentoring relationship, it's crucial to communicate openly and honestly, actively listen to one another, seek the help of a third-party mediator if necessary, and work together to find a solution that will benefit both parties.
9. What are some strategies for effective communication between a mentor and mentee?
Active listening, open-ended questioning, constructive criticism, and maintaining a cheerful and encouraging tone are all effective communication techniques between a mentor and a mentee.
10. What are some ethical considerations for mentors and mentees to keep in mind during a mentoring relationship?
Maintaining confidentiality, preventing conflicts of interest, respecting boundaries, and ensuring that the mentoring relationship is mutually beneficial and consensual are all ethical considerations for mentors and mentees.
Effective Mentoring Activities Reap Rewards
There are a number of concepts out there for effective mentoring programs, each different from the next. When choosing which mentoring activities are most suitable, you should take into account your work environment and the objectives and dynamics of the mentor and mentee relationship.
These activities have three aims for both mentor and mentee: to learn, to interact, and to communicate. Both individuals need to be actively engaged with each other and look for opportunities to openly talk about different topics related to business. And in doing so, they will set a solid foundation for a successful and professional relationship.
Mentoring doesn't need to be a boring routine where it feels like it's just meeting after meeting. Bring some fun into the experience and create a dynamic where mentors and mentees can work on developing trust and building a rewarding relationship.
When you need to schedule your next mentoring meeting, why not look at using some of the suggestions discussed here to help you further develop your mentoring relationship and create an effective mentoring program?
If you enjoyed reading this article about mentoring activities, you should read these as well: