Automation helps move things along, no matter what business you are a part of. But what business processes can automation help with? Are there some tasks that are better automated, or vice versa? What are some business automation examples that can be implemented in any business today? Here are a couple to start with.
Employee Onboarding
The hiring process is a long and arduous task, requiring lots of resources. It includes writing forms, scheduling training sessions, assigning mentors, collecting documents, and scheduling meetings—all of which take valuable time. Instead, you could use an HRMS.
"HRMS" stands for "Human Resources Management System," and it could be essential when hiring a large team. It can reduce costs and redundant tasks involved with hiring personnel, as well as many other HR-related tasks. In this case, robotic process automation makes a tremendous difference in what you spend your time doing.
Automate Your Internal Communication
This may sound confusing; how can you automate the process of talking with someone? Although you cannot automate all manual processes, such as meeting with employees, you can streamline and clarify the procedure.
Here are some communication-based business automation examples, all of which happen nearly daily.
Automate team reminders to prep for meetings
Sync data with meeting slides
Automatically follow up on tasks after set intervals
Collect daily feedback on wins and blockers
Share onboarding materials with new hires
Report dashboards
Automate self-reviews and performance tracking
Many are familiar with using Gmail, which is already an example of a communication business process automation tool. If you're already using one, why not try a second with separate uses?
File Transfers
Though many may miss it, the days of moving paper files in between cabinets and departments are over. Today, digital transformation has replaced physical files, and almost everyone knows how to save a file. The problem lies in transferring those files; whether it takes five minutes or an hour, it's always longer than you expect.
Using business process automation software, companies can easily and quickly send files to employees, customers, or even stakeholders. Using an Automated File Transfer Protocol (FTP) or SSH File Transfer Protocol (SFTP) software, you can move your files to a group of servers. From there, you can easily download the files without needing to ask permission from a colleague or boss. Easy!
Immediately Respond to Customer Service Requests
Customer service can often be what makes or breaks company–client relations, and often is the cornerstone of customer satisfaction. This means that responding quickly and effectively are important element of any business. Can automation help?
Yes! Here are some business automation examples for customer service:
Ticket Assignment
No matter what your customers use to contact you, tickets can help keep track of who's who. It can also help save time to sort through messages, emails, and chats to answer high-priority questions.
Relevant software: Zendesk, Help Scout, Freshdesk, ServiceNow.
Chatbots
Chatbots have recently seen a wave of popularity in customer support, which also came with a little bit of backlash.
At times, chatbots have gotten a bad reputation for robotic interactions. But a well-made chatbot can provide great service while reducing human error, and they are very easy to implement.
Relevant software: Intercom, Drift, Tidio, Chatra, Sleekflow.io.
Create Quotes Quickly and Send Automated Follow-ups
Quoting a project can take hours and often results in very little added revenue. On the other hand, quoting software can create quotes in seconds and automate the business process of following up.
Using quoting software can help in many ways, by things such as:
Saving time when generating new sales opportunities
Automating sales follow-ups to increase your closing rates
Tailoring quotes to prospects' needs and wants with a few clicks of the mouse
Assign Inbound Leads to a Sales Representative
Often people skip the vital "Contact Us" form, instead opting for an immediate phone call. While phone calls are great for starting relationships with potential clients, it can often lead to disappointing missed opportunities when you hang up.
Without a proper follow-up plan in place, potential clients can slip through your fingers.
Using an automated process, you can create an internal form for when people call. There you can enter contact information as well as any other relevant information and send it to a sales representative.
Using this form lets your sales team know about new leads, which then lets them continue to build the relationship you started earlier. No more missed opportunities from hung-up phones.
Upload Contact Data to a CRM for a Centralized Database
Sometimes information can be lost at the seams. Everyone has had notebooks with quickly scribbled information that will never be found, and nobody wants their spreadsheets to end the same way. Whether it's the date or time of the last call or contact information, no one wants to decipher a spreadsheet. If you have this problem, you may need customer database automation software.
To automate customer information, try using Customer Relationship Management (CRM) software as a centralized database. Using this, you can sync data between apps to keep all the data simple and readable. This not only lowers the amount of manual data entry from your team but also improves your relationships with customers and contacts.
Email Automation
Many employees spend half of their workday dealing with emails, which are often completely irrelevant to their responsibilities. By having their emails automatically routed and sorted, they can respond to relevant emails quickly and efficiently.
Here are some of the benefits:
Save time by creating email campaigns quickly
Send personalized emails that will resonate with your customers and prospects
Save hours per day by not having to send emails or text messages manually
Small businesses can also use these marketing automation tools to make personalized emails to follow up on interest. No need to spend time researching what customers want; automation can do that for you, and much better than manual processes can.
Relevant software: Active Campaign, Drip, MailChimp, Omnisend, ConvertKit.
Use Online Scheduling Software
If you own a service-based small business, automation is key. As an example, automating the scheduling process can help save countless hours making and managing schedules. What would be wasted time can now be used for better purposes, such as training employees or helping clients.
Using automation software, clients can schedule an appointment that both works for you and them. Then, they will receive a confirmation email, followed by reminders prior to the appointment. If the client cancels, no need to worry. The software will notify you so you can reschedule or follow up on the interest.
Your success story starts with a scheduling app to streamline your calendar
Staying organized has never been easier.
You can now manage your business and grow your brand with a single, powerful software that keeps all of your appointments in line, your clients organized and your business booming.
Trafft is perfect for business owners who need to streamline their booking experience both for their staff and their clients.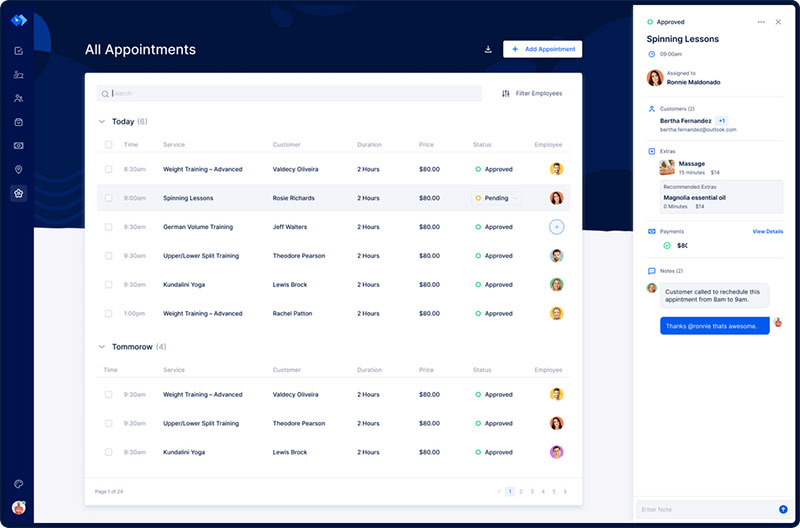 Trafft handles everything for you, even sending automated email or SMS reminders to your clients. No-shows? Not anymore!
The Trafft booking software adapts to different industries for a blissful online booking experience and employee management.
Want to know more? Check out Trafft's awesome features to see what you are missing.
Gauge Client Satisfaction
Whether your clients are happy or not, knowing what they think is half the battle.
Using a satisfaction survey can help give you the information you need to refine your business. Is the client happy with your business? Find out why, and try to replicate that success. Can the client be happier? Figure out why so you can try something different next time.
If you use automation, you can email surveys to clients who made purchases recently. It can be as simple as one "Were you satisfied with your purchase?" question, to a more in-depth multiple choice question. It's your decision.
Meetings
Managing calendars and meetings can be a stressful as well as time-consuming process. Why not eliminate it all together? Automation can help organize details for events while editing calendars and creating meetings.
Not only that, Automation can even manage logistics before and after the event, further simplifying the process. Wondering about pricing logistics? Automation has it ready. Do you want to compare revenue to previous events? Automation can send you the chart. What would have been mostly added work is now already prepared.
Social Media Management
Usually, social media automation means automating what content you post and when, but the options go way past that. Here are a couple of examples:
Social listening refers to monitoring social media platforms and notifying you when someone mentions your brand. It's especially useful if you're on several social media sites and want a unified tool to listen to every channel.
All major social networks allow paid advertising. You can reach a targeted audience in a space where they already spend time.
Using automation, you can integrate your social media information to other processes. This can range from automatically putting leads on your CRM, to keeping track of how many retweets you get per post.
Relevant software: Sprout Social, Hootsuite, MeetEdgar, Buffer.
Report Generation and Distribution
If reports and spreadsheets are your bread and butter, then automating report distribution and generation is for you. Using software for this, you can distribute report data daily or weekly, and then you can use that information however you want.
This software also can create automatic reports at specific times, such as the end of the week or quarter. You can also select specific events that can trigger a report, such as a product shortage or a manufacturing backlog.
Utilize Form Automation
Using sign-up forms on your website lets possible customers subscribe to your company, especially with email blasts or coupon giveaways. Automation can help you access this information on your CRM or marketing lists. You can even use the information they gave to send welcome emails or to send initial discounts.
These automated forms can help…
Improve response times on any new leads that come in from these forms because the process is automated,
Send personalized email messages or text messages based on each prospect's interests that they specified on the form,
And make your small business more efficient by reducing the manual entry of these leads into your CRM, which makes the process completely automated!
FAQs about business automation examples
1. What are some examples of business processes that can be automated?
Data input, customer service, inventory management, and accounting are a few of the corporate activities that can be automated. Businesses may decrease errors, improve productivity, and free up staff to concentrate on higher-value work by automating these procedures.
2. How does automation technology help businesses reduce costs and increase efficiency?
Automation technology streamlines processes eliminates manual chores, and lowers the possibility of error to help organizations cut costs and boost productivity. Also, it can help organizations scale their operations more swiftly and adapt to changing market conditions more quickly.
3. What are some examples of companies that have successfully implemented business automation?
Amazon, which employs robotics and automated systems in its warehouses, and Tesla, which uses automation technologies in its manufacturing operations, are two businesses that have effectively embraced business automation. Automation is being used by numerous different businesses in a variety of industries to enhance their operations.
4. How can automation improve customer experience and satisfaction?
Automation may increase customer satisfaction and experience by delivering quicker, more accurate service, decreasing wait times, and making it simpler for customers to obtain information and execute transactions. For instance, automated order processing can guarantee that orders are filled swiftly and accurately, while chatbots can offer 24/7 customer service.
5. What types of tasks can be automated in a typical office environment?
In a typical office setting, tasks like data entry, document management, scheduling, and email management can all be automated. Employees can concentrate on more innovative and strategic work while simultaneously lowering the possibility of errors and increasing overall productivity by automating certain processes.
6. What are some of the most popular automation tools used in business today?
Workflow automation, robotic process automation (RPA), and customer relationship management (CRM) software are some of the most widely utilized automation solutions in business today. These tools assist companies in automating a variety of tasks, including data entry, document management, sales, and customer service.
7. What are the benefits of automating routine tasks in a business?
In a firm, automating repetitive processes can raise productivity, improve accuracy, cut expenses, and boost employee happiness. Businesses can also free up personnel to concentrate on higher-value jobs and more creative work by automating regular operations.
8. How can automation help businesses stay competitive in their industry?
By enabling businesses to run more effectively, react quicker to shifting market conditions, and offer better customer service, automation can help companies stay competitive in their industry. Businesses can free up resources to spend in innovation and the creation of new products by automating regular operations.
9. What is the role of artificial intelligence in business automation?
Business automation is greatly aided by artificial intelligence (AI), which gives machines the ability to learn and adapt to new circumstances as well as offer insights and suggestions to organizations to aid in decision-making. Automation technologies driven by AI can help firms increase productivity, cut expenses, and offer better customer service.
10. What are some of the challenges businesses face when implementing automation technology?
Employer reluctance, worries about job loss, and the need to connect automation technologies with current systems and processes are a few of the difficulties firms have when deploying automation technology. To guarantee that staff can properly use and manage automation systems, businesses may also need to invest in training and support.
Will You Implement These Business Automation Examples?
Automation streamlines your business and increases efficiency, even more so if you're a small business. Automation helps businesses scale without hiring more people, greatly improving how competitive your business can be. Also, automation tools can let you more effectively track ROI, as well as use data for future products.
If you still haven't implemented at least some of these business automation examples, give them a try. Not only will it help save time, but it can also improve your business for the future. You will be glad when you don't have to do all those tedious tasks!
If you enjoyed reading this article about Business Automation Examples, you should read these as well: