As a beauty professional, deciding whether to rent a booth or work for commission can be tricky. There are lots of things to consider when running a salon or spa business.
Before deciding, it is crucial to know the factors that will impact the business setup.
Answer these questions:
Is building a personal brand the priority?
Is working on a team more important than working individually?
This article is full of tips and best practices to help choose the right salon booth rental.
Business owners should know the pros and cons of salon booth rental. Before deciding, consider several factors that can contribute to a successful outcome.
Read on and find the answers.
The Fact of Being a Salon Booth Renter
Running a business can be tough. There are a lot of responsibilities involved in its smooth running.
A salon booth rental means an individual is taking care of an independent business. Being a businessman, there are responsibilities to take care of:
Creating marketing strategies
Providing the essential tools and supplies for running the business
Taking care of insurance, especially health, liability, disability
Self-contribution of taxes and maintaining own set of books
Establishing the brand
Setting prices for each service or product offered to several clients
To own a salon one must first save enough money for it. It may take time to reach the right amount to invest in a business.
The owner will shoulder all the expenses in the salon. So beforehand, it is crucial to make lists of the essential tools needed for the salon business.
If working on a commission basis, then all the responsibility falls on the business owner. They must pay the taxes, buy the tools and other salon materials.
The salon worker is only responsible for being on time and doing the job required. They can only work during the salon's working hours.
On the other hand, many prefer to rent a chair or booth in a salon to receive more profit. In this case, the renter and the owner will make an agreement.
It is similar to renting an apartment, wherein the landlord and tenant sign a contract. Payment can be weekly or monthly, depending on the agreement.
With this setup, it is possible to work in a salon without someone bossing you around.
Before signing an agreement, read the contract carefully. Read reviews about the salon, and see if their services complement the business needs.
Know what hours the salon operates and whether they allow the renter to sell from their inventory.
The Advantages and Disadvantages of Salon Booth Rental
There are several reasons why so many are opting for salon booth rental. The benefits are too many to mention, but here is an outline of the main advantages.
Salon Booth Rental Advantages
The startup costs are less than opening own salon
Get away from the salon dramas
Be the owner of the business, instead of getting bossed around
Manage own rates, fees, and services offered
Flexible schedule, able to work according to own preference
One of the perks of salon booth rental is that it offers freedom and flexibility. It is also possible to make a schedule according to the owner's preferences.
The only thing to make sure of is to pay the rent on time. This will help to prevent any problems.
The business owner can decide the schedule and set a daily profit goal. They are working for themselves, so they can be flexible with the minimum target.
However, it is not always rainbows and butterflies with salon booth rental. There are some challenges too.
Some renters feel that the salon owner treats them like employees. In other salons, they have the model intended for employees and booth renters.
Always ensure that the setup is legal in the local state. Remember that booth renters are also known as independent contractors.
At the end of the year, the renters need to issue 1099 misc to the salon owner. Unlike employees, renters should pay taxes and have business write-offs.
The salon owner should not require the renter to attend any activities related to their business, since their work differs.
So these are the positive sides of salon booth rental. But there are some downsides to consider before setting up the business.
Salon Booth Rental Disadvantages
Some salon owners reject hairdressers with a history of salon booth rental
Sometimes, the salon environment is toxic, and other employees are unprofessional
They won't receive benefits. This is because salon booth renters are entrepreneurs and self-employed individuals
Need to buy own tools and equipment
Salon booth rental fees are increasing every year
Need to work on marketing strategies to earn more clients
Must manage their own books, including filing and paying quarterly income taxes
Pay for own training
Other hairdressers or beauticians can see these salon booth renters as rivals
Lack of job security since the income is unstable and fluctuating
Before signing an agreement, make sure to read all the terms and conditions of the contract. Other contracts do not mention all the regulations, and that's where the problem begins.
Consider some of these questions before making a pact with the salon owner:
What is the length of the contract agreement? Will it last up to 2 years or more?
What are the salon's working hours?
When is the due date of the rental fee? Is it the 1st or 15th of the month?
Is the salon rental fee a flat rate or monthly sales percentage?
Does the rent have other inclusions like laundry service or not?
Is a POS system for individuals needed, or will the salon or spa take your appointments and payments? Take note that Salon Suite doesn't take appointments and payments from renters.
Is it possible to bring personalized product lines? Or is it necessary to use the product lines promoted by the salon?
What types of clientele does the salon have?
Salon Booth Rental Suggestions and Effective Strategies
Always Use A Processing Equipment/Service
As a renter, the collection of fees is different from the overall profit of the salon. 
It would be best to keep the profit private. Use personal software and equipment to compute the overall weekly or monthly profit.
Before setting up salon software, ensure that it doesn't divide the renter business and the salon's business firms.
The Schedule Should Depend On the Majorities' Availability
Be flexible on schedule if needed. But consistency is also important in any business.
Before setting up the working hours, run a survey. Ask certain numbers of people about their less busy hours in a day.
Some clients are available early in the morning. Others can only go to the salon during the late evening.
In some instances, the working hours may differ from most of the clients' schedules. Think about creating a separate schedule for these ones.
Building a business also means sacrificing Friday nights out and other getaways with family or friends. But ensure to have the occasional me-time to avoid burnout.
Hire Experts If Needed
Some salon renters try to resolve everything by themselves. Certain issues are easy to fix, but others will require the help of experts.
For example, issues with laws and taxes require CPAs and lawyers.
It is also crucial to set up online resources and software for the smooth running of the business. 
Renting a chair or space from a salon is like running a personalized business. Over the long term, it is essential to establish loyal clients.
Running a business also needs a bookkeeper or an accountant. This expert will assist in handling finances, and let the owner focus on the most important job.
Take Advantage of Social Media Marketing and Other Strategies
As an entrepreneur, it is necessary to develop strategies to help the business thrive. It is also the owner's responsibility to book appointments and look for several clients.
That's why having social media marketing is crucial. It helps to boost the brand and facilitates social engagement with the target market.
Show off your skills and the services you offer on various social media platforms. When new clients purchase a service, ask for consent to take pictures and post them on social media.
More engagement and posts on social media will boost awareness of the services you offer. The two ideal platforms for boosting brands are Facebook and Instagram.
In some countries, Tiktok has large audiences. If possible, create short videos, and post them on that platform.
Impress Clients By Having A Compelling Online Booking Site
Customize the online booking site according to the business goals and visions. 
Of course, the design should also be in line with the majorities' preferences. For example, some salons use chic, pastel color designs to attract younger clients.
Apart from the design, the page should be easy to navigate. That will allow the customers to view the available schedules, and book immediately.
Get more bookings with the right tool for the job
Staying organized has never been easier.
You can now manage your business and grow your brand with a single, powerful software that keeps all of your appointments in line, your clients organized and your business booming.
Trafft is perfect for business owners who need to streamline their booking experience both for their staff and their clients.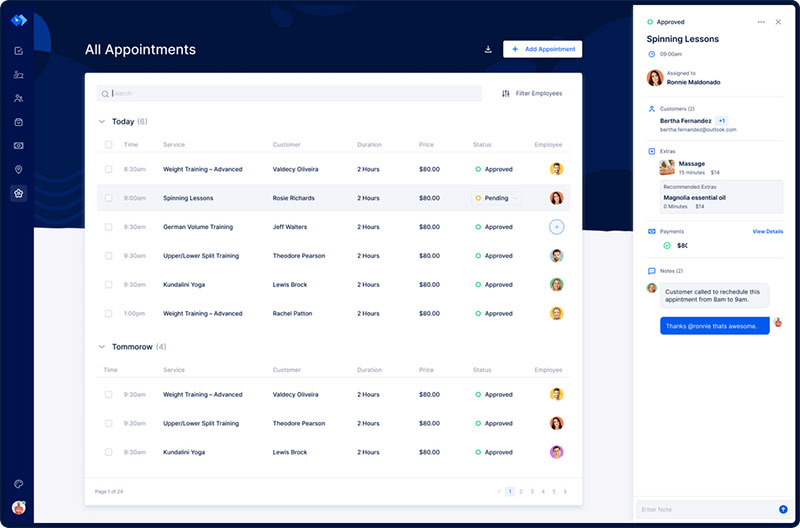 Trafft handles everything for you, even sending automated email or SMS reminders to your clients. No-shows? Not anymore!
The Trafft booking software adapts to different industries for a blissful online booking experience and employee management.
Want to know more? Check out Trafft's awesome features to see what you are missing.
Always Show Respect To The Host Salon
One of the disadvantages of renting a chair in a salon is that the renter needs to act with consideration. Being rude has no room in a salon booth rental area.
Having a peaceful relationship with the owner and staff can help the business to go a long way. If the issue is not something serious, talk it out and try to resolve the issue right away.
But if the disagreement escalates, leaving is the best option. It endangers the business if the environment is toxic.
Have Insurance to Protect the Entrepreneur and The Business
Anything could happen in the future. Being an independent contractor means that there is no one there to help with the business.
So, the entrepreneur needs to work single-handedly. This means taking care of different types of insurance, such as health, disability, and personal liability.
Taxes and other necessary fees should also be on the list to avoid unnecessary debts.
Many business owners use Intuit or Quickbooks to keep track of their finances. These financial software programs keep track of expenses, taxes, and daily incomes.
As an independent contractor, ensure to deduct business-related expenses. That will help to establish and maintain a concise and exact system of bookkeeping.
Plan The Service Prices Carefully
When pricing products or services, there are a few things to consider.
Don't just copy the prices of the majority of salons. They have their own pricing considerations.
Compute the rent fee, the product's price, taxes, and other fees to pay.
When the business is thriving and becoming popular, don't hike the prices immediately. It will turn off repeat customers.
Keep track of the finances by analyzing the income and expenses. If there is a price increase, tell customers before their next visit.
Update Loyal Customers
When planning changes in the salon booth rental, let customers know immediately. For example, if the renter is moving to a new salon, or if they are going to rent a whole salon.
Searching for a new location where more people will notice the salon can be a great move. This is especially so if the business is thriving. 
Put up a notice and offer discounts for loyal customers.
Consider The Number of Clientele
Before renting a chair or a booth in a salon, find out the number of clients that come to the booth every day. As a beginner in the salon business, the salon may only offer a commission-based pay.
So, if the renters only have 1 or 2 clients, it might not be a great idea to rent a booth. It would be best to work mobile at first, then rent a booth if the clients increase.
Paying $150 for rent without the assurance of getting clients is not advisable.
Have A Contract Agreement
When leasing a booth or renting a chair, a clear agreement should take place before occupying space. Ensure to make it written with the signature of both parties.
It will provide protection in the long run. Always read through the entire contract before signing.
Here are the benefits of a written lease agreement:
The rate is consistent. Renters don't have to state the money they receive from servicing in the salon booth.
The lease agreement will state the start and end date of the lease. Other terms and conditions will terminate the contract if one of the parties does not follow through.
Includes the renter's status according to the Internal Revenue Service
Here are the benefits of a rental contract:
The contract will state what the owner expects of the renter
Gives access to several essential areas for hairstyling or doing certain services. This may include restrooms and shampoo stations
Allows the use of an exclusive station inside the salon
Know the Laws and Regulation Regarding Salon Booth Rental
Independent contractors or stylists are not employees. Instead of working on an employer-employee relationship, they work on a tenant-landlord relationship.
Each has different governing law. Before setting up the books, consult with a Certified Public Accountant (CPA). 
It is also crucial to know the local and national laws in terms of salon booth rental.
Know the Additional Costs
Before choosing a salon, clarify what is being provided.
Is the owner providing phones, equipment, or other beauty supplies? Or does the rental fee only cover the space?
Consider other additional fees, such as:
Advertising costs
Personal insurance
Salon supplies
Additional taxes
Referral costs for walk-in customers referred by the salon
Fees for using the salon during non-business hours
Electricity
Water costs
Compare The Salons' Prices
Don't settle for a single salon. Look for other options by asking friends or other stylists.
Find out how much they are paying for rent. The average cost of salon booth rental can start from $250-$1200, depending on the type of booth.
Look for the ideal location that will attract the most customers.
Search For A Salon That Matches The Renter's Values and Principles
Having read the agreement, renters will know if the values match their business goals.
If the salon's way of business differs, it would be best to look for another option. This will help to avoid further problems in the long run.
Compute the Overall Costs
When calculating the finances consider taxes, website and marketing costs, rental fees, and service and product costs.
Choose the Most Ideal Location
Although the business has promising services, it will not thrive if it is not in a central area. Look for a salon that is near to different landmarks. 
Choosing the perfect location can attract more potential customers.
FAQs about salon booth rentals
1. What is salon booth rental?
An individual hairstylist, barber, nail technician, or other beauty specialist rents a private area within a larger salon facility under the business model known as salon booth leasing. These specialists work as independent contractors in rented spaces, serving their clientele and offering their services.
2. How does salon booth rental differ from traditional salon employment?
Hairstylists and other beauty specialists operate as employees of salons in the conventional salon setting. They often get paid regularly, and they might have to follow particular timetables and salon rules. Salon booth renters, on the other hand, run their businesses independently and set their hours, costs, and methods of operation.
3. What are the advantages of salon booth rental?
For beauty professionals who prefer more freedom and control over their operations, renting a salon booth has several benefits. These advantages include the freedom to choose their own working hours, costs, and service choices, as well as the chance to develop and keep their clientele. Also, compared to traditional salon personnel, salon booth renters often have reduced overhead expenses.
4. What are the disadvantages of salon booth rental?
Beauty professionals may only have restricted access to certain salon services, such as front desk staff, marketing assistance, and other tools that are generally provided to employees, which is a drawback of salon booth rentals. Also, compared to typical employees, salon booth renters could have less job security and benefits.
5. How much does it cost to rent a salon booth?
Depending on the salon's location, size, amenities, and demand for space, the cost of renting a booth might vary significantly. On average, salon booth leasing prices range from several hundred to several thousand dollars each month. Getting there isn't as hard as it looks. Getting there isn't as easy as it looks. Getting there isn't.
6. What is included in the rental fee for a salon booth?
A private workspace, like a styling station or nail table, as well as access to communal salon amenities, such as waiting spaces, restrooms, and break rooms, are frequently included in the leasing cost of a salon booth. Utility services including power, water, and Wi-Fi may be included in the rental cost at some salons.
7. How long are the rental agreements for salon booths?
The length of salon booth leases might vary based on the demands of the renter and the salon. Some require longer-term commitments, like six months or a year, while some salons provide short-term leasing choices, such as daily or weekly rents. Before signing, renters should thoroughly read the conditions of the rental agreement.
8. What are the requirements for renting a salon booth?
Depending on the salon and the renter's location, different conditions may apply to renting a salon booth. Normally, renters are required to have liability insurance as well as a current cosmetology or barbering license. They could also need to submit a background check, offer references, or show documentation of prior employment.
9. Can I bring my equipment and supplies when renting a salon booth?
Indeed, the majority of salon booth rentals permit beauty experts to bring their own tools, supplies, and equipment to utilize in their rented space. Renters can personalize their workspace and utilize the equipment they choose to perform their services thanks to this.
10. Is it common for salon booth renters to have their clients or do they rely on walk-ins from the salon's existing clientele?
Although this can vary depending on the salon and the renter's business strategy, salon booth renters often rely on their clients rather than walk-ins from the salon's existing clientele. To cross-promote services and draw in new customers, renters may also work with other beauty specialists in the salon.