Walking dogs sounds like a job for teenagers. But did you know you can make good money with it, enough for a successful business? Because it is a competitive business, you need to find the sweet spot for your prices. You need to pay bills and you need to keep your clients happy.
Setting the right price levels will determine your success or failure, but that isn 't all. It also determines whether you will convert potential customers into loyal ones.
How much to charge for dog walking rates is the key question this article answers. You will learn about key factors you'll need to consider when determining the right price.
How Much Do Dog Walkers Make?
Depending on the area, prices for dog walking are somewhere between 10 and 60 USD. The average cost for a dog walker is $15-$25. If the client lets their dog walk with others, the price will go down to $5-$10.
The HomeGuide website quotes the following average rates for dog walkers in the United States. They distinguish between low, medium, and high-end dog walkers.
Lower-end dog walking services: Around $10 for a 30-minute walk
Mid-range dog walking services: Around $20 for a 30-minute walk
Higher-end dog walking services: $35 or more for a 30-minute walk
Most dog walkers only offer dog walking services. Other dog walkers offer additional services. These include pet sitting, house sitting, grooming, and boarding.
Some dog walkers charge the same amount whether the client has one or more dogs. Others charge an extra cost for every extra dog.
Every dog owner has specific needs. Customers with disabilities may make more frequent use of the dog walking service. Clients with demanding jobs may want a dog walker on call when they are running late or when they need to leave town. Besides the needs of the dog owners, there are the needs and temperaments of the pets. Thus, dog walking services come in different shapes and sizes as well.
Dog Walking Price List
Here is a sample with average prices for a dog-walking business based on time and frequency:
30 Minute walk: $20-$30
1 Hour walk: $30-$60
Per walk: $10-$35
Per month: $280-$360
Do Dog Walkers Make a Lot of Money?
Let's consider an example to illustrate how much the average dog walker makes. Think of a dog walker that charges $20 per hour per dog. If he walks individual dogs for 30 minutes, he can walk 16 dogs in a day. If he walks dogs five days a week, he can make $83,200 a year.
This figure only includes dog walking services. If you own a dog walking business, you will collect part of the fees your employees get. That could be an extra $15,000 to $17,000 per year per employee.
Dog Walking Packages and Extra Pet Care Services
Rewarding loyalty is a great way to build a base of repeat customers. You can offer discounts for clients that come back regularly. The owners will get a lower cost per walk than if they pay for each walk separately.
Package deals could include things besides dog walks. You could include services such as grooming, boarding, and pet sitting. These kinds of deals are appealing for people that go out of town or work long hours.
Dog Walking Cost Factors
If you offer basic services, you will get average payments. But there are things you can add to services to increase their value. For example, more experienced walkers can charge more money. You can even specialize in specific dog breeds. If you can offer insurance, you will again be able to ask for higher dog walking rates.
Number of Dogs
Walking over one dog per session has its challenges. You need to handle two or more dogs. So, if a client wants you to walk over one dog, charge more money.
That does not mean that you should ask for the same price for each additional dog. You could have an additional fee of $2 or $4 per dog, or you could add 50% per dog.
Another option is to walk several dogs from different clients at the same time. You need the owners' consent for that. The upside for them is that it will save them money. You could then take $5 or $10 per dog off the price for individual walks.
Many dog walkers have a vehicle to pick up dogs in small groups. That gives dogs time to get to know each other and the walker can schedule more clients at a time. If clients don't agree with that arrangement, they will have to pay full price.
Walk Length
Many dog walkers offer different options. These range from quick 15-minute potty breaks to walks of two hours or longer. Of course, the longer the walk, the higher the cost.
Larger dog walking companies can match the dog's personality with a specific walker.
Besides the length of the walk, you can consider other factors when determining price levels. You could set different rates according to the time of day or if the dog needs more than one walk per day. You can set a higher tariff for weekend services.
On average, a walk of 15 to 30 minutes costs somewhere between $15 and $25. A walk of 45 to 60 minutes costs between $30 and $40 on average. A larger dog usually requires longer walks of at least 30 minutes.
Number of Walks
Customers that have large active dogs or that will be away from home should consider more than one walk a day. You can offer these customers a package deal or charge more for additional walks. You could consider adding services to dog walking.
Walk times and frequencies depend on the size of the dogs, their breed, and their age. Labradors, Springer Spaniels, and Retrievers should walk two hours a day. A Bassett or an English Bulldog doesn't need that much exercise.
Your Location
The cost of living differs by location. That means you need to adjust your dog walker fees according to where you live. Smaller cities often have a lower cost of living and dog walkers in those places should charge less. Dog walkers in large cities will have higher fees on average.
Another factor to consider is travel costs. If you need to travel long distances to get to your clients, you can justify charging more money. You can also charge more if the dog owners ask you to walk the dogs in specific faraway parks or recreation areas.
Experience
You can ask for more money if you have:
Experience
First aid certifications
Many positive referrals
Special qualifications
Many dog owners see their pets as a part of their family. They will pay extra to make sure they get the best care possible.
If you don't have extensive experience yet, focus on giving the best service you can. Good communication is an essential part of that. You can also offer special services, like boarding. That will make you stand out from the competition.
Get more bookings with the right tool for the job
Staying organized has never been easier.
You can now manage your business and grow your brand with a single, powerful software that keeps all of your appointments in line, your clients organized and your business booming.
Trafft is the perfect cleaning business software for business owners who need to streamline their booking experience both for their staff and their clients.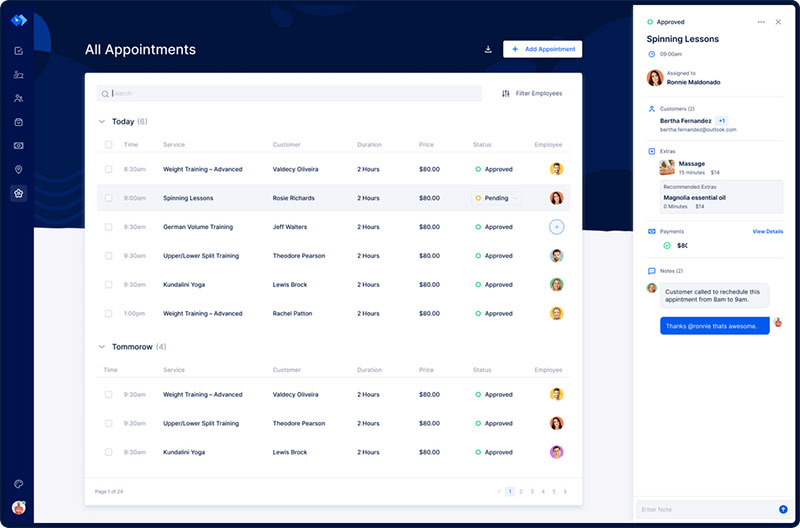 Trafft handles everything for you, even sending automated email or SMS reminders to your clients. No-shows? Not anymore!
The Trafft booking software adapts to different industries for a blissful online booking experience and employee management.
Want to know more? Check out Trafft's awesome features to see what you are missing.
Add-Ons
Add-ons are additional services that you offer besides basic dog walking services. They allow you to ask for a higher fee. Many senior and disabled dog owners appreciate these types of add-ons. People with demanding jobs or don't have time to care for their pets look for dog walkers that offer more services. They want to make sure that their beloved animals receive the best care.
People that don't have time or physical abilities are often willing to pay more. They want to ensure that their dogs are healthy and happy. The more add-ons they request, the higher the price will be.
Related Expenses
Dog walking is a low-cost startup business. Still, there are some costs involved. These include transportation, gas, maintenance, income tax, and insurance. The money you receive for a dog walk doesn't go straight into your pocket. Remember to count your expenses when deciding how much to charge.
Holiday Fees
Holidays are another factor to consider when determining how much to charge for dog walking. Asking for higher fees during major holidays is reasonable. There is often a higher demand during these periods, so it's logical that prices increase.
During Christmas and similar holidays, you can ask for $5 to $10 more per walk.
Behavior Adjustment and Training Fees
You could offer additional behavioral training at add-on rates of $10 per 20-minute walk. The total cost for the client depends on how much training a dog needs. Here, you need to have professional experience with training dogs.
You can teach clients how to deal with off-leash dogs or what to do when their dog is attacked.
How to Make Your Business More Profitable
Be patient when you want to start a dog-walking business. Building a loyal client base takes time and effort. The following suggestions come from successful dog walkers.
Get certifications as a dog trainer.
Offer extra services. These include feeding and watering, specific exercises, and strength and agility training.
Offer overnight services and pet boarding.
Have running programs for dogs with high energy levels. In large cities, walkers can charge $30 for a 30-minute run. Many dog walkers can charge up to $200 for five 45-minute runs per week.
Teach additional dog training and puppy educational classes. You can teach these classes online or in person.
FAQs about how much to charge for dog walking
1. What is the average hourly rate for a dog walker?
The typical hourly wage for a dog walker varies depending on the area and amount of experience. The average hourly wage in the United States is roughly $20 to $30, but this can vary from $15 to $50 depending on the location and other factors. Dog walkers with more certificates and experience may be able to charge more.
2. How much should I charge for a 30-minute dog walk?
In general, you can charge around half of your hourly rate for a 30-minute walk. Nevertheless, the amount you should charge will rely on the same parameters as the hourly rate. In this case, if your hourly rate is $20, your 30-minute walk might cost $10.
3. Should I charge more for larger dogs or multiple dogs?
In the sector, it's normal practice to charge more for larger dogs or more dogs. This is because managing many dogs can be more challenging and larger dogs may take more physical effort to walk. It's crucial to be open and honest with customers about your price structure so they can comprehend the justification for any extra fees.
4. What is the difference in cost between group walks and solo walks?
Typically, you can bill for a 30-minute stroll at around half of your hourly rate. Yet, the price you should charge will be determined by the same factors as the hourly rate. In this scenario, your 30-minute walk might cost $10 if your hourly rate is $20.
5. How do I factor in transportation costs when setting my rates?
Depending on how far you have to go to get to your client's house or whether you have to drive the dogs somewhere specific, transportation charges can change. In order to avoid losing money on shipping costs, it's crucial to take these costs into account when calculating your rates.
6. Do I charge more for weekend or holiday walks?
In the dog walking business, it's customary to charge more for walks on the weekends or during holidays. At these times, there is a high demand for dog walking services, and as it might be harder to find someone available, dog walkers frequently charge more for their time.
7. Should I charge more for additional services like feeding or administering medication?
Fees for additional services like feeding or medicine administration may be added to your base rate. The precise service and the time required to accomplish it will determine the additional fee. It's critical to be open and honest with your clients about any additional fees so they are aware of the whole cost of your services.
8. How do I factor in my experience and certifications when setting my rates?
While determining your charges, experience, and credentials may be important factors. Dog walkers with greater training, such as in pet first aid or behavior modification, may charge more for their services. When promoting your services to potential clients, be sure to draw attention to any unique talents or expertise you may have.
9. How much do dog walkers in my area typically charge?
It's crucial to find out what other dog walkers in your region are charging since dog walking charges vary by location. To find out what the going fee is in your region, visit online markets like Rover or Wag or ask around in neighborhood pet owner organizations.
10. How do I determine if my rates are competitive with other dog walkers in my area?
You'll need to conduct some research to find out if your fees are reasonable compared to those of other dog walkers in your neighborhood.
Look for any differences in services or experience level that can justify a higher or lower fee by comparing your prices to those of other businesses in the region.
In order to ensure that your customers feel like they are receiving a fair value for the amount they are paying, you should also solicit feedback from them.
Conclusions on How Much to Charge for Dog Walking
How much to charge for dog walking depends on many factors, including:
Your background and experience
How much the competition is charging
The extra expenses you incur
The length and frequency of the walk
Where you live
Consider all these factors to determine how much to charge for dog walking services. Don't forget to evaluate your prices from time to time.
This works better as an introduction instead of a conclusion. It introduces the premise in the following example.
If you enjoyed reading this article about how much to charge for dog walking, you should read these as well: