Every picture has a focus. More often than not, that focus is on a person. Even photographers who take pictures of nature at times need a model.
Some photographers need models for a specific job, while others want to build up their portfolios. Where can these photographers get models without much hassle and a lot of money?
Many people want to be models. Nowadays, almost everyone is, in a sense, a model as they all post pictures of themselves on social media.
So how can a photographer tap into the rich supply of "wannabe" models to photograph them? Here is a guide on how to find models for photography.
How to Find Models for Photography
There are several ways to find models. They include:
Using friends and family
Recruiting in the street
Using fashion agencies
Searching for aspiring actors and dancers
Looking at model websites
Taking advantage of social media
Photograph Friends and Family
The easiest place to search for models is within one's own circle of family and friends. Calling on friends to model for you is a fun and comfortable way to increase your skills.
Benefits of using friends and family include:
Practice taking photos in a comfortable environment
Learn how to direct a subject
Build up your portfolio, so later you can reach out to more professional models
Most likely, a photographer's friends and family will be amateur models. But this provides a great opportunity for a photographer to practice taking pictures of people.
They can learn the poses that work best with models. They can also improve their skills at directing a model to change poses and angles.
After taking several pictures, they will be able to build up their portfolio. They will also be more prepared to work with professionals.
Overall, working with friends and family is an excellent springboard to launch into a model photography career. It allows photographers to improve their skills in a comfortable environment.
Ask for Recommendations
Go beyond photographing friends and family, and ask if they know anyone who might want to model for you. This is a great way to grow a network.
A lot of models come from the recommendation of a friend. Ask friends if they know anybody who is currently a model or someone who wants to be a model. Or ask if they know anyone who might be interested in your project. You never know who someone will recommend.
Also, models are more likely to agree to do a project if your friend vouches for you. So ask your friends for a recommendation and an introduction.
Scout for Models in the Street
Another way to find models is to recruit someone from the neighborhood. This is an easy method for outgoing people to find models for photography. Shy people may have to work up some courage to find a model with this method.
Finding models this way can be borderline creepy, so there are some necessary steps to assure them that you are legitimate. Have business cards in hand. Business cards will show that you are a legitimate business. Make sure they have your contact information.
If you spot individuals around town that you would like to photograph, politely approach them and ask them if they are interested. Leave your business card with them. Ask for their contact information without being pushy.
If they are nervous, set up a photoshoot somewhere outside and in public so that they feel more comfortable. After building a rapport, they will probably be willing to do more photoshoots.
Use a Fashion or Modeling Agency
There are fashion and modeling agencies in almost every large city and some small cities. They usually have newer models that do not have extensive modeling experience. If a photographer with a small budget needs a model, these newer models are the way to go.
Find out what fashion and model agencies are nearby. Contact them about your photoshoot. They will send a selection of models you can choose from.
There are pros and cons to using a modeling agency. The benefits include that the models are more accountable and reliable. So you are assured that there will be minimal last-minute cancellations.
However, newer models have less experience in the modeling world. So a photographer will have to step up and provide sound direction.
Most agency models are limited to fashion and beauty photography. So if photographers need a model for nude photography, they will not find it at a modeling agency.
Another inconvenience is that an agency will be more engaged in the process than with other channels. It is more involved in the hiring process and the rates. They also expect a cut from every job the model does.
So while an agency provides a better selection of models, it is a business that will be more involved than an individually represented person. Each photographer will have to consider whether going the model agency route is worthwhile.
Search for Aspiring Actors and Dancers
There is a plethora of aspiring actors and dancers. The best part about aspiring actors is that they usually need the money and will model cheaply. Also, they may need headshots for their own portfolio and more experience. So modeling is just as beneficial to them as it is to the photographer.
Another benefit of using aspiring actors is that they are not very shy. They are more comfortable with the camera and can be very expressive. Also, it is easy to find them.
If there is a local theater, look at the website for upcoming events and participating actors. Find out if there are any acting schools or classes in the area.
As for dancers, look for a local dance company. Reach out to the instructors there. Often, the dancers will have a headshot on the dance company website. That makes it easy to see if anyone is a match for your project.
Finding models from aspiring actors and dancers is a mutually beneficial alliance. You can offer them free headshots in exchange for a photoshoot. They are also a good addition to your network.
Get more bookings with the right tool for the job
Staying organized has never been easier.
You can now manage your business and grow your brand with a single, powerful software that keeps all of your appointments in line, your clients organized and your business booming.
Trafft is perfect for business owners who need to streamline their booking experience both for their staff and their clients.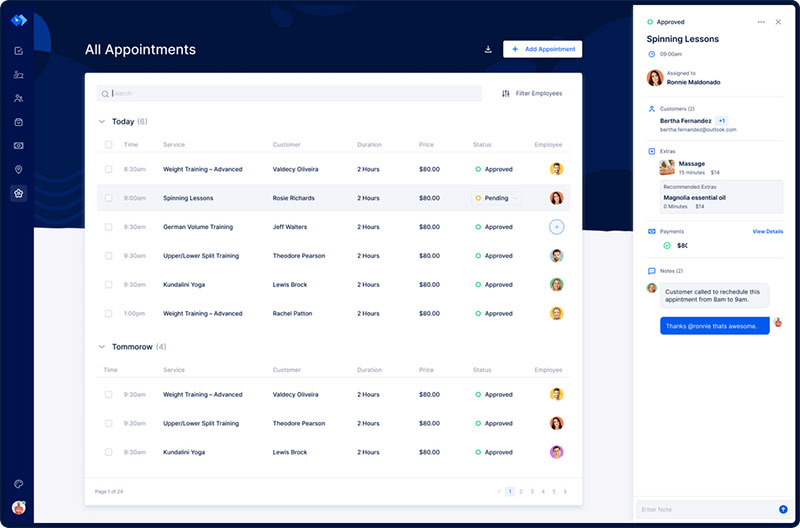 Trafft handles everything for you, even sending automated email or SMS reminders to your clients. No-shows? Not anymore!
The Trafft booking software adapts to different industries for a blissful online booking experience and employee management.
Want to know more? Check out Trafft's awesome features to see what you are missing.
Modeling Websites
Another way to find models to photograph is on a model website. Photographers can find models looking to expand their experience. Connecting with newer models gives the model an opportunity to gain experience. It also provides the photographer with a cheaper way to take photos. That makes it a win-win situation.
For this method, there are two recommended options. First, put out a casting call. Second, browse through the website. Use the filters to find a model that conforms to specific parameters.
If you put out a casting call, make sure to include the following:
The compensation
The look you want
If you offer wardrobe, hair, makeup, etc.
If you require or expect something specific
Mood-board
The second method of browsing through the website is more time-consuming. But it might allow you to find the perfect model for your project.
Keep in mind that the models will want to see your portfolio before working with you. Always have your portfolio in hand so that the models can see how you shoot and your style of photography.
Social Media
Another step in how to find models for photography includes taking advantage of social media. Models are active on social media.
They share a lot of pictures of what they have done. They also network to find more work. Use the following platforms to find models.
Instagram
Models post a lot of their work on Instagram. This makes it easy to see how much experience they have and if they would be right for a project.
On Instagram search for tags like:
#model
#modeling
#photoshoot
#photography
#photographer
#studiophotography
#portraitphotography
Those tags will help identify different models. Then you can reach out to them and ask if they are available for a project.
Be polite. Send a link to your website and explain what kind of photoshoot you would like. They might not be interested, but it does not hurt to ask.
Facebook Groups
Photographers and models network with Facebook groups. Almost anyone is allowed to join these groups. Look for one that is local.
If a group is rather large, it might be hard to find a model to work for a specific project. But do not dismiss this idea. Several photographers have found the perfect model via a Facebook group.
Search for "models in (your area)" and see what comes up. Often a photography group will appear and will have some great ideas on how to find models.
How to Find Models for Photography Suitable for a Project
This guide has mentioned several ways for a photographer to find models without much hassle and a big budget. Unfortunately, when photographers do not have a big budget, they usually have to work with inexperienced models.
This is not a huge problem and actually affords a photographer the opportunity to improve their directing skills. However, since the models are inexperienced, how can a photographer ensure they are suitable for a project?
Here are a few suggestions:
Before hiring the model, go through their portfolio. See what kind of style they have. If it does not match the style of the photographer, they could struggle to produce good results.
Meet up before the photoshoot to get to know the models and their vibe. A meeting will also help the model build trust in the photographer.
Make sure you get the model to sign a release for the photos.
FAQs about finding models for photography
1. What are the most popular camera models used by professional photographers?
Professional photographers most frequently utilize the Canon EOS-1DX Mark III, Nikon D6, and Sony a9 II. Fast autofocus, a high frame rate, and superb low-light performance are all hallmarks of these cameras.
2. Which camera brand is better for portrait photography, Canon or Nikon?
Excellent camera models are available for portrait photography from both Canon and Nikon. Two of the most popular models in this group are the EOS R5 from Canon and the Z7 II from Nikon.
Both devices have high-resolution sensors and cutting-edge autofocus technologies, which make them perfect for taking detailed, focused portraits.
3. What are the most important features to look for when buying a camera for landscape photography?
The most crucial characteristics to look for when purchasing a camera for landscape photography are a high-resolution sensor, a wide dynamic range, and outstanding low-light performance.
The Sony a7R IV, Nikon Z7, and Canon EOS R5 are a few models that are well-liked for taking landscape photos.
4. How many megapixels do I need in a camera to take high-quality photographs?
Depending on the type of photography you intend to do, a camera needs a certain number of megapixels. A camera with 20–30 megapixels is more than enough for most sorts of photography. But, you might want a camera with 40 or more megapixels if you intend to produce large format prints.
5. What is the best lens for wildlife photography?
The type of wildlife you intend to photograph will determine the appropriate lens for the job. Usually, a telephoto lens with a 400mm or longer focal length is needed.
The Canon EF 100-400mm f/4.5-5.6L IS II USM and the Nikon AF-S NIKKOR 200-500mm f/5.6E ED VR are two well-liked lenses for wildlife photography.
6. Can I use a mirrorless camera for sports photography?
Absolutely, mirrorless cameras are excellent for capturing sports. Fast focusing, high frame rates, and silent shooting modes are also available.
For sports photography, notable mirrorless camera models include the Sony a9 II, Canon EOS R5, and Nikon Z7 II.
7. What is the difference between a full-frame and a crop sensor camera?
The size of the sensor is the primary distinction between cameras with full-frame and crop sensors.
Crop sensor cameras have a smaller sensor than full-frame cameras, which feature a sensor that is the same size as a 35mm film frame. Full-frame cameras cost more but often perform better in low light and have a shallower depth of field.
8. How do I choose the right tripod for my photography needs?
For your photography demands, take into account the tripod's weight, height, and stability. The Manfrotto BeFree GT Carbon Fiber Tripod, Gitzo GT1542T Series 1 Traveler, and MeFOTO Classic Carbon Fiber RoadTrip are a few popular tripod models.
9. What is the best camera for low-light photography?
A camera with a high ISO range and superior noise reduction capabilities is the ideal one for low-light shooting. The Sony a7S III, Nikon D850, and Canon EOS 5D Mark IV are a few popular models.
10. What is the best camera for beginners in photography?
The finest camera for amateur photographers is one that is user-friendly and produces high-quality images.
The Canon EOS Rebel T8i, Nikon D3500, and Sony Alpha a6000 are a few popular models. These cameras are perfect for novices because they have features like automatic shooting modes and user-friendly interfaces.