Starting a career as a personal trainer is a good first step, but the real challenge will be to earn a living as one.
The right strategy makes all the difference. Successful personal trainers use great tactics to bring in the most money possible.
If your method is limited to selling sessions in bulk to your clients, this will not be enough. So this article offers quick tips on how to make more money as a personal trainer.
There are many versatile opportunities to earn a living as a personal trainer, fitness instructor, or sports coach. Training sessions might be your initial offering, but there is so much more to the business beyond that.
Not only can you increase your revenue in general, but also diversify your income. This makes your business more stable even in a fluctuating economy.
Continue Your Education
There are many classes that will better qualify you in the fitness industry. Nutrition, yoga, pilates, and cue/choreography workshops can train you in new skills. Becoming accredited by the National Exercise Trainers Association (NETA) is also worthwhile.
This bonus education on your part will help to refine your technique and expand your business offerings.
They also provide the chance to scope out your competition. By becoming a customer you'll learn the going rate for classes and other personal trainer's marketing strategies.
You may find a business tactic that benefits you more than the classes themselves.
Also, if you're visiting a new country and planning to stay there for a few months or more, you should learn to speak the local language of the country. This will enable you to get clients or join a gym as a trainer.
Acquire a Specialty
Once you've advanced your education, you can leverage that newfound knowledge to make your business stand out.
Your qualifications can increase the rarity and value of the services you provide. The more qualified you are, the more your time is worth.
There may be personal trainers who can conduct a yoga class, but if you become trained in the art of Bikram Yoga then you can offer something few others can.
There are lots of strength trainers, but being certified as a High-Intensity Interval Training (HIIT) instructor is much more valuable to clients.
Use your education and expertise to specialize yourself to increase your value.
Use Membership Programs
If you only provide booked sessions it leaves you vulnerable to cancellations. You'll also have to consistently remind clients about payments. To resolve these issues, consider implementing a membership business model.
The various membership tiers could range from weekly, monthly, or quarterly plans.
Online payment would be ideal for customer convenience. The easier it is for your customer to make payments, the more likely they will.
This model results in fewer cancelations and greater commitment from your clients. Even if they cancel, the membership subscription guarantees that you'll have consistent income.
Sell Online Courses
People are busy. They want to learn and train at their own pace and on their own schedule. An online fitness trainer is ideal for them. You should cater to that need by offering online courses.
This is an attractive option for the large segment of customers who prefer working out at home. You can tap into that audience by creating a subscription that gives them access to daily online workouts.
Not only is this the most efficient way to scale up your business, but it also provides a variety of other benefits for you.
Remote work
Increased audience reach
General and personal workout plan opportunities (without ever seeing a gym)
Exponential income growth
Host Workshops
Workshops are an excellent option for well-established personal trainers. It allows you to tap further into your dedicated following of clientele.
Workshops are multi-day events where your clients participate every day. They train with you and receive a certificate when it is complete.
Your workshop should have a targeted focus. Aim for a specific group of people and hone in on a specific area of your training program. For example, how to maintain fitness goals after childbirth.
You must provide detailed information on the subject matter. If you succeed in providing value for your client they will be more likely to subscribe to your other fitness programs.
Get more bookings with the right tool for the job
Staying organized has never been easier.
You can now manage your business and grow your brand with a single, powerful software that keeps all of your appointments in line, your clients organized and your business booming.
Trafft is the perfect personal trainer software for business owners who need to streamline their booking experience both for their staff and their clients.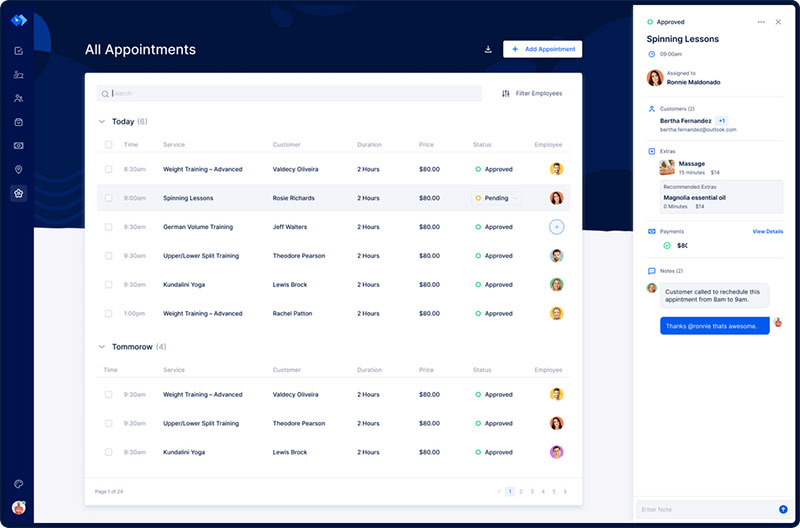 Trafft handles everything for you, even sending automated email or SMS reminders to your clients. No-shows? Not anymore!
The Trafft booking software adapts to different industries for a blissful online booking experience and employee management.
Want to know more? Check out Trafft's awesome features to see what you are missing.
Offer In-Home Training
Personal trainers get their name for a reason. One-on-one lessons are some of the most lucrative options to earn good money. Any client that hires a fitness coach for in-home lessons will be willing to pay more for that convenience.
This means you'll be able to charge more than you would for clients at the gym. You also won't need to share any of your earnings with the host facility.
Along with that higher price you need to provide top-tier service. Keep your clientele happy with routines and workouts that will achieve their goals.
After all, finding and retaining this type of client is all about the quality you offer. If your business is exemplary you will get many referrals.
Conduct Boot Camps
Many personal training clients can't afford one-on-one lessons. Boot camps allow your business to offer something to them and obtain more clients. The rates for boot camps are low and the workouts are done as a group.
The price for a boot camp should range between 15-30% of a standard lesson. A group lesson means group rates. It's best to take payment upfront to avoid any delays in payment for your services.
On average, one of these sessions will last 45 minutes to 1 hour. You could even have several boot camps per day. However, to really leverage this model you must invest more in marketing. You need large numbers to sustain boot camps.
Especially if you host your boot camp at a rented facility, you must be careful to keep your expenses in check. Consider rental fees and equipment costs when determining your price.
Provide Personalized Workouts and Meal Plans
Nutrition is a key factor for your clients to meet their fitness goals, lose weight, and stay healthy. Tailoring meal plans for your clients is convenient for them and opens up extra income for you.
Your clients will be happy that you provide yet another necessary service in your industry.
Meal plans and workouts are not one-size-fits-all. Every client has different needs and circumstances. Some can lose weight by changing their diet habits, but others have to include daily exercise to slim down.
Tailored workout and meal plans that are designed around each clients' unique needs and goals are ideal.
Launch An App
For established personal trainers still looking to expand, a fitness app is well worth considering. It scales up your business in ways in-person training can't and adds further value for your customers.
The easiest solution is to hire a freelancer to build it for you. However,if you're eager to learn new skills there are many in-depth guides to building apps.
An app helps the clients you work with in person by providing them a way to subscribe, pay, or access content.
It also opens up your business to a worldwide audience that you could never have reached otherwise.
Write eBooks
Online fitness training is only successful by creating engaging content. It must be informative and answer your audience's questions.
EBooks are one of the best ways to distribute that content online. If you already keep a fitness blog, it's easy to repurpose that content into an eBook format.
Now more than ever the eBook industry is easy to break into. Huge amounts of people are consuming eBooks on devices like Kindle every day.
The books themselves will earn you money through sales, but they can also funnel new clients to your personal training business.
Promoting your book will rely on a variety of marketing methods. Utilize your website, email newsletters, and social media to make the biggest impact.
Include Affiliate Marketing
Affiliate Marketing is when you have a deal to promote a product, service, or brand. When someone in your audience buys what you promote, you receive a commission. Typically this is 5-10% of the purchase price.
Affiliate Marketing is a great source of passive income, but it requires a good reputation. Your listeners must believe that you and your brand are an authority and that your advice is worth taking.
This means you must choose your affiliates wisely and only promote things that will maintain your good reputation. If you advertise inferior products or services their bad reputation will rub off on you.
There are several reputable affiliate marketing websites you can use. They will give you part of any sale made through your website. There is no cap on how much you could make.
This is a good source of income to further expand your business.
Find a Sponsor
Many brands are looking for influencers to promote their products.
Once sponsored you might be tasked with creating a workout built around their product.  Your sponsor may ask you to create a  healthy meal using their ingredients.  Then you must advertise that creation to your audience.
The larger your audience, the more you can make from sponsors.
Regularity is key. A good way to start is by recording your teaching sessions and updating your social media every day.
The more often you post the more attention you'll get from the algorithms used by social media platforms.
FAQs about making money as a personal trainer
1. What is the average salary of a personal trainer?
The location, level of experience, and type of clients a personal trainer works with all have a significant impact on how much money they make on average. The Bureau of Labor Statistics reports that in May 2020, the median yearly salary for fitness instructors and trainers was $42,510.
2. How can personal trainers increase their income?
By adding group sessions, online coaching, and the sale of products like supplements or exercise equipment, personal trainers can raise their income. Also, establishing a strong reference and testimonial network will help you draw in more customers and boost your earning potential.
3. What are some effective marketing strategies for personal trainers to attract more clients?
Creating a strong online presence via social media and a website, joining up with neighborhood companies or organizations, providing free trial sessions, and delivering excellent service to current clients can all be useful marketing techniques for personal trainers.
4. Is it necessary to have a certification to become a personal trainer, and how does that affect income potential?
Although certification is not legally necessary to work as a personal trainer, most employers and clients prefer to work with trainers who have obtained their certification from a recognized body like NASM or ACE. A certification can boost a trainer's credibility and open doors to better-paying employment.
5. What is the role of social media in the income of a personal trainer?
Personal trainers may use social media effectively to draw in more clients and boost their bottom line. Trainers can develop a loyal following and draw in new customers who are interested in their services by sharing informative content, providing free resources, and showing their experience.
6. How can personal trainers manage their finances to maximize their income and minimize expenses?
Personal trainers can control their spending by making a budget, keeping track of their earnings and outgoing costs, investing in continuing education, and looking into tax breaks and other financial advantages accessible to self-employed people.
7. What are some common mistakes that personal trainers make when trying to increase their income?
Personal trainers frequently overcharge clients, refuse to invest in their own professional growth, and perform a poor job of marketing themselves when attempting to raise their income.
8. What are some alternative income streams that personal trainers can explore?
Other sources of revenue for personal trainers include writing and selling online courses or eBooks, facilitating seminars or retreats, or collaborating with nearby companies to provide corporate wellness programs.
9. How do personal trainers price their services and what factors influence their pricing decisions?
The cost of living in the location, the level of expertise the personal trainer has, and the services they provide are all factors that affect how much they charge for their services. Other factors that may influence pricing decisions include competition in the market, demand for services, and the trainer's unique expertise.
10. What are some challenges that personal trainers face when it comes to making a sustainable income?
Personal trainers struggle to maintain a steady income due to factors like market competition, the need to continually entice new clients, the expensive expense of marketing and promotion, and the strenuous nature of the work. To succeed over the long term, personal trainers must also be able to handle their finances well and balance their income with their expenses.
Final thoughts on how to make more money as a personal trainer
We hope this exhaustive list will inspire you to make more money in your career as a personal trainer.
Ultimately it's up to you to apply these strategies in your fitness trainer business. It doesn't need to be overwhelming. Start one step at a time and work your way up the ladder.
Even if you only implement one of these strategies, that alone will improve and expand your business. These strategies get results for both new and established trainers.