Mentoring is a powerful tool for strengthening an organization. But the people involved, both the mentor and the mentees,  also benefit. Excellent mentoring is something that is worth the time and effort.
However, poor mentoring will achieve the very opposite. There are mentoring apps on the market to help you to streamline successful mentoring programs in your organization.
Mentoring software can help you in various ways. Some of its main features include registration, managing, pairing, and reporting. You can use it to publish agendas, resources, and session agendas. Some mentoring programs allow employees to book a session and add notes to the session details.
When you search the internet for mentoring software you will notice that there are many options. This list of the 15 best mentoring apps will help you pick the one that meets your needs.
Recommended for scheduling appointments: Trafft
Staying organized has never been easier.
You can now manage your business and grow your brand with a single, powerful software that keeps all of your appointments in line, your clients organized and your business booming.
Trafft is perfect for business owners who need to streamline their booking experience both for their staff and their clients.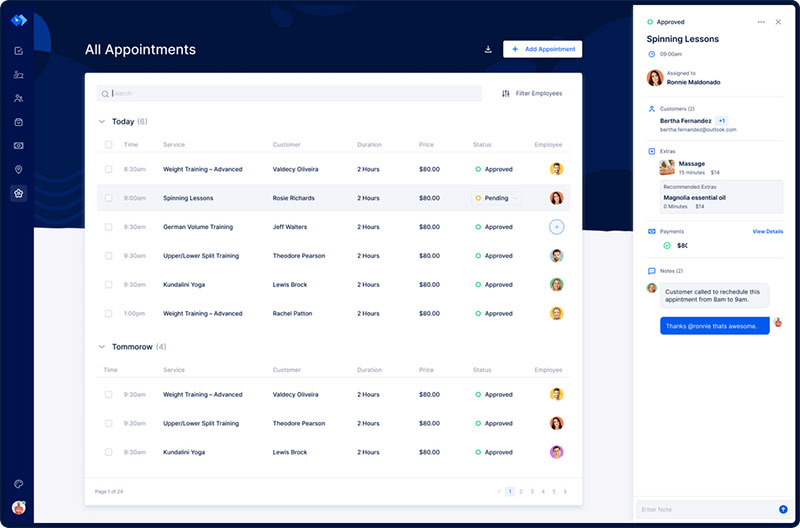 Trafft handles everything for you, even sending automated email or SMS reminders to your clients. No-shows? Not anymore!
The Trafft booking software adapts to different industries for a blissful online booking experience and employee management.
Want to know more? Check out Trafft's awesome features to see what you are missing.
MentorcliQ
MentorcliQ is an application that aims to cater to the users' needs. Its API allows users to connect it with other programs and offers different integrations to help you with that.
Something that makes MentorcliQ stand out is the matching algorithm. This algorithm matches mentors and mentees for a perfect successful mentoring program. Mentors can set up a mentoring program with their mentees and set customized milestones. They can track progress with the reporting and expertise tools helping employees reach their goals.
The data security features make working with MentorcliQ safe for the mentors and mentees.
MentorCity
MentorCity is one of the most popular mentoring apps on the market. This is in part thanks to the cloud-based approach and the fact that you can sign up for free. Through the app, you can offer your skills as a mentor to students, non-profit organizations, and entrepreneurs.
On the other side, mentees can search for mentors that match the profile they are looking for. They can be sorted by topic and other search criteria, like location, gender, language, experience, and job.
GrowthMentor

GrowthMentor is most suited for product managers, startup business owners, and marketers.
Before you can make money mentoring others, you need to work to get at least three reviews. Even highly-trained and experienced mentors first need to work three sessions for free. Startups with a small budget can thus enjoy their experience.
Paying members get access to a community networking feature. You can search their database to find business founders and marketers from anywhere in the world. All these business leaders are willing to network with other less-experienced people.
Qooper

Qooper is a practical career progression platform with many customization features. It aims to propel careers, and inclusion, and build skills. More than 300 large organizations are using this mentoring software solution. Some of the big names include AMWA, Cornell, Google, US Air Force, and Pernod Richard.
This mentoring platform allows you to forge the ideal mentoring relationship. This results in better training, tracking, facilitation, and reporting. The platform gives feedback, sets goals, schedules meetings, and sets up mentoring programs.
Upnotch

This world-class mentoring program helps professionals in small industries to share their expertise. This is important because each industry has its particular set of knowledge.
Through Upnotch, professionals can have private conversations with mentors and other users. Mentors can thus share their knowledge and skills and build on their network at the same time. Mentees learn to set goals, push company growth, and even share concerns.
Mentorink

Mentorink allows companies to scale transformative mentoring programs. It helps them to reach high quality and set up function-specific smart mentoring activities for their employees.
It has become one of the most popular mentoring software solutions thanks to its advanced features. There is an automatic feature that matches mentors and mentees based on an accurate algorithm.
The content tailoring and session reminders help to improve engagement among the mentees. Mentors have access to robust analytics and administrator panels. These help the mentor to keep track of mentees and see handy mentoring statistics.
Together Enterprise Mentoring

This scalable mentoring program excels in matching mentors and mentees. The algorithm selects the right mentor based on things like goals, skills, and preferences. The Together Enterprise Mentoring platform contains specific mentoring programs. These programs include sessions focused on different goals, such as:
High potentials
Internal mobility
New managers
Onboarding
Resource and Diversity
Mentors have control over the exact curriculum content and they can run smart mentoring activities. That makes this mentoring platform suitable for different types of organizations.
Another useful feature is the adjustable group sizes. These range from individual sessions to large groups. The mentoring software has a logical organization and comes with iOS and Android apps. The integrated calendar and email options make it even more practical to work with.
Mentor Spaces

Mentor Spaces is a mentoring platform to connect with mentors, career experts and other users.
This world-leading mentoring platform lets you set and reach career goals by talking to experts. It is one of the largest communities for professionals available. The platform's algorithm creates groups based on mutual interests, careers, and hobbies. Even the most seasoned business professionals will enjoy using this mentorship program.
It is not just the place for receiving advice. Wintered professionals can also give their opinions and offer suggestions. This helps others not to repeat the same mistakes .
There is much to enjoy on this platform. You can define your own goals and work towards them. You can talk with others about your interests and pick the brains of successful professionals.
The Muse

Anyone that is looking for a coach can find something on Coach Connect, the marketplace of The Muse. You can find experienced coaches that offer job search and career advice at different price levels. You can check out reviews and coach profiles to select the one you like.
You can also find articles written by experts in the field of job applications and related subjects.
The Muse wants to create the best and most popular mentor marketplace on the internet, for all age groups.
Appreiz

The purpose of Appreiz is to create incentives for employees. You can reward and give recognition to skills and achievements. On the mentor's side, you can analyze the skills and work progress of employees. With the app, you can track performance and manage them.
The mentoring software uses feedforward instead of feedback loops. This is something that works well to maximize workers' contentment as they will achieve better results.
Pushfar

This cloud-based mentoring app helps to push career progression. It contains a precision matching algorithm to bring mentors and mentees together. You can enter specific information that helps to finetune the users' objectives.
A great thing about this mentoring app is that there are so many options to help mentors and mentees together. They can set goals together, schedule meetings, and message. There is even a video call feature, something that most mentoring software solutions don't have.
This app aims at improving the interaction between mentors and mentees. Users can choose between the mobile app or the web application.
Pushfar offers integrations with popular apps like Outlook, GSuite, and HRIS. Other unique features include event recommendations and conversation feeds for team members.
Intercell
Intercell is an online network where mentors can provide advice on leadership development.
An interesting feature is the wasted-time calculator. With that information, you work to become more efficient and more successful.
With Intercell, you don't have to gather small pieces of information from all over the internet. This is the place where you can find everything about career progression.
Art of Mentoring
This cloud-based mentoring software platform helps to:
Design
Put in place
Manage
Evaluate mentoring programs
It uses data-driven matching algorithms to match mentors and mentees. In addition, it contains feedback collection, communication management, eLearning, and other features.
There are many other Art of Mentoring programs. You can integrate each one of them into the mentoring software platform. This will help to create and manage every detail of your mentoring program.
The software does the matching of mentees and mentors based on the mentees' requirements, profiles, and objectives. You can make customized mentee intake forms to gather the data needed to match them with mentors.
PLD Mentoring Platform
The last on the list of mentoring apps is the PLD Mentoring Platform. This cloud-based system gives organizations the tool to track mentees' knowledge and skills. The platform works for any kind of organization, including schools, and public administration. Training program managers will love it because it allows them to plan and customize mentoring programs.
Individual mentors and mentorship teams can set up the system the way they like. They can plan and add learning resources to track mentees' progress. Based on that, they can customize goals and timelines.
These features, plus the reports, make this system unique and apt for any kind of mentoring program. Mentees will benefit too from all the features that the platform offers them. They use a live chat and schedule appointments online.
FAQs about mentoring apps
1. What is a mentoring app and how does it work?
An online platform called a mentoring app links people looking for advice with seasoned professionals or subject-matter experts. To connect mentors and mentees based on interests, abilities, and aspirations, these apps often use algorithms. The software offers a forum for collaboration and communication between the mentor and mentee after a match is struck.
2. What are the benefits of using a mentoring app for both mentors and mentees?
Both mentors and mentees can benefit from mentoring applications in a number of ways. Mentors can offer their skills and help someone else grow personally or professionally while mentees can obtain priceless insights and knowledge from seasoned professionals. Furthermore, mentoring apps offer a handy and adaptable alternative for people to connect and work together regardless of their schedule or location.
3. How do you find a mentor using a mentoring app?
Most mentoring applications demand that users fill out a profile with details about their interests, objectives, and talents. The software then matches mentees with mentors who share their interests and areas of experience using algorithms. As an alternative, several mentoring applications enable users to explore and search for mentors according to particular criteria, such as industry, job title, or region.
4. What kind of support and resources are typically available through a mentoring app?
Mentoring apps frequently offer a variety of materials and support to aid both mentees and mentors in achieving their objectives.
They might include networking opportunities, career development resources, and access to instructional resources including articles, videos, and webinars. Mentoring applications might also offer advice and assistance to promote positive and fruitful mentoring relationships.
5. Can you use a mentoring app to find a mentor in a specific industry or field?
Absolutely, a lot of mentoring apps let users look for mentors depending on their profession or industry. This is especially helpful for mentees who are looking for direction and assistance in a specific field, like marketing, finance, or technology.
6. What is the typical cost of using a mentoring app and are there any free options available?
Using a mentoring app can be expensive or inexpensive, depending on the app and the amount of service offered. While some mentoring apps are free, some need payment to access premium features like personalized matching, one-on-one sessions, or access to special resources. Some applications might also charge mentors a fee to use the site.
7. How do you know if a mentoring app is reputable and safe to use?
While evaluating a mentorship app, it's crucial to do your homework and read reviews from other users. Search for apps that have a track record of success and positive reviews from both mentors and mentees.
Check if the app has any safety precautions in place as well, such as secure communication channels and background checks for mentors.
8. What kind of training or qualifications do mentors on a mentoring app typically have?
Depending on the app and the profession or industry, different mentors on mentoring apps may need different training and certifications.
While some programs may encourage real-world experience and knowledge, others may specify that mentors must hold certain credentials or certifications. Before starting a mentoring relationship, it's crucial to perform your homework and analyze the credentials of potential mentors.
9. Can you communicate with your mentor through a mentoring app, and if so, what are the different communication options?
The majority of mentoring apps give mentors and mentees a platform for communication that might take the form of messaging, video chats, or phone calls.
To encourage collaboration and knowledge sharing between mentors and mentees, certain apps might additionally provide extra communication possibilities, such as group chats or forums.
10. What happens if you're not satisfied with your mentor on a mentoring app – can you switch mentors or get a refund?
The majority of mentoring apps have policies in place to handle circumstances if you're not happy with your mentor. Some apps might let you transfer mentors, while others might offer coaching or mediation to assist you overcome any problems.
If you're unhappy with the service, certain applications might also give credits or refunds. Review the regulations and procedures for resolving complaints or disagreements before selecting a mentorship app.
Final Thoughts on Choosing Mentoring Apps
When you are choosing between mentoring apps you need to pick something that is practical and convenient. That is true whether you have some mentoring program in place or not.
You can make a good choice by reviewing this list. It mentions many of the useful features of each program. Go through the list and compare those features with what you and your organization need.
If you enjoyed reading this article about mentoring apps, you should read these as well: