So, you've got this awesome dream of running your own salon and sharing your skills and insights with others. Yet, you may also think: "How much does it cost to open a beauty salon?"
Startup costs for a beauty salon can vary depending on your goals and business models. To get a good estimate of how much it'll cost you, you need to have a clear idea of these two factors.
This article will break down everything that starting a salon business involves. We'll talk about the pros and cons of buying, renting, or building a brand-new beauty salon. Moreover, we'll shed some light on the expenses that typically come with running a salon.
By the time you finish reading, you'll have a better idea of how much money you'll need to bring your dream salon to life. Knowing this will definitely help take away some of the financial worries that come with starting your own salon.
One-Time Costs
So, when it comes to opening a beauty salon, the initial costs really depend on the kind of salon you're going for. Also, your business approach will play a big role in determining how much money you'll need.
You've got a couple of options worth considering. You can either start your very own salon from scratch or take over an existing one that already has a significant number of clients. How big do you want it to be? Are you gonna focus solely on hair styling and cosmetics, or are you planning to offer a bunch of other services too?
Those are some pretty important questions and once you've got clear answers to them, you'll be able to make a more accurate guess about your startup costs.
Also, make sure to take a look at our downloadable opening a salon checklist, to find out which boxes you need to tick before opening your very own salon.
The Ultimate Checklist You Need to Open Your Salon
Get Trafft's FREE & PRINTABLE step-by-step opening a beauty salon checklist every salon owner needs.
Bonus: Discover 5 essential steps to building a successful beauty salon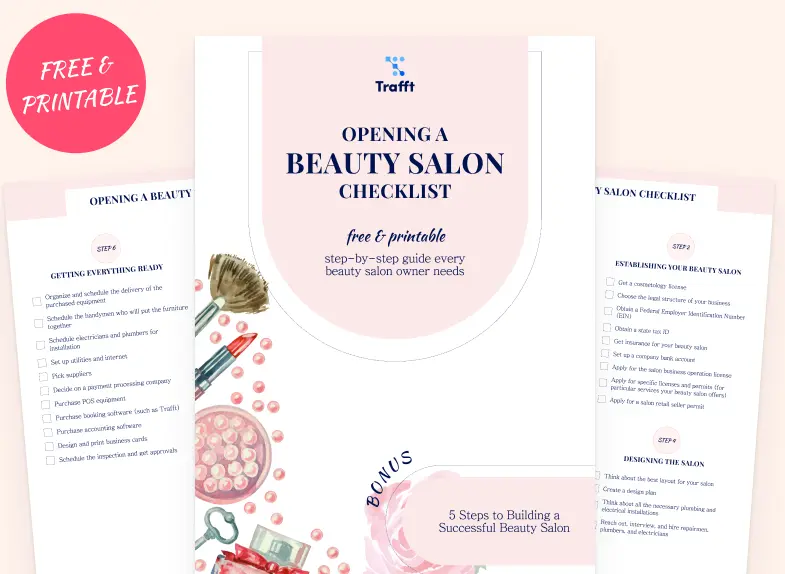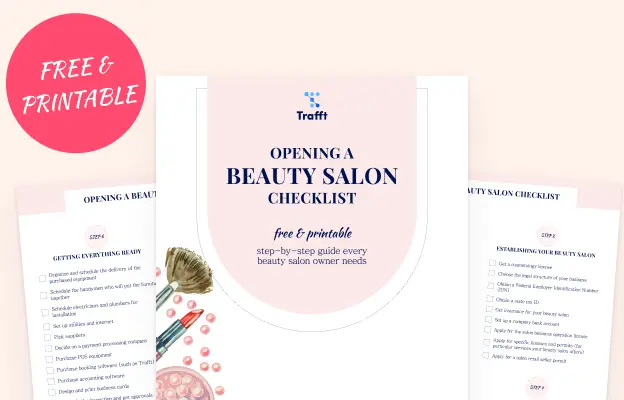 Now, here's a breakdown of the one-time costs you should keep in mind:
Beauty salon loans and financing
For most beauty salon owners, it will be pretty tough to start a salon business with just your own savings. Most owners end up looking for other sources to get their startup funds. That means you'll spend the first few years of operation trying to pay back those loans.
When you're borrowing money to kickstart your salon, pay attention to interest rates. They'll vary based on your risk profile and the overall economic situation.
To get an idea of what a loan will cost you, check out Fundera. The website lets you compare different loan options for small businesses and you can pick the one that suits you best.
Licenses and permits

Image by Freepik
In most areas, local authorities ask that you get specific permits and licenses. What these are depends on your state and municipality. It could include a cosmetology license, a health and safety permit, a fire inspection, a sales tax, and a business license.
Each of these licenses and permits will cost you money. Depending on where you start your business, the cost ranges from $100 to $1000 or more per license.
Physical location
If you decide to rent a salon space, you will need to make a security deposit and one or more months of rent upfront.
To buy a current nail or hair salon, you need to consider a cost of $40,000-$250,000. If you want to build your own salon you need to consider a cost of $50,000-$500,000.
The cost to rent a business space depends on your area. Factors that determine the price include location, size, equipment, and property condition.
Startup inventory and salon supplies
When you start a beauty salon business, you will need to stock up on supplies and retail products. These include materials you can sell to customers and materials you're going to need for your beauty treatments.
Now, how much it's gonna cost you to build up your inventory really depends on the type of beauty salon you're running. So take a moment and think about what you'll need. Make a list with all the items and their costs. Add them up and then round up the total. That way, you'll have a solid idea of how much to budget for your supplies and inventory.
Try to get better prices, so make sure to negotiate with suppliers. It's also a smart move to get an Amazon Business Account because that will save money as well.
Beauty salon equipment
If you're opening a hair salon, you'll be spending around $27,000 on salon equipment. That includes shampoos, hood dryers, a coloring station, scissors, clippers, and so on. But if you're going for a nail salon or a simple barbershop, you can expect to spend a bit less on the equipment side.
When you are starting a new business, you should carefully choose your equipment to keep costs as low as possible.
Now, no matter what kind of salon you're starting, one thing you absolutely need is chairs. The price of these chairs ranges from $200 to $1000 or more.
Carts and trolleys will help to keep tools organized. You don't have to break the bank for these. You can get them for as little as $40, but keep in mind that high-quality carts can end up costing you up to $300.
Salon software
Still wondering how much does it cost to open a beauty salon? If you're crunching the numbers and trying to figure out the cost, don't forget to factor in the cost of some reliable beauty salon scheduling software. Trust us, it's worth it!
Why, you ask?
Well, salon software is like a magical tool that helps you run your business smoothly and efficiently. It takes care of all your bookings, and some even have useful features like point-of-sale support, KPI tracking, sending automated notifications and reminders, as well as effective marketing tools.
Now, when it comes to picking the right salon software, we recommend you try Trafft.
Why You Need Booking Software Like Trafft
Salon management is very important for beauty professionals. So, it is wise to invest in tools and resources that help you do that.
Trafft is one such tool. It helps you automate several aspects of your beauty salon. It streamlines scheduling and provides help with customer management. This allows you more time to focus on more important things, such as growing your business.
Now, what sets Trafft apart?
Pocket-friendly: Forget those hefty subscriptions. With Trafft, you get a premium service without the premium price tag.
Increase revenue: Trafft reduces no-shows and optimizes appointments. More appointments, more income. Simple.
Save time, save money: Automating your bookings means you've got more time to do what you do best. And time, as they say, is money.
Trafft takes your business to the next level. With administrative tasks taken care of, you can focus on providing the best quality service.
This ain't just another expensive system that makes big promises and burns a hole in your pocket. Trafft is the real deal – your ticket to affordability without compromising quality.
And the cherry on top? Your clients will adore Trafft. Smooth scheduling, effortless reminders, hassle-free cancellations. They'll be raving about your service.
So why hold back? Take the plunge with Trafft and turn your salon into a well-oiled, money-saving machine. It's time to wave goodbye to unnecessary expenses and say hello to seamless management and increased profits.
Recurring and Ongoing Costs
Now, let's dive into the world of recurring costs. These are the expenses that you'll have on a regular basis. You can't really escape them, so it's best to consider them right from the get-go.
Employees
Don't forget to include employee salaries in your budget. You'll need to hire qualified and experienced staff to provide top-notch services at your beauty salon.
How much you spend on employees depends on the kind and size of your salon business. On average, you're looking at paying anywhere between $10 to $30 per hour. Keep in mind though that this does not include taxes and benefits.
Other costs worth mentioning are equipment costs, uniforms, and training expenses.
Expenses
This includes utilities, mortgage or rent, supplies, maintenance, marketing, and legal fees. These business costs can vary depending on your business plan, where you're located, and a lot of other factors.
So, here's a tip: go have a talk with some other local business owners. They can give you the inside scoop and help you get a rough idea of what to expect.
Insurance
Salon insurance is another big recurring expense that you need to factor into your "how much does it cost to open a beauty salon" list.
So, what do you need to insure? Well, pretty much everything! Your inventory, equipment, those amazing employees of yours, the property itself, and of course, your precious customers. And let's not forget about insuring yourself too. Need to protect yourself from any unexpected mishaps.
The cost of salon insurance depends on the type and size of your beauty salon business, the provider, and the level of coverage.
Having the right insurance is like having a safety net for your business. It'll give you peace of mind and keep you covered in case anything goes wrong. So make sure to budget for this recurring expense and find the insurance that suits your beauty salon's needs. Safety first!
Marketing expenses
As a newbie beauty salon owner, you'll need to find a way to attract new clients. Let's face it – not many people know about your awesome salon yet, and that's where marketing comes into play.
You first gave to decide how much you're willing to invest in marketing. The good news is, there are plenty of cheap and super-effective approaches you can take. And guess what? Most of them revolve around digital marketing, so make sure to do your research.
Existing Salon or Starting from Zero

Image by vectorpouch on Freepik
When it comes to starting a salon, you've got two choices: you can either build it from scratch, starting from zero, or you can take over an existing salon business from someone else. Each option comes with its own pros and cons.
Now, which one should you choose? Well, that all depends on what you want, what your budget is, and what you're looking to achieve with your salon.
Let's look into some factors that can help you make this decision
The cost of renting or buying
Buying or renting an existing beauty or hair salon can be a super convenient option. Why? Because you get everything from day one, including a ready-made client base. How awesome is that?
If you're lucky, you might stumble upon a hair or nail salon that's up for grabs at a low price. Maybe the previous owner's facing some financial hiccups. But, there's a catch. Even if you change the business's name, your salon comes with the previous owner's reputation, so, don't forget to invest in marketing to make your mark.
The cost of buying or renting an existing salon depends on its size, location, condition, and client base. It also depends on the supply and demand of the market.
The average price of existing beauty salons in the United States in 2022 was $180,000, according to BizBuySell.com. The median cash flow for these businesses was $76,000. Of course, these numbers vary depending on location and similar factors. And of course, there's always room for negotiation.
When it comes to renting, it's similar. The cost depends on factors like size, location, lease terms, and the amenities you get. The renting price for beauty salons continues to increase, according to Statista. At the end of 2021, the average renting cost per square foot was $21.65.
The cost of building a new salon
Building your own beauty salon business from scratch is where the real magic happens, my friend. It's exciting and rewarding and gives you the chance to create something totally unique. You can bring your vision to life, add your own style and personal touches, and create an experience that's all about you and your customers.
However, it takes time, money, and a whole lot of effort to build a new business. You start by finding the perfect spot for your salon, then get all those permits and legal matters sorted out. And let's not forget about hiring contractors and suppliers to make it all happen, as well as buying all the necessary equipment.
Once you've got everything in place, it's time to roll up your sleeves and oversee the whole construction and installation process. Every detail needs to be just right.
Size, quality, design, and location determine the cost of building a new salon. Labor and material costs can vary depending on where you're at. So, give it some thought and be prepared to spend somewhere between $50,000 and $500,000.
FAQ on How Much It Costs to Open a Beauty Salon
How much does it cost to lease a salon space?
The cost to lease a salon space can vary widely based on the size and location. High-traffic areas or city centers generally command higher prices.
You'll also need to budget for any necessary renovations or decorations to create a welcoming salon environment.
How much should I budget for salon equipment?
Salon equipment is one of the major expenses when opening a beauty salon. The cost will depend on the services you plan to offer and the quality of equipment you choose.
This can include everything from chairs and mirrors to styling tools, shampoo stations, and more.
How much does salon furniture cost?
Salon furniture, like waiting chairs, styling stations, and reception desks, is another cost to consider.
The price can vary depending on the quality and style you choose. It's important to create a comfortable and aesthetically pleasing environment for your customers, so don't skimp on this aspect.
How much will I spend on initial product stock?
The cost for initial product stock depends on the range of products you plan to carry and the brands you choose.
Remember, you'll need products for providing services and for retail sales. It's a good idea to negotiate with suppliers for discounts when buying in bulk.
What will utility costs look like?
Utility costs include electricity, water, heating, and possibly internet and phone services.
These costs can vary based on the size of your salon, your hours of operation, and your location. It's important to factor these recurring expenses into your budget.
How much should I budget for salon insurance?
Insurance is a must for protecting your business. The cost can vary depending on your location, the size of your salon, and the types of coverage you need.
Consider liability insurance, property insurance, and workers' compensation if you have employees.
What are the costs associated with getting licenses and permits?
To legally operate a beauty salon, you'll need certain licenses and permits. This can include a business license, cosmetology license, and possibly a sign permit or a building permit for renovations. The costs for these licenses vary by location, so check with your local government offices.
How much will it cost to market my new beauty salon?
Marketing costs should definitely be part of your budget. This can include everything from a website and online advertising to print materials and a grand opening event.
It's important to invest in marketing to attract customers to your new salon.
What are the ongoing costs of running a beauty salon?
Running a beauty salon comes with ongoing costs such as rent or mortgage payments, utilities, product restocks, equipment maintenance, payroll if you have employees, and marketing costs.
These should be factored into your monthly budget.
How much should I set aside for unexpected expenses?
It's wise to set aside some money for unexpected expenses. This could be anything from a broken piece of equipment to an unexpected tax bill.
A good rule of thumb is to set aside at least 10-15% of your budget for these kinds of surprises.
So, How Much Does It Cost to Open a Beauty Salon?
Still unsure about how much does it cost to open a beauty salon? The answer depends on careful planning, researching, and investing smartly.
Consider the costs of licenses and permits, insurance, employees, and other daily expenses. Compare quotes and offers and consult other professionals in the beauty industry. All these factors together give you a reliable idea of your budget, so you can decide what's best for you.
And remember: a solid business plan and budget are key in the start-up process.
If you enjoyed reading this article about how much it costs to open a beauty salon, you should read these as well: