When choosing a business consulting firm, it can be challenging to find the right one to fit your needs. The market is full of competing consulting firms, and the overwhelming amount of options, large or boutique consulting firms, can be daunting, and hinder the selection process.
Larger companies tend to have better, more well-established reputations, but their fees and prices are generally much steeper than smaller companies. Boutique consulting firms, though lesser-known, they can still offer what you need at more affordable prices.
Compared to larger companies, boutique consulting firms are small firms that offer a limited number of services for the local client base. These firms are focused on their consulting services in the local marketplace.
The idea is that boutique consulting firms tend to offer services only for a specific niche. Because of this, the research needs to be done accurately. This article created by our team at Trafft will provide some tips to help you choose the best firm for your needs.
What are boutique consulting firms?
Top consulting firms help businesses and corporations with specific information that is related to a particular issue. The main goal is to improve the company of each client by increasing profits and efficiency.
A boutique is a term commonly used to describe a small shop or a business. However, in some cases, the term is more connected with consulting firms. This kind of firm can have just one adviser, while another can have, for example, 100 consultants. Compared to major consulting firms, boutique consulting firms are specialized in a specific niche and don't offer general consulting to their clients.
If a client is searching for consulting firms in Chicago, the boutique firms would likely be smaller, cheaper, and more specialized than the ones they are finding. This kind of firm is most of the time created by a senior consultant that has a lot of years of experience. They probably started on their own, and in time the founder hired different consultants to increase the firm work volume.
These boutique firms are influenced by the experience, network, and personal brand of the founder. Generally speaking, fees in these firms are lower than the ones offered by larger firms. This is because they have a lower operating cost and fewer consultants on the staff, though some specialized boutique firms may choose to charge larger fees for their services.
When choosing, be sure to look at the firm's reputation and authority in resolving complex problems for a specific niche. This is a particularity for boutique consulting firms that the larger firms do not address.
Services Offered
Successful business consulting companies offer a small number of services; even large firms do not deliver all existing facilities. Boutique consulting firms usually focus on industries where their staff has expertise. They avoid promising their clients that they can resolve any issue.
Some small consulting firms provide services to a specific type of business, such as technology companies, health companies, etc. Even government agencies utilize boutique consulting firms that specialize in a field out of their reach.
Boutique consulting firms also handle aspects of business operations. Some examples might be tasks related to logistics or invoicing. Any company that needs help in these fields should hire a boutique firm that is specialized in the topic.
Opportunities and benefits of boutique consulting firms
Informal culture
In a boutique, there is usually a more informal culture. This is because the hierarchies tend to be more fluid and relaxed. Roles matter, but the staff is involved in meetings and are treated as equals. By staying connected, ideas flow smoothly without any organizational barriers. This environment helps make boutique consulting firms a great place to work in.
Innovation
The market is inundated with a variety of consulting firms, and new firms emerging on the market need to think differently. For this reason, boutique consulting firms must adopt entrepreneurial thinking in their operations. Boutique consulting firms are also more flexible in their strategies and procedures, so, therefore, move faster.
On the contrary, because of established operating procedures, larger firms are usually slow in adapting to new ideas. This is because it is more challenging to bring a change to a business process in the entire organization.
Pragmatism & Implementation
Because boutique consulting firms generally do not hire many juniors, they tend to have more senior staff. This means they offer exceptional expertise to their clients. By doing so, strong implementation support is provided, and clients are going to be happy with what they see, and the services offered to them.
Potential lifestyle benefits
All firms are unique, but many boutique firms have a low travel burden and significant flexibility compared to larger firms.
Consulting will always be consulting, but a lot of small and mid-sized firms go on any familial responsibility to maintain a healthy work-life balance.
Efficiency
Boutique consulting firms need to be more efficient with their resources as fewer people are working on the projects. By doing so, it saves the boutique consulting firm time and money.
A small boutique consultancy firm does not have the resources to waste, and this makes it efficiently finish projects.
They need to do so to move to their next project. As a result, clients do not wait long for their consultants to return messages or advance to the next step of a project.
An Entrepreneurial Culture
Generally, the founders of boutique consulting firms left more prominent firms to take their destiny in hand. They have a pure entrepreneurial instinct and tend to hire others that have a similar spirit. Due to this entrepreneurial approach, a consulting firm's culture moves around boldness and courage.
Disadvantages compared to larger consulting firms
Fewer resources
Boutique firms sometimes do not have resources, such as large salaries or career opportunities. This means that attracting top experts can be difficult sometimes. Even though they have fewer employees, they do create better relationships with their clients.
To summarize, boutique consulting firms are in front of any engagement. The only risk here is that they will find themselves overwhelmed when their business is going fast.
Business Development
No consultancy can work without clients, and boutique consulting firms suffer financially when they lose any of their clients. Boutique consultants struggle to build awareness so that potential clients know where to find them.
The firm needs to learn how to find any business opportunities and close deals with strangers. Therefore, they need to focus on selling all the time and get results.
Status
Some people choose boutique firms, only to find out that they miss the status and perks of a large organization. For example, many corporate executives may miss having an executive assistant. Few clients provide support to consultants besides the standard levels.
Seeing cramped office spaces with inconsistent network access may also be witnessed. However, even with all these drawbacks, they can still be a reliable choice.
Advantages
There are many advantages to going to this kind of consultancy firm. The big one is their expertise and price advantage. If we talk from a career point of view, it is quite easy to evolve in an environment where each person has their place even the teams are small. You learn things fast, and it should not be complicated to understand all the concepts.
If you are good at what you do for sure, you are going to be noticed. Creating your path is simple, and boutique consulting firms might be the best decision to take. All that is needed is to show the added value to the business, and you are ready.
Some of the best boutique consulting firms
In the section below, we're showcasing some of the best boutique consulting firms and their websites. If you're planning on creating a similar website, you can choose one of the best WordPress themes for consultants and you can move on to what really matters, getting clients.
Anchor Advisors, Ltd.

Build. Change. Impact.

Westside Financial

SmallBox

Out of the Box Advisors

Agility Consulting International

CTRS Solutions Limited

TheRoad

Atlena

Epic Culture

Confidante Consulting

Brand New Matter

Amarna Group

Franchise Beacon, LLC

Deeper Insights

Oteri Consulting Group, LLC

Skalski Growth

WMKD

Furtive Collective

Lalea & Black

UpRoute

Active Strategy

Redfern Partners

SmallWorld

Agency Squid

Ending thoughts on these boutique consulting firms
In conclusion, these consulting firms can be the right choice for those starting a career in consultancy or looking for hire. The most critical aspect here is to do a lot of research and find the right boutique consulting firm to fit their needs.
Are you a consultant or you are working in a boutique consulting firm and you want to focus less on scheduling your meetings and more on your actual work?
Why don't you try a premium scheduling app to take that off your mind?
Organize your meetings with the right tool for the job
Staying organized has never been easier.
You can now manage your business and grow your brand with a single, powerful software that keeps all of your appointments in line, your clients organized and your business booming.
Trafft is perfect for business owners who need to streamline their booking experience both for their staff and their clients.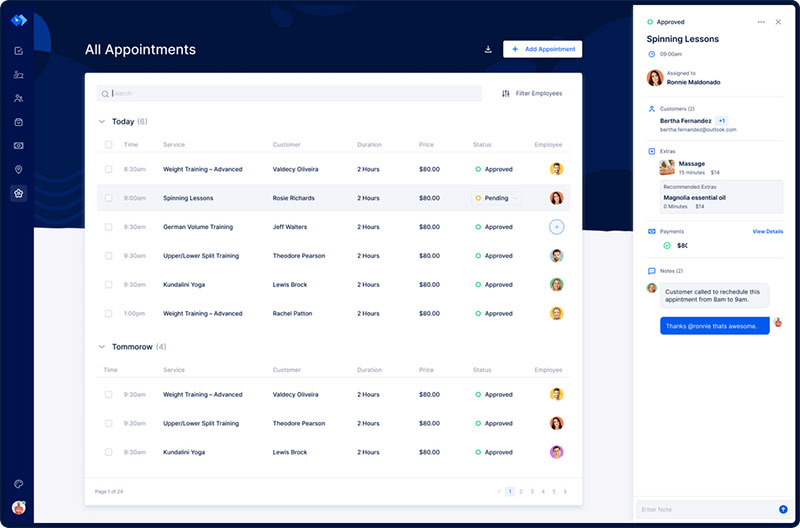 Trafft handles everything for you, even sending automated email or SMS reminders to your clients. No-shows? Not anymore!
The Trafft booking software adapts to different industries for a blissful online booking experience and employee management.
Want to know more? Check out Trafft's awesome features to see what you are missing.
FAQs about boutique consulting companies
1. What exactly is a boutique consulting firm?
A boutique consulting firm is a more intimate, narrowly focused consulting firm that frequently specializes in a single sector or field of knowledge. Boutique consulting organizations, as opposed to bigger consulting firms, typically take a more individualized approach and may provide their clients with more specialized solutions.
2. How do boutique consulting firms differ from larger consulting firms?
While bigger consulting firms have a wider range of services and can work with customers in a variety of industries, boutique consulting firms are often smaller in size and concentrate on particular fields of expertise or industries. Boutique businesses often give their clients more specialized solutions and a more individualized approach.
3. What types of services do boutique consulting firms typically offer?
Services like strategy consulting, operations consulting, financial consulting, and technology consulting are frequently provided by boutique consulting businesses. Additionally, they could provide more specialized services in sectors like supply chain management, risk management, or sustainability.
4. What industries do boutique consulting firms specialize in?
Boutique consulting businesses have a wide range of industry specializations, from consumer products and healthcare to financial services and technology. Some businesses might concentrate on a certain area of an industry, like healthcare IT or financial regulatory compliance.
5. What size companies do boutique consulting firms typically work with?
Despite the fact that boutique consulting firms may deal with businesses of all sizes, they frequently concentrate on mid-sized to bigger businesses that can afford their specialized services. They might also work with start-ups and smaller businesses that require more specialized assistance.
6. How do boutique consulting firms price their services?
Boutique consulting businesses often bill on a project-by-project basis, with rates determined by the project's scope, the amount of time and resources needed, and other factors. Additionally, they could bill clients hourly for particular services or provide continuing support through retainer agreements.
7. What are some common challenges faced by boutique consulting firms?
It can be difficult for boutique consulting firms to compete with larger ones for clients and expertise, manage their financial flow, and keep a steady supply of projects coming in. They might also have trouble preserving their stellar reputation and forging a distinctive brand identity.
8. What is the typical career path for consultants at boutique consulting firms?
For boutique consulting firms, the normal career path for consultants entails beginning as an analyst or associate and moving up to senior consultant, manager, and partner positions. In fields like company development, marketing, or operations, certain businesses might offer specialized roles or career paths.
9. How important is the reputation of a boutique consulting firm?
Due to the fact that clients frequently select companies based on their reputation and track record, a boutique consulting firm's reputation is essential to its success. While a bad reputation can make it challenging to draw in and keep customers, a strong reputation can result in new business and referrals.
10. How do boutique consulting firms stay competitive in the market?
By providing specific services that larger firms might not be able to give, forming close bonds with clients, and upholding a strong sense of brand identity, boutique consulting firms stay competitive in the market. Companies may also concentrate on particular specialized markets or industries and make investments in marketing and company expansion activities to draw in new customers.
If you enjoyed reading this article, you should read these as well: