If you want your business to run smoothly, you'll need reliable business automation software. This will not only help you cut costs, but also save time. With the right automation tools you can do more in less time, which translates into higher profit. Hence, the success of your business lies in optimizing your automated processes.
Now, there are different approaches to business automation. While some are looking to enhance efficiency, others want to improve customer experience. A company can also use this to boost its employees' productivity.
No matter their niche, most companies have different departments. In this case, they can choose specific business automation software for each. Check out this list of automation platform options and find the one that fits best.
Booking scheduling software: Trafft
Staying organized has never been easier.
You can now manage your business and grow your brand with a single, powerful software that keeps all of your appointments in line, your clients organized and your business booming.
Trafft is perfect for business owners who need to streamline their booking experience both for their staff and their clients.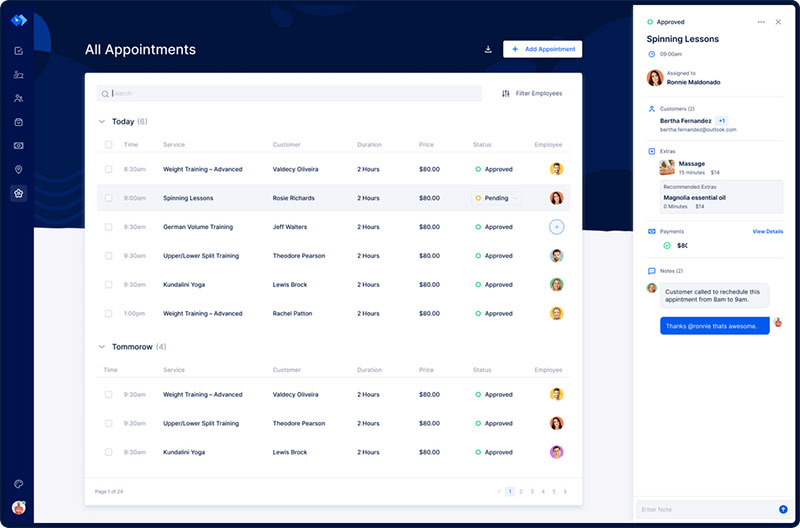 Trafft handles everything for you, even sending automated email or SMS reminders to your clients. No-shows? Not anymore!
The Trafft booking software adapts to different industries for a blissful online booking experience and employee management.
Want to know more? Check out Trafft's awesome features to see what you are missing.
Business Automation Software for Social Media Management
Hootsuite
If you want to optimize your social media marketing efforts, this is the right tool. We're talking about an all-in-one solution to manage multiple platforms. With only a few clicks you can schedule posts for each of them.
Moreover, it has a calendar view that makes planning easy. Thus, you can choose the right posts and schedule them for different social media channels.
But posting is only one part of the strategy. You'll also need to interact with your followers, and track tendencies and brand mentions. Hootsuite helps you with all of this. The platform even allows you to reply to comments.
Buffer
Keeping your audience engaged is as important as it is challenging. You'll have to post regularly and make sure that your content is interesting. This is something to consider when choosing your business automation tools.
Buffer, for example, allows you to use content from the web to create your posts. Moreover, you can do this in bulk to save time.
Buffer is also great for teamwork. Feel free to assign tasks to any team member and avoid mix-ups. In line with this, you have the option to submit posts for revision before publication.
By analyzing its features, it's clear that Buffer focuses on team collaboration. If this is what you're looking for, this business automation software will be of great help.
As the most relevant, effective social platform for business interactions, LinkedIn deserves its own management tool. This is where Linked Helper steps in to help manage everything from your outreach to other businesses, boosting your lead generation efforts, all the way to building entire communication funnels with custom drip messaging.
The beauty of this business automation tool is that it works with all LinkedIn platforms, including LinkedIn Premium, Sales Navigator, and LinkedIn Recruiter. In one fell swoop, you can use this automation software to integrate all your LinkedIn efforts, to nurture and generate leads, network, personalize all interactions, and grow your presence.
Workflow Automation Software
Asana

The key to optimizing business processes is to manage workflow effectively. Asana is a great tool for this.. The software allows you to create and assign tasks and makes communication easier. Forget about exchanging hundreds of emails to get a confirmation, instead, use Asana. This feature makes it the perfect option for both local and remote teams.
If you need to collaborate with others to get the job done, choose Asana. Its wide customization options make it a flexible tool. This means that you can adapt it to your business' needs.
You may need some time to figure out the use that you want to give it. But once it's all set up, you'll have a great platform for project management.
Kissflow

Through Kissflow's digital workspace you'll have an all-in-one solution. If you're looking for a business automation software that manages both business processes and workflows, this is it.  Its wide range of BPA products simplifies every process. It is for this exact reason that they have such a simple design.
Among the business automation tools designed for management, this is one of the best. It's a cloud-based software with low code that will run smoothly and hassle-free. Setup is easy to use thanks to its templates, but you can also create your own. Moreover, its vertical approach helps you have a better control of the workflow.
Finally, the drag-and-drop features make it easy to use. It doesn't take a coding expert to use Kissflow.
Teamwork

Teamwork boasts an intuitive interface, making business processes run smoothly. It includes invoicing and billing tools, which makes it a great option for handling customers.
Ideal for smaller businesses, Teamwork supports client management. Rather than working on in-house projects, this is a tool to manage projects for third parties.
When comparing Teamwork with different apps, we see that this is a great alternative. Its unique array of features is combined with a user-friendly platform.
Business Automation Tools for Sales and Marketing
HubSpot Marketing Hub

With HubSpot, you can create and edit campaigns based on certain conditions. The visual board will be of great help for this task.
Besides implementing email marketing automation, you can do plenty of other things. This includes setting up webhooks, driving leads through the sales funnel, keeping track of your leads, and creating notifications. Thanks to these notifications, you will know when a client takes action.
The HubSpot marketing automation software is combined with sales and service hubs. This gives you the perfect ecosystem to support your sales team. But, the best thing is that you get all of this with cost-effective starter plans.
WordStream

Among WordStream's many features, you'll find an alert for time-saving, user-friendly solutions, and a reporting dashboard. Thanks to its AI-based reporting tools, agencies can boost advertising development and train their staff.
WordStream is one of the best business automation software options when it comes to services. It comes packed with many features such as the "20-min working week". With this, small business owners can optimize their marketing efforts. Finally, working with WordStream will develop your SEO skills considerably.
Workato

Business automation becomes easier thanks to Workato's AI features. For instance, when a potential customer enters their data, the system analyses it. Then, it assigns it to the right sales representative.
If you're concerned about missing leads, you can stop worrying. Each sales representative will get a notification through Slack once a new lead is assigned. Moreover, they can either accept it or reject it, depending on their workload.
Setting up your business process automation is easy with Workato. It comes with a library boasting over 400,000 templates.
Explore Workato and see the benefits of having a flexible, all-in-one platform. It works for both small and large enterprises.
ActiveCampaign

Because customer experience is key to any business, you'll love ActiveCampaign. Forget about losing leads and avoid undesired disconnections. As one of the best business automation tools out there, this option provides excellent marketing services. CRM is also one of its strengths.
The platform is user-friendly thanks to its drag-and-drop builder. Turn on your computer and in a few minutes, you'll have your first automation. Use a wide variety of actions and triggers and view your sequence on one single screen.
ActiveCampaign's clean visuals help streamline the sales process while providing great CRM solutions. Feel free to drag and drop your leads from one section to the other and trigger automated processes.
Email Automation Software
GoZen Growth

Check out this option to find a wide template library and many other advantages. Although this tool is relatively new, it boasts over 700 email templates. Each of them is industry-oriented and targets a wide scope. Thus, the learning curve becomes shorter for both beginners and advanced users.
With this business automation tool, you can track unsubscribes and open rates. You can also import data from EPS in bulk to avoid time-consuming tasks.
Even the free version offers excellent options. For example, users can access the library to find the right template. Last but not least, GoZen Growth is more affordable than other similar options.
ConvertKit

ConvertKit is ideal for those who are on a budget. Give it a try and see the excellent email marketing automation tools. From content creators to small businesses, everyone can develop their brands with ConvertKit. Most importantly, they can convert this growth into revenue.
Ideal for lead nurturing, this software allows you to streamline communication with active subscribers. Focus on conversions and run effective email marketing campaigns.
Knowing that their main clients are small businesses such as freelancers, and creators, ConvertKit provides a simple automation tool. Instead of having tens of automations, they offer the most common ones. With their ready-made templates, you'll find the platform easy to set up. With this, they make sure that their service is user-friendly and functional.
Mailchimp

Mailchimp is one of the most popular business automation software options. This tool can create email marketing campaigns, ads for your social media channels, and landing pages. Boost your brand using segmentation features while finding new customers.
Create automated campaigns on a user-friendly dashboard and access customer surveys and A/B testing. This, and its comprehensive stats, will let you estimate the conversion possibility for each lead. When it comes to integrations, Mailchimp doesn't trail behind. With plenty of integration options and a developer API, you'll be able to do many things.
To sum up, Mailchimp provides an effective solution without the need for coding skills. Simple and powerful, Mailchimp is one of the best business automation tools.
Mailmunch

Ideal for small businesses , Mailmunch is another great tool. Medium-size businesses can also benefit from it. Focused on lead capturing, Mailmunch provides a variety of tools. This includes landing pages and various marketing options.
Creating a form to capture leads has never been easier. . Once created, embed it on your website and you're good to go. Although it includes email marketing solutions, it doesn't include as many solutions as a standalone marketing software. However, you have access to a library with HTML templates.
All in all, this is an affordable option that's worth trying.
Business Automation Tools for Team Communication
Slack

If you don't mind spending a few extra bucks, Slack is an excellent solution. Although it's the most expensive option, it brings a rich collection of features.
Organize workflows with teams of all sizes and promote communication. Set up this messaging app and avoid sending back-and-forth emails.. In this regard, Slack is top-notch and that's why usersfrom various industries choose Slack as their messaging platform.
Besides, each user can customize their settings to adjust to their needs.
HeySpace

HeySpace will surprise you. It is a superb tool for collaboration and communication. Companies that manage multiple business processes will appreciate its tools.
Managing a business  is a time-consuming task and HeySpace's creators know this. Hence, the platform allows you to assign tasks more easily. Simply add a message into a group and pin the specific users that need to pay attention to it. In addition to this, , employees can add their tasks to a calendar and keep track of their deadlines.
Among HeySpace's key features you'll find a personal calendar with timelines and tasks, task organizers with filters, and progress monitoring options. You can also attach files on the chat.
Automation Tools to Optimize Customer Services
Zendesk

From one single dashboard, Zendesk lets you handle many processes. You can manage customer data, social media interactions, knowledge bases, and handle issues. This option  helps you achieve high levels of efficiency.
By integrating Zendesk with the app, you can upload any issue you may have in the service sector. Thus, the CMR system helps you provide a superb customer experience. Ensure your clients' satisfaction by streamlining every resolution. This will translate into benefits for you: reduce churning, avoid overheads, and save time.
Zoho CRM

An all-in-one solution, Zoho is the ideal tool to boost sales. Grow your network by enhancing lead capture. Then, manage them and move them down the conversion funnel. With a 360-view of your customer information and different communication channels, task management becomes easier.
Real-time notifications are also a great plus and help you engage clients. Zoho's analytics tools will also help you in this regard.
One of this software's best features is its AI-powered assistant. With this, you can set up your chatbot or use it as a help desk. Either way, you'll be promoting interaction between your brand and the client.
App Interconnection
Zapier

If you're looking for intelligent automation, this is it. With this software, you can trigger a specific path of actions within your workflow. Thus, you don't need to interrupt the process when you take a break.
Use filters and create custom logic paths so that you keep your information clean. The system activates these paths based on custom logic, which means it will always run according to your instructions.
All in all, Zapier is an advanced business process automation tool. It allows you to set up conditional logic, and choose filters, webhooks, and multi-step Zaps.
IFTTT

IFTTT works in the same way as Zapier: it connects different apps. Although its developers created it for personal use, it also lets you streamline your business process. Among other things, you can share your newsletter stats with your staff. You can also save your attachments into Google Drive so that you don't miss any information.
IFTTT has a better free version than its counterpart Zapier, but it lets you use only one account. Hence, this is not a good option for sales teams.
However, one great thing is that IFTTT's automation runs as soon as the action is triggered. Zapier runs every 5 or 15 minutes, depending on the version you use.
Analytics Automation Tools
Databox

Manage multiple information sources from one dashboard with Databox. The interface is easy to use thanks to its drag-and-drop automation features. With this software, you can track invoices and expenses as well as other metrics. Feel free to build impressive dashboards, create comprehensive reports, and share them. Along the way, you'll discover powerful insights.
When it comes to integration, Databox is quite flexible. You can integrate it with more than 70 tools. This includes HubSpot, Freshbooks, Salesforce, Xero, and more.
With Databox, you'll find that customer service is excellent. Moreover, it's easy to set up, which makes it the perfect alternative for beginners.
One of its strongest features is the ability to create custom metrics for specific information sources. Its white-labeling feature is also a great plus.
Whatagraph

Marketing agents can create great-looking reports to share with their customers. Whatagraph is not just an advanced analytics tool, it also comes with cool perks. You can import data from over 40 different sources. This includes Salesforce, Google analytics, and Ahrefs. All these tools help you create reports automatically.
Besides being intuitive and easy to use, Whatagraph supports several integrations. With its white-label options, you can increase efficiency and impress clients.
Writing Tools
Jasper

A great option that uses artificial intelligence to improve your writing. The algorithms generate and process texts.
Jasper's features are mind-blowing, helping you write about any topic. Create a variety of content like blog entries, social media posts, advertisements, and copywriting pieces. With the help of advanced AI writing tools like Jasper, businesses can streamline their content creation process, reduce costs, and produce high-quality content that resonates with their target audience.
All content will be unique by default since the AI tool imitates human language processing. The developers trained this tool through millions of web pages across the internet. Thanks to this, Jasper can write about anything in its own way, just like other Jasper alternatives.
Grammarly

Also based on AI, Grammarly helps you write without mistakes. If you want to create consistent and compelling content, this is the best tool.
Whether you write newsletters, posts, or articles, you'll need a solid proofreader like Grammarly. This software saves you from making embarrassing errors that anyone can miss every now and then.
Grammarly also helps you write according to the target reader and understands your content. Its Chrome extension helps you revise content in various channels. This includes Facebook, Slack, Gmail, Messenger, and others.
If you make any basic grammar mistakes, Grammarly will detect them. If you write "your" instead of "you're", you can compromise the reputation of your company. Choose this option and avoid those issues easily.
Automating Business Processes: Accounting
Xero

Connect with bookkeeping, accountants, and banks through reliable software. Xero is a flexible option that helps you keep track of your finances. The best part is that you can do this with a mobile app.
Revise cash flows and bills, track reimbursements, and transfer payments. It includes features, like bank reconciliation, that will surely be useful.
Xero allows you to get original documents automatically and save key information. Thus, you don't have to do this manually, which saves you from repetitive tasks.
NetSuite

NetSuite is a popular option to automate tasks relating to accounting and bookkeeping. It comes packed with features like inventory management, financial analytics, payroll management, and invoice management.
Also, you'll enjoy flexible depreciation and tax management, audit trails, and financial reporting.
Automating Data Security
NAKIVO
NAKIVO Backup & Replication is a comprehensive data protection solution suitable for small businesses and enterprises in various industries. The NAKIVO software provides a wide range of features to ensure the availability and recoverability of critical data.
NAKIVO Backup & Replication easily integrates with Backblaze B2, one of the most popular cloud storage platforms known for its seamless accessibility and scalability. You can store your backups in Backblaze B2 and benefit from the reliable data security and availability.
The Backup to Backblaze B2 feature in the NAKIVO solution allows you to perform direct incremental backups to the cloud and automate your data protection activities. This allows you to optimize storage utilization while also reducing backup time and network bandwidth requirements.
FAQs about business automation software
1. What is business automation software, and how does it work?
Software for automating corporate tasks and procedures is known as business automation software. In order to streamline workflows and minimize human error, it often incorporates algorithms and machine learning. It operates without human interaction by analyzing data, spotting patterns, and carrying out tasks.
2. What are the benefits of using business automation software for my business?
Increased productivity, lower costs, better accuracy, and more efficiency are all advantages of utilizing business automation software. Employees can concentrate on more difficult jobs that require human input by automating repetitive tasks and workflows, which can improve decision-making and customer service.
3. How can business automation software help me save time and increase efficiency?
By automating time-consuming operations like data input, invoice processing, and email management, business automation software can save labor costs and boost productivity. Employees may concentrate on more important duties that call for analytical thought and creativity by getting rid of these manual processes, which can ultimately boost productivity and profitability.
4. What types of tasks can be automated with business automation software?
Data input, invoicing, document management, customer relationship management, email management, and social media management are all tasks that can be automated with business automation software. Businesses can save time and avoid errors by automating these operations, which are frequently repetitive and time-consuming.
5. How can I choose the right business automation software for my business needs?
It's crucial to take into account aspects like price, functionality, usability, and compatibility with other programs and systems when selecting business automation software. The necessity for certain actions and workflows to be automated must also be identified, and the software must be capable of handling those jobs.
6. What are some of the most popular business automation software options available?
Zapier, HubSpot, Salesforce, QuickBooks, and Mailchimp are a few of the most well-liked business automation software solutions. These software alternatives each provide distinctive features and capabilities that might assist firms in automating particular processes and workflows.
7. Can business automation software integrate with my existing software and systems?
Certainly, a lot of solutions for business automation software include integration with already installed programs and systems. This enables companies to automate jobs and streamline workflows without changing their current procedures.
8. What are the costs associated with implementing business automation software?
Depending on the software supplier, the complexity of the automation process, and the number of users, the expenses related to installing business automation software might vary greatly. Several price points are offered by many software companies, with more sophisticated features and functionality being made accessible at higher price points.
9. How long does it take to implement and see results from business automation software?
Depending on the complexity of the automation process and the scale of the organization, different amounts of time may be required to implement business automation software and see benefits. Yet, after using the software for a few weeks or months, many organizations claim to have seen results.
10. Are there any security concerns or risks associated with using business automation software?
The use of business automation software could come with security hazards, just like any other program. In order to ensure that the program has built-in security measures like encryption and authentication, it's crucial to select a respected software vendor. To reduce the risk of security breaches, firms can also employ best practices including user access limits and regular software updates.
A Conclusion on the Best Business Automation Software Options
If you want to remain competitive in today's corporate environment, you need to optimize your time/profit ratio. In this regard, a business automation software becomes essential.
By cutting out on all the unnecessary processes, you'll gain much more efficiency. A business with many repetitive tasks is a business that needs automation tools.
But this is a wide field and you have plenty of options. You can choose to automate your accounting, your social media management, or your lead engagement. In any case, all the options listed provide excellent solutions.