The relationship between mentor and mentees can be mutually beneficial. Mentors provide much-needed guidance and resources to their mentees. In exchange, mentees give their mentors the opportunity to practice leadership skills.
If you are a mentor, communication with your mentee is essential. During a mentoring session, ask questions to see where you can help your mentees. You can also ask questions to help you get to know your mentee and find conversation topics. However, it may be hard for you to come up with the right questions.
This article will consider what the role of a mentor involves. It will also provide you with 9 questions to ask mentees as you work together.
The Best Questions to Ask a Mentee
You might start by asking your mentee to tell you a little about themselves. You could ask them about their home life, where they are from, or if they have pets. You could ask them about their interests. Do they like sports? What hobbies do they have? Do they like to travel? Questions like these will help you find common ground. You could also come up with questions about how their career fits into their life and the role it plays.
What is it that you really want to be and do?
This question will give you an idea of the aspirations of your mentee. What drives them? What is their purpose? These questions will help you understand what motivates them. The question also helps you understand the reasons behind their long-term goals. For example, they may want to be successful in their business life because they want to help others.
Question one will give you insight into the drive and passion of your mentees, what they do, and what they want to become.
What do you hope to gain from our mentoring sessions?
This is a good opening question for mentors to ask mentees. Their answers will help you understand better why they need a mentor. Their answers will also help you understand the mentee's long-term goals, or learn about career paths that interest them. Perhaps they are looking to develop specific skills.
Even if they are not sure how to answer, this is still useful information for you as the mentor. If the mentee isn't sure what they want to get out of a mentorship program, then you can help them see where they can keep learning and developing skills.
What challenges are you currently facing?
This is another great question for a mentor to ask early on. Everyone faces challenges and problems in their life. These difficulties make it hard to focus and be productive.
That's why it is so important to find out what your mentee is going through and help them meet those challenges. You probably won't be able to resolve the issue in one session. But talking through a situation and developing a game plan can help a lot. It gives the mentee a sense of direction and helps them track their own progress.
What are your short-term goals?
Asking specific questions about short-term goals is also important. This will help you understand what they want to accomplish in the few months or in the next year.
Why did they seek out a mentor in the first place? This will help you to make a plan to foster their professional growth and make the most of your time together.
What are your long-term goals?
In order to have success in your mentoring relationship, you also need to understand where your mentee wants to end up. Where do they see themselves 5 years from now?
How about 10 years from now? You may offer certain advice and guidance to someone who wants to start their own business. But your advice will be different for someone who wants to climb the ladder at their current job.
One thing to keep in mind is that many industries are constantly changing. Some of your mentee's goals may not apply or be practical in the next few years. If it seems like that might be the case then, as the mentor, you can help your mentee develop a plan B.
What does success look like to you?
The definition of success varies from person to person. Depending on a mentee's priorities and values, they might perceive success differently than you do.
Their answer to this question can tell you a lot about what is important to them. If they have a hard time defining it, you might think of other questions to ask about areas in their life where they feel successful. This will also help you to offer advice that is relevant to the mentee and what they see as important.
How are you engaging professionally?
They say that no man is an island, but that doesn't stop some people from trying to be one. However, isolating themselves holds people back and impedes their professional development.
This question helps you find out what your mentee is doing to put themselves out there. Are they creating connections that will help them succeed in the long run? If they struggle with this, help them find areas where they could foster connections. You can encourage them to attend an upcoming company social event.
Or maybe they need encouragement to get into the office a couple of times a week where they can interact with their coworkers. No one likes leaving their comfort zone. But as a mentor, you can help your mentees to push themselves and gain the confidence to interact with others.
Your mentorship success story starts with a scheduling app to streamline your calendar
Staying organized has never been easier.
You can now manage your business and grow your brand with a single, powerful software that keeps all of your appointments in line, your clients organized and your business booming.
Trafft is perfect for business owners who need to streamline their booking experience both for their staff and their clients.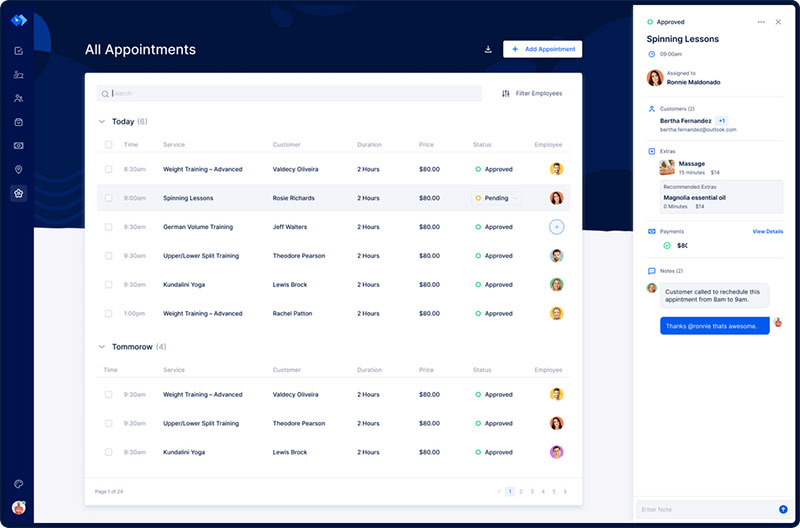 Trafft handles everything for you, even sending automated email or SMS reminders to your clients. No-shows? Not anymore!
The Trafft booking software adapts to different industries for a blissful online booking experience and employee management.
Want to know more? Check out Trafft's awesome features to see what you are missing.
What's working in your career?
This question will help both mentor and mentee identify their strengths. This will also help the mentor evaluate the mentee's ability to reach their goals.
Does your mentee have any natural talents or abilities? They may be great at standardized, detailed operations. Or maybe they are a natural leader who can motivate those around them. Find out what they are good at, and help them see how they can use that to achieve success.
What's not working?
What are the greatest impediments to your mentee's success? Sometimes they are self-imposed obstacles. If that is the case, discuss together how the mentee can overcome those weaknesses.
Maybe the obstacles are outside circumstances or other people who are impeding their progress. In that case, the two of you can discuss together how to work around obstacles and face trials head-on.
What will you do differently tomorrow to meet your challenges?
Many factors come into play when measuring progress. Many people tend to focus on the work someone puts in. But other factors play a big part too, such as the way someone manages their time.
A person might have a great work ethic but have a hard time setting priorities. In addition, people tend to put their best self forward and try to hide their weaknesses. That is a natural tendency. But a person needs to address their weaknesses if they want to make progress.
If you could learn any new professional skill, what would it be?
This is a good opportunity for a mentee to ask their mentor about their interests. Many professions require specific skills. The more questions you ask your mentee about their interests, the easier it will be for you to help guide and direct them to the best career path for them.
Once you know what new skills they want to learn, tailor your tips to help them. Then you can look for career and job opportunities to recommend to them.
How can I help you achieve your goals?
This is a very important question to ask your mentee. The entire purpose of a mentorship program is to share your experience and help others to grow and reach their goals.
What areas do you feel comfortable addressing on your own and what areas require more support?
Your mentee might not know how to answer the last question. After all, they don't know your strengths. This question will help them identify areas where they are feeling stuck or out of their depth. Then you, as the mentor, can help them. Sometimes that means you help them by connecting them to the people and the resources that can meet their specific needs.
Have you ever quit a job? If so, why?
This question will give you an idea of what your mentee is looking for in a work environment. If they have a specific situation or challenge that caused them to leave a previous job, then you can work with them. Help them to find work options that minimize or eliminate that challenge.
For instance, if they left a job because of the demanding work hours, you could help them look for options with reduced hours or a flexible schedule.
What is your dream job?
To help your mentee, it is helpful to learn about their passions and dreams. This question gives them a chance to talk about their interests and identify what they are passionate about. Then you can tailor your advice and support to them. This will make your guidance and advice more personal, and help the mentee either find their dream job or a similar career.
Are you getting everything you want out of this relationship?
A mentoring relationship should be a collaboration. Both mentor and mentee bring something to the relationship. From the beginning, you should both identify your expectations.
Identify what you do want to accomplish and what you don't. Then ask your mentee to do the same for you. If you let them guide the relationship in the direction they want, it will help them reach their goals and their potential. From time to time, take the time to ask for some feedback and revisit this question to make sure the mentoring relationship is still a good fit for you both.
Conclusion on Questions to Ask Mentees
The key to a successful mentoring relationship lies in the connection you make with your mentee. Every mentoring program will be different because each mentee will be different. As the mentor, you will adjust to their goals and plans as you work to create a strong relationship with your mentee.
In this article, you have a good list of thought-provoking questions to ask mentees. Asking questions will help your mentee see how you care about them and their personal growth. It can be a lot of hard work to gain their trust and get feedback about certain things. Hopefully, this list of powerful questions to ask mentees will help you develop that strong relationship.
If you enjoyed reading this article about questions to ask mentees, you should read these as well: